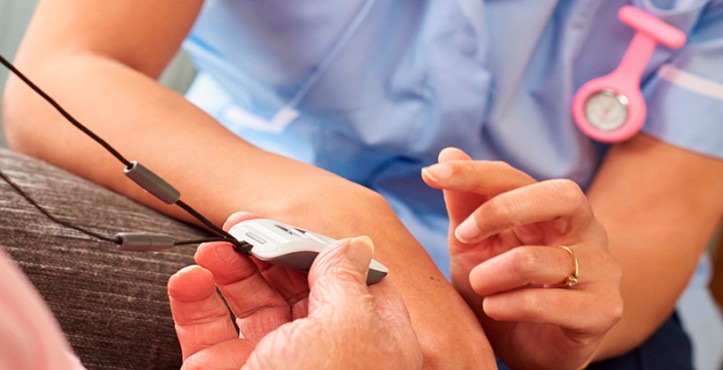 New devices incorporate PERS and telehealth to help seniors remain in their homes
Wednesday, March 29, 2017
While broad in context, the concept of aging in place is widely supported across families and communities for myriad reasons, from the pragmatic (it reduces the cost of long-term and end-of-life care) to the emotional (it allows seniors to remain in the spaces of their choosing for as long as possible).
A recent proliferation of aging research has helped provide a road map for the concept of aging in place successfully—incorporating the idea of four main tenants, known colloquially as the four pillars of aging (see below). Despite research and community support, two primary factors work against aging in place for individuals: high rates of chronic illness and high rates of falls among older adults.
That said, the development of technology that not only supports the four pillars of aging, but also addresses the challenges surrounding aging in place successfully is at a promising point.
Both telehealth and personal emergency response systems (PERS) have the capability to enhance aging by supporting chronic disease management and by preventing and providing response to falls.
Research on Aging: What We Know About Aging Well
The Centers for Disease Control (CDC) defines aging in place as "the ability to live in one's own home and community safely, independently and comfortably, regardless of age, income or ability level." As a concept, it spans such aspects of life as the levels and ranges of community support available, interior and exterior design of living spaces (universal design) and access to the right levels of health care at the right time.
The older population is already set up to age in place. According to the U.S. Department of Health and Human Services, there are 11 million elderly people living on their own, and a recent AARP study found that 95 percent of seniors "prefer to live in their own home," even when faced with declining health and a need for some form of monitoring or care.
Accompanying these studies conducted on the various aspects of aging, one recent survey from the McArthur Foundation highlights the four pillars they found are attributed to aging successfully:
Remain physically active.
 
Incorporate mental stimulation into lifestyle.
 
Maintain a good social network.
 
Include a sense of purpose in life.
 
According to the McArthur Foundation, all four contribute in equal measure to healthy aging. In fact, the foundation's research states that 70 percent of physical aging and about 50 percent of mental aging is determined by lifestyle.
For seniors looking to age in place, the ability to incorporate the four pillars can have a profound impact on quality of life. But despite the integration of those components, challenges remain.
Prevalence of Chronic Illness and Falls
Chronic disease is one difficult challenge to successful aging in place:
Currently 90 percent of Americans ages 75 and older have at least one chronic medical condition, and 20 percent have five or more chronic illnesses.
 
Chronic diseases place a significant burden on individuals as well as health care systems. The cost of caring for people with five or more chronic illnesses is roughly 17 times higher than for those without chronic illness.
 
Older Americans with a chronic condition are far more likely to be hospitalized than the average population. Overall, only about one in 10 older Americans has a hospital stay in a given year. By contrast, more than 40 percent of those with congestive heart failure are hospitalized annually.
 
To that end, care delivered in the home as opposed to the hospital setting is highly advantageous for older people dealing with chronic conditions, serving to preserve their health, helping them maintain function and reducing health care costs and long-term care needs.
But other challenges related to care within the home for the elderly exist: specifically, the prevalence of falls among older adults who live on their own. Even the fear of falling can adversely affect health. The American Academy of Family Physicians notes that, "The fear of illness or falls and subsequent institutionalization often leads to dependence and increasing immobility, followed by decreased quality of life."
All of which points to the simple notion that aging in place is enabled by:
1. Helping seniors to implement the four pillars of aging while
2. Taking management of chronic illness out of the hospital setting and back into the home where
3. Falls and fall prevention must also be addressed.
The technologies that make this possible are already available in the blending of telehealth and personal emergency responses systems (PERS) into one tablet format.
Telehealth and Chronic Illness: The Value of RPM
According to research released this year in Health Affairs, telehealth, and specifically remote patient monitoring (RPM), has demonstrated the ability to effectively manage chronic illness while simultaneously improving outcomes, lowering cost and improving patient satisfaction.
The greatest benefit of telehealth is that it facilitates patient self-management of conditions and provides them with quick access to important health care information and educational materials.
Because it has been so successful within those parameters, many health care providers and managed care organizations (MCOs) are experimenting with use of long-term monitoring for patients within chronic illness populations—extending RPM with clinical oversight by months or even years.
PERS and Falls: The Value of Prevention/Quick Response
Personal emergency response systems (PERS) are devices that connect seniors to 24-hour call centers to access emergency help. Available on the market for more than 30 years, PERS were initially intended to provide a greater peace of mind for seniors living alone.
Along with much of the tech industry, the PERS industry has seen dramatic growth of late, and its reach has extended to include a younger population of people, as well as people with medical issues (temporary or long term). New research forecasts state the global PERS market is growing at a nearly 6 percent compound annual growth rate (CAGR), on track to reach $8.4 billion by 2020.
The market is growing for good reason—use of PERS has demonstrated enormous benefit for its users, providing everything from peace of mind for users and caregivers, to a reduction in hospital stays and health care related costs.
One study found 67 percent of people who fall and are incapacitated such that they do not receive emergency services for more than 72 hours do not survive. But if help can arrive within one hour (as is frequently the case with PERS), the survivability rate increases by more than six times.
The Intersection of Telehealth and PERS
Examining the use of both telehealth and PERS technologies within the current health care and consumer landscapes, it becomes clear that a system that incorporates both provides older adults and their caregivers with a more comprehensive platform for successful aging in place.
What isn't quite so obvious at first glance is the way new technology can also support the four pillars of successful aging, and how aging in place can be facilitated by leveraging existing technology platforms.
Companies in the medical alert space have recently introduced technology combinations that leverage the strengths of telehealth and PERS: consumer-focused telehealth systems with PERS as a foundation. Designed to address the needs of people managing chronic conditions, these systems combine the educational and clinical benefits of telehealth technologies, with the security and peace of mind of a PERS system—all in one tablet-based platform.
This allows patients to take their own vital signs on a daily basis and that information is stored in a central location that can be accessed via an internet connection by authorized family members and the patient, or by care providers via a clinical dashboard. In addition, it includes a convenient medication reminder feature to help manage patient adherence and reduce complications stemming from medication errors.
Beyond managing the issues of chronic illness and falls, these new technologies have the extended capability to facilitate the four pillars of aging as well:
1. Remain physically active Activity trackers incorporated into the PERS technology allow seniors and their caregivers to track, trend and monitor their activity levels and report on them—key motivational aspects to enhancing physical activity.
2. Mental stimulation Incorporating a bevy of educational tools and capabilities, the new tablet systems provide everything from gaming to resources on chronic illness and care, allowing users to not only better understand disease states, but also challenge their minds in new ways.
3. A strong social network With access to family circles, tablet users can reach out to connect with family and friends for support and encouragement in meeting their health goals.
4. A sense of purpose When we facilitate connections to the outside world as we do with the new tablet technology, we lay the foundation for deeper introspection on what it is that matters to us, and this forms the basis for discovering higher callings—or a new life's purpose.
What Lies Ahead
In examining the existing technologies of telehealth and PERS and looking at their individual strengths, it lends clarity to the potential that blending the two can have for people, ultimately working to ensure they can age in place successfully.