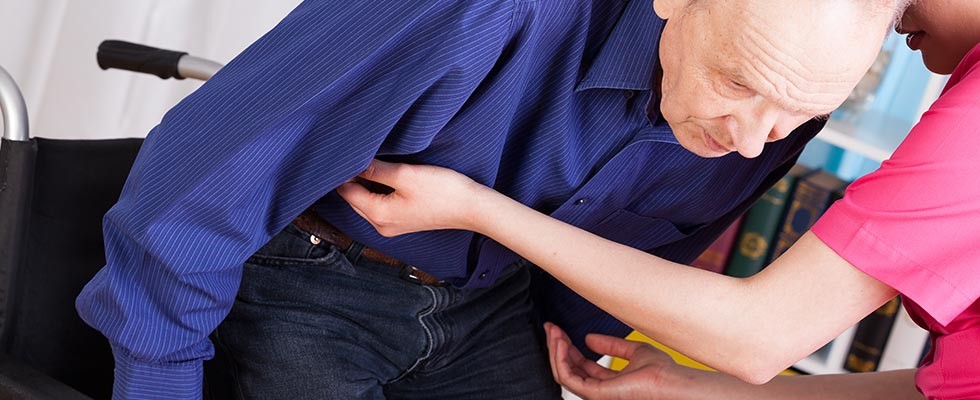 Patients can regain independence with self-transfers
Friday, September 10, 2021
The liberty of getting out of bed in the morning and walking to a local coffee shop is considered an ordinary aspect of life for most. Unfortunately, more than 3 million people in the United States require assistance getting in and out of bed every single day. These individuals rely on caregivers and/or loved ones to transfer them from bed to wheelchair and vice versa. This process can be daunting, time-consuming and painful for both caregiver and patient.
Patient lifts, such as cloth slings, sit-to-stand lifts, scissor lifts and specialty "self-transfer" lifts can be effective solutions to these problems. Here are the most common situations for which the current transfer process can indicate the need for a patient lift, and some products you can recommend.   
Caregiver & Patient Injuries
The main reason for a transfer system purchase is to reduce injuries for both caregivers and patients. In health care settings, the process of lifting and transferring patients is a leading cause of injury among workers. More than 52% of these individuals report chronic back pain and 10% leave their field of employment due to back injuries. These injuries tend to worsen over time, as repetition of movement—and imposing repeated stress on the body parts used for patient lifting—is one of the main causes of pain.
According to the National Institute of Occupational Safety and Health, a caregiver transferring a patient without specialized equipment should not lift more than the recommended maximum limit of 35 pounds. This number can be even lower in circumstances in which the caregiver is tired, such as at the end of the day, or when the available space to perform the transfer is restricted. In other words, if a patient has a certain amount of mobility and simply requires assistance standing up without the need of being lifted above the ground, the caregiver is likely below the maximum weight threshold. However, if the patient requires any form of lifting, the caregiver is likely taking on more than the 35-pound limit, and a patient lift would therefore be required.
Caregivers are not the only ones who suffer injuries during the transfer process; patients are also at risk. Patients can suffer from bruising, muscle strains and pinching of the skin when being manually lifted by a caregiver. Additionally, should a patient be dropped during the transfer process, injuries can be far worse, with some cases leading to fatality. If the transfer process has become cumbersome, leading to the possibility of patient injury, a lift should be acquired.
Diminishing Quality of Life
Family members and loved ones often take on the role of in-home caregivers to delay or avoid institutionalization and the costs associated with long-term care. There are currently more than 47 million Americans who provide unpaid, in-home care to adult family members or friends. These informal caregivers may experience a decline in their physical health due to the previously mentioned back injuries, and may also see a decline in their psychological health.
Informal caregivers tend to have higher levels of stress, depression and anxiety than their noncaregiving peers. These mental health symptoms are typically caused by the lack of time available in a day to properly balance work and caregiving, which can lead to exhaustion. Patient transfers take up a large amount of time and energy for caregivers. Manual transfers can take up to 30 minutes or longer if only one person is performing the transfer. The average wheelchair user transfers eight times a day; that can add up to four hours of time spent by the caregiver exerting physical force. Ask caregivers how much time they are spending on transfers. If any type of manual transfer exceeds 10 minutes, a patient lift should be recommended. Lower transfer times and less physical lifting provide caregivers with more available hours in their day and increased energy levels. It is therefore imperative to recommend a patient lift to any caregiver suffering from a decline in their health.
Patients can equally experience a decrease in their quality of life regarding their transfer process. Relying on a caregiver to be transferred multiple times a day can cause patients to lose their sense of independence and autonomy. Moreover, it can cause them to feel like a burden to their family and can create a sense of guilt, especially if their caregiver is experiencing physical and/or psychological distress stemming from the transfer process. Recommending a patient lift in this situation can help alleviate the stress and guilt experienced by the patient, while also doing the same for the caregiver.
High Costs of Homecare Services
For those who hire external caregivers from homecare businesses, costs can rapidly accumulate. According to Genworth's 2020 Cost of Care survey, in-home health aids in the United States cost an average of $4,576 per month—that's over $54,000 spent on homecare services in a year. Many homecare services charge by the hour. This means that if fewer hours are spent by the hired aid managing the patient transfer process, fewer costs will be incurred by the patient. As previously mentioned, a patient lift can significantly reduce transfer times, and could therefore be worthwhile in this situation.
Self-Transfer Lifts
Should the patient have use of their upper body, a self-transfer lift or slide board might be a viable and rewarding option. This could eliminate the need for a caregiver altogether, thus eliminating any costs associated with external homecare services, as well as limiting the strain on family members. Only recently has independent transfer been possible in ways that address the limitations of patient lifts. If the cost related to external in-home caregivers is of concern, acquiring a self-transfer lift could be a solution.
If a patient feels that they lack a sense of autonomy in their life, acquiring an electric self-transfer lift could help. Self-transfer lifts allow patients to transfer themselves using a remote control or buttons within the lift without the need for any caregiver assistance. This means that the need for a full-time caregiver could be eliminated, should the patient have mobility in their upper body, including hand dexterity, and be free of any cognitive impairments. No longer having to rely on a family member or loved one for the transfer process can help patients regain their sense of independence, and thus greatly improve their quality of life. In turn, it also liberates informal caregivers from many duties.
Recommending a Lift
Once the decision has been made to purchase a patient lift, it is important to select an option that will ultimately alleviate any of the problems listed above. For the home medical equipment provider, recommending the right type of lift means getting to know your client to understand their needs. Types of patient lifts include fabric slings, sit-to-stand lifts, scissor lifts and specialty lifts, such as self-transfer lifts.
Selecting the appropriate lift for both the patient and caregiver involved is key to reducing injuries, achieving a better quality of life and decreasing or eliminating external caregiver costs.