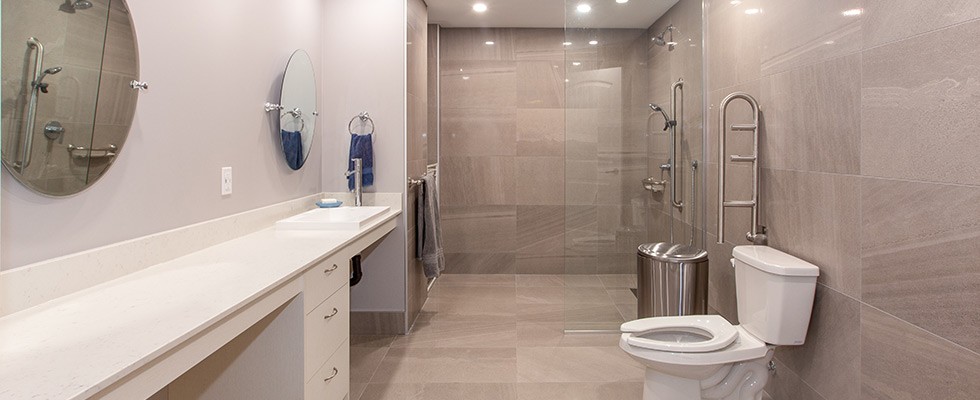 Over the past two years, the industry is tallying about 18%-20% growth
Thursday, September 7, 2023
The home access market is experiencing a boom like never before—and could grow up to three times its current size by the end of the decade, according to Jim Greatorex, vice president of VGM Live at Home, VGM's association for home modification vendors and contractors.
Over the past two years, the industry is tallying about 18%-20% growth, according to data supplied by the association's members and by manufacturers, he said. And that's despite a range of challenges like supply chain delays, shipping issues and workforce shortages.
"We finally got our turning point," Greatorex said at the VGM Heartland Conference in Waterloo, Iowa. "Nine out of our top 10 vendors had record sales—at least 20% and in some cases even higher than 40% growth."
And there's no sign of it slowing down, with a rapidly aging population and a limited amount of either accessible housing or assisted living available to the middle-class population.
"We're seeing a lot of investment in this industry," Greatorex said. "There are all kinds of startup companies that are fighting to get into the home and to be the person to help the consumer get education about what's out there."
In fact, he said, Live at Home's membership makeup has changed in the last seven years or so. When he first started in his role, he said, 70% of members were home medical equipment (HME) storefronts with a home access division. Today, that has flipped: 70% of members are full-time home access companies, and just 30% are primarily HME providers.
At the same time, home health agencies—one of home modification's primary provider of referrals—are so overwhelmed with the amount of work they have meeting patient needs that they've been providing fewer referrals, Greatorex surmised.
"I think it's limiting our growth," he said.
Professionals Needed
One of Live at Home's priorities is to develop professional standards for the industry—something leaders in the field are currently working on and hope to have in place by the end of 2023. Greatorex compared the present to the situation complex rehabilitation found itself in about 25 years ago, without the training and certification of assistive technology professionals or a well-defined business model.
The team is also working on a program to help establish apprenticeships and a career path for field technicians, with a pilot program underway in Michigan.
"This is a way to help us grow a sustainable industry and a sustainable business," he said. "It's the start of us evolving so I'm excited about it."
They're also working to clarify what financing options consumers might have and access to a list of state programs that can help defray or reimburse for the cost of home modifications. And they're looking to upgrade sales training, especially in the retail market.
"If you can quote prices the first trip in and prove your value, that's the best way of closing a sale," he explained. "If you have to go back and write up a quote in two to three days, the guy who comes in behind you is going to take the job."
And, Greatorex said, they've outlined some best practices for collaboration between occupational therapists—who often  make recommendations to their clients—and home access professionals.
Policy & Payer Changes
For some time, home accessibility advocates have lobbied Congress for tax breaks for Americans who pay to make their homes safer. But that's "not where it's at," Greatorex said, explaining that there just hasn't been the momentum behind passing a sweeping federal bill.
Instead, he said, Live at Home is now focusing on state policy, which offers the opportunity for more targeted efforts. For example, Massachusetts has a policy that would offer up to 50% of a home accessibility job up to $5,000 for people within 120% of the medium income bracket for their home county.
"This could be a model if it gets passed," Greatorex said. "It's going to help people who need it."
At the same time, they're supporting a waiver effort in Ohio and fighting some licensing issues in California, he said.
The new value-based care landscape means that private payers and state programs are taking a closer look at the returns on investment home modification provides for seniors, people with disabilities and those with chronic illnesses. And the private pay market also has "unbelievable potential," he said, especially if remodelers can understand what home access contractors are able to do.
Categories for Growth
Greatorex weighed in on the following categories of products:
Ramps amd stairlifts are currently the two items with the highest revenue capacity and will continue to grow, he predicted
Bathroom remodels could be the top seller in the next 18 months to three years, partly because people looking to age in place will invest in a significant bathroom remodel even before they may need it
Overhead lift sales have been volatile, especially with manufacturer challenges and the pandemic
Grab bars do well but are also installed by contractors and aren't exclusive to home modification businesses
Residential elevators are a fast-growing segment but face challenges in some states
While there is some new competition from big box stores and new models for home modification, he said, there will always be room for the independent local home access company—especially one that can establish trust and garner referrals. And he encouraged those in the business not to forget how important they are.
"The work you do is more meaningful than you may realize," he said. "You are the trusted resources these people go to for the thing they need next. It gives you the privilege and the honor of caring for
them."