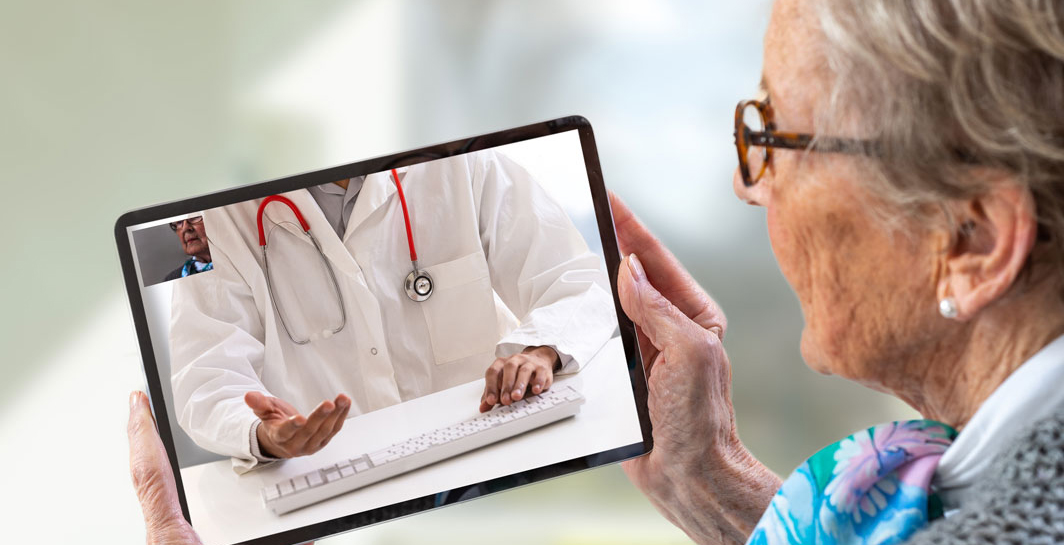 Remote patient monitoring as a window into the home
While some may view being discharged from the hospital as the final chapter of a health care episode, in reality that moment often marks the beginning of a patient's health journey. Especially in the case of older adults, the transition back to the home can be challenging, requiring seniors and their care teams to change existing care processes and introduce new ones, from altering a medication schedule to making time for new rehabilitation exercises. Adjusting to a new status quo is even more difficult when considering that both the quality and process of discharge planning across the United States' health care system lacks consistency.
Despite the challenges, successfully managing a senior's health at home is critical, as this population faces a high risk of readmission to the hospital. A recent study from America's Health Rankings shows that one in six Medicare patients was readmitted within the first month of discharge in 2018. Another study in the New England Journal of Medicine reveals that two-thirds of hospitalized Medicare patients are readmitted to the hospital or die within a year of discharge.
To help avoid unnecessary trips back to the hospital, it's important for health care stakeholders to work together and leverage tools that will help keep seniors safe in their homes and health address concerns before they become bigger problems. By focusing on remote monitoring, direct intervention and proactive care, this population's health needs can be addressed.
While each caretaking stakeholder plays an important role in monitoring seniors, no one person or organization can offer or excel at everything. By leveraging the strengths and skills of each player—a home health agency, a health technology company and a home medical equipment provider—and combining them with innovative technology, the industry can create a powerful, integrated ecosystem around the senior to help keep them safe at home, and out of the hospital.
The Power of Connectivity
Technology plays an essential role in driving industry collaboration. Analytics, care management services, telehealth programs, home monitoring systems and connected devices can all be leveraged to provide seniors with ongoing, cost-effective care interventions.
Medical alert systems are a well-known connected technology that help ensure seniors have access to help when they are alone at home or outside it. Certain systems can provide a line of sight for the health care team into aging patients' well-being to support seamless care and help reduce the chance of hospital readmission. Fall detection technology can determine if a senior falls and will notify a response center even if the user is unable to press a medical alert button. Trained call center care specialists can then dispatch the right kind of help from a senior's preferred list of emergency contacts, whether family or emergency services.
But medical alert systems are just one aspect of a broader solution for seniors and their caregivers. Digital platforms can enable people to form and activate care circles of trusted family, friends and professional caregivers, connecting them to a rich network of analytics and services to help support seniors as they age in place. This type of platform allows caregivers to go beyond connecting to a medical alert system so they can access meaningful insights into a senior's well-being and receive notifications about their care.
On-demand telehealth services can also provide seniors with remote care. Available online and through integrated devices, these services allow seniors to consult by video with a licensed health care professional, such as a geriatrician, cardiologist or mental health specialist. When this technology is combined with the growing trend of community paramedicine—which gives paramedics and emergency medical technicians an expanded role, especially in rural areas—there is significant potential to treat people in their homes, preventing costly or unnecessary visits to the emergency room.
In-home medication dispensers are another type of remote monitoring technology that can help streamline medication routines and ensure seniors are taking medications as prescribed. These advanced solutions go beyond simply organizing the daily medication dose to offer a more comprehensive overview of the patient's condition and provide caregivers with a range of capabilities, such as missed dose alerts or notifications when it's time to refill medications. Providing this window into a medication regimen can allow for speedy intervention if necessary. Some medication dispensing solutions also integrate vital sign monitoring to remind patients to record their vitals, such as weight or blood pressure, providing their care team with many indicators of possible adverse events.
It's important that professional care teams that support seniors in their homes—including those from home health agencies—also receive remote notifications about whether a client took a daily dose of medication, because they can then check in with the person or inform a family member if a dose was missed. From these notifications, families can make decisions about whether to increase the number of visits from a home health aide to ensure the senior is adhering to their care plan.
In addition to adherence notifications, it's important to have awareness of any health risks such as falls, especially for seniors who were recently discharged from the hospital and are managing their health at home. Predictive analytics can help anticipate a senior's risk of a fall or decline in medical condition, enabling care teams to minimize complications and maximize well-being. Furthermore, it's helpful for professional caregivers to be knowledgeable about innovative technologies on the market, as they can recommend new solutions and services for clients and their families.
Connecting All Aspects of the Ecosystem
Each stakeholder in the homecare ecosystem brings unique perspectives and strengths to the table, collectively creating a comprehensive portfolio of expertise, advanced solutions and services to help keep seniors safe in their homes. Through continued innovation, providers are starting to see more tools featuring artificial intelligence (AI) and predictive analytics, which analyze data from the aging population and give clinicians and caregivers almost real-time insights into seniors' vitals and activities. For example, AI and analytic capabilities allow the care team to know if a senior's blood pressure is trending downward or if they have been taking fewer steps than usual. All of this data increases the chances of intervention before a medical emergency arises.
There is also an opportunity to leverage the internet of things in the home to offer insights into a senior's activities of daily living. Whether the client locks their doors or remembers to turn their appliances off offers a view into how someone is managing their condition at home. These solutions will continue to become more personalized and increasingly help caretaking stakeholders take even better care of seniors.
All homecare stakeholders should work together and incorporate available technologies to comprehensively monitor older adults, even when caregivers aren't physically present. By using a collaborative health management approach and putting seniors at the center of the home health ecosystem, health care stakeholders can help ensure that seniors stay safe in the place they call home while helping to reduce the chances of readmission.