Don't let misconceptions and missed opportunities stand in the way
Wednesday, April 30, 2014
Accreditation has been a requirement to do business in the HME/DME market since the Medicare Modernization Act's mandate in 2009. Before then, providers sought accreditation as a way of building and improving their business. Ever since, it has been a requirement to get a Medicare billing number, and the masses have been forced to embrace accreditation whether they wanted to or not. But accreditation is much more than just another bureaucratic requirement—or it should be. The benefits of accreditation can expand far beyond fulfilling a CMS directive. However, there is an abundance of misconceptions, misunderstanding and missed opportunities in the market related to accreditation. Let's look at a few of them, as pointed out by some of the accrediting companies serving the HME/DME market.
Language
The words regulation, audit and site survey are commonplace these days, and they often have negative connotations. Accreditation is often thought of negatively due to the oversight involved with demonstrating quality business practices. It doesn't have to be that way, says Mary Nicholas, president/CEO of HQAA. "One can take that view, but our view is that accreditation standards provide a framework for improved, consistent, ethical business practices; a stronger industry is what's needed now and in the future," she says. "When a company is dedicated to improving, making quality management a part of the structure and really involving customers in the growth process makes them a stronger company. They can use compliance as a foundation to build on."
Standards
Owners need to be clear about the standards they are being held to, and oftentimes understanding is a challenge, specifically the differences between Supplier Standards and Quality Standards. Wendy Miller, director of facility accreditation of BOC, says a provider might make a statement to a surveyor such as "the CMS surveyor did not ask for this" or "CMS did not take as long as I anticipated." She explains, "When CMS surveys a facility's business, they have a checklist of about 12 items and are ensuring the facility is in compliance with the 30 Supplier Standards." In contrast, BOC's survey is more extensive and focuses on the facility's ability to serve patients. BOC's Facility Accreditation Standards include both CMS Quality Standards and National Supplier Standards. "We provide our facility owners with a Site Survey Checklist to advise them of the requirements of a site survey and how to prepare their facility for it," says Miller.
Partnering
A negative or adversarial approach to the accreditation process doesn't serve facilities or accrediting organizations. "Patients are better served if accrediting organizations help facilities earn accreditation, stay accredited, and provide great service through performance management standards, such as collecting progress feedback from internal and external stakeholders and resolving complaints," says Wendy Miller of BOC. For example, BOC supports facilities through each step of the process, and provides the Facility Accreditation Survival Guide (bocusa.org/survivalguide), a collection of videos, checklists and other documents to help manage expectations throughout the accreditation process.
Customer Feedback
True quality comes from closing the gap between what's expected and what is delivered. "Without customer feedback, it's just guesswork," says Mary Nicholas of HQAA. Customers should be informed of a provider's commitment to quality. The accreditation process demonstrates that customers' involvement, feedback and ideas are important to the company. Sandra C. Canally, president of The Compliance Team, says her company provides patient satisfaction data and benchmarking to national averages.
Promote Accreditation
"We all know that accreditation is mandatory from a CMS perspective, and I don't see companies telling their story of dedication to standardized business and customer care practices through marketing, websites, brochures, etc. as often as it should be told," says Mary Nicholas of HQAA. Sandra C. Canally of The Compliance Team agrees that providers are missing an opportunity to market their accreditation to payers and referral sources as a validated measure of quality. "They need to show how their particular business is unique and different from other providers," says Canally. "It's all about utilizing the accreditation brand to be a survivor in the marketplace."
Comparison Shopping
"Many companies regret not doing more comparison shopping when choosing their accreditor," says Tim Safley, ACHC's Director of DMEPOS, Pharmacy and Sleep. Providers may think they are locked into their current accreditation organization, or that there is little difference among accreditors, he says. "In fact, there is much to be gained by looking closely at how accreditation organizations stack up in terms of understanding an organization, their approach to the survey, the quality of their surveyors, educational support, price and pricing options, as well as reputation within the industry," he says. "Sometimes the cheapest selection ends up costing more in terms of service, additional fees or resource burdens for the provider."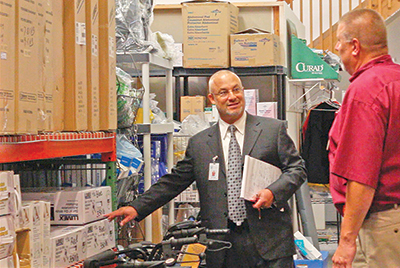 ACHC offers a collaborative approach with customized, service-specific standards.
Fit the Accreditor
Sandra Canally of The Compliance Team says providers should choose an accreditor that fits their corporate culture. "They should choose somebody who is able to respond to meet their needs, and they should ask questions about what they will get beyond the on-site evaluation," she says. "It's all about their business model. Is the accreditor flexible enough to accommodate a variety of business models and where does the accreditation piece fit into that? Is the accreditor able to make the changes along with you?"
Cost
Accreditation may not be a requirement for providers whose business is primarily cash-based, and providers may think it adds unnecessary burden or expense to the providers' operations. To offset negative perceptions, Tim Safley of ACHC says the provider-founded organization takes a "decidedly consultative, educational approach" to its surveys and works to help companies prepare, succeed and maintain their accredited status. "ACHS is focused on building supportive, long-lasting relationships with its clients," he says. While most in the HME/DMEPOS arena depend on government or private pay sources, which do require accreditation, the process of accreditation has benefits for any business, says Safley.
Underutilizing Resources
Some providers fail to fully leverage the value of accreditation. Providers who view accreditation as a checklist and do the absolute minimum to get by are missing out. Accreditation can provide a lot more value. Providers who fully implement accreditation and maintain performance improvement activities are rewarded with a better understanding to enable them to improve their business. "Some organizations feel they can choose less robust accreditation programs and only have to do the bare minimum," says Gwen M. Franzgrote, CHAP's director of professional services. "We find those organizations miss the opportunity to use the process to improve. Providers who choose less robust accreditation programs generally get what they pay for."
Build Business
Used the right way, accreditation can help a home care business prosper, says Tim Safley of ACHC. "An astute and empathetic surveyor with relevant experience can help a company identify opportunities to gain efficiency in operations," he says. Providers should probe accreditors for information about their surveyors' experience, what educational opportunities they have to help providers, as well as the accreditation organization's customer satisfaction ratings. "While accreditation may be viewed as a necessary requirement, it does not have to be merely an arduous exercise in demonstrating compliance," he says. "Ideally, it can have benefit for the provider beyond the certificate or the sticker on the window." Another accreditor, CHAP, has received feedback that its standards and accreditation process, when applied properly, provides a framework to strengthen operations, reduce risk and improve the patient and client experience. "Many of our customers tell us again and again that they enjoyed the site visit, learned a great deal from the experience and are a better organization as a result," says Gwen M. Franzgrote of CHAP.
Important Questions for Your Accrediting Organization
Suppliers searching for a qualified and reputable accrediting organization should ask questions, be informed and make sure the facility and accrediting organization have the same expectations. Wendy Miller of BOC suggests providers ask accrediting organizations the following questions.
Does the cost include all expenses related to accreditation? Expenses could consist of surveyor's travel, yearly renewals, purchase of materials, consulting or coaching fees.
What is the average time frame from receipt of application to accreditation determination?
What is the process for making changes to facility information such as new address, new ownership or adding product categories?
Accreditors Offer Range of Services
Several accrediting organizations offer extra services to make the accreditation process smoother and provide other benefits beyond accreditation. Here are some examples. The Compliance Team Anyone who signs up can receive a series of conference calls reviewing the standards and focusing on what the customer has to do to avoid surprises during the accreditation process. An online evaluation verifies and validates that the provider meets quality standards. After accreditation, customers have Web portal access to a national database of patient satisfaction and can see how they benchmark to the national average. The Compliance Team accredits all levels and sectors of the market, including mail order companies, and adjusts the standards to the appropriate business model. "Exemplary Provider" status is based on how a provider complies with standards built around "safety, honesty and caring." The Compliance Team supports the industry, joined AAHomecare in 2004, and is a member and exhibits at various state associations across the country. Visit thecomplianceteam.org CHAP The Community Health Accreditation Program's (CHAP) accreditation process is consultative and educational rather than a punitive audit. The CHAP LinQ software application provides customers a user-friendly, online toolset to manage all aspects of the accreditation continuum and provides customer reporting functionality to show how various areas of the organization are performing over time. CHAP LinQ also provides a streamlined process to add or edit product codes as their business grows. CHAP customers benefit from robust educational offerings, accreditation management tools in CHAP LinQ, compliance guidance and frequent news alerts to keep providers abreast of HME marketplace issues at no extra charge. The CHAP HME Standards of Excellence are relevant to community-based providers, scalable to fit organizations of various sizes and complexity. Visit chapinc.org. ACHC Accreditation Commission for Health Care (ACHC) emphasizes customer service, integrity and value. ACHS offers a collaborative approach to accreditation with customized, service-specific standards that align with national regulations and industry best practices. Its DMEPOS accreditation program offers extensive services to allow for a one-stop-shop. ACHC offers payment options to help DMEPOS providers better manage their cash flow. Payment options enable providers to spread the initial cost of accreditation over a set period of time. Visit achc.org. HQAA The company provides accreditation services for DMEPOS providers as well as pharmacies, home infusion/IV compounding, complex rehabilitation, clinical respiratory, medical practices, subcontractors and its latest offerings include facility-based ventilator units. HQAA has a set of standards for suppliers who provide clinically-based invasive ventilators that enhance the clinical respiratory standards. Visit hqaa.org. BOC The MyBOC (my.bocusa.org) personal Web portal gives facility owners the ability to update their account, pay fees, print their certificates and add or remove product categories, etc. "BOC facility accreditation reassures patients that a provider is committed to the highest standards of care. It also helps the facility understand and comply with all applicable laws and standards," says Wendy Miller of BOC. Founded in 1984, BOC introduced facility accreditation as a service in the early 1990s. BOC accredits DME and HME suppliers, pharmacies and chiropractors offering DME and related supplies, orthotic and prosthetic facilities, mastectomy boutiques and nursing homes. BOC provides step-by-step guidance to help facilities earn accreditation. Visit bocusa.org.