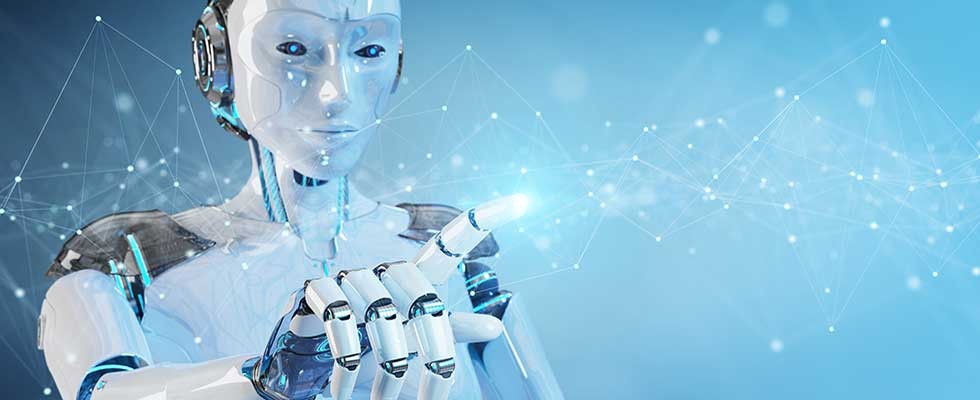 A look at how voice-first technology could alter homecare
Just 10 years ago, it was hard to imagine that we'd be talking and listening to our devices all day—using voice-based technology to make grocery and to-do lists, shop online, dictate messages and control lights in our homes.   
Now asking Siri, Google or Alexa to manage basic tasks is routine, and device makers and software firms are fighting for leadership in what may be the next phase: applying voice-first technology to health care, especially in the home.
According to CBI Insights, the voice-first market is expected to reach $49 billion worldwide. In recent years, multiple health-related voice assistants have been introduced, including by the Mayo Clinic and Boston Children's Hospital. By 2019, it was becoming easier to ask about specific drugs online, medical transcription offerings multiplied, and organizations started to introduce voice-enabled hospital rooms, physician charting and wellness tracking
for consumers.
Although work is being explored for using the voice as a health diagnostic tool, most uses today are rudimentary and/or experimental. But the future is exciting. With the beginnings of HIPAA compliance, a recent leap forward in the acceptance of telehealth, diagnostics based on voice and increased personalization capability, voice-first technology promises to provide greater assistance to health professionals and a better experience for consumers and patients at home.
The First Big Tech Breakthrough Since the Web
Earlier this year, I released a report, "Voice, Health and Wellbeing: The Sounds of Healthcare Change," based on 21 interviews with vendors, experts and health care pioneers from multiple dimensions of care delivery who are all interested in the use of voice-first technologies in improving the consumer and provider experience.
I found that there is a technology overhaul underway, and it's the biggest change in user experience since the introduction of the web browser in 1991. Voice-first technology—that is, the ability to use natural language to speak to and be spoken to by devices and software—has become a mandatory user interface in every business and consumer interaction. Some experts predict that 50% of all searches will be conducted by voice in 2020.
This technology is particularly suited for older adults and those with disabilities. Smartphones and their touchy glass screens can be difficult for those with limited dexterity and vision, but research shows seniors are comfortable using their voice to initiate a search.
That's not to say voice technology is ready for health care or health care consumers are ready for it. According to research by Voicebot.ai, although 51% indicated an interest in using a voice assistant for a health care use, 92% had not yet done so. There are also concerns about privacy when looking at devices that are always on, and, of course, digital assitants still need a lot of fine tuning; ordering an incorrect medication is more serious that playing the wrong song.
Nonetheless, senior-related organizations see the potential, and many senior care communities have started piloting voice-first technologies. LifePod, for example, sells a customizable virtual caregiving product with the capability of initiating a conversation with the user, who could be an isolated homebound individual. And Aiva, a smart home technology, announced broad deployment plans for senior living communities in early 2019.
Types of Interaction
Voice assistant usage in a consumer's day is mostly limited to music, weather, traffic, news and simple fact-oriented Q&A. According to the Voicebot.ai survey, consumers have not yet expressed interest in using voice assistants for health-related tasks beyond symptoms and health service locations. But with trusted sources like a local health center or the Mayo Clinic, that could change. As health organizations begin to expand the types of voice assistants they offer, here are some that could impact aging in place and care in the home.
1. Branded voice & connected care
In 2019, voice technology began to appear in hospital rooms and other clinical and outpatient settings, particularly those that benefit from hands-free communication. But 2019 was also the year that many more voice assistants were launched. Most of these are branded voice assistants, such as "Ask Mayo Clinic," though there are also some devices for at-home wellness, patient surveys and emerging nurse call/pull cord replacements.
2. Voice-based patient education
Mayo Clinic and Boston Children's Hospital lead the way using voice-first tools for patient education. Boston Children's introduced KidsMD, a tool to provide health advice for parents, in 2016. Mayo Clinic introduced its First Aid skill for Alexa in 2017 and recently launched one designed to answer questions about COVID-19. Discharge guidance for post-acute patients could be a key part of the services.
3. Charting of patient visits
Clinician charting by voice (and eliminating the need for scribes) is a growing area of innovation. Unified Physician Management is rolling out a voice-enabled digital assistant that uses artificial intelligence to help doctors with medical charting during patient visits. Similar technology could be used by other clinicians, including in the home setting.
4. Filling a prescription
Near the end of 2019, Giant Eagle Pharmacy released its Alexa skill. It allows customers to create an Alexa profile, add an additional personal passcode for added security, and then say "Alexa, manage my medication" to set up reminders for when to take each drug. In addition, customers can use Alexa to request a refill from their pharmacy by saying, "Alexa, refill my prescription."
5. At-home wellness & well-being
More tech firms are offering voice-enabled wellness capabilities focused on patient engagement and reminders, including Pria, Pillo Health, ElliQ and
care.coach; some are fully customizable, like LifePod for caregiving or Orbita Engage. Patients could use Omron Healthcare's blood pressure monitor to track their readings. And multiple offerings are emerging with health tips, nutrition guidance and led breathing, stretching, workouts and meditation.
6. Searching by voice
In 2018, a survey of 1,049 consumers showed that as many as a third were using voice search for specific health-related topics, with younger consumers (32%) making the greatest use. Also notable is that of the 15% who were aged 60 or older, 71% were checking symptoms by voice. More recently, Voicebot.ai research on the use of voice assistants in healthcare found that 7.5% of consumers surveyed had tried a voice assistant healthcare use case (the graph on this page shows how).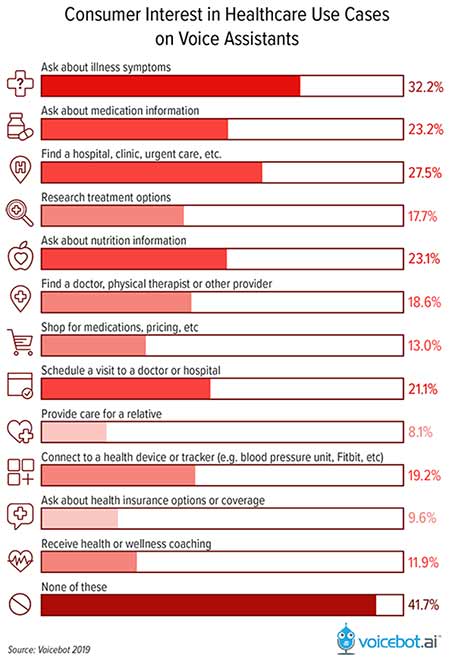 What Comes Next?
Change is ahead, perhaps sooner than we think. One of the more striking aspects of the flood of voice-first innovations is the near-feverish pace—predictions turn into practice faster than a device can say "Hello." Here are just a few of the possibilities that by next year at this time may be, so to speak, yesterday's news. By then, thorny questions about privacy, personalization and patient-doctor voice communication will also be closer to resolution.
We could detect health conditions by voice.
Health care providers are becoming interested in the use of voice technology to provide biomarkers—that is, offering information based on the sound of a person's voice as a health status indicator. Recent studies show the ability to recognize severely compromised breathing based on sound; firms are looking at ways to detect the sound of an improperly used inhaler or determining an individual's emotional state via voice.
Multifactor voice authentication becomes a reality.
Just as with banking transactions, health care providers and patients will want to verify (and be verified as) the entity for whom the information is intended. Verification and HIPAA compliance together will make voice-enabled care plans a reality. Just as with commercial transactions, technologists have already begun thinking about the use of two-factor authentication in health care.
We may see health care-trained voice agents.
Early in 2019, Intuition Robotics introduced a platform for "proactive goal-oriented agents within specific domains based on context and user learning." This technology is already used in some new cars and is capable of proactively taking action to reduce drowsiness or alerting a driver to a potential driving mistake. How might this work in a health care context?
Perhaps data stored in one cloud service might be useful to a user whose data is stored in a different cloud service. The platform players are beginning to talk among themselves about standards. The Voice Interoperability Initiative has been formed with the intent of enabling consumers to interact with multiple voice services from a single device. More than 30 companies, including Amazon, Apple, Google and Samsung, are collaborating on a set of smart home standards. The health care industry should look at these efforts as signals for future health care voice assistant interoperability.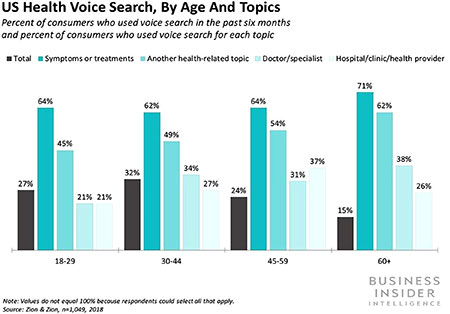 In the not-too-distant future, voice technology will be expected as an option along with other media, websites, devices and apps. The experts I interviewed offered possibilities that they believe will become realities within the next five or fewer years. These changes will encompass the user experience, back-end data connections and the ability of software agents to rise from being "assistants" to becoming agents acting on behalf of individuals, knowing their needs and preferences and increasingly personalized.