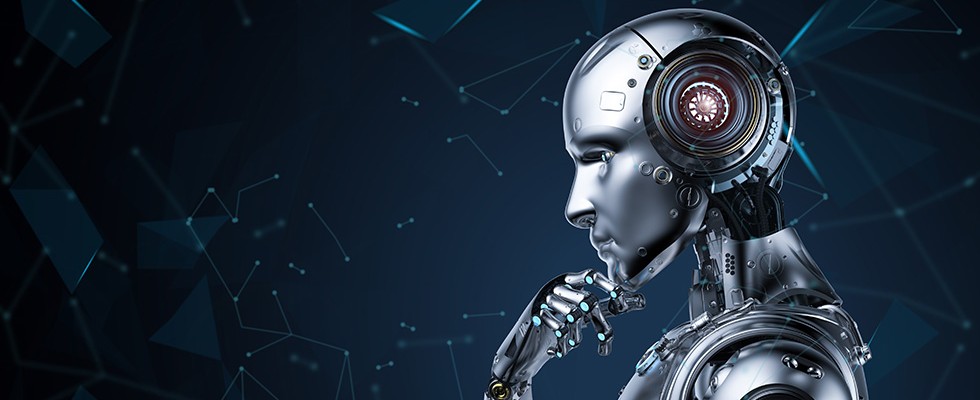 The rise of AI in homecare
Saturday, September 17, 2022
When you think of artificial intelligence (AI), what comes to mind? It could be a dystopian future ruled by machines, such as in movies like "Terminator" or "The Matrix." Or maybe you take the view of "Bicentennial Man," where robots want to live in harmony with humans. Either way, it's hard not to acknowledge the role AI is playing in everything we do—from social networking to internet searches to running your business.
Uses in Home Health
Artificial intelligence generally refers to computers or other systems that mimic human intelligence, and that can continuously improve their own performance based on the data they gather. As the use of AI has grown and the technology has improved, software providers serving the home health space are scrambling to set themselves apart with new and better programs designed to improve patient care and the patient experience.
Ashish V. Shah, CEO of Dina, which powers care coordination across the health care continuum, said the goal of AI in health care is to make outcome predictions about patients—like Netflix showing you new shows you might be interested in watching.
"It is really all about the ability to take those predictive models (and) collect new and interesting data points that may be localized, where you could start to train the algorithms to be smarter based on new and interesting data," Shah said. "AI is the full automation of that learning process."
And what the intelligence learns can lead to better patient care, said Anthony Dohrmann, CEO and founder of Electronic Caregiver, which recently launched an interactive AI program called "Addison."
"Things are happening consistently in real time," Dohrmann said. "And we're actually able—on a broad spectrum—to identify across a big global population of patients at scale, we can now see how individual patients are responding to their individual treatment plans."
His company's Addison program can be installed in the home like an intercom, or seniors can access it on their home computers, tablets and smart TVs. Addison can be customized in many different ways, including gender, race and environment. It responds to voice commands and questions and is set up to deliver medication and monitoring reminders, acting as a sort of caregiver when none can be present.
"She helps applaud and reward you for maintaining your compliance in improving your outcomes as you begin to see changes in your weight loss or your blood pressure or your A1C levels or you're feeling your strength because you're doing your physical movements," Dohrman said.
In general, experts say, cheering patients on and improving their outcomes are the major benefits of artificial intelligence  and remote patient monitoring (RPM) technology today. For example, in a pilot program, Dina realized a 30% reduction in unnecessary hospitalizations by flagging potential issues and alerting care teams to them sooner.
Sensi, an AI-powered virtual homecare agent, seeks to get providers on the same page of patient care, said Romi Gubes, CEO. The company works to not only watch for fall risks, but also tries to spot urinary tract infections (UTIs) before patients experience the cognitive difficulties that can be associated with them.
"The early detections that we're doing for UTIs is something that no caregiver that is working in the home would be able to do because they are seeing a narrow picture of the older adult," Gubes said. "Once those stakeholders get a comprehensive and holistic overview about the older adult, they will be able to provide better outcomes."
Automating the Workforce
The homecare industry is experiencing a deep staffing shortage in the face of growing demand for services. Providers are turning to AI-powered software to help automate some caregiving and back-office processes.
"I think we're reaching an inflection point of the shortage in caregivers versus the aging population—people will look for solutions that are not based on people," Gubes said.
Many times, companies have a high-ranking person coming in to manage data transfer from their system to an electronic health record or the reimbursement provider, said Joe Randesi, co-founder and CEO of Element5, a workforce automation solution for post-acute care that uses robotic process automation to cut down on repetitive clicks and tasks.
The bots, Randesi said, can learn how to automate an agency's workflows that lead to a "death by a thousand paper cuts," automatically copying and pasting patient and billing information where it needs to go.
"We are allowing our clients to grow bigger without adding more staff," he said. "We're removing that annoying work, so staff happiness skyrockets. It's interesting—when we went to market, the happiest people were the people that we were removing the repetitive administrative work from."
Randesi added that billing and coding managers tell them that they weren't hired to sit at a computer and copy and paste data all day—but if they don't, the agency doesn't get paid. Retention goes up when those repetitive tasks are removed.
On the clinical side, AI-powered RPM means a move away from visit-centric care models to continuous care delivery, said Dina's Shah.
"When you have location monitoring in place, you just don't have to be a homecare worker in the home for one to three hours to understand what's going on. You are connected and you are receiving data about their overall health disposition continuously," Shah said. He noted that care managers still need to review the data generated so that nothing is missed, but the AI helps flag problems.
Systems should also be programmed to only send an alert within certain parameters, said David Keely, chief technology officer of Electronic Caregiver. Too many alerts creates data fatigue and caregivers don't know what to react to or how, he said.
"That's where I really believe both on the front-end user and the back-end provider side that the artificial intelligence bridge is going to alleviate some of the provider shortages that we have," Keely said.
What's Next?
Getting more technology into seniors' homes is going to take a shift in mindsets and in policy. More baby boomers are embracing technology, but there's still hesitancy—and not all seniors have the high-speed internet access or technological know-how needed to run in-home monitoring devices.
Getting past that reluctance may mean AI providers need to publicly discuss the secrets of their programming, said Shah. The AI doesn't have any bias on race, sex, financial position, he said, but the humans programming it do, and that can create unintended consequences to care.
Recent telehealth legislation would also keep and expand virtual care services that rose to prominence during the COVID-19 pandemic, and AI-powered RPM will play a part in who gets a telehealth appointment and who gets an in-person visit, most experts agreed.
"I think in the next decade, we're going cross over from the people—us—being the product for these companies and all of our interactions being monetized, to the consumer and organizations having more control around what we share, how we interact and being better informed of the technologies that we're using," Shah said.