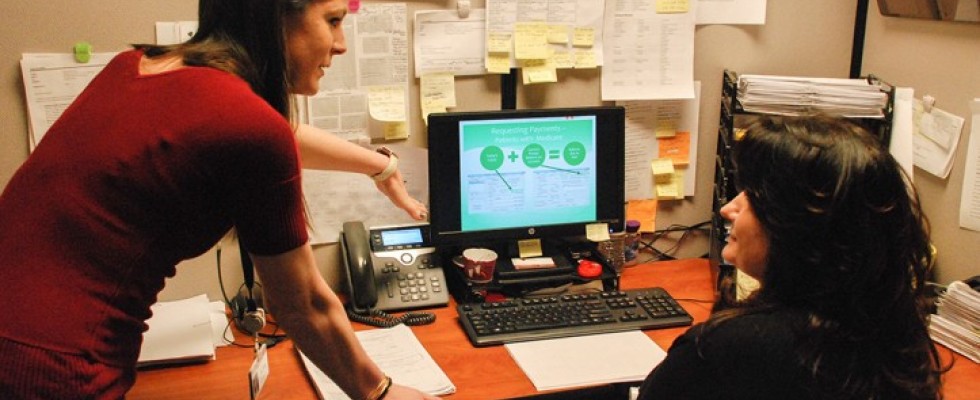 Standardize training and use available resources to create a cohesive team
Wednesday, April 26th, 2017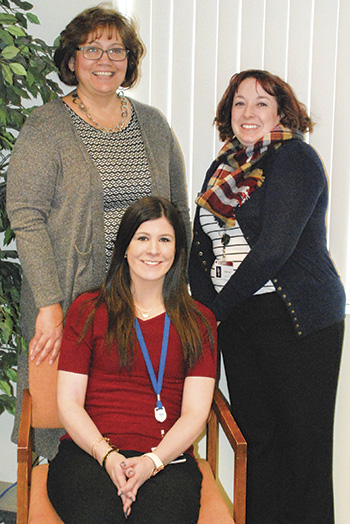 The HartBEAT education team (left to right) standing Deb Holman and Kristin Liss, seated Jillian Miller
Strategies and tools used by Michigan-based Hart Medical Equipment to merge five competing corporate cultures into one successful home medical equipment (HME) provider can be used by businesses of all sizes to standardize work and positively impact the bottom line.
"One of the biggest problems we identified and one of the biggest impacts on our financial performance was our lack of education," said Deb Holman, Hart's chief compliance officer. The company also experienced these obstacles:
Spending time and money on billing training without a noticeable decrease in the number of denials and audits
 
Providing hands-on new product training to employees, but some continue to lack the confidence to sell or service
 
Experienced employees were stuck on doing everything their way
 
Reinventing the wheel every time they onboarded a new employee
 
Did not have the on-site expertise necessary to train staff on a new technique
 
By creating an education team and the education program HartBEAT (Hart Better Education and Training), education became key driver in the company's success. "We feel that we have improved audit results and (have) fewer denials because of the way we've educated [our team]," Holman said.
Standardize Through Education
Allen Hunt, president of Hart Medical Equipment, said bringing together five groups of employees called for developing a single culture with unifying language (see sidebar).
One of the first hurdles was to become accredited. The company used CareLinc to help visit locations and employees, to prepare everyone for accreditation. A persistent "We have always done it this way" mentality was apparent, and changing would require hands-on training, new materials and a dedicated education team.
The company developed cohesion by "Hartifying."
Education Team
HartBEAT, the education team, began with one person (Holman, the chief compliance officer), who struggled to balance the company's education and training needs with her core role. Today, the team includes Holman, Kristin Liss as education coordinator, and a corporate educator.Learning from the strategies of Hart's five company partners, the team works to standardize processes and create materials and competencies that are focused on clean claims and payments, and reducing denials, as well as best practices in patient care.
For those who believe they can't justify spending on an education team, Holman offers this: "Ultimately the benefit outweighs the expense because you're going to have better financial performance."
Education Plan
Hartifying begins with onboarding. A one-day orientation covers all regulatory-type training that an employee needs (e.g., HIPAA). Onboarding also includes information on performance improvement, a welcome packet, employee handbook, regulatory program and CEUs and requirements for ongoing education. "We've created a new employee scorecard by job description," Holman said.
Within the first 10 days of employment, new members of the Hart team must complete certain VGMU online learning courses. They then enter a 90-day education period based on their job description and each employee's particular role. At the 90-day mark, managers conduct an evaluation that includes reviewing the scorecard and certificates and verifying course completion.
Scheduling and Tracking Progress
The HartBEAT team plans the continuing education calendar several months ahead of time, and employees are scheduled for annual required education.
A spreadsheet lists employees and their assigned training and tracks completion. A shared IT drive stores all policies, procedures and forms. A monthly bulletin provides information on new policies or policy revisions, as well as information on future training.
Managers hold monthly meetings with their staff, Liss said. As issues occur, the education team follows up, "to help make sure they are compliant with Hart policy and processes."
Using Available Resources
Coordinating almost 300 employees at more than 20 sites across the state requires tools and technology. HartBEAT uses GoToMeeting, a web-hosted meeting and video conferencing service, to facilitate interactive training.
VGMU Online Learning is used during the new employee onboarding process, as well as for ongoing training. PowerPoint presentations created by the Hart team are made more interesting with animation and artwork.
YouTube
"YouTube has many options out there for providers for education," Holman said. For example, when a new driver/service technician was not feeling confident in his knowledge of continuous passive motion (CPM) machines, the HartBEAT team put together a plan using available resources: a VGMU Online Learning competency checklist and YouTube video of vendor instructions, followed by a hands-on demonstration.
Vendors
When there is time to plan ahead, HartBEAT will reach out to larger vendors to fill hands-on training needs at retail and clinical locations.
Vendors have provided hands-on training on glucometers and compression hoses at various Hart locations.
"It's another way for a provider to get quality education and it not be expensive," Holman said.
When ResMed and Philips Respironics provided ventilator training for respiratory therapists at Hart clinical locations, the HartBEAT team staggered training times, using each location's Outlook calendar, so there was no loss of customer service or patient appointment time.
"You have to be strategic in minimizing the loss of productive time," Holman said.
VGMU
When the HartBEAT team sought to provide staff training in an organization that includes one of the nation's largest Muslim communities, they turned to VGMU for courses on religious and cultural diversity in health care.
"I feel that VGMU has been responsive to changing needs and trends. They listen," Holman said.
And she adds, Hart-specific training includes an audio recording, PowerPoint presentation and written follow-up to accommodate different learning styles.
Company History
The seven-employee original Hart Medical Equipment, co-owned by Michael Damstra and Kenneth Fasse, had some wins in competitive bidding. Hart's current hospital partners—Genesys Health System, McLaren Health System, Henry Ford Health System and McLaren Port Huron—each had HMEs, but none were winners in the competitive bidding process.
Because leaders at each company knew HME was critical to hospital operations in facilitating hospital discharges, they wanted to stay engaged in the industry, explained Deb Holman, originally with Genesys and now Hart's chief compliance officer.
Beginning in 2013, each company brought patients, equipment and inventories to Hart Medical Equipment. They also brought legacy employees with their knowledge and their own way of doing everything. During the past three and a half years, through an education program called HartBEAT (Hart Better Education and Training), the company has accomplished assimilating into a new business—a successful HME with a positive bottom line.
This is the first of two articles focused on training and education. Read the second part of this article here.