After seven decades, Nunn's Home Medical Equipment still adheres to a tradition of service
The story of Nunn's Home Medical Equipment begins with a mistake. All Martin J. Nunn needed was a single wheelchair for a person who wanted to pay last respects to a loved one at Nunn's funeral home in Rome, N.Y. He called all over town, but there wasn't a wheelchair to be found, so the person had to be carried into the funeral home.
That bothered Nunn, who could not see a need without trying to fill it. During his years in Rome he started an ambulance service, a bus company, an answering service, and the funeral home. So when he needed a wheelchair and couldn't find one in town, he decided to order one so that he would be prepared if such a situation arose again. But it was 1942, World War II was raging and his order kept getting backlogged. Nunn waited and waited for the wheelchair and finally, it arrived—along with 11 more.
What do you do with a dozen wheelchairs when you only need one? Start an HME company, of course. "Martin did not need all 12 wheelchairs, so he decided to sell or rent them to others," recounts Erin Weiman, Nunn's granddaughter and director of operations for the single-location HME company, which now has 40 employees. "The demand was there, so he thought, 'If I could rent and sell wheelchairs, why not crutches, canes and walkers?' Thus, the hospital supply/home medical equipment idea was born."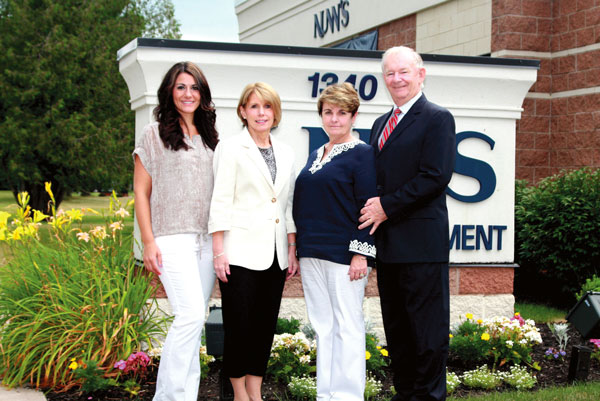 Building a Legacy
Now, 70 years later, that one mistake and Nunn's entrepreneurial spirit are still paying off for his family and residents of a dozen New York counties. The company is still family owned and operated, making it likely that Nunn's is one of—if not the—oldest family-operated HME providers in the country.
Nunn's daughters, Sheila Murphy and Nancy Ryan, bought the company from their father in 1985. Nancy's husband Joe is the president, and he's been with the company since 1970. Their son Brendan is the office and warehouse manager. "We mean it when we say, 'Our family supports your family'," says Weiman, who has been with Nunn's since 2005.
Being a family-owned company has made a huge difference in how Nunn's does business. "Since the inception, the one constant is that we have always been a customer-oriented company, patient first always," she says, adding that the company follows its founder's philosophy: No service too large, no detail too small, no distance too great to provide service and care on which you can rely.
"As a family-owned business, we are able to allow customers to buy and try any piece of equipment. Decisions on purchasing are made based on what is the best fit for our customers," Weiman says. "Having hands-on, working owners has been a great benefit."
Since the owners are always there, questions are answered promptly and problems resolved immediately. There is no waiting around for a corporate response, and no one-size-fits-all solution to problems. That could be the secret to Nunn's longevity—that, and a few other things.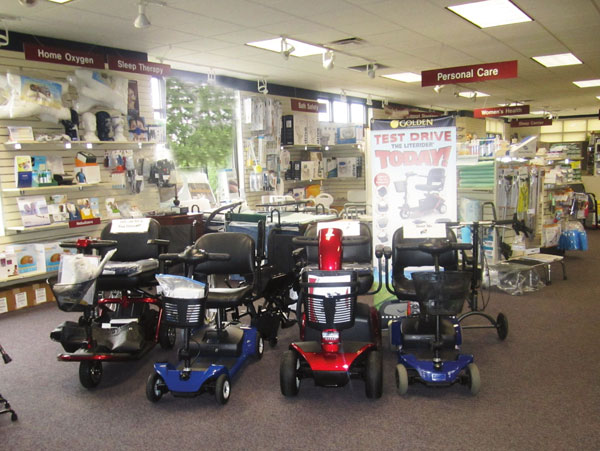 Value and Variety
When Nunn's first opened in 1942, it was located above the office for the ambulance company that Nunn had started. "People had to walk up the stairs to get their canes," Weiman says, acknowledging the irony.
Nunn's started out half patient supply and rentals and half medical/surgical (hospital and physician supply). There was no Medicare or Medicaid, and insurance was extremely rare. People paid cash for products. That's pretty much the way it was until the 1960s.
"When we first started with Medicare the patient paid up front, we gave them a receipt and then they submitted it to insurance on their own," Weiman says. "Then we transitioned to billing everything unassigned, and eventually we took assignment on things in the mid '80s and customers purchased many things outright, such as beds."
From the very beginning, Nunn's has carried just about everything. Martin Nunn was not someone who did things halfway. "Since day one we have been an extremely diversified company," Weiman says, noting that Nunn's is a full-service HME and respiratory company. About the only thing it doesn't provide is rehab equipment.
That diversity has benefited the company in several ways, not the least being that it has helped it stay competitive. Lincare, the country's largest respiratory care provider, is in Rome, and Utica and Syracuse—both quick trips from Rome—are home to plenty of competitors as well. "We have definitely built our brand," says Weiman, pointing out that Nunn's still serves descendants of its original customers. "People recognize the name, and our clients are definitely part of the family."
The company has always had a showroom, too, since the founder liked the idea of people being able to see a product and try it out. "They had a showroom from the very beginning," according to Weiman, who says the current showroom is 3,000 square feet and everything is out of the box and assembled so that customers can touch, look and test.
"They can use everything before they buy," she says. "We carry such a broad range of things. We try to be that place where therapists and doctors can call and know that we have what they need. We carry things that are not the standard, but just in case."
Over the years, customers have seen the evolution of the showroom. "In the beginning, it was equipment and med/surg—table paper for doctors, wound care—but as pricing and catalogs came out and it got more competitive, that's when they started realizing they needed to go more toward medical equipment," Weiman says.
In 70 years, Nunn's has been nothing if not adaptable. As times changed and new products emerged, the company saw new opportunities. "We have gotten heavily into the respiratory products and services over the past 15 years," Weiman says, as an example.
The impetus for that move came from the surge of people needing CPAPs coupled with the category's steady reimbursement. Of course, Nunn's didn't expand into that arena only halfway. The company hired several respiratory therapists, and one is always available whenever the store is open.
"We have built such a good reputation with our RTs and mask fittings. We offer a 'try before you buy' as long as it is OK with their physician—a 30-day trial period where they can come in and sit with our therapist and try different things," Weiman says. "One thing that has absolutely made a huge difference for us against the Lincares of the world is that we have a therapist here every day from 9 to 5, so a person can walk in and talk to a therapist."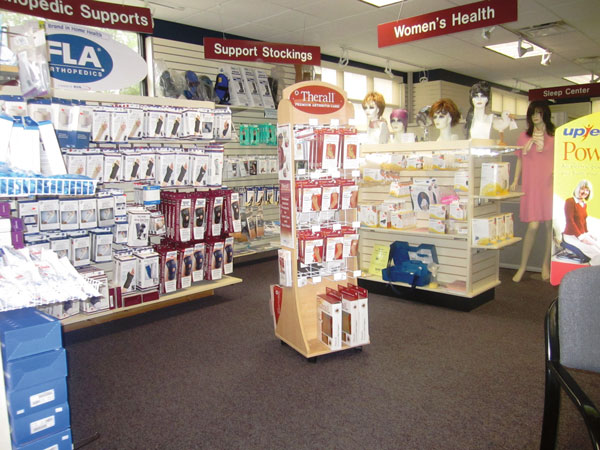 Relying on Retail
While respiratory is Nunn's most prominent product line, retail provides a great boost to revenue as well. "In this insurance-dependent industry, it's nice to have some cash sales," Weiman says, noting that Nunn's has cut its dependency on Medicare and Medicaid from 80 percent to less than 40 percent in the last five years. How has this been accomplished? "It's a mix of retail, and it helped getting CPAP customers who are not Medicare age. We started carrying products that are not Medicare-covered—ramps, stair lifts, a lot of small items—and we have a big aids to daily living section."
Nunn's prides itself on carrying just about any health aid a customer might want, and there is always more than one option. "We built our business on our service and we are a full service HME and respiratory and supply company," she says. "Being full service, we still offer loss leaders such as wound care, ostomy, all the things people don't do anymore. It's one of those things we do as a service for the community. If we can get them in here, hopefully they'll remember us when they need something else."
From those early days when folks had to walk up the stairs to buy their canes, the showroom has evolved into "a great facility, with easy access for our seniors," Weiman says. The company celebrated its 65th birthday by moving to a new, larger location that allowed for an expanded retail space.
"Since the beginning our retail showroom has kept one step ahead of the times and given us the exposure we needed with our customers to grow the other aspects of our business." Weiman notes that retail has carried the company when many other products suffered from declining reimbursement. For all its benefits, however, retail is quite challenging. "Having retail is wonderful but very labor intensive. You can't just stick someone out there to cash customers out. This is the kind of thing where people have tons of questions."
Sales staff must be well versed not only in the features of products and supplies, but also on what is covered by Medicare, Medicaid or insurance, and having only one salesperson on the floor doesn't do. "We have had to really beef up our staff," she says. "We get a lot of traffic and people don't like to wait."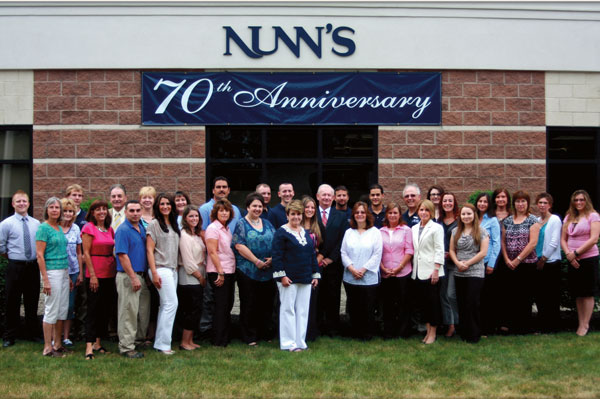 No Status Quo
Being the dynamic company that it is, Weiman says that Nunn's does not anticipate maintaining the status quo. In order for the company to continue for another 70 years and more, it will have to continue Martin Nunn's tradition of seeing a need and filling it, of foreseeing change and adapting to it. "Our biggest challenge is definitely dropping reimbursement. We are still doing as much and remain committed to keeping our service top notch, but now it is for much less than it used to be."
So Nunn's is shoring up its bottom line. It has a hospice contract, which has worked out very well. It is considering carrying diabetic shoes, and it is constantly looking at ways to cut costs "to be lean and mean and as efficient as possible."
Nunn's has been accredited since 1992, long before it became mandatory. Weiman says going through accreditation has "made us a better business," and one much better able to determine how to be lean and mean. In addition, she adds that advances in technology have also helped, and that Nunn's couldn't have coped with the competitive bidding process without its advanced software system that was able to determine the exact cost of providing a product. Nunn's bid on every product category except two—negative pressure wound therapy and diabetic supplies—in Round 2.
"Our actual ZIP code is not a competitive bidding ZIP code, but we do have patients in those areas," Weiman says.
Ready for Reinvention
Win the bids or lose them, Nunn's will survive. Only a small percentage of the company's customers live in a competitive bidding ZIP code, so if the company doesn't win any bids it will not be disastrous. "We are very lucky that we're not right in the heart of it," she says, "but we know we'll have to do those rates sometime."
That will be hard, she acknowledges, but when that happens, Nunn's will do what it does best. "Once again, we will reinvent ourselves."
After all, Nunn's didn't build its business on reimbursement. "We built our business on our service," Weiman says. "Our outlook is very positive, and we feel very excited about the future."
Surviving HME Challenges
Erin Weiman, director of operations for 70-year-old Nunn's Home Medical in Rome, N.Y. has developed five precepts for doing business in this era of mounting red tape, declining reimbursement and ever-changing regulations.
1) Don't panic.
2) Anticipate change and adapt quickly.
3) You and your employees must change with the times.
4) The sun will come up tomorrow.
5) Stay true to your ethics and morals and you will sleep well at night.
Learn more about Nunn's at www.nunnshme.com.