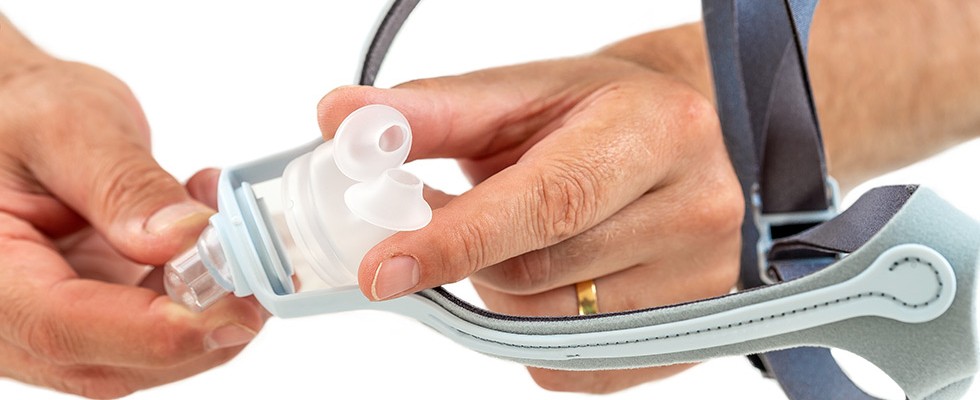 The future of finding a fit
With all its advances, technology is making its mark on the home medical equipment (HME) industry. There has been significant progress in remote patient monitoring (RPM) and in trends toward telehealth within health care networks. An aging population and a reduction of available human resources, such as respiratory therapists, have increased the need for new solutions.
Sleep medicine, like many other areas of care, is undergoing rapid changes due to new technologies and standards of care. That includes a number of breakthroughs made in CPAP mask scanning software and the ways it benefits both patients and the industry as a whole. Patients can now use at-home sleep tests to diagnose whether they have obstructive sleep apnea, as opposed to spending an uncomfortable night at a sleep center or hospital facility. Patients who are found to have sleep apnea are set up with the proper PAP device, which uses RPM to track their adherence to therapy.
But with hundreds of masks available on the market, how does a patient find the one that fits best? How do clinicians and providers determine which mask is most appropriate, especially given that there aren't universal sizing standards and that new masks are continually being added to the market?
Traditionally, providers have fitted patients in person with a limited sample of mask styles and sizing guides. They also ask a series of questions that relate to preferred sleeping position, the presence of seasonal allergies, whether they have a deviated septum and much more in order to determine which style of mask might work best for that patient.
Today, with the need for remote mask fittings continually increasing, providers are sending fit packs and sizing guides home for patients to determine for themselves which mask works best. But this is less than optimal, and low compliance rates that stem from patients being stuck with poorly fitted masks—which have air leaks and leave pressure marks—have made mask-fitting software essential.
So what does a provider need to look for in this type of technology to make certain the patient receives the proper mask and has the best opportunity for successful therapy from the start?
1. Accuracy
The No. 1 factor for a successful mask-scanning software is accuracy. There are a number of new technologies on the market today using various techniques to measure a patient's face, but some are more accurate than others. In optimal cases, measurements of the face are taken in less than .01mm segments and the nostrils are measured to determine nasal pillow size.
2. Privacy
Along with accuracy, privacy is also key, as mask-fitting technology captures images of patients. No images should ever be taken or stored, and scanning software should be HIPAA compliant.
3. Brand Agnosticism
Another important goal is to choose software that is brand agnostic. Patients deserve the opportunity to benefit from the best-fitting masks regardless of brand. With new and improved masks entering the market continually, it can be challenging for providers to keep up with what's available.
4. Remote Use
Finally, use a mask-scanning tool that has remote-use capabilities. Since COVID-19, the medical industry has continued to lean toward the convenience of in-home remote care. Many patients prefer remote care when available to avoid having to drive in for an appointment.
In today's world of Amazon and overnight deliveries, patients are used to receiving their PAP products directly at their door. The best mask-scanning technology can send a link from an institution to a patient's phone, tablet or email. Once the patient opens the link, the scan is completed, and, with a few clinical questions answered, artificial intelligence selects the best-fitting mask for that patient; this only takes seconds to perform.
The patient is taken care of and receives the proper mask without having to make an in-person visit and without guessing which mask type and size would work best. The provider increases efficiencies by saving precious time and resources such as fit packs and guides. This also frees respiratory therapists from having to perform mundane fittings and refits and allows them the opportunity to focus on more important tasks in patient care. Finally, the HME industry has the potential for additional growth as providers extend their reach beyond the driving radius of their brick-and-mortar location.
It's clear the benefits of mask-scanning technologies are great for both patients and the industry. By using artificial intelligence and machine learning to select from hundreds of masks with various styles and sizes, we can now determine in the proper mask for an individual in seconds. New patients can be fit with the best mask the first time, and patients who have given up their therapy due to poor mask fit can determine which mask will make the therapy tolerable. Mask scanning technology isn't just a fad or a temporary fix, it's the future of mask fitting. It's not a matter of if providers will use this technology, but when