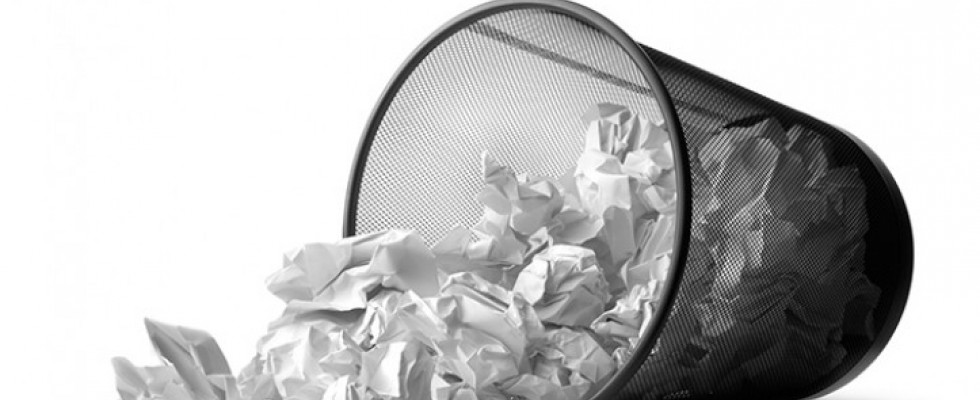 The case for going paperless
Thursday, October 5, 2017
The health care field as a whole is inundated with time consuming and expensive processes. While most branches of the industry have adopted modern technology to lessen the burden of these procedures, home medical equipment (HME) organizations are slow to let go of traditional methods. Although we have seen several providers turn to technology for the betterment of their business, the majority of HME companies continue to rely on outdated, inefficient paper-based practices.
For decades, HME providers have trusted these manual labor-intensive methods because, "It's the way things have always been done." However, despite getting the job done, the processes also have proven to be costly and ineffective. From hindering customer service to causing unnecessary write-offs, it's about time to throw paper-heavy processes in the trash.
Mobile logistics solutions have created paperless environments for a number of organizations to curb inefficiencies. No longer are these early adopters paying for overtime hours, failing audits or losing accreditation due to missing documents. Instead they have improved workflow and are experiencing positive results in four major areas of their businesses: overhead, efficiency, patient care and compliance.
The True Cost of Paper
Think about how much you spend on paper each month. You're likely picturing the line item on your weekly supply list that reads something similar to, "Five cases of paper—$280," or your personal costs. If you break it down further, though, you realize you are also paying for the full-time employees dedicated to scanning and filing each document. Lost and missing documents can also result in costing your organization thousands of dollars in write-offs and overtime hours to correct any errors.
Electronically storing documents on a smartphone or tablet makes everything accessible at the push of a button, eliminating or significantly reducing the need for physical paper all together and reducing the number of missing files. This also decreases the amount of full-time employees on the payroll assisting with menial tasks, and allows providers to shift them to other departments in order to complete more important projects.
A Paper Trail of Inefficiencies
The life cycle of the average HME delivery is filled with paperwork and plenty of opportunities for human error. During every stop, technicians are responsible for collecting multiple patient signatures and securing the documents until they are in the hands of the billers. This may not sound like much, but keep in mind they must also ensure the patient is properly cared for and fully understands how to use the equipment before leaving for the next delivery, which must be made on time.
Technicians must then deliver a hefty stack of paperwork to the billing department at the end of the day. As all the delivery documentation piles up, the billing department will spend hours on end ensuring everything is accounted for and confirming orders.
Often times, throughout this multi-tiered process signature lines go unsigned, documents get lost and orders wait days or sometimes weeks for confirmation. Not only does this process put individual departments behind, but it can affect patient care, breach compliance standards and the company incurs unnecessary expenses in the end.
An automated mobile solution allows delivery technicians to electronically transfer signed documentation to the billing department as soon as the stop is completed. Missing signatures will never again be an issue since the mobile solution collects one signature that is applied to all selected delivery documents, plus all documents will be filed accordingly after every stop. The billing department is then able to quickly confirm orders as they come in, drastically reducing confirmation time, mitigating overtime hours and almost eliminating the month-end process.
Putting Patient Care First
As with any health care organization, the primary focus for HME companies is patient care. Technicians should spend the majority of their time educating and assessing a patient during a delivery. Unfortunately, this piece can fall to the back burner far more often than it should. As opposed to teaching the patient how to properly use the hospital bed or wheelchair and assessing the home environment, technicians are scrambling to account for all signatures. The vast amount of paperwork technicians are required to keep up with typically consumes their time with customers and results in missing steps of the delivery process.
The benefits of a mobile solution stretch far beyond cost and efficiency, also allowing providers to uphold their organizational mission of delivering quality patient care. The ease of having customers only provide one signature saves a significant amount of time, allowing technicians to keep their focus on the patient instead of the paperwork.
Audits and Accreditation
The key to success for any HME company is maintaining compliance. In order to do so, organizations must ensure patient records are consistently up-to-date and all documents are accounted for. Keeping track of this information by hand in an industry with ever-evolving regulations can be stressful and lead to countless mistakes. Consequently, these errors tend to result in providers losing their accreditation status or being put on pre-payment audit.
As previously mentioned, with a paper-based system documents often go missing or are filed improperly. Even printing paper to be scanned into electronic files can result in missing paperwork. When it comes time for an audit, employees spend endless hours searching for and/or recreating documents to meet compliance standards.
Instant, electronic documentation through a mobile solution guarantees all delivery documentation is properly completed, stored and readily available at the provider's fingertips at any given moment. The software stores the most current forms in accordance with the latest guidelines, saving organizations the time and expense of copying and discarding piles of paper that may not be used before becoming obsolete. No longer do providers have to lose sleep over an audit, but instead can be comforted knowing all compliance standards are being met.
Moving to a Paperless Environment
The post-acute care industry was built on paper-based methods. However, the tactics that have worked for so many years are quickly becoming irrelevant and inefficient. Creating a paperless environment through use of a mobile solution will put providers far ahead of their competitors who are still reluctant to make the switch. It is time for HME organizations to follow the lead of other players in the health care industry and take advantage of the technological advances available to them. A mobile solution will improve your business and reduce your stress—the proof is in the "paper."
This article is the second in a four-part series. Read the full series here.