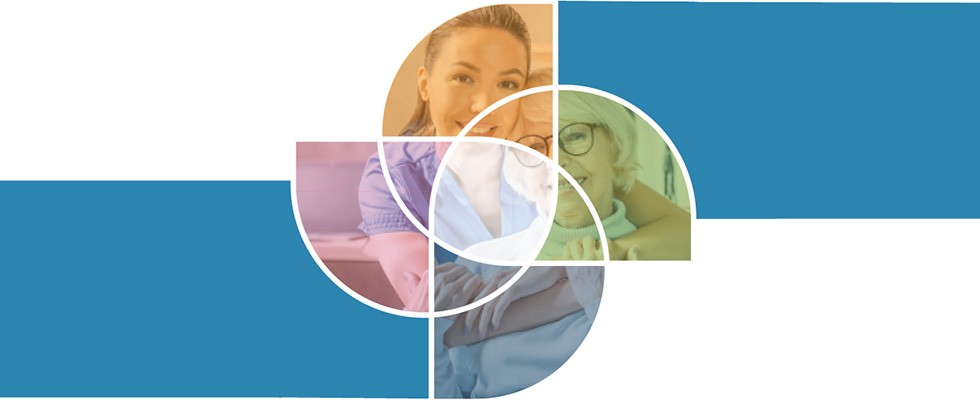 Tuesday, March 31st, 2020
HomeCare's Salary & Benefits survey steps into the business processes and minds of business owners to bring you the latest trends in salary, hiring and human resource practices. The annual survey asks industry leaders in both the home medical equipment and home health spaces for feedback on their practices. Take a look at how these two homecare industries are the same—and where they differ—and let this survey serve as your guide as you manage your own business.
Find the Home Health Survey here.
---
HME Providers are Focused
77% of providers in this category provide only HME/DME supplies. 20% are working with home health and hospice programs. Each of these results is on par with 2019's results. We are seeing a slight shift downward in retail suppliers from 2019, however.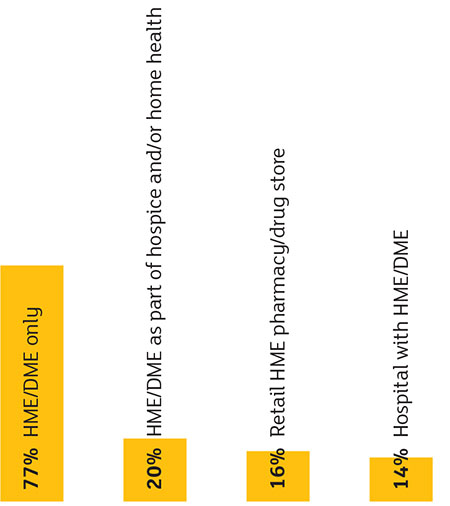 ---
Size Doesn't Matter Much

There was a wide range in the number of locations and employees. One large DME provider with 150 locations has more than 5,000 full-time employees and more than 2,000 part-time employees. Most stores with one location have fewer than 20 employees, both full and part time, but some retail locations employ more than 30 people. There are also providers working with small staffs across multiple locations, such as one provider with five full-time employees across two locations.
---
Most are Salaried
67% of survey respondents are salaried and of those salaried providers, 35% were C-suite executives. Of the 29% of providers in hourly positions, 14% are in management positions.
---
Most are Industry Veterans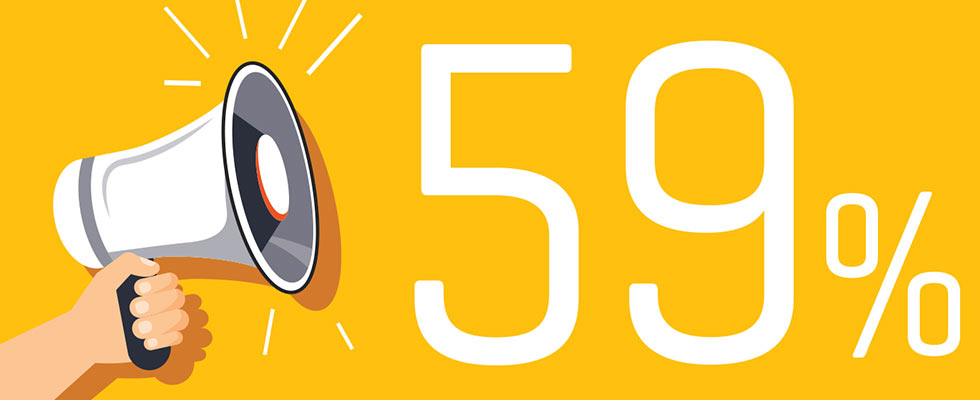 59% have been in their roles for more than 10 years, versus only 4% who have been in their role for less than a year.
---
Estimated Annual Gross Revenue in 2019
Roughly half of providers earned less than $2 million in revenue in 2019. 22% of providers reported earning $2 million to $5 million in revenue, slightly down from 2018.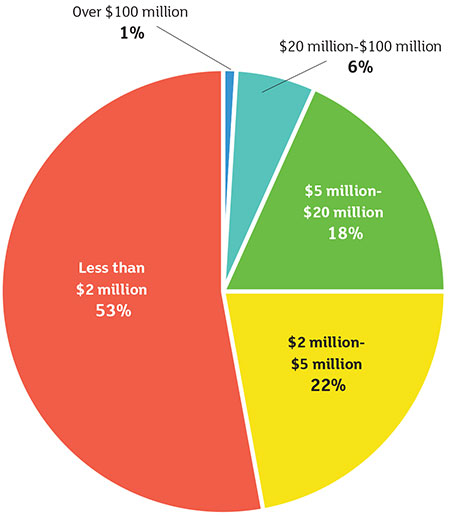 ---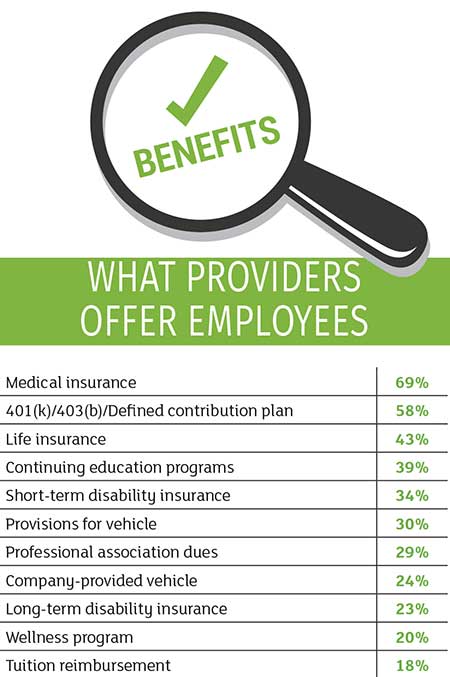 Medical insurance tops the benefits offered by HME providers, followed by 401(k) plans. 87% percent of companies are planning to continue these programs in 2020, on par with 2019 results. More adventurous employers offer benefits like association memberships, company vehicles, tuition reimbursement and even wellness programs.
---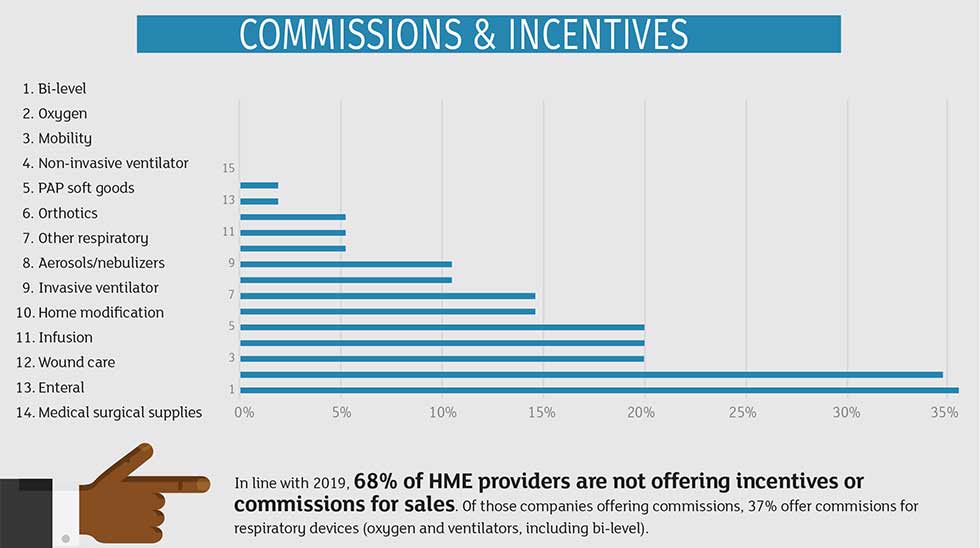 ---
Staffing Changes in 2019
For 49% of providers, staffing did not change in 2019, while 34% of providers increased their staff. Consistent with 2018 numbers, a declining number of companies were reducing staff.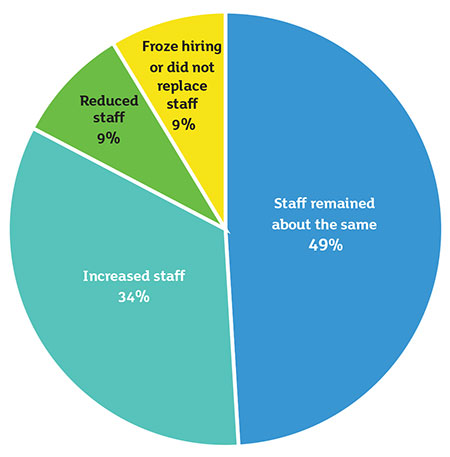 ---
Anticipated Staffing Changes in 2020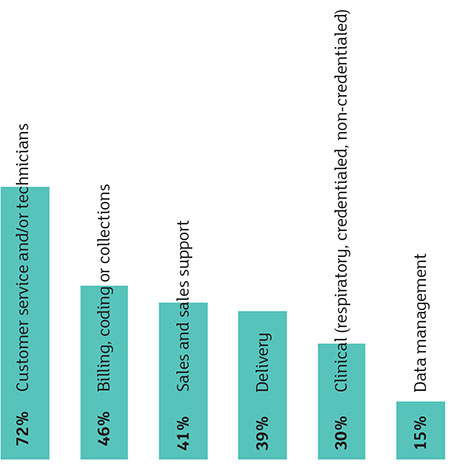 47% of providers are not anticipating making staffing changes this year, while 27% are looking to increase their number of employees. For those adding staff, customer service employees are in high demand, consistent with increasing retail needs. Billing and coding specialists are a distant second, followed closely by sales and support staff and delivery technicians. The more the industry changes, the more it stays the same.
---
A Look at Raises for 2020
Fewer companies gave raises in 2019 than in 2018, but those that did recognized employees for their performance and also cited cost of living hikes and increased profits.