Now is the time to make your move
Friday, October 28th, 2016
For nearly two decades a big part of the day-to-day operations for HME providers, trade associations and advocacy groups has been consumed with battling ever-changing CMS regulations, audits and suicide bidding programs. All have resulted in downward spiraling reimbursement levels, thinner margins and operational changes that directly and negatively affect the product quality and high level of services you can provide to your clients and referral sources.
The compelling question is: What can I do, and what do I have to do to survive in this climate? The answer that's becoming clear to many is to expand product and service offerings to include the home accessibility model.
Emerging Market of Home Accessibility
This emerging market is a natural progression for an HME because you already provide in-home care services and have always helped your clients to live a comfortable, safe and independent lifestyle. Accessibility offers a diversified revenue stream that flows away from traditional Medicare and fixed reimbursement programs.
Progressive-minded and proactive HME providers are staking their claim and planting their seeds for a bountiful harvest to come. As customers, boomers are still in their infancy. According to organizations such as the U.S. Census, AARP and Met Life, the next 15 to 20 years are poised to have the largest growth rate, with roughly 12,500 Americans becoming "senior matured" every day. This is the kind of market demographic that bodes well for a full-line service, a one-stop-shop that caters to their everyday needs and desires to live independently.
According to the MetLife Mature Marketing Institute, 91 percent of pre-retirees aged 50 to 65 want to live in their homes during retirement. According to the U.S. Department of Health and Human Services, average costs for an individual to reside at an assisted living center runs close to $7,000 per month. With the average cost to implement modifications within their home running between $6,500 and $10,000, your customer now has the option of remaining in their own home for less than the cost of a three-month stay in a facility. Many modifications (installations of assistive equipment) run far less in actual dollars, yet provide a variety of welcomed aids to your customer and their families.
Despite good intentions, 60 percent of adults between 50 and 64 suffer from at least one chronic health condition. Half of these Americans have high blood pressure, which is a major risk factor for heart disease and stroke, and two in five are obese. With the demographics and statistics laid out before us, it's obvious that we are living longer, but not necessarily healthier. That's where HMEs come in and why more and more HME companies are moving toward the home accessibility business model.
Opportunity Exists Beyond the Aging Market
Look closely at accessibility, and you will find the market is broader than just the aging. The close-at-hand target market is anyone within your current client base. No matter what their homecare needs are today, they all have other unexplored needs, wants and desires that will assist them in their activities of daily living.
Other patient groups that have additional needs and services include bariatric patients and those with mobility and physical challenges. Take a close look at younger boomers; these individuals in their early 50s have done their research and know that they want to make a difference in their lives to come or for their parent's lives as they age gracefully in the family home. All have accessibility issues within their homes, and real solutions are possible.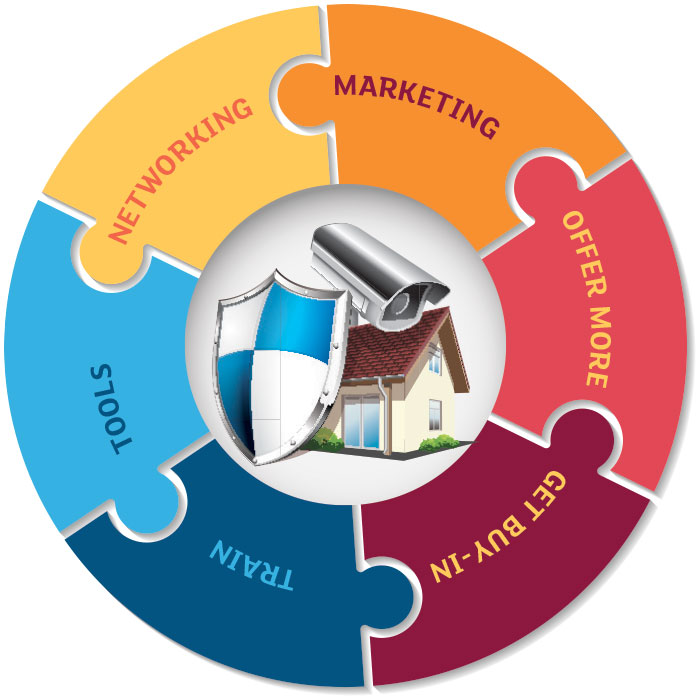 Six Points to Consider
Expansion does not necessarily mean adding physical space or additional locations; it is more the products, services and expertise that you could be offering to your clients and referral sources. As in any business model, there are a few points to be considered when expanding into a new market such as home accessibility. All are attainable and not out of reach. They include the following.
1. Networking
Don't let the fear of installation techniques and remodeling get in the way of your progress. There are avenues to explore within this niche environment that offer a great amount of help, information and expertise. Consultants, experienced and reliable remodelers and membership networks such as the Accessible Home Improvement of America (AHIA) exist today and are ready to help. Build relationships with nursing services and caregivers, remodelers and contractors. These will prove to be very valuable in your marketing efforts.
2. Marketing
The most important component of making a successful transition into the accessibility marketplace is marketing. Those involved in accessibility services today will confirm that marketing, awareness and education are as important as product training and the proper credentials.
Expand on your existing niche marketing strategy. Use the legwork you have already done and enhance that strategy to inform the community, all clients and referral sources of your new offerings. Today's consumer and your clientele rely on your expertise to guide them, and find the proper solutions to assist them with their challenges of everyday living for today, tomorrow and the future. The right message to the right audience in a timely and informative fashion is the key to success.
3. Offer More to Existing Customers
You are already serving customers in their homes, but you may not be serving all of their needs—known and unknown. You can build on existing relationships by having conversations about related products and services. Recently, this process of customer relations has been deemed as "caretailing" in the retail market, but definitely goes hand-in-hand with accessibility products and services. Don't hesitate to build that relationship with your customers.
4. Get Buy-In from Your Staff
As with many providers who have entered the home accessibility marketplace, starting with existing personnel is a great way to go. Utilizing the talents of those in sales, repair and delivery as excellent assets will help successfully evolve your business. Give them the opportunity to expand their careers by including them on continuing education, credentialing and licensing.
5. Train and Get Support
As an HME provider, you are accustomed to the support services and educational programs provided by trade groups and manufacturers. It's the same for the accessibility field. In fact, many manufacturers of accessibility products require successful participation in their certified product training programs prior to purchasing their products. Product certification for provision, installation and repair is a vital component of your route to success and for your marketing efforts as well. As far as credentialing, there are a couple of options available, both with outstanding track records and comprehensive training programs.
Certification: The Certified Aging in Place Specialist (CAPS), available through the National Association of Home Builders, is very popular within the contractor/remodeler industry. The Certified Environmental Access Consultant (CEAC), available through the AHIA network, is positioned as the credential of choice for HME/accessibility providers. When combined in a working relationship between the provider and remodeler, the results are unmatched. The result is a complete understanding of the client's needs, the project proposal and only the best outcomes should be expected.
Adding building trade to the mix: As a new(er) division of your company, accessibility and home modification becomes a mixture of expertise aimed at providing the
best possible solutions for your clients. As an HME provider, your experience and expertise are centered around the client and their circumstances or diagnosis. When it comes to expertise for the remodeling side of things, that's where the HME has options for adding the building trade to the mix.
Depending on the intended business model, a couple of scenarios have proven to be very successful. One option is to form a working relationship with a qualified and licensed contractor/remodeler. The other is to bring a contractor into the company as an employee. This model does bring with it the value of having full control of all business and projects under one roof. This can be very helpful when dealing with multiple trades, striving to meet timelines and juggling schedules to meet the needs of clientele. Either way, it's imperative to have both HME and remodeling specialties at hand and ready to perform.
6. Tools/Resources
Accessibility and home modifications require a professional who is trained and certified and fully comprehends the types of difficulties individuals experience in their daily lives. The correct products, equipment and some environmental changes can help a person live their entire life in their own home. While there may be defined product categories, there are not necessarily any truly defined sets of patients to match.
Generalities do exist, but a consultative approach by certified professionals is the best route to formulate the right solutions and match products and services to the needs of the client. Presenting valid solutions to existing and potential problems is the best solution and sales tool of all.
There are resources available that are very helpful in the evaluation/assessment process. The traditional use of a paper form, such as the well-known CASPAR form, is still in use today and does a good job of assessing a home and compiling the data to build a solution. As the accessibility field grows and develops, the use of electronic data collection has become a reality and is a welcome addition to providers.
One recently launched tool is a web-based app called Live At Home Pro. The mobile app is designed to help providers in the home accessibility marketplace. The HIPPA-compliant software is designed to aid the assessor and guide them through the home for a comprehensive evaluation of need(s), generate a proposal, capture images and communicate directly with staff.
The accessibility market is a natural progression for HME. The expansion of products and services offered, the specialty recognition gained with certified associates and the ability to market all this to existing clientele and referral sources makes your company a one-stop shop for all your clients' in-home care needs. Accessibility may very well be your answer to solving cash flow problems and put you on the right path to a much brighter future.