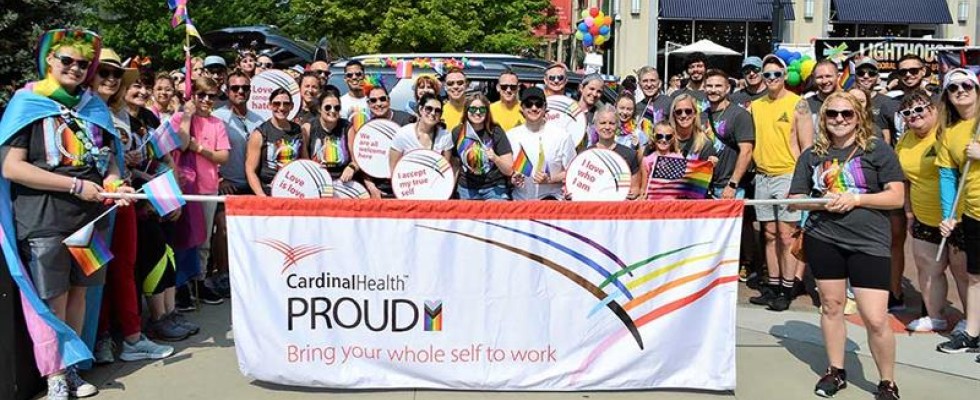 In today's challenging homecare world, it's easy for business owners and corporate leaders to put diversity, equity and inclusion (DEI) efforts at the bottom of a very long to-do list. After all, it's just something that's nice to have, rather than a must-do, right?
Not at Cardinal Health, where leadership has committed to keeping DEI on the front burner. In 2021, the company set specific goals to increase the number of women and underrepresented populations in its workforce by 2030.
"DE&I is at the core of running any business," said Rob Schlissberg, president of Cardinal Health at-Home Solutions, the company's division that focuses on products for care in the home. "You must make time for DE&I efforts. It's just that simple."
Better for Business
DEI efforts are important not just because they feel or look good, Schlissberg said.
"Ensuring diversity and equity—and fostering an inclusive work environment where employees know they can come as they are—is not only the right thing to do … it is good for business," he said. "With diverse voices and minds comes more innovation. Diverse representation at all levels at any organization leads to smarter decision-making. I truly believe that, because our Cardinal Health team reflects the diverse communities that we serve, we are better at serving them."
Other business benefits include increased innovation, better recruiting and improved employee engagement, Cardinal leadership says.
For Cardinal, DEI efforts come from both the top and the bottom. The company formed a DEI steering council of vice presidents and senior vice presidents who have been tasked with flagging and working on barriers to DEI across the company. Senior leaders also sponsor the company's employee resource groups (ERGs), including one for Black and African American employees and allies, a Disability Action Network, a group for Hispanic and Latinx employees and allies and one supporting lesbian, gay, bisexual, transgender and queer employees. (Schlissberg, for example, is a member of the steering committee for the Women's Impact Network ERG.) ERGs are voluntary and employee-led affinity organizations; at Cardinal, ERG members work together on community service projects and team events.
The company has set out guidelines for pay transparency and equity and developed statistical models to test for pay gaps based on gender, race or cultural status. It is also focusing on creating differentiated training programs to make sure more women and minorities are set up for leadership success. And it has eliminated a requirement for a college degree from about 80% of positions, instead focusing hiring on individual strengths and qualifications in hiring.
Advice for Homecare Companies
All that's fine for a health care giant with a market cap of over $23 billion and 48,000 employees around the globe. But even small- to mid-sized homecare companies should realize that having a diverse team at the table can make them set them up to better serve their customers, Schlissberg said.
It's also worth looking at how your services are used and how homecare providers can make care more accessible for underrepresented populations. Homebound adults are more likely than their non-homebound counterparts to be from a historically marginalized racial or ethnic group, according to the RTI Health Advance. And home-based primary care is generally more available to white populations than to populations of color, according to the Better Care Playbook.
As more care moves into the home, including acute-level care with hospital-at-home programs, ensuring that minority populations have equal access to innovative care models becomes even more important, Schlissberg said.
"Obviously, this cannot be accomplished in a silo. Efforts to bring equitable access to care to underserved communities will take a lot of work from everyone—from home medical equipment providers and suppliers, distributors, manufacturers, health systems, the government and advocacy groups alike. I am seeing progress in this area, but we have a lot of work left to do," he said.
Supplier diversity can also be important in moving homecare companies forward with DEI. A 2022 report by supplier.io found that 93% of companies responding believed engaging with small and diverse suppliers had a positive impact on their business.
Putting in the Work
Progress requires specific goals and accountability. Schlissberg said that the company's DEI metrics are included in staffers' annual incentive plans and in those for senior team leaders. All employees who are eligible for incentives must complete DEI leadership training.
Education is also a big part of the plan, including on the difference between an approach that focuses on equality—that is, giving everyone exactly the same resources—versus one featuring equity, which tailors support to individual needs to ensure everyone has the opportunity to succeed.
"We continue to make progress by educating our employees and communities on the differences between equity and equality, and why they matter in understanding DEI," Schlissberg said. "It's important for us as a company because if our employees don't understand the difference between the two it's hard to put both into practice."
But some of DEI also comes down to letting your employees fully express every facet of themselves—which leads to happier, more productive employees and better recruiting, Schlissberg said, as well as just making the company a great place to work.
"When you feel comfortable coming to work as your full self—and when you see others at all levels of the organization who reflect the community or communities that you are also a part of or an ally of—you feel a greater sense of community and connection with your team," he said. "We have seen first-hand that our DE&I efforts lead to greater professional development, better employee retainment and talent planning and encourage volunteerism outside our business walls."
Other Focus on Disability 
When we say DEI, it usually means diversity, equity and inclusion. But there's a different acronym that homecare providers should know about—the Disability Equality Index (DEI).
The index, a joint initiative of the American Association of People with Disabilities and Disability:IN, is an assessment tool for disability inclusion that allows companies to self-report their disability practices and policies. It was created in 2015 to help businesses make a positive impact on the employment of people with disabilities, and since then participation has grown from 80 companies to 485 this year.
"Businesses have the power to drive the global advancement of disability inclusion, and we're thrilled to see more companies than ever leverage the Disability Equality Index to measure their progress," said
Jill Houghton, president and CEO of Disability:IN.
The DEI takes about 40 hours for companies to complete each year and includes six categories of measurement: culture and leadership, enterprise-wide access, employment practices, community engagement, supplier diversity and non-U.S. operations.
Of those companies participating:
57% have external hiring goals for people with disabilities
29% say disability inclusion is part of senior executives' performance evaluations
24% publish data on employees who identify as having a disability
26% have a supplier diversity program that incorporates
disability inclusion
22% require at least some primary suppliers to spend with disability-owned businesses
Health-related companies are well represented in the DEI achievement list, including major payers, pharmacies and health systems. Durable medical equipment makers with a score of 100 include McKesson, Medtronic and Numotion, which made the list for the third year in a row this year. Numotion said its efforts include:
Working with job candidates to make sure there are no
barriers to interviewing
Executive sponsorship of the company's Numotion Disability Alliance Network, an employee resource group
Broad incorporation of disability needs into the company's DEI efforts and metrics and DEI council
"This is a sustained effort that we will continue to champion and support, cultivating a workplace where every employee, of any ability, is fully respected and able to thrive in their professional growth," said Mike Swinford, Numotion CEO.