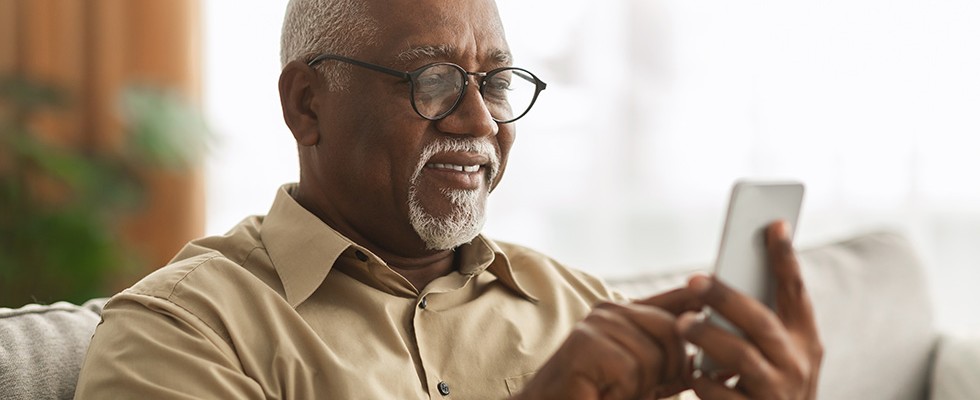 The right devices can also save caregivers time
There will be 80 million Americans age 65 and older by 2040, according a recent study from the Urban Institute. Most of them will want to age in place rather than move to assisted living or long-term care facilities, and they will likely require increasing levels of in-home care. Thus, the homecare industry has an opportunity to be the innovation hub for their needs. Companies can do this by adopting technology and tools to help connect older adults to resources, services and monitoring to make their homes safer, healthier and happier.
Tech for Staffing Shortages
There is a shortage of in-home caregivers. Experts at PHI predict that by 2030 this shortage will amount to a lack of more than 150,000 direct care workers, and that number will more than double by 2040. However, there are many exciting advances in technology to help bolster existing and future caregiving services.
Age-tech devices, health-tech devices and virtual communities have emerged to help fill the caregiver void. Many of these technologies are available for use in the home through smart devices. It's not always necessary to buy senior-specific devices to use senior-specific services. Many smart devices have services that can be customized to work for seniors' benefits or to access affordable add-on services. Plus, many services offered by health plans and local Area Agencies on Aging can be integrated with everyday technologies.
Voice recognition devices represent a new way to make the lives of older adult easier, safer and more independent. With these devices, seniors can not only coordinate more efficiently with their caregivers remotely, they can also get daily assistance in their homes when they need it. Best of all, these devices are becoming more accessible and affordable, and their popularity among baby boomers is on the rise. According to Serpwatch's report on smart speakers, voice assistants and their users, 26% of users are between the ages of 45 and 60 and 20% of survey participants aged 60 or older said they used a smart speaker. The report also found that, while seniors are less likely to own a smart speaker, those aged 60 or older who already own a smart speaker are more likely to use it every day than are those aged 30 or younger.
Voice Recognition Defined
Voice recognition devices rely on spoken commands to perform tasks. Common devices such as Google Assistant and Amazon Alexa are easy-to-use knowledge-based virtual assistants. They can use
voice commands to perform searches, complete tasks, make phone calls and many other functions.
Voice recognition devices generally listen for preprogrammed keywords or phrases. When the device recognizes a preprogrammed keyword or phrase, it links the spoken word or phrase to a specific command on the software. For example, "OK Google" or "Alexa" is the command for the device to listen for its next task.
Considering that the software can be updated and programmed with more benefits, these tools can be a game changer for those wanting to age in place. Caregivers can help older adults preprogram these devices with care needs. They can add in reminders, safety features and opportunities to connect with others through call settings.
Potential Help for Caregivers
As people age, the risk of them losing their independence increases if their physical or cognitive health declines. Yet overall health and wellness tend to remain higher the longer people remain independent.
Fortunately, technology offers ways to help people stay at home longer and live more fulfilling lives. One study projects that by 2030, more than 130 million Americans over the age of 50 will spend nearly $85 billion on technology. When digital resources are paired with caregiving services, these tools can create holistic health and wellness.
Voice recognition devices can make life easier for seniors and their caregivers in a variety of ways. They can help with tasks such as:
Scheduling appointments: Either caregivers or seniors can schedule appointments via a shared calendar. This allows both parties to keep track of activities and ensure important events are attended.
Reminders: Scheduled events can have reminders, as can daily activities like taking medication or performing a check-in. This can help caregivers to know that basic needs are being met even if they can't be present.
Fall prevention: If these devices are paired with smart bulbs or outlets, older adults can use them to turn on the lights in the house. This way they never have to get up in the dark and risk tripping over an unseen obstacle.
Help with visual impairments: More than 12% of people age 65 to 74 and more than 15% of people 75 and older report some level of vision loss. Voice recognition allows the visually impaired to use the same devices as everyone else and to operate smartphones, computers and other devices without navigating a keyboard or screen. This makes it easier for them to independently email, text or surf the web. Voice recognition devices can also be paired with other assistive devices like screen readers and braille keyboards, allowing access to a wide range of resources including digital books, websites and more.
Empowering people with dexterity impairments: When you have arthritis or hand tremors, it can be hard to use your hands—especially when trying to manipulate a touch-screen device, keyboard or a television remote. Voice recognition technology is an excellent solution for people who struggle with these challenges since it allows them to use their voices instead of their hands.
Special aging services: When paired with other devices or services, these devices can help monitor for falls. Some can be paired with third-party fall detection options that automatically alert people in the care network and call local emergency services. Other well-being check-in opportunities are available as well to help give caregivers and family members peace of mind.
These devices could help professional caregivers attend to more patients and know where to focus based on feedback from the voice recognition devices so that even with limited time, caregivers can offer the best possible care available. Plus, these devices can connect family caregivers with loved ones and create stronger care networks.
As voice recognition technology continues to improve, expect that the benefits it provides for older adults and their caretakers will only increase. The increasing population of seniors will need to use digital services for everything from booking vaccines to doctor visits. Integrating innovative technologies will be an essential part of future aging care. Caregivers may not be the heaviest users of such technologies now, but they can already start to use technology resources to assist with caregiving responsibilities.