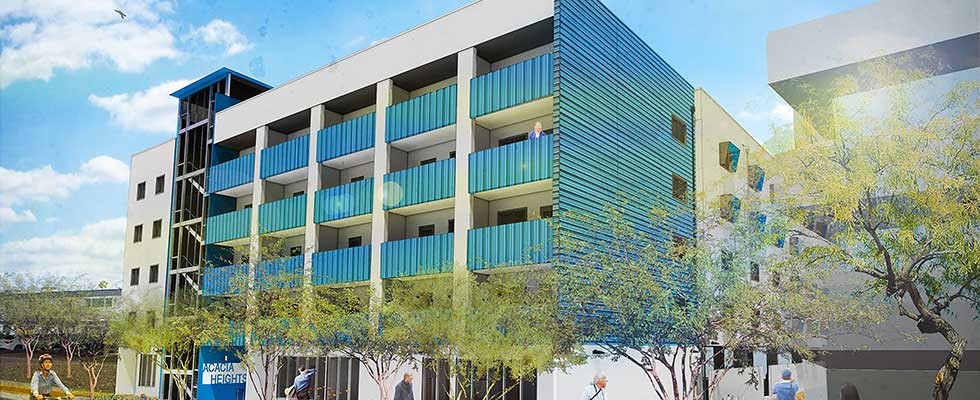 Building a safe home for seniors, brick by brick
You've heard all the statistics and anecdotes about the growing number of seniors who'd like to remain in their homes as they age.  But for some seniors, just having a place to live is the first hurdle.
While most American seniors own their homes, a growing number rent—a figure that's expected to hit about 23% of seniors in 2035, according to the U.S. Department of Housing and Urban Development. And those who own are carrying more mortgage debt than they used to; the percentage of homeowners over 75 with mortgages has tripled since 1989. At the same time, the maintenance costs and property taxes continue to grow, even without considering the money older residents may have to spend on home modifications, home medical equipment and companion care in order to make their safe to stay in.
That's where the Foundation for Senior Living (FSL) comes in. The Arizona-based nonprofit organization founded more than four decades ago is dedicated to providing affordable housing for seniors, veterans and others—but doesn't stop there. It also ensures that its clients have a safe and healthy place to live, offering home modifications, weatherization, home health services, food support and adult day services and senior engagement options.
FSL's holistic approach to aging in place—plus its broad reach—probably make it unique in the country among nonprofits.
"There's nothing exactly like us out there," said Megan Word, director of development and marketing for FSL.
Where It Began
When the organization was founded in 1974 by the Catholic Diocese of Phoenix, the initial vision was for it to provide housing and social services to seniors and others with disabilities.
"But immediately, we saw that seniors wanted to stay in their own homes," Word said.
Today, it's one of the largest nonprofits in Arizona, with a four-pronged focus: affordable housing, health and wellness, healthful meals and caregiver support. And Word said they are even considering possible expansion to nearby states in the future with a focus on providing additional affordable housing.
Housing for All
FSL operates 26 affordable multi-family apartment buildings with about 1,000 units around Arizona, including crowded Phoenix and isolated rural areas.Most are for seniors or adults with conditions like vision or hearing impairment or developmental disabilities. Renters must meet income criteria based on local median income and household size.
In addition to operating—and in some places constructing—affordable apartments, FSL has also branched into building single-family homes, with 126 currently online. Those homes don't have age restrictions, but some owners are 65 and up. Others are veterans; all purchasers must meet certain income requirements to qualify.
Offering this kind of housing is critical in Arizona, where approximately 18% of the population is 65 or older, said Tom Egan, FSL's president and CEO. There's already a waiting list about 300 deep for FSL's affordable units. Couple that with the fact that Arizona has one of the biggest deficits of affordable housing in the country—and that may get worse with the end of the federal eviction moratorium put in place during the early months of the COVID-19 pandemic.
"We're going to see a dramatic spike in the number of people who need affordable housing and in the homeless population," Egan said, adding that in Maricopa County, which includes Phoenix and is one of the largest counties in the country, there has been a recent increase in adults over the age of 55 who are homeless for the first time.
"They can no longer afford to stay in the place they have lived in," he said.
While Arizona may be a hot spot, there are nationwide predictions that the silver tsunami will bring increased demand for affordable senior housing. In a 2019 study, researchers in New York City found an emerging crisis of elderly homelessness, with the number of shelter residents aged 50 and up nearly tripling in a 13-year period; similar studies have been done in Boston and Los Angeles. And homeless adults in their 50s tend to have the same mobility issues, fall rates and chronic medical problems of housed seniors who are in their 70s.
Making Home Safe
But just having a roof over your head isn't enough, especially for seniors on fixed incomes with chronic health conditions. That's why FSL also has a home improvement program that includes accessibility modifications. The organization works with state and other partners, including home medical equipment (HME) providers and local contractors, to provide grab bars, wheelchair ramps and more for residents. In some cases, it even installs kitchen appliances with larger, easy-to-push buttons on the front to make it easier for seniors or other adults with limitations to their dexterity or eyesight.
The organization also focuses on weatherizing units for residents to help save them money. While the nationwide average for home cooling costs for the summer is about $150, Arizona residents paid on average more than $475.
"That way, they don't have to choose between electricity or the doctor's appointment or the medication or groceries," Word said.
There's also a new pilot program in cooperation with a local energy company that provides free repairs or replacement for broken air conditioners—critical in the summer desert heat, where an un-cooled apartment can be unhealthy or even deadly.
The key, Word said, is understanding that the way a person lives day-to-day can affect their health care outcomes.
"The home is an environment—we want that environment to be safe and healthy," she said.
---
Leading by Example
One of the most unusual programs FSL offers is a model house that shows off home modification options. Created around 2007 or 2008, the equipment in the home, which is based at the organization's corporate office, was donated by local home medical equipment provider MedAssure, Inc.
Half of the house shows what can be done simply and on a budget. The other half presents universal design concepts such as an accessible shower and an overhauled kitchen with lowered countertops.
"This is an opportunity for folks to look, touch and feel" without feeling they're being pushed to buy as they might in a showroom, Word said.
Adding Care to the Equation
In case all that wasn't enough, FSL also provides home- and community-based services for its clients.
That includes personal care, respite care, errand-running and housekeeping, all for people who are unable to pay privately for nonmedical care. There are Medicare-approved home health options, including a skilled hourly side that can work with patients who have ventilators or tracheostomies, providing breaks for family caregivers. And there's transportation so seniors can make it safely to doctors' appointments, the pharmacy or drug store.
FSL also performs some transitional hospital-to-home care for uninsured or underinsured individuals, "holding their hand," as Word said, for the first 90 days to ensure that their HME and medications are properly in place. It's Care by Design program is designed help clients with care planning and coordination, ensure there are fewer barriers to care, seek out unmet needs and educate family caregivers on referrals and resources. Their private care management includes family mediation, home safety assessments, care planning and community resource connection, especially for families who may not live locally.
About 80% of FSL's home health patients are Medicaid users; some may be on waiting lists for eligibility with local agencies but can received short-term charity care through FSL to get their needs taken care of immediately.
---
By the Numbers
In its most recently reported fiscal year, FSL:
Provided weatherization services and accessibility modifications to more than 4,106 homeowners throughout metropolitan Phoenix
Distributed 464,719 supplies from food pantries across the state
Served 61,087 congregate and home-delivered meals
Provided nearly 265,000 miles of reliable transportation
---
Activities of Daily Living
In conjunction with its work on aging in place, FSL runs three state-licensed adult day centers; two can serve 99 people a day and the third is smaller (based on pre-pandemic operation numbers). At least one of the ReCreatión centers offer wellness options, an accessible kitchen that can be used by members, and activities for adults with chronic diseases, diabilities or early stage dementia.
Yet another focus area for the organization is nutritious meals. It operates food pantries that are open to anyone in the community, as well as home delivered meals to seniors and other homebound adults in a Phoenix suburb and a rural town.
FSL has also traditionally served lunches and snacks at its senior centers—but that had to change during the COVID-19 pandemic. Instead, they offered meal delivery or a drive-through option, and that led to 43% growth in use of its meals. Also during the pandemic, FSL started a system to deliver supplies from its food pantries.
"We started contactless delivery, about $50 in groceries, including paper goods, and we would leave it on their doorsteps," Word said. "It was for those early months of the pandemic when grocery store shelves were truly bare, and also for our rural communities."
Word said that at the heart of all of the work is the idea that the elder generations are so often forgotten—even though we all hope to be there someday.
"No one was paying attention to seniors; we've not considered seniors in anything," she said. "Yet if we're all lucky, we're going to be there one day and we'll want to have those supports to age as we want to."
---
Finding Workers
Just like any other home health agency or homecare provider, FSL is struggling to fill positions. It was a problem even before the pandemic. After all, as a nonprofit working with low-reimbursement clients, they can't pay what a health system might; plus, staffers often have to travel long miles or into rough neighborhoods to reach clients.
"We have to look for the bleeding heart, we're looking for the person who literally wants to help this population … With direct care workers it's very difficult; this is hard work," Word said.
Recently, for the first time in a decade working there, the human resources team came to her for help marketing its open positions.
"I'm sure some of your readers would say, 'duh, we've been doing that forever,' but for us as a nonprofit, we have very limited advertising dollars."
So she's not just putting money into advertising but also planning on holding a job fair in their brand-new, unused adult day care center (closed for COVID-19) and also shooting videos of staff working with clients to show how meaningful the work can be.
"We need to find the person who truly wants to make that difference—and we do," she said.