3 ways to showcase HME equipment for retail
Dorothy said it best: "There's no place like home."
If you want to succeed in growing your retail cash-and-carry business, it is so important to build a home experience within your home medical equipment (HME) store or pharmacy. This will allow potential customers to imagine how HME products will fit in their day-to-day lives.
I am a huge advocate of building out three distinct rooms within your storefront: a bathroom, a bedroom and a living room. Incorporating these layouts can drastically change the consumer shopping experience when they walk into your business.
1. The Bathroom
Imagine a patient walking into an area of your store and instead of seeing a simple bath safety planogram on your walls, they see a commode, a shower and a bathtub. They step onto the tile floors you've put down and immediately feel as if they are in an actual bathroom. Now the patient who just had hip replacement surgery can truly try out what sitting on a raised toilet seat at home will feel like. Grab bars in elegant copper and brass finishes suddenly look like elegant home décor, not medical equipment. The products become relatable and make sense to the patient as they can see how they will actually look set up in their own bathroom.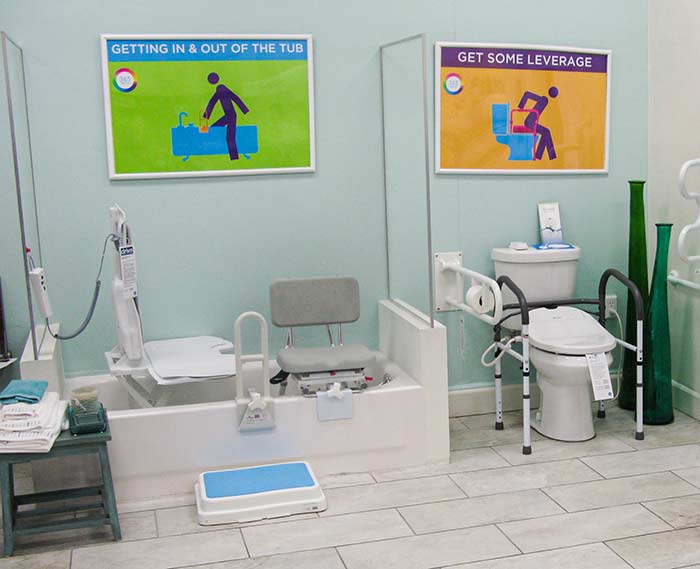 A retail-ready bathroom display. Photo courtesy of Mobül.
2. The Bedroom
Put down carpet to carve out an area on your showroom floor to establish a bedroom. Set up a hospital bed and dress it with nice linens and a comforter. Add a nightstand, lamp and a piece of art to finish the look. Place an overbed table next to the hospital bed with a copy of the latest issue of Southern Living magazine on top.
This makes HME products look less institutional—a key area of concern for many patients as they age in place in their home. Not only can the patients you serve imagine these products in their own bedrooms, they can try out items on carpet to experience what using them in their own homes will be like. This will not only drive top-line revenue for your store, but also help to lower your return rates by allowing patients to test products on the different surfaces they may have in their homes.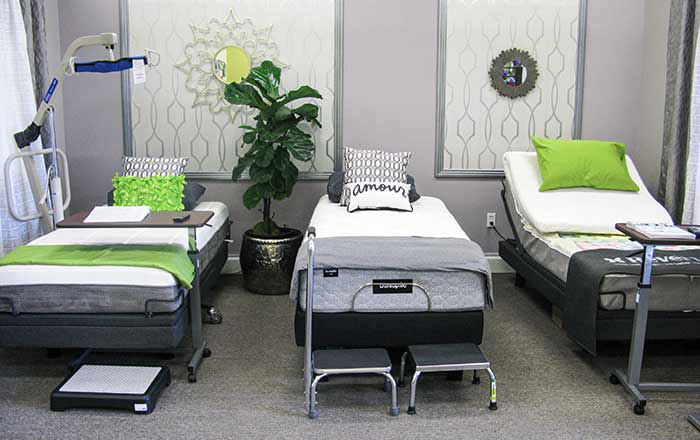 A retail-ready bedroom display. Photo courtesy of Mobül.
3. The Living Room
Providers have all seen the normal lift chair display in most HME showrooms. It consists of several chairs randomly placed side by side. Let's scrap that look and get your store to stand out from the competition. Put down some affordable laminate wood-look flooring, add a flat screen TV and put the college football game on. Place a lift chair beside a sofa to demonstrate how the product will fit into their current living room design. This will help the patient's spouse see that adding home medical equipment products into their living space does not have to ruin the aesthetics of the room, and in fact, can actually add to their decór if they choose higher-end finishes and fabrics.
I first applied these concepts almost 10 years ago when competitive bidding forced providers to look to cash sales to increase their business profitability. A friend of mine who owned an independent pharmacy with an HME component allowed me free reign over his several thousand-square-foot showroom. I did what I've outlined for you today: I created a bedroom, bathroom and living room within his store. The impact was tremendous and resulted in a seven-figure acquisition for him by a leading national provider.
These same results remain true today. If you want to see a great example of an HME provider making it work today, look at providers like Wayne Slavitt's company, Mobül, in Long Beach, California. Check out their Facebook page for a peek into their showroom for a great representation of this model.
When you design these rooms within your store, patients can imagine using HME products in their homes. All of a sudden, these products come to life and are no longer scary. Customers ask more questions and try more products. You make more sales.
Make it a goal this month to apply these concepts to your business and start creating an at-home shopping experience for your patients. Start small by picking one room to build out that will let you experience the difference it can make for your bottom line. I highly recommend starting with the bathroom, as most items in the bath safety category are not covered by Medicare, making it an ideal place to start growing your retail business.
And remember, there's no place like home.