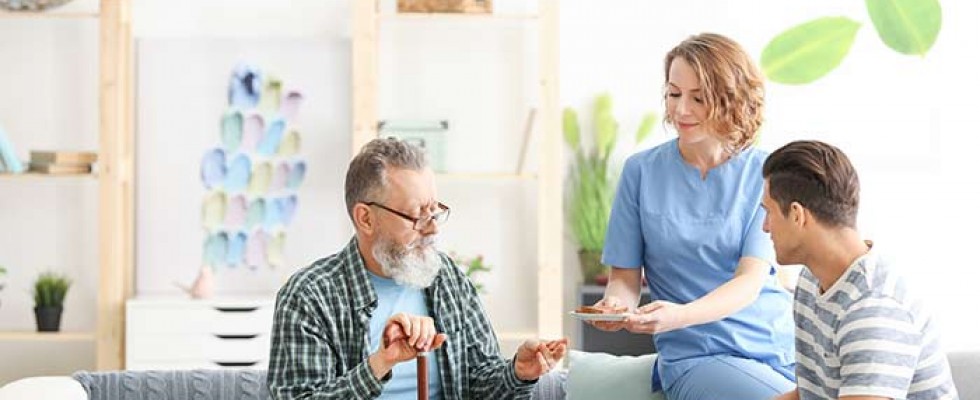 How the right tech enables safer aging in place
It can be hard for agency owners and patients' families to navigate the homecare technology landscape, which offers an ever-growing set of options. According to Business Insider, the market for products targeting aging baby boomers is expected to swell past $20 billion in 2020. There is no question that technology has the potential to revolutionize the homecare market.
When thinking about technology, most people focus on products used by consumers. But with homecare, technology designed for professional caregivers—not their clients—will have the greatest impact on the lives of older adults.
That's not to say that new end-user technology isn't innovative or useful. Augmented reality products keep dementia clients engaged in the familiar worlds of their youth. Specialized tablets and voice-based gadgets allow older adults to use technology that's not intuitive to them. And remote monitoring and personal emergency response systems (PERS) enhance safety by ensuring rapid response to falls and other acute events.
But tech-based homecare products lack the connection of companionship, the understanding of human desires and the ability to react to unpredictable—that is, human—requests.
Augmentation, Not Automation
Homecare is a human process; you simply can't automate the human touch. Outside of family and friends, professional caregivers have the most profound effect on a care recipient's happiness, engagement, well-being and health—so technology that augments and improves the care they provide will have the broadest and deepest impact in the home. Providers need technology that:
Effectively matches an array of caregiver skills with diverse client needs;
Sets consistency and quality standards for caregivers' delivery of activities of daily living (ADL) support; and
Enables caregivers to perform additional tasks that are essential to managing the home, thus extending the time loved ones can enjoy a quality life at home.
Smarter & Better Matching
Matching caregivers and clients is a challenge that grows with agency size. Caregivers have a variety of skill sets, personalities and aptitudes; clients have various conditions, needs and preferences. As homecare agencies manage an increasing number of caregivers and clients, the matching equation increases in complexity. Over time, high-quality matching scales beyond what the typical agency owner can handle.
Today, off-the-shelf homecare technology minimizes matching complexity by managing schedules and keeping track of caregiver skills and client data. But off-the-shelf software has one main flaw: it's designed for the masses—and one-size-fits-all solutions too often lack sophistication. While they help manage complexity, these solutions are static and not designed to improve owners' decision-making.
The right technology can also help agency owners in another important way—by removing bias in decision-making. Personal bias, conscious or unconscious, can negatively effect matching. For example, if a scheduler favors tenured caregivers who are less reliable, this will affect the quality of care and ultimately the agency's brand reputation.
The next generation of matching technology will use more granular data for recommendations driven by machine learning. It will draw on past trends to predict future matches. For example, this technology can log the number of hours a caregiver has worked supporting clients with dementia or capture caregiver and client satisfaction after each visit. Machine learning will then use these variables to predict their impact on mismatch-driven client attrition. Expect to see an increase in applications of machine learning in homecare as data becomes more detailed and structured.
Building Longer, Stronger Relationships
But matching is only the first step. In homecare, the caregiver-client relationship is typically longer and, at least in the best cases, more intimate than other relationships in health care. This is why it's critical that new technology provides agency owners with a system of controls that ensures consistent, high-quality care by caregivers and, at the same time, captures data to drive future caregiver/client decisions. This may be the most difficult problem in homecare today. Caregivers vary dramatically in skill level, expertise and reliability—as well as in their willingness to embrace technology.
Again, off-the-shelf software provides a partial solution. Even basic software can enforce standardization of data captured during in-home assessments and the subsequent tasks and support delivered to each client. But off-the-shelf software solutions are optimized for agency owners and often lack the user design elements that drive adoption among caregivers. And these solutions don't always work with older phone models, compounding adoption challenges.
Given the amount of time caregivers spend with clients, they are a valuable source of data collection for homecare agencies. And, since each caregiver has unique behaviors, attitudes, skills and backgrounds, caregivers also represent the most complex variable in the care delivery process.
Technology that's designed for widespread caregiver adoption will offer agency owners oversight, allowing for more standardization of care. It also can help with the logistical elements of care, such as providing advanced warning when a caregiver is running late. It can capture inputs into care plans and enable owners to standardize care tasks across an entire workforce, enforcing a level of consistency from one caregiver to the next, which is especially important during call-off situations. It must report detailed information back to family members after each shift—ADLs supported, tasks completed, the client's overall state of mind—to give them a window into the care and well-being of their loved one.
For owners, the technology must capture important details where caregivers and clients intersect, such as during care visits or shifts. Measuring caregiver and client satisfaction with schedules and with each other can help owners shape policies to better guide their business and reduce caregiver attrition. Owners can use the data to set prices for shifts or client profiles that are more difficult to staff. Shift-level data such as satisfaction and reliability scores will allow owners to hone in on areas of improvement or market areas of strength with real numbers more quickly.
Shift-level performance metrics also give health care payers insight into the quality of agencies. Payers are already starting to examine how ADL support impacts the overall health of older adults. More detailed, standardized data will enable payers to design better plans with expanded homecare coverage, possibly tailoring policies based on ADLs. Consistency of care and standardized data are an owner's ticket into payer networks.
A Bridge to Other Services
The technology platforms of the future will effectively match skills and needs, offer a system of controls for caregiver behavior and standardize agency-level data. Given how much time caregivers spend in clients' homes, these platforms can also be a bridge for owners to expand their services.
Once a caregiver workforce has adopted a technology and grown accustomed to using it for care delivery, those same caregivers will rely on it to perform other important tasks in the home, such as inventorying medication, preparing meals or facilitating virtual doctor visits.
Providing support for critical tasks—recurring and ad hoc—will boost caregiver satisfaction and offer clients and their families peace of mind. Furthermore, this data (e.g., nutrition and medication adherence) can help create a more complete picture of the client's health and wellness, further integrating homecare into the larger health care continuum.
The Tip of the Tech Iceberg
The homecare market is ripe for an influx of tech innovation. The United States Census Bureau projects that in 2035, older Americans will outnumber children for the first time in history. This growth runs up against an enormous projected deficit in the supply of caregivers; the Paraprofessional Healthcare Institute estimates a caregiver shortage of 7.8 million positions by 2026.
These conditions make homecare an attractive market for outside investment and the investment community has taken notice. According to health care mergers and acquisition firm Mertz Taggart, there have been more home health deals in five of the last six quarters than any previous quarter. But peek behind the curtain, and it becomes apparent that a large portion of an agency's value is driven by their caregivers' ability to establish genuine long-term relationships with their clients. Unlike other parts of health care, this subjects the agency's value to the daily performance of the caregivers they employ—and the technology that drives their behavior.
Technology will never replace the human element of homecare. Homecare technology of the future must reach further than the current software. It must seamlessly integrate the diverse needs of homecare's three constituent groups. It must be adopted and relied upon by caregivers. It must enforce standardized processes and return uniform data for owners. And it must be adaptable to the particularities of each and every client. A technology platform that achieves these objectives—and meets the needs of all three groups—will deliver on homecare's most important promise: To help seniors live safely at home with dignity for as long as they choose.