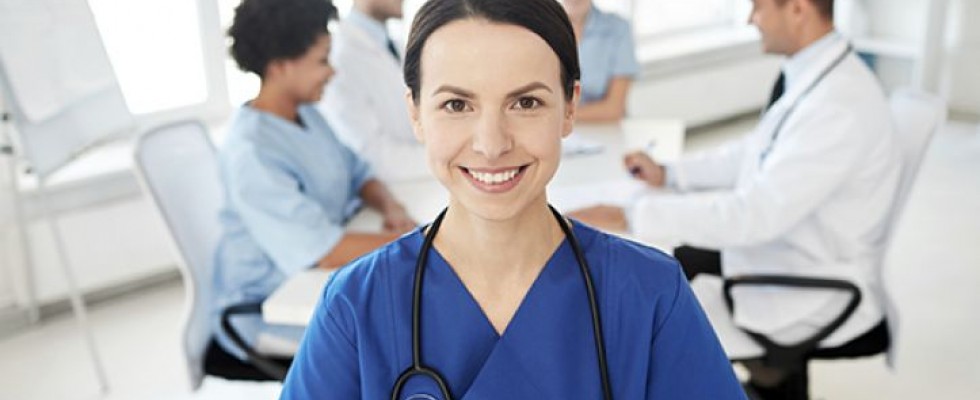 Recruitment is key to fighting caregiver shortage
Wednesday, October 10, 2018
As the senior population rises, the shortage of workers to care for them is also expected to grow. Helping to address these needs, home health aides and personal care aides are two of the fastest growing occupations.
Home health aides perform medical duties of care, such as wound care and medication management; personal care aides assist with the activities of daily living, such as laundry and bed-making or preparing meals.
In March 2017, Deloitte Consulting released an analysis of the health care sector as a whole from 2000 to 2015, using data from the Bureau of Labor Statistics. During this time, the health care sector saw a 42 percent employment increase as compared to the total private sector increase of 9.8 percent. Within the health care sector, home health providers saw a 115 percent increase in employment.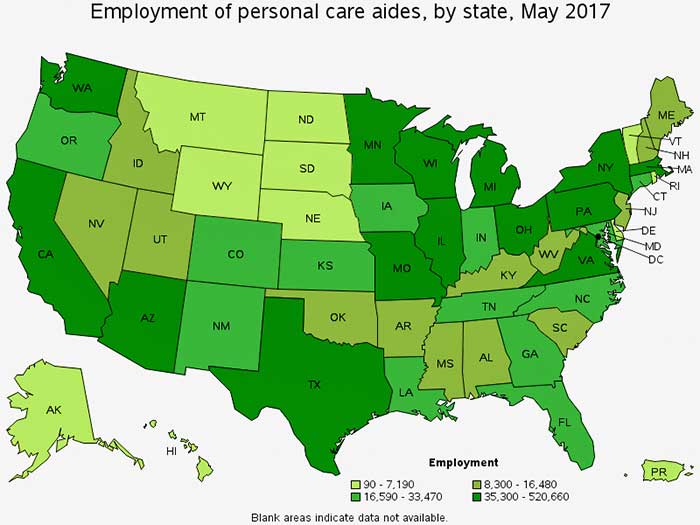 Personal Care Aides Employment by State (photo courtesy bsl.gov)
Hourly pay for caregivers across the country averages $11. Workers caring for those in psychiatric facilities are paid the most, averaging $16 per hour. California employs the most personal care aides, more than 500,000, averaging $12.60 per hour. New York employs nearly 200,000 home health aides, averaging $11.88 per hour.
Opportunities for Care
Andrea Devoti of the National Association for Home Care & Hospice (NAHC) said that attracting and retaining qualified personnel to work in the homes of patients is either the top concern or one of the very top concerns of agency managers and owners, and addressing that task requires a considerable investment of time and effort.
Another issue is communicating the availability of employment, said Danielle Pierotti, acting president and CEO of ElevatingHOME and VNAA. "People seeking or considering new work must be made aware of the opportunities."
There are a variety of career opportunities to be found. Home health aides and personal care aides work in various settings, from hospital to home. The industry needs licensed practical nurses, registered nurses, occupational and physical therapists, and physicians.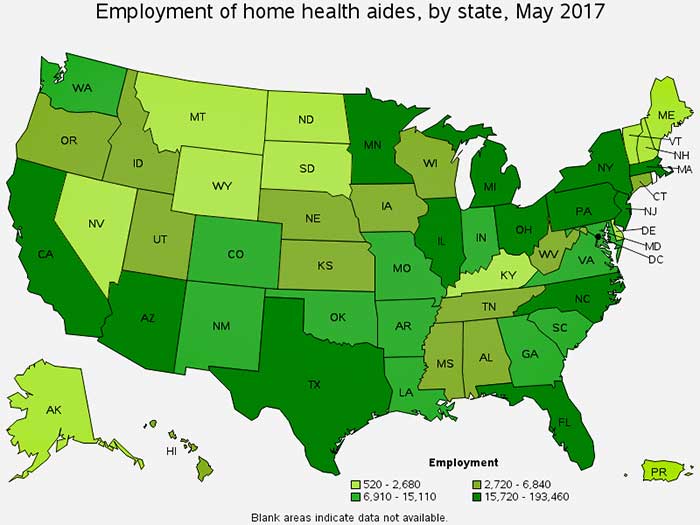 Home Health Aides Employment By State (photo courtesy bsl.gov)
According to BLS figures, homecare services nationwide employ nearly 180,000 registered nurses, earning an average annual wage of $33.77 per hour (see below for more on nursing's role). Just over 20,000 social workers are employed in homecare nationwide. Social workers help coordinate care for seniors and managed care plans.
Outside of the caregiving space, homecare agencies need support staff, such as coders, billing managers, schedulers and IT experts.
Brandi Kurtyka, CEO of myCNAjobs, put it this way: "In a market where caregivers receive three-plus calls a week for work and can move anywhere in the country and find a job, companies that help caregivers through often lengthy recruitment processes tend to net more and better hires."
Recruitment, Kurtyka said, should not be a process of elimination but of assistance through the process, helping caregivers attain the proper training and certifications. MyCNAjobs is an online recruitment and training tool for homecare agencies and job seekers.
Training Challenges
What makes a good homecare employee? Pierotti said, "A good home health employee is resilient, adaptable and able to solve unique problems in challenging environments. It is critical that home health providers are knowledgeable and confident in the basics to safely problem-solve unusual situations." Devoti noted compassion, caring, humor, common sense, patience, calm demeanor, respect, ability to follow written instructions regarding care plan, diet and activity for the patient, and the physical ability to assist someone in standing, walking and bathing as top qualities.
Dan Pahos, owner of Home Instead Senior Care of Birmingham, works in the shadow of the University of Alabama at Birmingham (UAB) hospital system, a major driver for acute care in the area. "As a provider in the chronic care space, we know that once your loved one is discharged from the hospital, they are going to need our type of services," he said. "For us, a caregiver is a nonmedical employee. They tend to be certified nursing assistants (CNAs)."
Many of the CNAs who come to work for Pahos are not trained in the processes of care in the home. He said the skillset taught in most CNA certification programs doesn't transfer to the nonmedical side of homecare. These caregivers require additional training to transition into the home.
When it comes to training and certification, Devoti said, "Individuals will be required to have some formal training, depending upon level of practice and licensure. At this point in time, a homecare aide with training or who is entering an employer-sponsored training program does not require experience in the field; in licensed areas most organizations require a year of practice experience after graduation before entering practice." NAHC is planning a certification for homecare and hospice executives program.
The challenge in nonmedical care is the lack of a unified curriculum or measure for caregivers. Pahos trains his employees on-site, using curriculum provided from the national offices of Home Instead Senior Care. But, he said, the training a caregiver receives from him would not transfer to another agency with a different curriculum or certification program.
Training can be found through many sources. For example, NAHC offers Home Care University, an accreditation service for nonmedical homecare providers, but no training for caregivers. MyCNAjobs provides tools for caregivers, including online continuing education units (CEUs) accredited in 46 states. In medical homecare, the VNAA offers the Clinical Practice Manual in print and an online caregiver handbook.
Additionally, caregivers have the opportunity to advance their clinical knowledge through tuition reimbursement programs for oncology, cardiology and orthopedics, according to NAHC. At Home Instead, some caregivers work toward degrees as LPNs or RNs while practicing care in the home.
The Right Person
Employment trends show growth in the industry, yet there are agencies with open positions and shortages of caregivers. From 2014 to 2024, homecare occupations are projected to add more jobs than any other single occupation, with an additional 633,100 new jobs, the Paraprofessional Healthcare Institute reports, using an analysis of BLS data. Finding the right person, with the right temperament and the drive to succeed, will eventually win out over staffing challenges.
---
Elevating the Role of Nurses
The role of nursing has justifiably begun to rise, said Susan Adams, RN, BSN, MHSA, PhD and vice president of Alliance Integration for Masonicare in Connecticut. "As [seniors] continue to have the most amount of service in the home, along with that goes the thought process that physicians aren't the only ones who can help the patient," Adams said.
In October 2010, the Institute of Medicine's "The Future of Nursing" report explained the vital role that nurses play in changing health care settings, recommending that nurses practice to the full extent of their education and training.
Incorporating the role of clinical nurse specialist (CNS) into home health care models is seen as one way for an agency to add value toward improving outcomes. The CNS is a change agent who directly impacts the client during transitions in and out of homecare, throughout the course of chronic disease management, and by assuring quality care is delivered by field clinicians.