Answers from industry experts
ADVANCED TELEHEALTH SOLUTIONS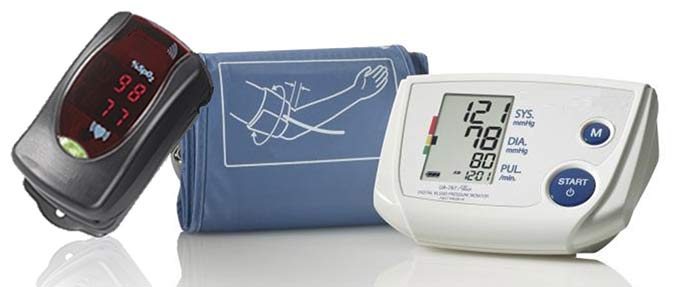 E-health monitoring devices
Karen Thomas, President advanced-telehealth.com What sets your company apart in the industry? THOMAS: Advanced TeleHealth Solutions offers a URAC-accredited health call center, nurses who are certified in chronic care, and staff trained in motivational coaching. In addition, we provide white-labeling opportunities, a turnkey solution, program development expertise, a specialized nursing team, an experienced medical director and successful ROI generation. What conditions benefit from RPM technology? THOMAS: Our own studies have shown a 73 percent reduction in the 30-day rehospitalization rate for patients with CHF and a 50 percent reduction in the six-month rehospitalization rate. We've also documented significant reductions in rehospitalizations, patient days and ER visits for patients with COPD, diabetes and hypertension. How prevalent is the use of RPM in the homecare market? THOMAS: Until recently, it was difficult to make a strong business case for remote patient monitoring, as there was no reimbursement mechanism for RPM. Because of this, many early adopters of the technology were not committed to developing and sustaining a program. However, times have changed. Not only does CMS now recognize RPM as a cost of care, but there has also been a proliferation of alternative payment models such as ACOs, Next Gen ACOs, population health and value-based purchasing. This is driving greater interest in RPM as an effective tool to reduce costs and improve outcomes. In the last 12 to 18 months, we have seen a significant increase in the use of RPM in many areas of health care, with home health agencies beginning to lead the charge in the adoption of this technology. Do you see hesitancy among companies to adopt RPM technology? Why or why not? THOMAS: Despite market forces now driving the business case for RPM and agencies recognizing that technology is a necessary tool to improve outcomes and reduce costs, not all agencies have a comfort level with the expenditures related to starting or growing an RPM program. Much of this has to do with agencies not being aware of how to implement a successful program or maintain a program over time. What are the biggest challenges that RPM companies face? THOMAS: The biggest challenge is helping homecare agencies understand the long-term value and ROI of remote patient monitoring, along with focusing on a successful implementation. With so many competing operational priorities that agencies are having to juggle, it is difficult to guide them through an efficient and effective launch. When implementation stalls, the positive ROI is pushed farther down the road. What are the current RPM trends? THOMAS: We are starting to see a trend toward using software that is scalable based on the acuity level of the patient, as well as the use of the bring-your-own-device model. How do you address concerns about reliability of the devices and false alerts? THOMAS: During the past 16 years as a remote patient monitoring call center, we have worked with many devices and have learned that established RPM equipment and software companies seldom have device issues. False alerts are normally the result of user error and easily remedied by teaching the patient or patient's caregiver the proper use of the equipment.
RELIQ HEALTH TECHNOLOGIES, INC.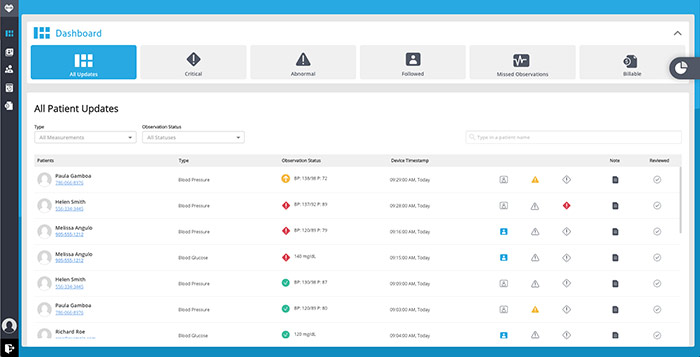 Reliq Dashboard
Daniella Reid, Marketing Manager reliqhealth.com What sets your company apart in the industry? REID: Reliq Health Technologies has focused on creating a device-agnostic platform that provides coordinated care for multiple chronic conditions. We focus all our attention on our core competency of building clinically accurate, easy-to-use remote patient monitoring software. What conditions benefit from RPM technology? REID: The most common conditions we see included as part of an RPM program are diabetes, hypertension, CHF, COPD and asthma. However, the connected device market has been rapidly expanding, and there is a much wider range of conditions that can benefit from the available technology—anything from mental health and wellness to sleep therapy. Do you see a hesitancy among companies to adopt RPM technology? Why or why not? REID: The hesitancy to adopt RPM has decreased over time as more studies have been completed demonstrating the value of the technology, and reimbursement has improved accordingly. We're now at a point where 20 state Medicaid programs reimburse some portion of RPM, with several others moving forward with legislation. How do you address concerns about reliability of the devices and false alerts? REID: A 2017 study by the Diabetes Technology Society (a nonprofit organization committed to promoting development and use of technology in the fight against diabetes) found that only six of 18 common blood glucose meters met accuracy standards based on FDA guidelines. Not all devices are created equal, and the best way to minimize risk around device reliability and false alerts is to select a device that has been tested and proven as reliable.
ALAYACARE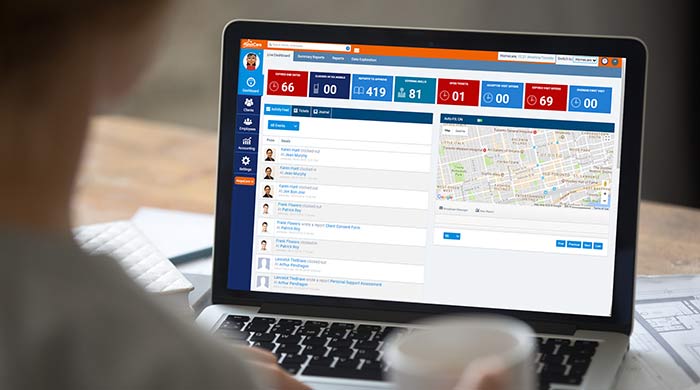 AlayaCare Platform
Jeff Howell, Director of Growth alayacare.com What sets your company apart in the industry? HOWELL: AlayaCare is an end-to-end solution from client intake to scheduling to tracking caregivers in the field to billing/payroll, reporting and remote patient monitoring. Our RPM solution is also not just taking vitals in patients' homes, but our machine learning algorithm has lowered hospital admission rates by 63 percent in chronically ill patients. What conditions benefit from RPM technology? HOWELL: We feel that any condition can benefit from RPM, but in particular we have seen success with COPD and CHF. These are conditions that put immense financial strain on the health system yet have symptoms that can be detected and pre-emptively treated before any negative health events. How prevalent is the use of RPM in the homecare market? HOWELL: The technology needs to be reimbursed. Patients have a slow user adoption rate—these are people that did not grow up with technology and are resistant to having their health data shared. The lack of reimbursement and low operating margins mean these agencies are simply not focused on new project—many of them are still operating their businesses on paper. Do you see a hesitancy among companies to adopt RPM technology? Why or why not? HOWELL: Very few mom-and-pop home health agencies are focused on RPM, and it is mostly because they follow the trail of reimbursements. We also still live in a world where there is little actual demand. While most people think RPM is a good idea, when it comes to having patients sign up and take their vitals (and pay for it), the demand for RPM drops significantly. What are the current trends in the market? HOWELL: In the short term, value-based pay. Every modern business measures and reports on everything they can. Tracking vitals in real time and turning that into delivering better patient outcomes and reporting that back to managed care organizations is the future. In the long term, interconnectivity and predictive analytics. As we continue to move into an internet of things world, a patient's health will be monitored in real time. Examples include motion monitors to detect falls, "wearable" beds, toilets that can detect vitamin and mineral deficiencies and refrigerators that measure food intake. All this data can be combined to provide proactive advice for patients within their homes.
HONEYWELL LIFE CARE SOLUTIONS

Cindy Strzelczyk, General Manager honeywelllifecare.com What sets your company apart in the industry? STRZELCZYK: Honeywell Life Care Solutions brings the total solution—sophisticated web-based technology, strategic vision and day-to-day support—to our customers. We make these achievements easy, practical and an integral component for success in a world that demands quality and empowers patients to take control of their own health. What conditions benefit from RPM technology? STRZELCZYK: It's more cost-effective to continuously monitor patients than to treat their disease-related episodes in the hospital. Thirty-day unplanned, all-cause readmission rates of Medicare patients (those 65 and over) have historically hovered around 20 percent. For patients with some chronic conditions like congestive heart failure, the readmission rate is even higher, nearing 25 percent. How prevalent is the use of RPM in the homecare market? STRZELCZYK: Keeping patients at home and out of the hospital has obvious clinical benefits by keeping them in a healing home environment and away from the numerous health challenges patients face. Following the deployment of remote patient monitoring, it is not uncommon to see hospital readmission rates go from double-digit to single-digit levels, resulting in a cascade of benefits to patients and provider organizations alike. Making that first step to establish a telehealth monitoring program is frequently the most daunting task for many homecare agencies facing nursing shortages, telehealth training deficiencies and an overall strain on limited resources. Do you see a hesitancy among companies to adopt RPM technology? Why or why not? STRZELCZYK: Information technology professionals are looking for technology solutions that meet the varying abilities of patients and staff, interoperate with the existing infrastructure and comply with the industry's security requirements. Health care systems typically have installed hundreds of different software applications and systems that invariably do not communicate well with one another. What are the biggest challenges that RPM companies face? STRZELCZYK: The key challenge facing health care providers and payers in 2018 is the increasing pressure to provide better-quality health care at less (or equal) cost. Going forward, health care organizations will be reimbursed on the value, not the volume of services they deliver. These pressures are bound to increase, regardless of the legislative or regulatory landscape. What are the current trends in the market? STRZELCZYK: Rapid technology growth has brought about an influx of new companies in the market, frequently blurring the lines between wearables, wellness apps and activity trackers, leaving health care providers to interpret and assess the multitude of different features and widgets. How do you address concerns about reliability of the devices and false alerts? STRZELCZYK: Delivering a high degree of accuracy to help manage chronic conditions even when patients are miles away is important, as this provides confidence in the measurements received from patients. Honeywell Life Care Solutions has implemented a number of telehealth projects that demonstrate strong results for our customers. Our monitoring solutions have been reviewed by the FDA and are 510(k) cleared devices, leading to the highest degree of clinical accuracy. Honeywell's Genesis Touch telemonitor provides audio and visual cues that make it easy for users to collect their biometrics, connect to a wide range of peripherals for accurate measurements, and access answers to educational questions. Together, these tools make it possible to improve patient engagement and reinforce care plans through video visits that connect with care providers and family members.
SYNZI

Lee Horner, CEO synzi.com What sets your company apart in the industry? HORNER: Synzi's virtual care platform can help home health agencies take the next step in optimizing available resources while continuing to provide compassionate care. With Synzi, home health agency care teams can not only boost staff productivity but also engage patients in any manner and on any device (smartphone, tablet or computer). Synzi's complete solution includes video-based virtual visits, text, SMS and email. No new equipment or additional investments are required in order for staff and patients to use our solution on their existing devices. One of our interpreters can participate in the virtual visits on demand for patients whose preferred or primary language is not English. What are the current trends in the market? HORNER: Recently, we are seeing solutions leveraging technology designed from the patient's perspective. Similarly, Synzi's solution uses commodity devices—such as tablets and smartphones—which patients already have on hand. Because our solution was designed to work across any level of Wi-Fi or cellular connectivity, patients can easily access their care. The objective is to make any solution as easy, convenient and effective as possible for patients and providers to use on an everyday basis.
MOBILEHELP

Chris Otto, SVP Healthcare Division mobilehelphealthcare.com What sets your company apart in the industry? OTTO: First, our business model is very unique: no upfront capital expenditures and an easy-to-understand per-patient/per-month financial model. A fully scaled, direct-to-consumer business allows us to offer some financial models (and support resources) difficult to find in some of our competitor companies. Second, the platform includes the medical alarm/PERS component. Many chronically ill patients are at risk of falling or have a heightened need for access to emergency services. We believe this is an important safety component that should be included in most programs. Third, we want every patient to enjoy using it so much that they keep it on a private pay basis. We believe our emphasis on consumer engagement—sharing pictures, games and other softer features—is unique to MobileHelp. What conditions benefit from RPM technology? OTTO: While we are focused on CHF, COPD, hypertension and diabetes, there are many conditions beyond these. We have a post-surgical program that is especially useful for orthopedic patients at risk of falling. We also have a gestational diabetes program. How prevalent is the use of RPM in the homecare market? OTTO: In a recent study we conducted, we discovered nearly 30 percent of homecare agencies are using some form of RPM, but typically, this is a very small fraction of patient populations. In contrast, more than 85 percent of those not utilizing RPM reported a perceived value. Do you see a hesitancy among companies to adopt RPM technology? Why or why not? OTTO: With home health agencies, the hesitancy has primarily been gated by payment strategies. Most HHAs see the value. The question that always comes up is "Who will pay for it?" What are the current trends in the market? OTTO: The biggest trend that we see, that promises to dramatically improve adoption, is CMS recently announced its intent to allow home health agencies the ability to include these costs on their Medicare cost report form. How do you address concerns about reliability of the devices and false alerts? OTTO:These are two very different topics. Our experience has been that the devices are extremely reliable. We are accustomed to supporting a life safety application (PERS) and test our products to the same standard as we do for emergency response. False alerts are a different matter. We advise all our provider partners that false alerts are to be expected. The most common reason for false alerts is patient error. For example, with CHF patients, it is not uncommon for patients to forget to remove their shoes, which could cause a weight gain alert. These types of false alerts are typical as patients learn to acclimate to the program. During the first one to two weeks of a program, this is not unusual and eventually settles.