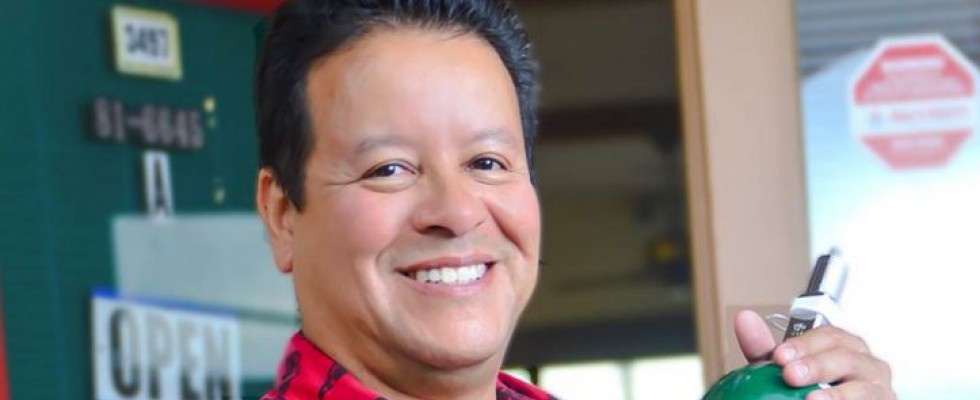 Meeting supply chain challenges in Hawaii
Thursday, September 27, 2018
It's just another day in paradise when I give Patrick Velis, the president and co-owner of Aloha Medical Supplies and Services, Inc. a call.
We've been trying to connect for weeks, but recent events on the island of Hawaii have been keeping Velis a bit busy. As it is, Category 3 Hurricane Hector is churning off the southern coast of the Big Island, generating tropical storm force winds and rain as we chat. Velis is gearing up to check on his customers for the day, but I'm glad for the chance to talk to him about the challenges of supplying home medical equipment in the westernmost state.
"We had a 6.9 magnitude earthquake in May and numerous smaller earthquakes since," Velis tells me. The large earthquake set off a series of events at Kilauea volcano, causing an ongoing eruption and the evacuation of Leilani Estates (see below for timeline). Aloha Medical serves oxygen patients in Leilani Estates, and since the evacuation, continued service has been difficult. "We're still dealing with locating displaced customers," said Velis. "Some customers have moved off the island, and we're working with various agencies to let them know these people have medical needs."
Getting Started
Let's back up a few years. Velis moved to Hawaii "kicking and screaming," as he puts it, from Southern California, to run sleep disorder labs in 1994. He ended up working for a DME company, which closed, and in 1999, he opened Aloha Medical in Hilo on the Big Island.
"The first year was a paperwork year. We incorporated in 2001, and I took on a silent partner," said Velis. The company now has two locations on the island of Hawaii and outposts on Maui and Molokai. The company employs a staff of around 10 people.
"We use technology to be efficient and cost-effective," said Velis. "The retail side of our business has really grown and incorporates a good chunk of our business. We're well-rounded. We meet the needs of the tourist industry, the clinical industry and the pet industry. We have an orthotics specialist on board."
Aloha Medical carries the supplies you would find at your usual medical company: beds, CPAP supplies, oxygen equipment, skincare supplies, rollators, scooters and more. It's how Velis faces the challenge of supplying both locals and tourists—in the face of limited supplies—that makes Aloha Medical unique.
Supply and Resupply
Hawaii is 2,467 miles from the mainland United States, or roughly a 4-hour, 50-minute flight from Los Angeles to Honolulu. Getting supplies to the island chain is not easy and resources are limited. For example, liquid oxygen isn't available on the islands—the systems available are portable oxygen concentrators or gas-to-gas-systems.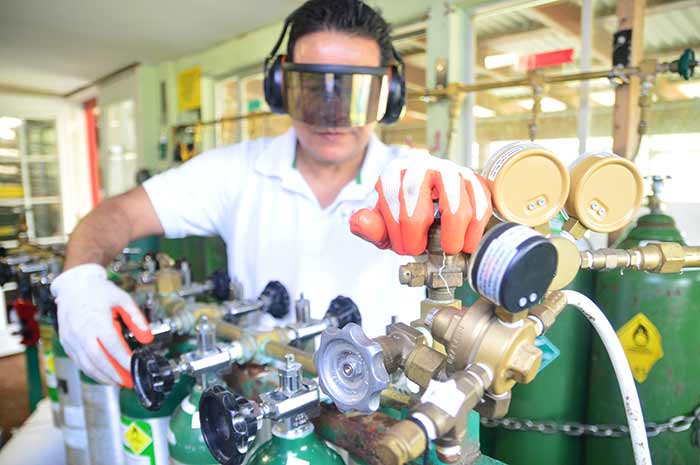 Velis demonstrates the gas-to-gas tank refill system at Aloha Medical.
"There is a lot on the mainland that can't be shipped to us," said Velis. "It takes a different game plan [to care for patients]. This has forced the DME companies to get together and refer clients to each other. It's created a brotherhood to help the individual needs of the client. We're in this together out here."
Instead of waiting for delivery, Aloha Medical acts as repair experts for CPAP and home ventilators. "We had to reinvent ourselves," said Velis.
The business also specializes in servicing those who travel, helping patients get from island to island or back to the mainland with portable oxygen concentrators.
Delivery to the islands is not reimbursed by Medicare—and never has been—making operations expensive. To add to the challenges, the state is classified as non-rural under the competitive bidding program, with the exception of the Honolulu CBA (which covers most of the island of Oahu). When CMS makes rate adjustments to rural areas of the country, Hawaii is often left out. However, with the release of the HME interim final rule (CMS-1687-IFC) in mid-May, Hawaii did see an increase under the "non-contiguous" language.
Aloha Medical can now service more patients under these rate increases, which amount to a rollback to the 50/50 blended rate schedule of 2016 through December 31, 2018.
"We had to get out of Medicare for a while," Velis said, "because service exceeded reimbursement. I hope everyone else can get on board as far as those rates go." Further changes (and provider relief) to the bidding program are expected with the ESRD/DMEPOS proposed rule, which was not final as of press time.
Ohana Share Mode
When Kilauea erupted in May, the calls for oxygen started coming in. One of the hazards of the volcano, beyond the lava flows, was the dangerous sulfur dioxide gas, or vog, that clogged airways. "We had a person in the area with a tracheostomy," said Velis. "They are now on a home ventilator.
"We've been really busy on the oxygen side. This has been challenging for us on the supply side because we're limited to our supply here on the island. Our supply has run out. It takes days to get more."
From left: Pua, Debbie, Patrick and Delrae. Mascot: Pualaha'ole, or rare flower (Photo courtesy of Patrick Velis)
Velis said the company is in "Ohana share mode" since the eruption began. This means conserving resources and careful planning for each customer.
"The economy on the island has slowed, and many businesses have closed," Velis said. "Nobody wins, but we're here to help. Destruction is also creation. We have to be patient and see what's going to come out of this. We'll be here to continue to serve people's needs.
"It presented a challenge in our limited resources to meet the needs, but we met the needs and continue to meet the needs. That's the aloha of meeting the needs in a very caring way. If you give something with aloha, that's something customers remember."
Beyond those affected by the volcano, there are many customers living off the grid without access to electricity on the Big Island who also need service, said Velis. Ensuring these customers have an alternate source of energy and are cared for is a big part of what keeps Velis up at night.
Supplying Ironman
In 2000, the company supplying oxygen to the Ironman Triathlon shut down. The organizers approached Velis about supplying the race and he agreed. Aloha Medical also supplies wheelchairs and other assistive devices for the event, as needed. There are eight ambulances throughout the race, each supplied with gas oxygen portable tanks.
"We proudly support the Ironman and other triathlons that go on here," said Velis. "We provide services and oxygen, and even volunteer for those events where world-class athletes come and compete. It was initially a challenge, but it's become an efficient operation. It's an honor to participate in that and be in the medical tent. It's a pretty amazing experience."
Velis had an experience while volunteering last year that highlights the importance of these supplies on the race route. A swimmer went into cardiac arrest. Velis and the rescue team were able to revive the swimmer because the right medical equipment was on hand. "The key is you have to be ready for anything," said Velis about volunteering.
The Spirit of Aloha
As Aloha Medical continues to meet the needs of the people in Hawaii, both the locals (Kama'āina) and visitors, Velis plans to meet those needs as he always has—with aloha.
"Being a big company on a small island has had its challenges, but it's also had its rewards. We're here to stay. We're going to continue evolving and providing the best possible service."
---
Pele's Wrath—Timeline of Disaster at Kilauea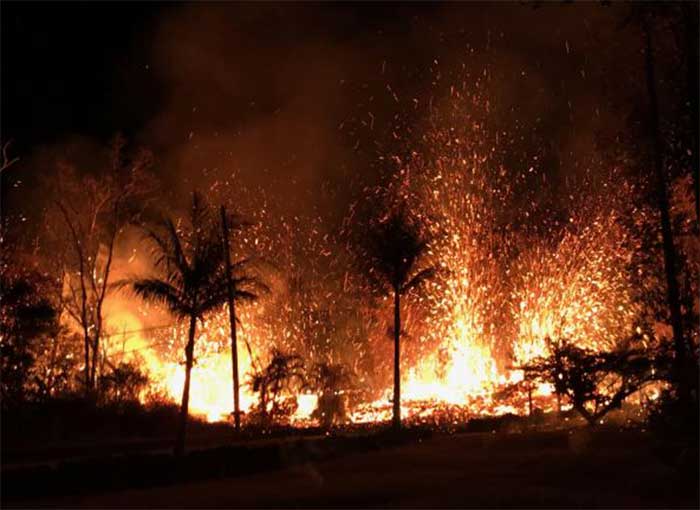 Kilauea Volcano
May 2: The lava lake in the crater began to drop, signaling an imminent eruption.
 
May 3: Eruption occurs, sending lava and ash 50 meters into the air, and 1,500 residents in Leilani Estates are ordered to evacuate.
 
May 4: A 6.9 magnitude earthquake strikes the Big Island, opening a fissure in Leilani Estates.
 
May 9: As lava advances through Leilani Estates, the County of Hawaii Civil Defense Agency orders residents in Lanipuna Gardens to evacuate.
 
May 27: Lava enters a geothermal power plant, raising fears that toxic gas could be released if lava damaged the plant's wells. Flammable liquid is removed from the plant.
 
August 29: The U.S. Geological Survey reported that the eruption is petering out. However, it could take up to a year for conditions to stabilize.
The Honolulu Star-Advertiser reported September 1 that the eruption could cost around $800 million in recovery costs, primarily in infrastructure replacement and to compensate landowners in areas affected by lava flows.