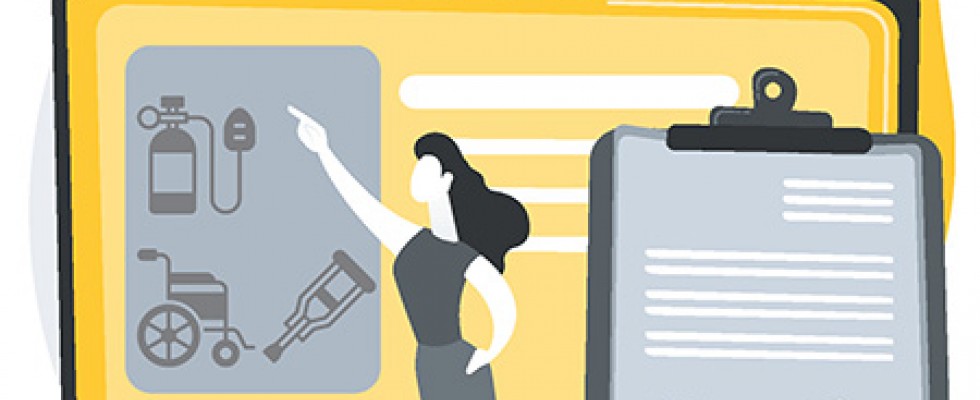 The time to adopt this technology is now
Thursday, November 4, 2021
The home health care industry provides a vital service in this country, delivering care to patients in need within the comfort and safety of their own residences. At no point in recent history has the need for home-based care been clearer than in the last two years, as many patients with underlying conditions have sought to limit their risk of exposure to COVID-19 by receiving care at home.
At the same time, as the industry continues to grow and expand, it has never been more apparent that the time is upon us to embrace technology and digital solutions in a new way.
Despite its critical role and growing demand, the homecare industry historically has been comprised of many small providers offering a wide range of services. Perhaps because of the large number of providers, industry inertia or any number of other reasons, the industry has been slow to integrate technology on a large scale.
Ordering DME
One particular aspect of the industry that has remained largely paper-based until now is the ordering of durable medical equipment (DME). The typical scenario involves the referring health care provider faxing an order to a supplier, who then fulfills the order. When everything runs smoothly, this process has worked. The equipment is delivered, and the patient is able to receive the necessary care.
Too often, however, the process takes place with a number of bumps in the road—obstacles that impact and delay the care that patients so urgently need. Most of the delays are due to administrative errors. The DME supplier has to sort through physical papers to accept the order, and then they have to confirm each patient's qualification and billing information. Often the information that has been faxed to the supplier requires clarification or is incomplete, necessitating multiple phone calls back and forth between the health care provider and the DME organization. While most situations are eventually resolved, this back-and-forth causes delays for patients, who can be left waiting for equipment they urgently need.
One of the easiest ways to eliminate delivery delays and administrative hassle is to move toward an industry-wide practice of e-prescribing. Digital ordering for DME creates a number of efficiencies that ensure that patients have the equipment they need as soon as they need it.
Typical e-prescribing software interfaces mandate that accurate patient qualification and insurance information be collected and entered, along with all the other information necessary to complete the order, before an order can be submitted. This ensures that information is not left out inadvertently. The complete order can be transmitted in a single transaction, rather than being initiated via paper and followed up on through one or more live phone conversations and additional faxes.
Once submitted, the order can be queued quickly for processing and suppliers can confirm requests. Other benefits include the ability to track orders from submission to delivery, and options for secure messaging between referrers and DME providers  to discuss issues such as product substitution or other questions that may arise. Most DME e-prescribing platforms also offer an option to integrate with the provider's electronic medical records and billing systems.
Industry Built & Lead
The need for e-prescribing has long been recognized. A few solutions have been introduced into the market in the past five years, but they did not see a high level of adoption. That's why, this fall, several industry leaders, myself included, announced the formation of DMEscripts, an independent e-prescribing company. Our goal in creating DMEscripts is to drastically improve the current order-to-delivery process by empowering and accelerating the widespread adoption of electronic ordering.
As a group, we are committed to creating an open network: Any DME provider can join at no cost to themselves, their health care providers or their patients. We anticipate that bringing more providers on board will result in a smoother, simpler, more efficient and less costly ordering process for prescribers and suppliers, in addition to eliminating unnecessary delays in the processing and delivery of critical home therapy devices and therapies.
We are targeting an industry-wide adoption rate of 25% within the next two years—on any available e-prescribing platform—up from today's DME e-prescription rate, which is currently estimated at less than 10%. Once that is achieved, we hope to continue until e-prescribing is the industry standard. As we launch this new company, there is opportunity for everyone to participate, regardless of size.
Achieving these goals will require a bit of work and buy-in from across the industry. Workflows will need to be adjusted, and providers and staff will have to adopt new ways of doing things. Most e-prescribing platforms provide support for this transition through web videos and implementation support. After the initial time investment, prescribers and suppliers alike will find reduced hassle and lower costs, while patients will experience an improved level of care.
I want to personally encourage the entire industry to seize this opportunity to improve patient care and participate in advancing the industry into a more digital age.