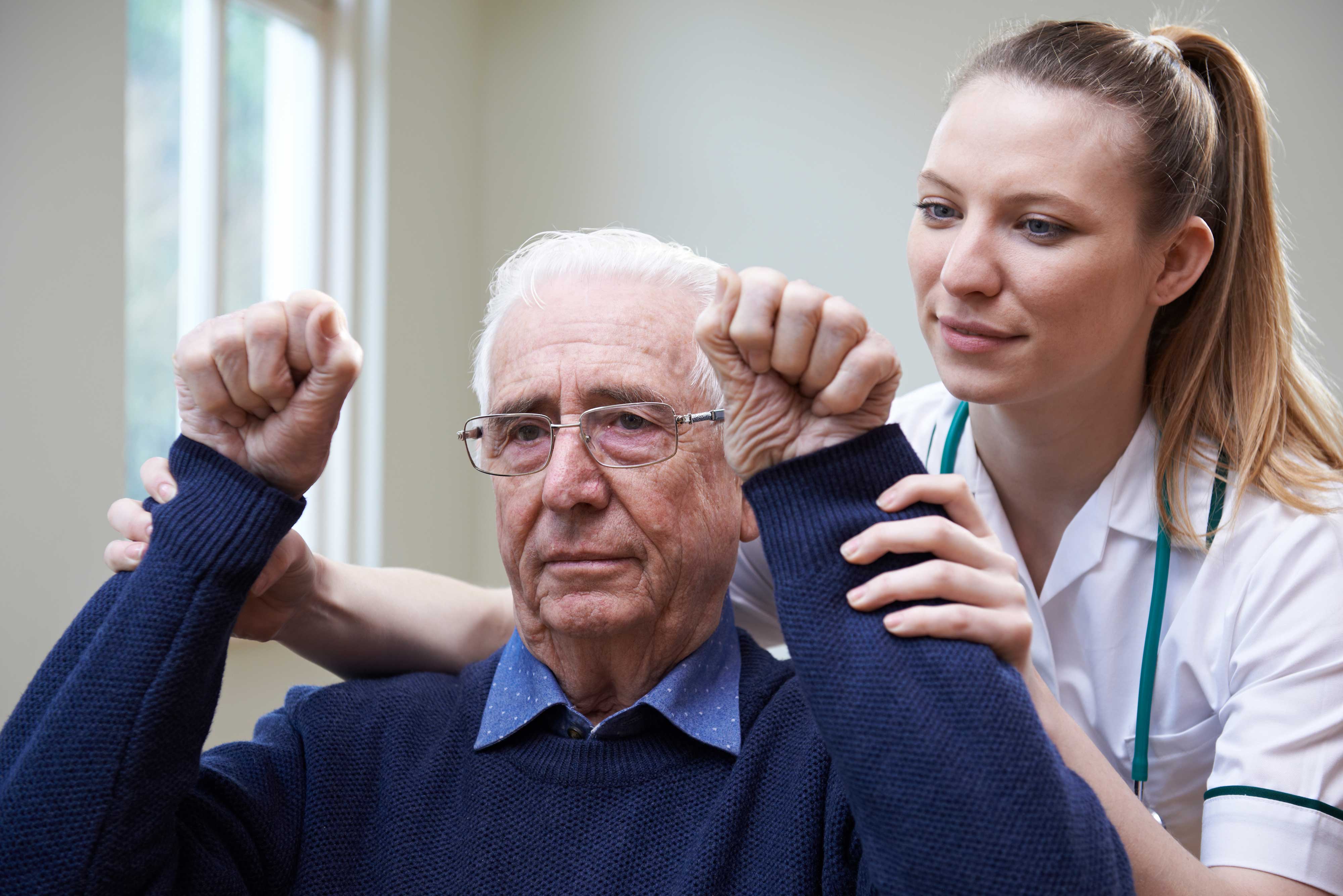 Therapy options for body & mind
Tuesday, November 12, 2019
Stroke happens suddenly and often without warning. It is the fifth-leading cause of death and the leading cause of disability in the United States, according to the American Stroke Association. Nearly three-quarters of strokes occur in people over the age of 65 and the risk of having a stroke more than doubles each decade after the age of 55, according to the Internet Stroke Center, an independent web resource for information about stroke care and research. For older stroke patients, a stroke may be the event that robs them of their independence due to decreased mobility and function.
Regaining Independence
Therapy is traditionally prescribed as a means of restoring function following an injury—including stroke.
"After stroke, the brain is trying to reorganize itself by forming new neural connections. The nervous system is trying to recover what was lost due to the stroke," said Susan Esposito, PT, DPT, NCS, GCS, senior director of quality assurance for the states of Pennsylvania, Delaware, Ohio and Tennessee for Fox Rehabilitation, an in-home therapy provider.
A stroke patient could receive several types of therapies, Esposito said, including constraint-induced movement therapy, locomotor training therapy, mirror therapy, voice therapy and task-specific training. There are also new and innovative therapies that utilize video games and robotics to engage patients while promoting neurorecovery and cognitive retraining, she said.
But why pursue therapy in the home? Esposito said that in-home therapists can help provide the optimal environment for recovery. For example, she said, a patient with damage on the left side of the brain may forget about the right side of their body.
"The therapist can set up their environment to encourage them to focus on the right side," Esposito said. "Simple things like changing the position of the TV or bed can promote this neurorecovery."
Physical therapy, occupational therapy and speech language pathology help patients perform the activities of daily living (ADLs)—and being at home without full-time staff pushes them to practice more than they might in an institution, said Kenneth L. Miller, PT, DPT, MA, GCS, chair of the practice committee home health section of the American Physical Therapy Association.
"The patient has a greater need to care for themselves and has more opportunity to perform ADLs," he said. "You can teach them strategies to return function such as getting up and about. The more movement the patient performs, the better chance at improving function and independence." He added that speech language pathology may be needed to prevent aspiration pneumonia, as stroke patients may need to relearn how to swallow.
Therapists can also play an essential part in caregiver education, both Esposito and Miller said.
"The caregiver is paramount in ensuing that the therapy recommendations are followed throughout therapy [and beyond] for optimal outcomes. Promoting weight bearing is very beneficial for stroke patients, so the therapist may recommend adding grab bars or working at specific countertops to enable the patient to work on standing tasks safely," said Esposito.
Paying for Care
Physical therapy is covered under both Medicare Part A and Part B. Part A covers a team-based model under traditional home health. This model will be effected by the Patient-Driven Grouping Model (PDGM) that's set to begin Jan. 1, 2020. PDGM eliminates therapy payment thresholds for home health, causing some in the industry to worry that therapy won't be provided if a patient does not fall into a therapy-dominant group.
Under Part A, a patient must have a need for skilled care, as well as the potential for improvement, Miller noted. The therapist should be able to offer that improvement before going into the home.
"Neurological care is one the groups that is considered therapy-dominant. Neuro patients shouldn't be affected too negatively, unless the stroke is not the primary problem causing homecare," said Miller. "The reason for that is that organizations are adjusting their staffing models based not on clinical need but on regulations and reimbursement."
Esposito's agency, Fox Rehabilitation, is an in-home therapy provider that mimics outpatient billing under Medicare Part B.
"We travel to the client and then provide the care needed to achieve their goals," Esponsito said. "We get great compliance within our plan of care since we go to our clients."
For physical therapists working in the home, Esposito said focusing on providing value-based care would, open up opportunities to be innovative and creative.
"We now, more than ever, need to operate at the top of our license to deliver the best care that we can," she said.
Taking a Career Home
For therapists working in traditional clinical settings, moving into the home may not be an obvious choice. Miller practiced for 24 years, previously with Catholic Health Services of Long Island under Catholic Home Care. He developed an interest in geriatric physical therapy after watching his grandmother receive care in the home.
Esposito worked primarily with spinal cord, stroke, and brain injury patients in an inpatient setting; she became interested in because she was always concerned about the challenges her patients would encounter upon returning home—so she decided to pursue the next stage of rehabilitation.
Both found that making the career transition came with some surprises.
"To be a Part B provider… therapists should join the Medicare system and be credentialed so they can accept payment. Then they need to build a referral network of hospitals and home health providers to gather customers," said Miller. "They can also join a Part B provider. For Part A, they can join an organization or subcontract to a staffing agency that is under a Part A provider."
Esposito said she found in-home therapists have to be flexible and organized and manage their own schedules and cancellations.
"You have to be creative and manage your limited resources in the home," she said. "Family member or caregiver involvement is essential in our model of care."
---
Hitting the Right Notes
Music stirs emotions and can call up memories of special events and places. For neurological patients, it can be an important part of recovery. HomeCare sat down with Wesley Hyde, a board-certified music therapist, to discuss the benefits of music therapy for stroke patients.
HC: What is music therapy?
HYDE: In a broad sense, music therapy is the clinical and evidence-based practice of using music to facilitate a positive change in a person's emotional, cognitive, physical and/or social well-being.
HC: How does it work for neurological patients?
HYDE: Different aspects of music can target specific areas of the brain that have been affected by disease or injury. For patients with neurologic disorders, music-making activities can address functional deficits such as memory, attention, motor control and language.
HC: How can music therapy help a stroke patient recover?
HYDE: Patients who have had a stroke tend to be highly stimulable to music, as the underlying issue that caused nerve damage has been treated, and rehabilitation is usually not hindered by disease progression. Patients can expect to play instruments using their affected side to improve motility and coordination. If communication is an issue, patients can sing in order to improve word-finding or intelligibility. Other common tasks could include learning jingles to serve as mnemonic devices for important information, targeting moving drums to improve visual scanning and writing songs to work on planning and organizational skills.
HC: Can music therapy help a patient transition home faster?
HYDE: Music provides another avenue through which patients can have an "ah-ha" moment when trying to figure out how to adapt to their new normal. Whether it be figuring out how to sequence steps when walking or remembering safety guidelines, music therapy offers additional practice for improving functional ability and can increase the rate at which patients meet their goals for a safe return to the community.
HC: How can music therapy in a home setting assist in a patient's recovery?
HYDE: Patients can benefit from music therapy in the home because they can learn how to use their own environment to their advantage. Patients can learn how to set up and facilitate exercises with their own equipment, even when the therapist isn't there. A music therapist can also adapt treatment plans to the patient's environmental needs. Generally speaking, music therapy can provide patients an opportunity to have a positive and enjoyable experience inside their home, which can improve their mood and motivation to continue on the road to recovery.