The new products you missed at the Atlanta show
Tuesday, November 13, 2018
For the past four years, HomeCare magazine has proudly sponsored the New Product Pavilion and Innovative HME Retail Product Awards at the Medtrade home medical equipment conference in Atlanta. The competition was tough, with plenty of innovative entries hitting the market, both retail-ready and reimbursable. Meet the entries below—click here to see the winners.
Innovative HME Retail Award Finalists
---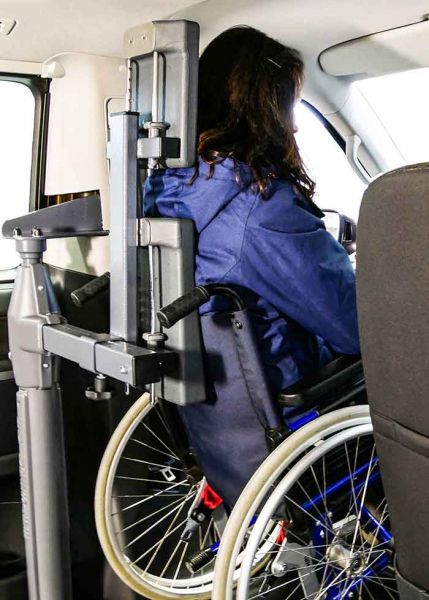 AMF-Bruns of America
eFutureSafe Head and Backrest/Seatbelt Achorage
eFutureSafe Head and Backrest/Seatbelt Anchorage allows wheelchair passengers and drivers who have upper extremity pain and discomfort to travel in comfort. Its hand-controlled adjustment feature allows customized head, back and neck adjustments. Its patented design meets all applicable regulations and can withstand 15G rear collision forces and 20G frontal collisions. Durable construction makes it easy to clean, move and install. eFutureSafe can be turned inward toward the vehicle wall when the vehicle is without a wheelchair, saving space. Compatible with AMF-Bruns restraint systems. Visit www.amfbrunsamerica.com.
---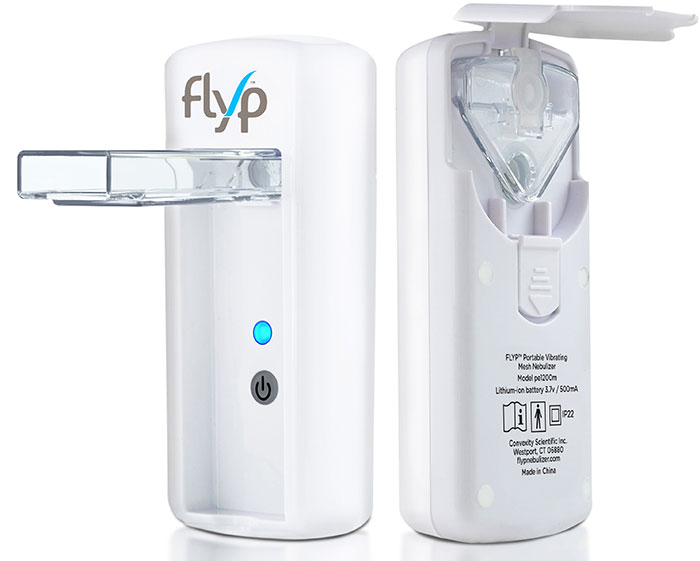 Convexity Scientific
Flyp Nebulizer
Smaller and lighter than a smartphone, Flyp is the pocket-portable and virtually silent nebulizer designed to fit the patient's life. The all-in-one design means that there are no tubes or control units—users just fill, click, breathe. Powered by a lithium-ion battery and rechargeable via a micro-USB port, Flyp is engineered with a focus on convenience. Visit www.flypnebulizer.com.
---
Hygie
FACILI-T 3-in-1 Folding Commode
FACILI-T is a 3-in-1 folding commode designed to meet the needs of people with impaired mobility. When accompanied with absorbent liners, it can easily be used at the bedside or over the toilet. It is unique in its ability to be put away, replace traditional armrests and act as a toilet seat riser. Customizable tilting makes its use even more comfortable. FACILI-T is a sturdy, durable and lightweight commode that's easy to clean. FACILI-T is offered in a complete hygiene product kit format suited for a loss of autonomy, with its liners, unisex urinal and wet wash gloves. Visit www.hygie.com.
---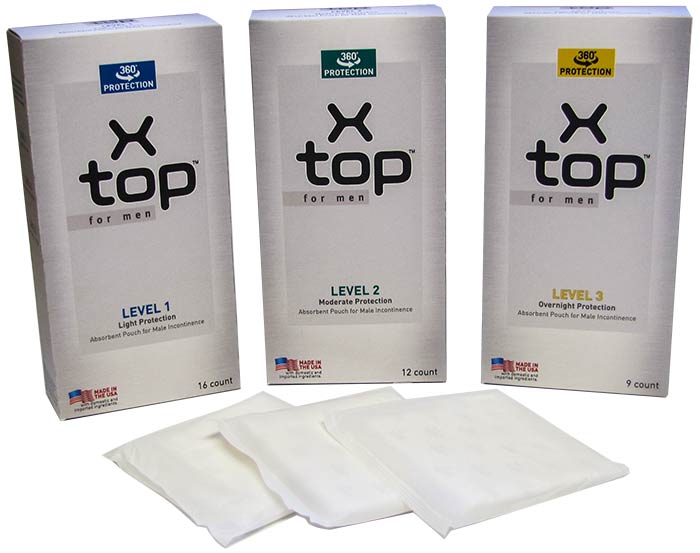 McAirlaid's
x-top for men
Specifically designed for the male anatomy, x-top for men provides 360-degree leakproof protection for men affected by incontinence. The comfortable, unique pouch-like design promotes easy wearability for men. The secure, resealable tab provides easy adjustment so there is no shifting, slipping or leaks. SuperCore technology maintains optimal dryness by absorbing and dispersing liquids quickly. X-top for men has three levels so men can find the best coverage for any activity, day or night. Visit www.x-top-for-men.com.
---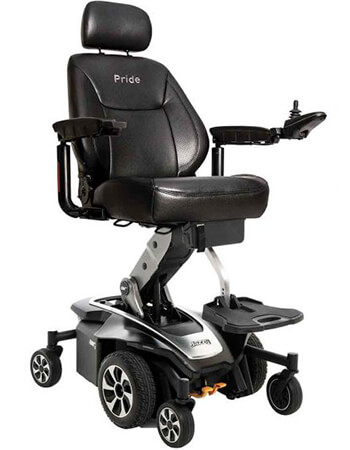 Pride Mobility Products
Jazzy Air 2
At the touch of a switch, the Jazzy Air 2 elevates 12 inches in just 11 seconds. With a sleek, more modern look, this power chair safely drives at speeds up to 4 mph while elevated, allowing users to enjoy face-to-face social engagement. The Jazzy Air 2 also has a seat-to-floor height that is 2 inches lower as well as new, standard under-seat storage. Featuring Mid-Wheel 6 Drive and Active-Trac Suspension, the Jazzy Air 2 offers enhanced performance and stability both indoors and out. With bright LED lights, this powerchair ensures visibility in all environments. Visit www.pridemobility.com.
---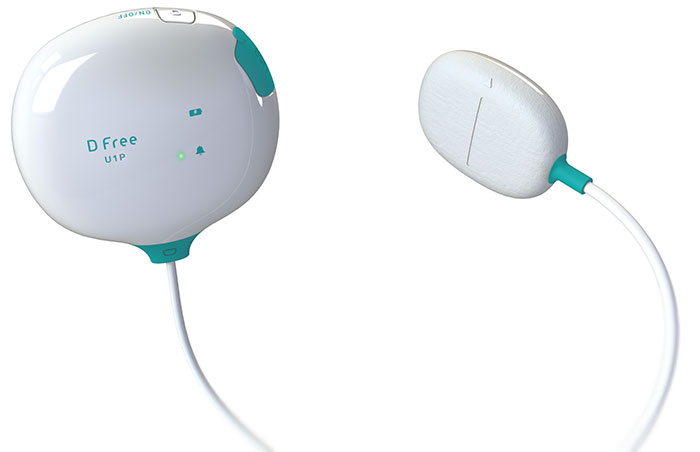 Triple W
DFree
DFree is a wearable device designed to predict when someone needs to go the toilet. Designed primarily for seniors and people with disabilities who suffer from loss of bladder control, DFree continuously monitors the bladder and sends timely notifications to a person's phone when the bladder is almost full, so that they know when to go to the bathroom. The product helps to reduce worry about having accidents and to reduce the need for wearing diapers. This device may also significantly reduce the burden for caregivers who need to provide bathroom assistance. Visit www.dfreeus.biz..
---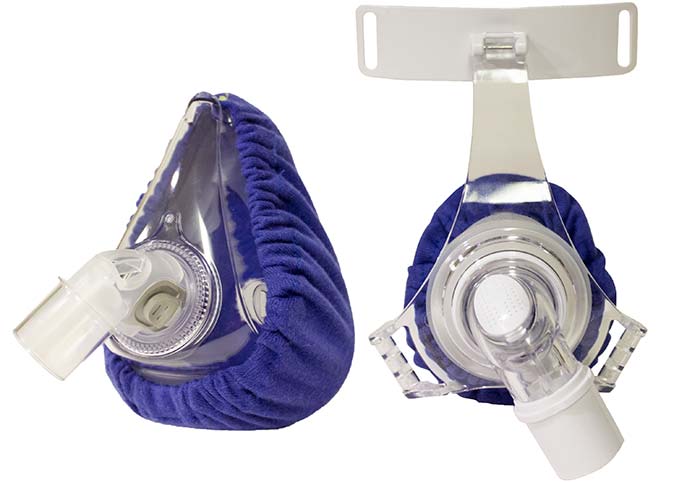 Western Medical
CPAP Comfort Cover
A CPAP Comfort Cover provides an American-made soft absorbent cotton/polyester blend fabric barrier between the mask and the skin, reducing red pressure marks and skin irritation. The cover helps reduce air leaks on many mask styles. The cover stays in place with latex-free elastic sewn into the perimeter of the fabric. Can be laundered and worn again. Visit www.westernmedicalinc.com.
---
New Product Pavilion Entries
---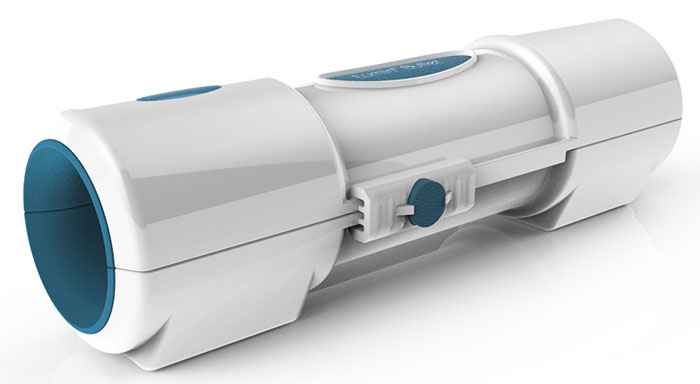 3B Medical
Lumin Bellet CPAP Hose Cleaner
The 3B Medical Lumin Bullet is a new device that uses the power of UVC light to disinfect CPAP tubing. This first-of-its-kind, stand-alone accessory to the Lumin puts the power of UVC disinfection where it matters—directly inside the hose. Strong magnetic forces allow the UVC wand to float through the CPAP tube and kill bacteria, viruses, mold and other germ colonies in seconds. Regular use of the Lumin Bullet extends the life of the hose and ensures no harmful buildup of biofilm that can harbor dangerous pathogens. Visit www.3bproducts.com.
---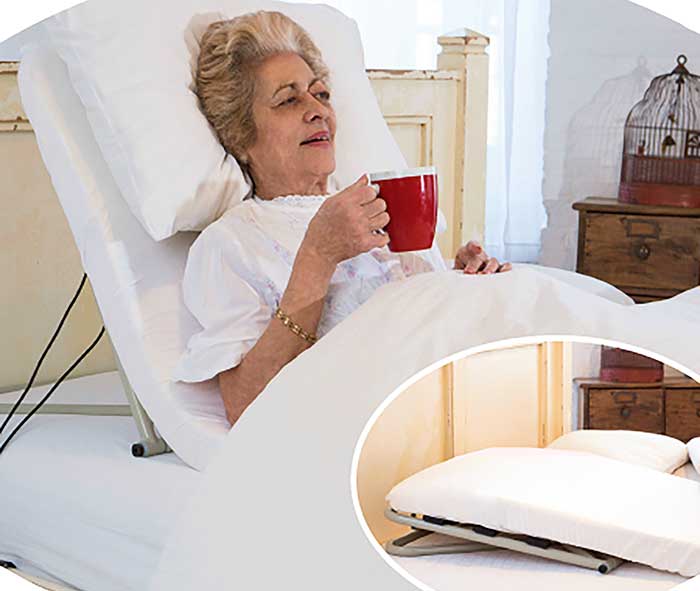 ABELY
Abelift Recliner
The Abelift recliner makes any bed adjustable so that a person can get in and out of bed more easily, recline comfortably and sleep at an incline, all at the touch of a button. The Abelift recliner addresses the issues of independence, dignity and caregiver safety. It is user-friendly, no assembly is required, and use does not disturb the partner. Also, can be used at the foot of the bed to raise legs, and taken on the go to make any bed adjustable, even a hotel bed. Visit www.abelysolutions.com.
---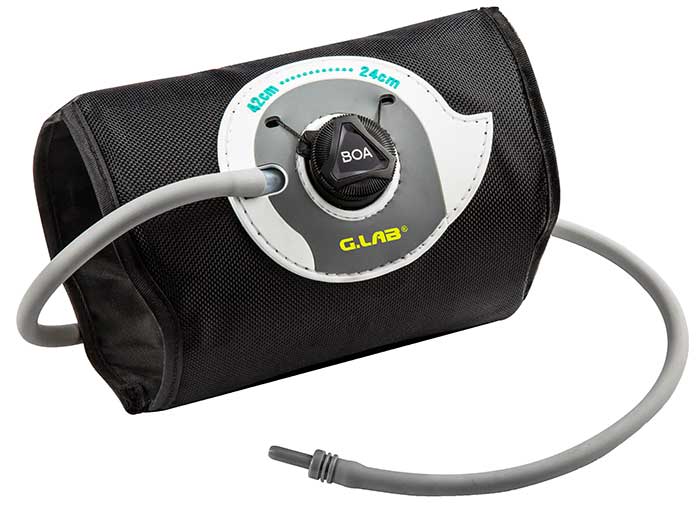 Aceso Healthcare Products Inc.
G.LAB Boa Fit Upper Arm Cuff
The new G.LAB Boa Fit System Upper Arm Cuff (blood pressure monitor) provides convenience to adjust, tighten, loosen and release the cuff much faster and easier with one hand. It offers better tightness control, which could improve blood pressure measurement accuracy. Semi-rigid design makes it convenient to put on but at the same time still keeps it portable and easy to store. Cuff circumferences of 9.5" to 16.5" (24 cm to 42 cm) fit most common arm sizes. The Boa Fit System dials and laces are guaranteed for the lifetime of the product. Visit www.glab-usa.com.
---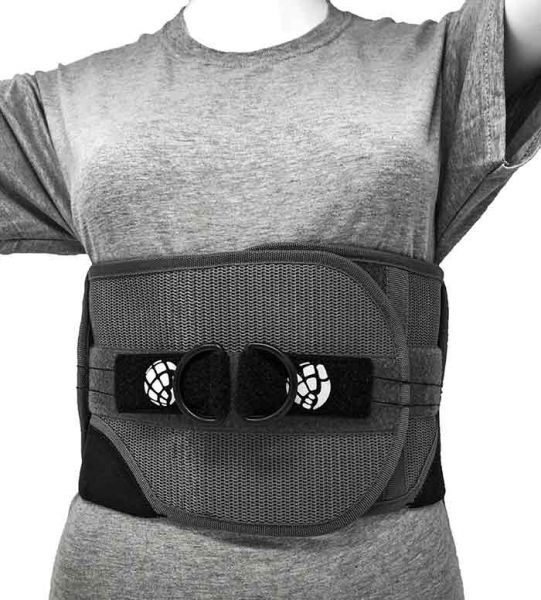 Advanced Orthopaedics
Concord Adjustable LSO
The Concord Adjustable LSO offers a pulley mechanism with smooth sequential compression and release from the independent dual-pull design. Rigid 10" and 14" back panels provide posterior and anterior support. Integrated elastic over the hip area provides additional support and enhanced patient comfort, ensuring greater compliance. The belt is constructed of breathable padded mesh. Produces 6:1 inter-cavity pressure to reduce load on the patients' vertebrae discs. Visit www.advanced-orthopaedics.com.
---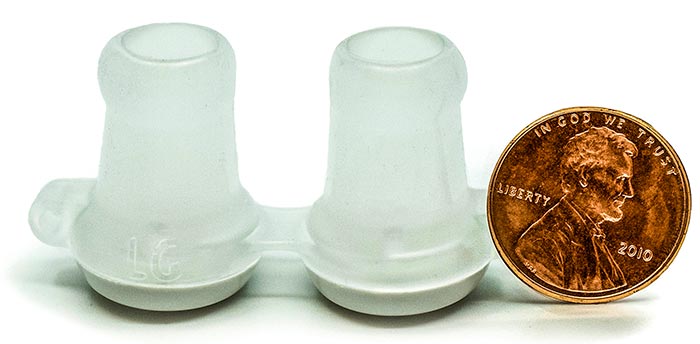 Airavant Medical
Bongo Rx
AirAvant Medical introduces the Bongo Rx, an FDA-cleared, clinically tested device for treating mild to moderate sleep apnea. With its soft nasal seals, the Bongo Rx is easy to use and requires no power. The Bongo Rx is reusable and is small enough to fit in a shirt pocket so patients can use it anytime, anywhere. Visit www.bongorx.com.
---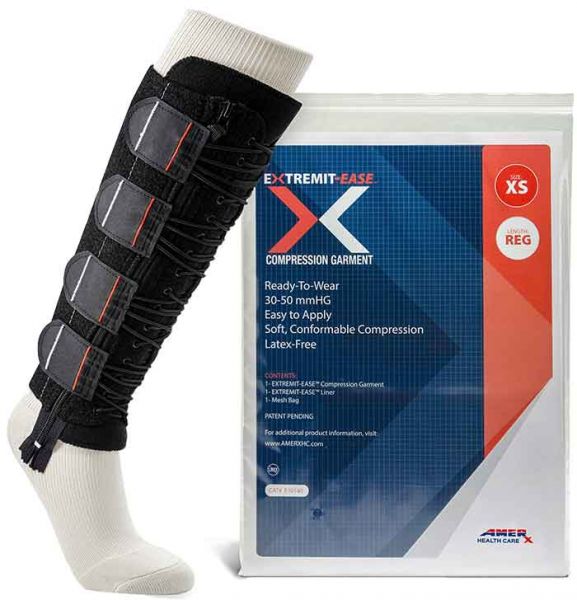 AMERX Health Care
EXTREMIT-EASE
Compression therapy works, but only when patients comply with the protocol. Through a combination of zipper plus bungees with large tabs, the EXTREMIT-EASE Compression Garment by AMERX Health Care helps with the independent application and adjustment of a patient's compression garment. With minimal effort, most patients—even those with dexterity issues—can obtain 30-50 mmHg therapeutic compression, and the lightweight, air-permeable fabric allows for hours of comfortable wear with less sweat, hot spots or pistoning. Available in tall and regular lengths from XS to XL. Visit www.amerxhc.com.
---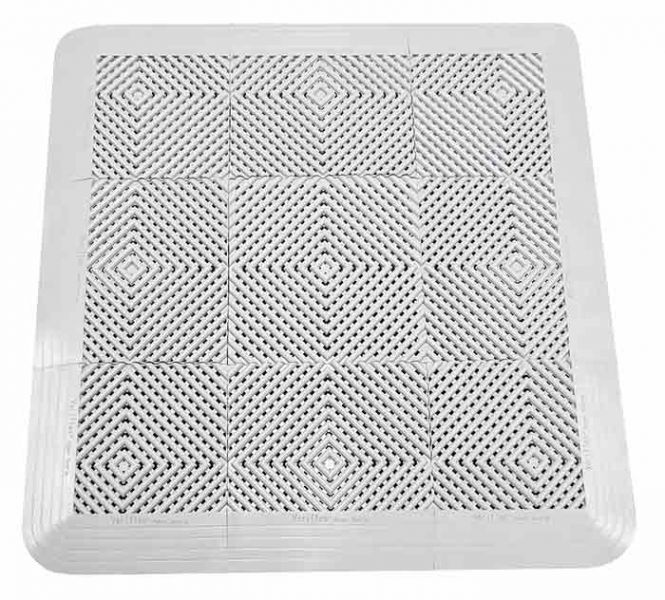 Arrowhead Healthcare Supply
Veriflex Wet Area Safety Fall Mat
Most bathroom injuries are the result of a fall. Veriflex is an impact-absorbing safety mat designed to make areas safer for people at risk for falls. What makes Veriflex unique is that its patent-pending design absorbs the impact forces from a fall. Veriflex won't trap water. Veriflex is infused with nano-silver, making it mold and mildew resistant. Visit www.arrowheadhcs.com.
---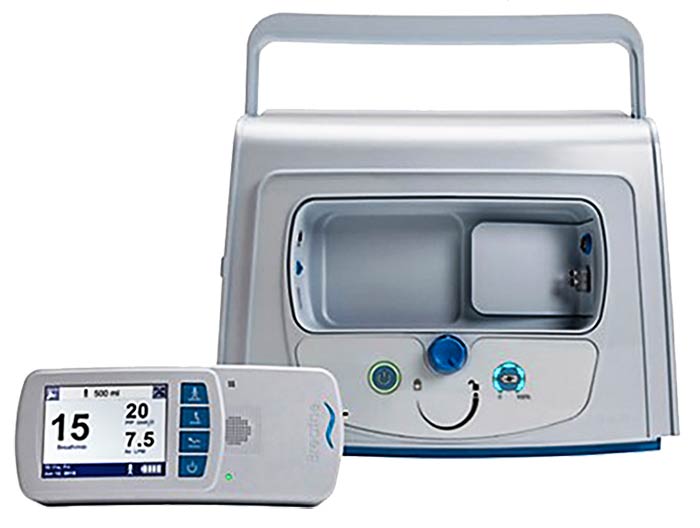 Breathe Technologies
Life2000 Ventilation System
The Life2000 Ventilation System is a modular ventilation system that provides ventilatory support while facilitating ambulation and activity for up to 24 hours of use. Life2000 was designed to allow patients to participate more fully in life and perform activities of daily living (ADLs) inside and outside the home. The one-pound, wearable Life2000 Ventilator may alleviate COPD-related symptom burden and provide patients with the opportunity to perform more activity. The low-profile nasal pillow interface is discreet and similar in style and tubing size to what the patient is accustomed to using when compared to their oxygen nasal cannula. Visit www.breathetechnologies.com.
---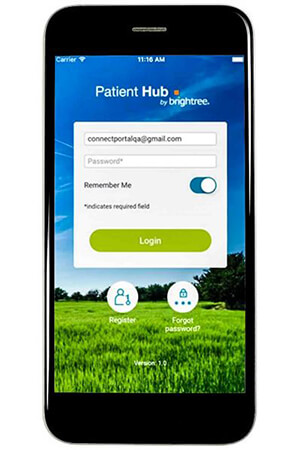 Brightree
Patient Hub App
Brightree, a provider of cloud-based software for post-acute care, is introducing Patient Hub, a patient engagement app for providers to connect with patients in the HME market. Providers can send appointment reminders, order status and tracking updates, and requests for insurance updates through push notifications. Patients can initiate and complete tasks themselves, such as updating account information, reordering supplies and managing payment processes directly in the app. By consolidating all patient interactions into one secure platform, Patient Hub expands a provider's reach without having to build a platform themselves. Visit www.brightree.com.
---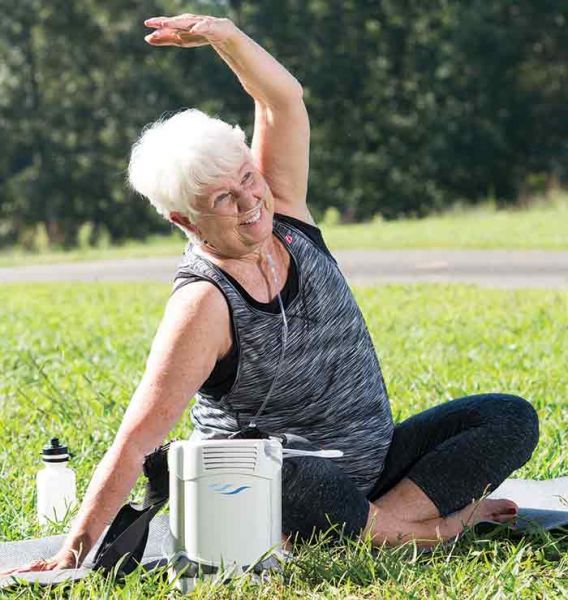 CAIRE
Freestyle Comfort Portable Oxygen Concentrator
The FreeStyle Comfort is a lightweight, five-setting pulse flow portable oxygen concentrator with wireless connectivity, sensitive breath detection features, delivering a maximum output of up to 1050 milliliters. Weighing only five pounds and designed with patient comfort in mind, it has an ergonomic, curved shell, LCD display screen and battery pack options offering up to eight hours of charge. Operational via wall outlet power, motor vehicle power or by rechargeable battery power, the device meets FAA guidelines for commercial air flights. The FreeStyle Comfort can connect with CAIRE's telehealth solution, CAIREview powered by SynsorMed. Visit www.cairemedical.com.
---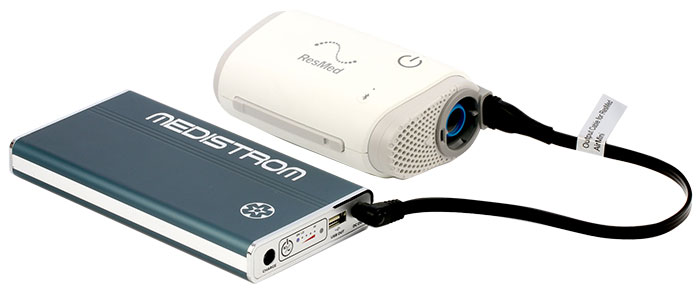 Choice One Medical
Medistrom Pilot-24 Lite
Medistrom Pilot-24 Lite is a small uninterruptible power supply (backup battery) for various 24V PAP devices. It ensures that devices seamlessly continue to receive power even during an outage. The small form factor allows the Pilot-24 Lite to be used as a portable travel PAP battery so that PAP therapy can go wherever, even places where power is not available, such as camping, road trips or during air travel. Features a built-in flashlight and USB port for charging a variety of handheld devices such as mobile phones and tablets. Visit www.choiceonemedical.com.
---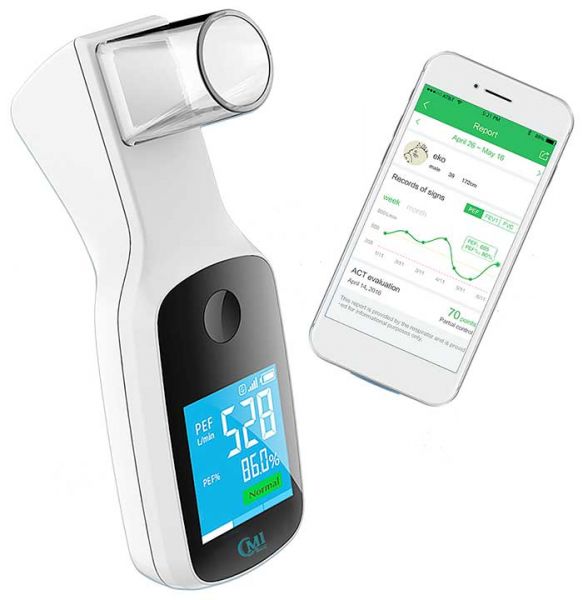 CMI Health
Smart Spirometer
The CMI Smart Spirometer is a portable pulmonary function monitor designed for personal home use. It's especially suitable for daily measurements and disease management of COPD and asthma patients. Measures PEF, FEV1, FVC and FEV1/FVC at home. Combined with wireless technologies (Bluetooth and cellular), mobile app and cloud platform, the CMI Smart Spirometer helps patients track their pulmonary health with ease and prevent exacerbations. Visit www.cmihealth.com.
---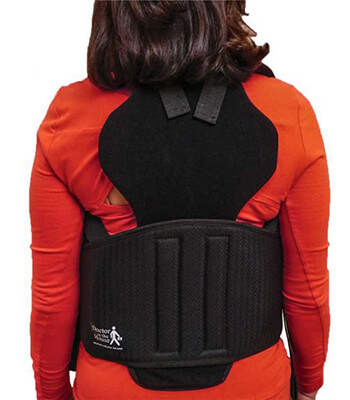 Doctor in the House
Back Bandit Pro
Doctor in the House has introduced the new Back Bandit Pro. Designed by an orthopedic surgeon to offer maximum comfort for patients with both upper and lower back pain, this new brace covers the whole back and is designed to relieve pain from compression fractures, upper thoracic pain and rib and arthritic pain. Visit www.docinthehouse.com.
---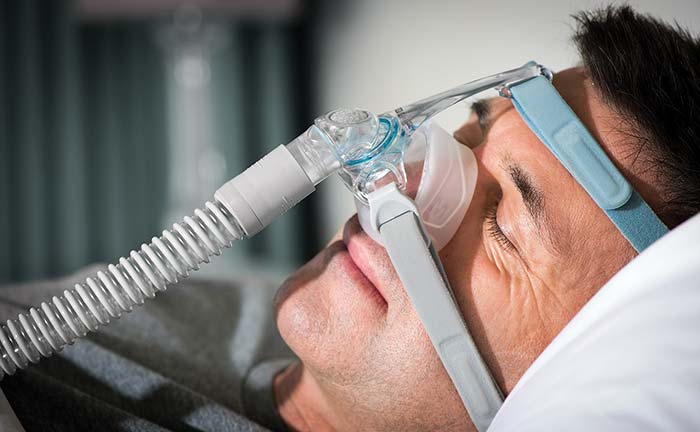 Fisher & Paykel Healthcare
F&P Eson 2
F&P Eson 2 was designed to meet the needs of patients at every important milestone in the CPAP therapy journey. VisiBlue highlights provide visual cues for simpler, quicker and more intuitive patient education and to aid the patient in fitting, disassembly and reassembly. The RollFit Seal automatically adjusts to minimize pressure on the bridge of the nose. The Advanced Air Diffuser is designed for minimal noise and draft. Development focused on ease of use, providing the patient confidence at every step from titration through to adherence. Visit www.fphcare.com/us.
---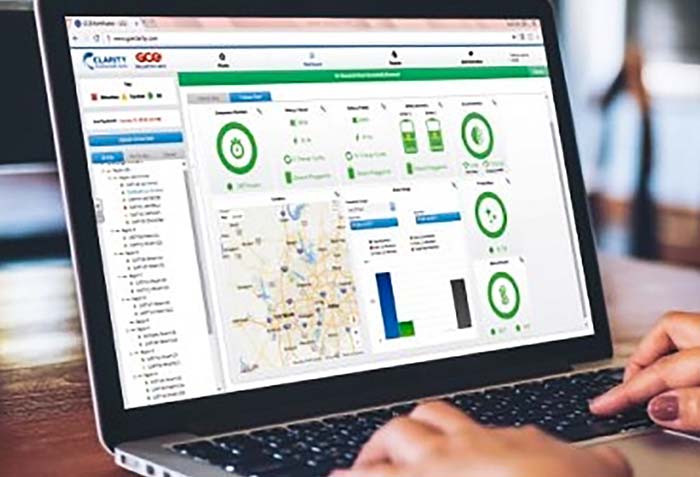 GCE Healthcare
Clarity
Clarity uses smart, secure and connected technology to place information at the provider's fingertips 24/7, from an online device, wherever they are. Information ranges from flow to oxygen purity, device location and battery life. With Clarity, providers can check how well the Zen-O POC is working and get advanced, pre-emptive notice of any issues. Clarity allows providers to offer enhanced customer service at reduced operating costs. Providers can allow their patients and families access to the platform. Visit www.us.gcegroup.com.
---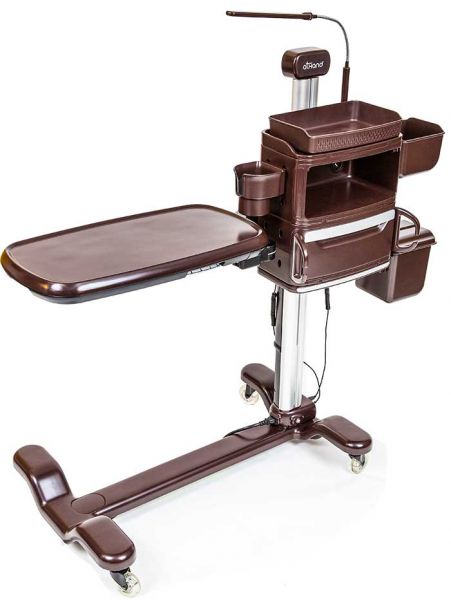 Integrant LLC
atHand Overbed Table System
For those with limited mobility, the atHand Overbed Table System is a patented solution to increase comfort, convenience, safety and independence. The table features multiple power outlets and USB ports, built-in LED lights, storage space, a rotating tray table and more. Designed for those aging in place, recovering after surgery or on bed rest, the product offers optional accessories, such as additional drawers, and a cup holder, basket and trash bin, add to convenience. Visit www.athandtable.com.
---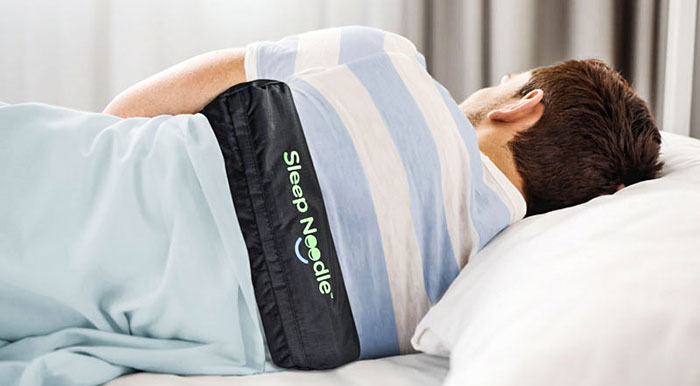 Kego Corporation
Sleep Noodle Positional Sleep Aid
Sleep Noodle was designed to provide an economical method for promoting side sleeping to prevent snoring. This positional sleep aid is a simple, comfortable belt that is worn around the chest and incorporates a foam cylinder positioned on the back area to discourage the user from sleeping in the supine position. Available in small, medium, and large. Visit www.kegocorp.com.
---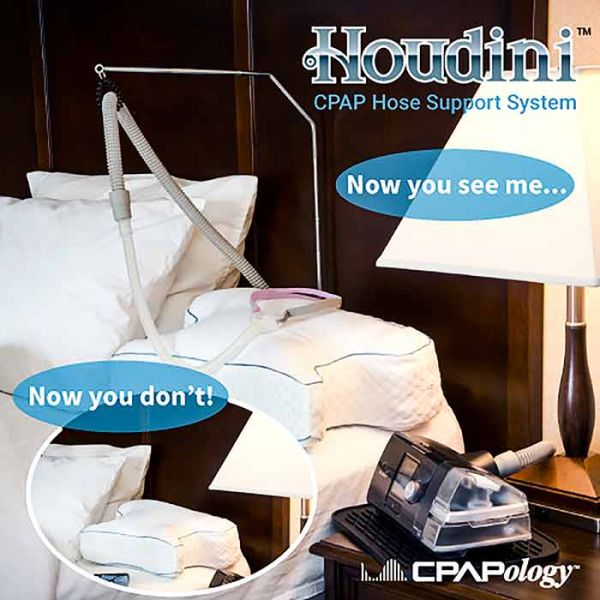 Kego Corporation
Houdini CPAP Hose Support System
The Houdini CPAP Hose Support System offers a CPAP user the ability to support their hose and mask from above the bed while using their CPAP device, allowing the freedom to move from side to side without restriction. Its telescopic ability allows use with multiple mattress thicknesses. Simply insert the Houdini base between the mattress and box spring from the bed side or in front of the headboard. When not in use, the Houdini's innovative telescopic pole allows the user to retract the pole downward, disappearing behind the pillow. Visit www.kegocorp.com.
---
Merits
Vision Ultra
The Vision Ultra is a single power, group 2, tilt only power wheelchair with 14" drive wheels. The Ultra is a compact and versatile power wheelchair. With six wheels on the ground, this unit has stability and durability, a 300-pound weight capacity, and a seat-to-floor height starting at 16.5". The Vision Ultra
can be ordered with three different seating systems to accommodate many users. Visit www.meritsusa.com.
---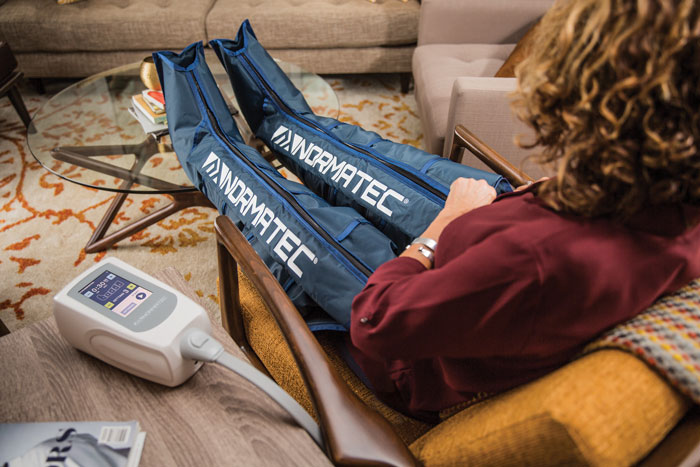 Normatec
Via and Via Elite
The NormaTec Via and Via Elite use patented technology to help to restore healthy circulation and improve mobility. These state-of-the-art pneumatic compression devices are used to control lymphedema, heal chronic wounds and treat venous insufficiency. The NormaTec Via and Via Elite were designed by a doctor to replicate the body's natural circulatory system, allowing patients to get back to normal faster, with reduced swelling and improved blood flow. These devices are portable and easy to use, featuring sleek, lightweight construction, intuitive controls and a host of customization options. NormaTec's modern compression pumps are covered by Medicare, many HMOs, PPOs and select state Medicaid plans. Visit normatecrecovery.com.
---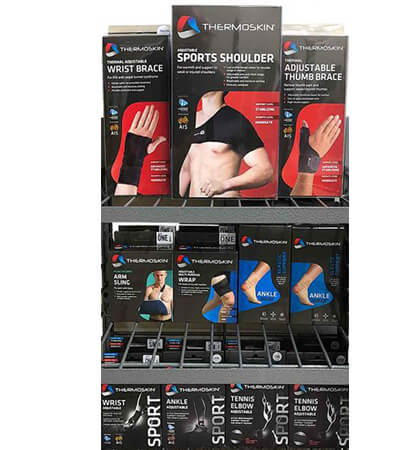 Orthozone
Thermoskin Inventory Savers
The new Thermoskin Inventory Savers product line helps reduce orthopedic support inventory while helping providers increase profits. Thermoskin Inventory Savers are one-size, adjustable supports that fit most people, cutting the need to stock multiple sizes. More than 15 styles available for the ankle, knee, elbow, hand and shoulder. The Thermoskin Inventory Saver Starter Kit is $199, full planogram is $499, or order individual products. Visit www.orthozone.com.
---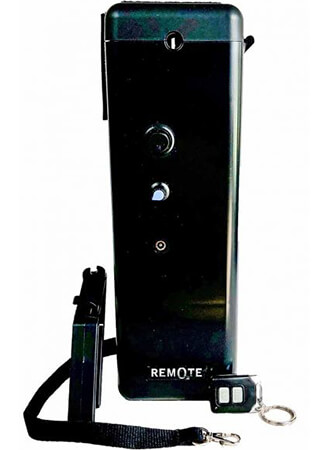 Oxygen Management Systems
O2Remote
The O2Remote is an affordable, patent-pending, easy-to-use remote control oxygen tube reel that can reduce the risk of falling or tripping over tangled oxygen tubing. The user carries a small, hand-held remote and pushes a button to either retract excess tubing, or dispense tubing as needed for travel. The device is hung on a standard kitchen size trash bin and collects the excess tubing into the container. The patient controls the speed at which the device works by adjusting the speed control knob on the front of the device. Visit www.oxygenmgmtsystems.com.
---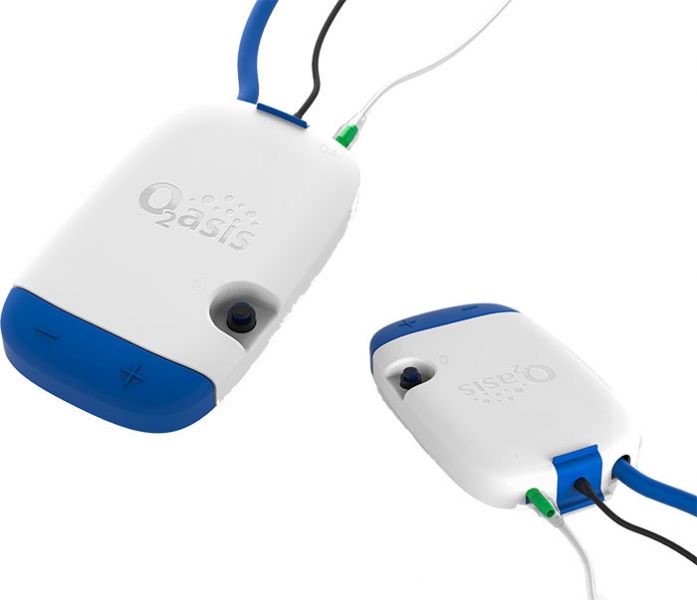 Perma Pure
O2asis
The O2asis Personal Humidifier provides comfort when used with a home oxygen concentrator or cylinder supply. The palm-sized device quietly humidifies and heats oxygen to deliver comfortable warmed air through the cannula. Users can carry the device or place it alongside them when plugged in at home to receive hours of humidification. O2asis provides so much more humidification than a bubbler, and none of the associated drawbacks. Not yet available for commercial sale. Visit www.o2asishumidifier.com.
---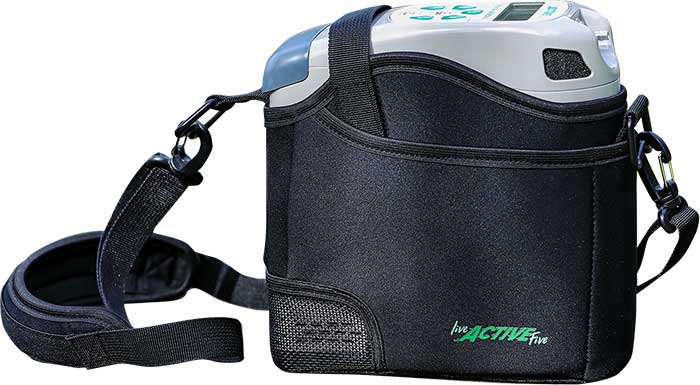 Precision Medical
Action Five POC
The Active Five is the newest POC for patients who rely on the flexibility offered by portable oxygen therapy. Only Precision Medical's POCs use vacuum pressure swing adsorption technology to remove water vapor and other debris from the sieve beds between cycles. This helps preserve the life of the sieve beds so they can produce high oxygen purity for a long period of time. Visit www.precisionmedical.com.
---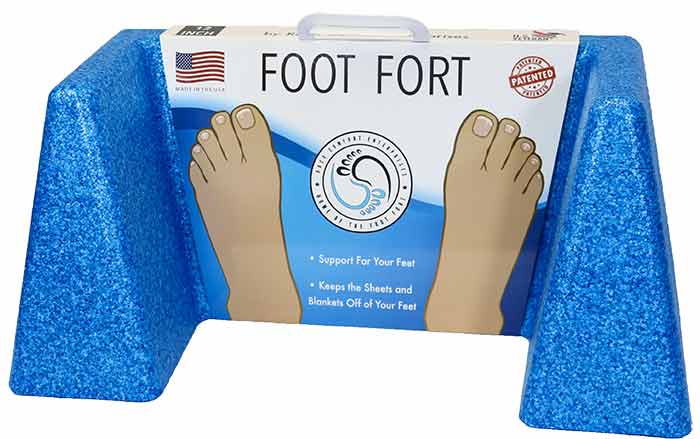 Raco Comfort Enterprises
Foot Fort
The patented Foot Fort keeps the blankets off feet and lower legs while also supporting the feet. It is designed to help increase airflow and may help alleviate discomfort from plantar fasciitis, burns, gout, drop foot, toe ulcers, CRPS, neuropathy and surgery recovery. It fits up to a size 16 men's shoe and is made from durable and washable expanded polypropylene. Place it at the end of the bed (twin to king size), and tuck the sheets/blankets between the mattress and box spring to keep the Foot Fort in place. Made in the U.S. Visit www.racocomfort.com.
---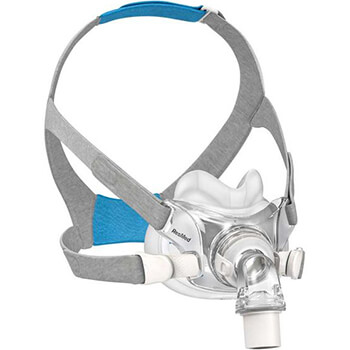 ResMed
AirFit F30
The ResMed AirFit F30 is a smaller style full-face mask designed to sit low on—and cover less of the face to prevent top-of-the-nose red marks. Feel more confident using therapy around loved ones with a simple mask that offers a modern look. Visit www.resmed.com.
---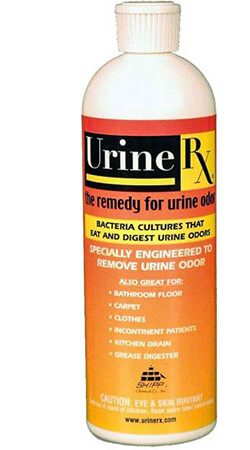 Shipp Cleaning Systems
UrineRx
UrineRx is a new formulation developed just for odor removal of human urine and other bodily fluids. UrineRx is a remover of odors for those that suffer with incontinence or use colostomy or urine collection devices. UrineRx breaks down the complex structure of human fluids and digests them with five specific enzymes that eliminate the odor. UrineRx is a perfect companion product to be sold with adult disposable briefs. Visit www.shippcleaningsystems.com.
---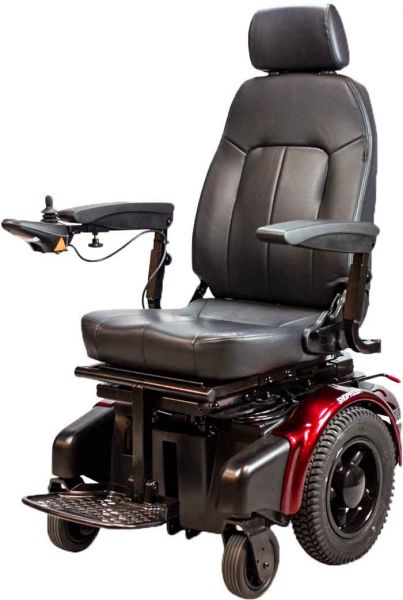 Shoprider
XLR 14 Power Chair
The XLR 14 Power Chair is equipped with large 14-inch drive wheels. The self-adjusting mid-wheel drive suspension system is matched with four independently suspended front and rear casters. This provides the added stability of having six points of contact with the ground. When accompanied with the full independent suspension system, the XLR 14 provides a smooth driving experience that will handle virtually any driving surface. A natural fit with the power tilt seating system (which offers 50 degrees of tilt), the XLR 14 also has a flip-forward seat for easy battery access and comfortably accommodates a 300-pound weight capacity. Visit www.shoprider.com.
---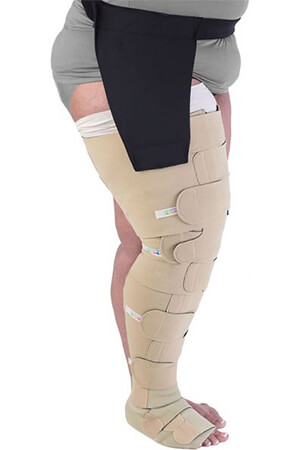 SIGVARIS
Compreflex Reduce
The CompreFlex Reduce System is a compression system used during the decongestive phase of lymphedema therapy. Reduce is designed to be periodically modified during treatment such that the garment can be worn throughout the course of therapy. CompreFlex Reduce includes individual thigh, knee, below knee and boot components that can be used together for total leg coverage. CompreFlex Reduce, available in black and beige, is customizable at the site of care, easy to assemble and simple to adjust during wear. Visit www.sigvaris.com.
---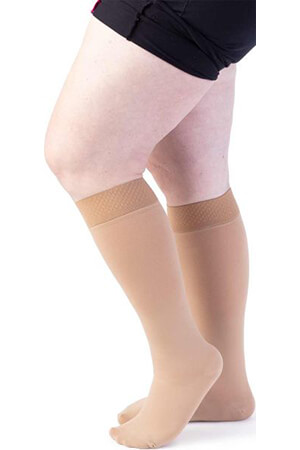 SIGVARIS
SECURE
SECURE is a containment and compression garment used for the management of advanced venous edema, lymphedema, post-surgical edema and general edema. SECURE has a higher stiffness ratio compared to traditional circular knit giving it superior containment properties. Utilizing high-modulus inlay yarns, it works to maintain limb profile and minimizes garment fatigue. The result is an affordable, ready-to-wear garment that is effective at managing advanced edema. This garment is opaque and discreetly hides blemishes, so patients can look and feel their best while improving blood and lymphatic circulation. Available in black and beige with calf and thigh styles, SECURE offers a variety of options and sizes for everyday wear. Visit www.sigvaris.com.
---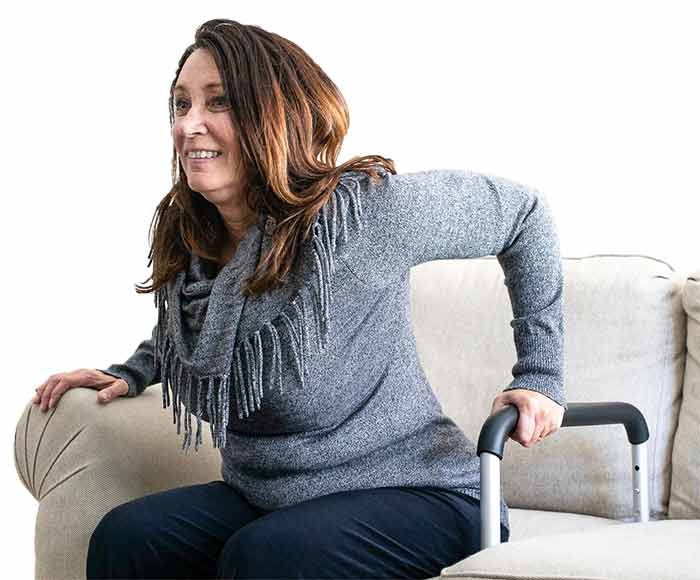 Simply Ingenious Products
Stand-A-Roo
Stand-A-Roo is designed to help someone stand from a couch or bed safely and easily. Elderly, disabled, injured or even expecting mothers, Stand-A-Roo is designed for anyone who struggles with mobility. Weighing in at less than 3 pounds, Stand-A-Roo is an adjustable, portable and storeable riser that accommodates most couches and beds. The product is made from anodized aluminum for long-lasting support and equipped with a soft EVA foam grip for comfort. No assembly required. Visit www.stand-a-roo.com.
---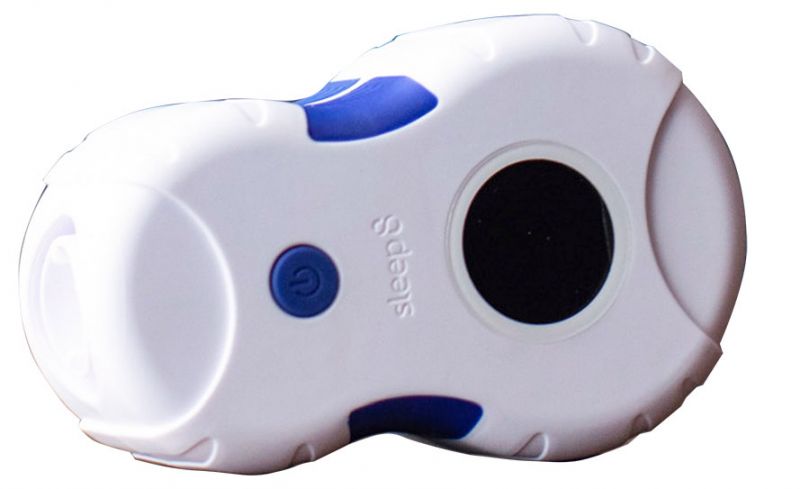 Sleep8 Inc.
Sleep8
Sleep8 helps to stop germs powerfully, portably and quietly for CPAP/BiPAP cleaning. Sleep8 features a universal design that accommodates all CPAP tubes and masks. No adapters are needed and the product is easy to use. Visit www.mysleep8.com.
---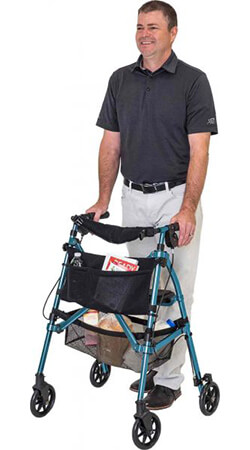 Stander
EZ Fold-N-Go Rollator
The new EZ Fold-N-Go Rollator by Stander combines the utility of a full-sized rollator with the convenience and style of a lightweight walker. At only 13.5 pounds, the EZ Fold-N-Go Rollator can support 250 pounds and fold up with the touch of a finger. Its padded seat and back strap provide a comfortable seat. Six-inch wheels and a proprietary break system give the EZ Fold-N-Go Rollator a smooth and safe glide across any surface. As with all Stander products, the EZ Fold-N-Go Rollator comes with Stander's Lifetime Satisfaction Guarantee. Visit www.stander.com.
---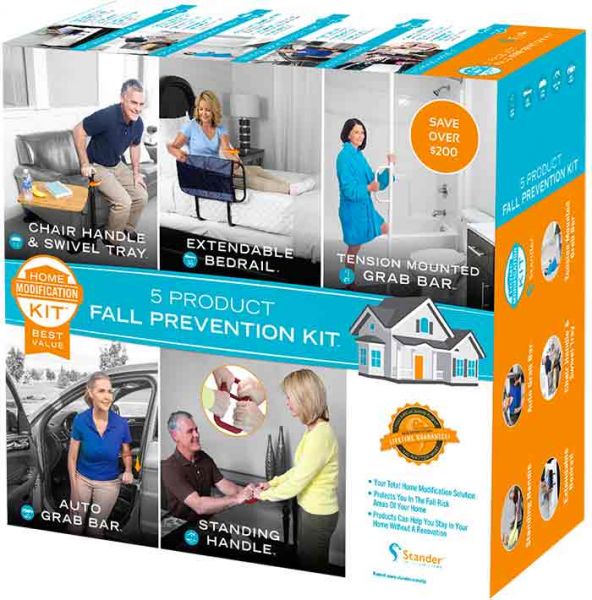 Stander
5 Product Fall Prevention Kit
The Stander Home Fall Prevention Kit is an all-in-one mobility and fall prevention tool. Each kit comes with five products designed to prevent falls in key areas in the home: an extending bed rail for the bedroom; a tension mounted grab bar for the bathroom; and a multiuse tray table/laptop tray for other rooms that comes with a solid handle for getting in and out of a favorite couch or chair. The standing handle is designed for transitions from sitting to standing. Finally, the auto grab bar makes it easy to get in and out of a vehicle. Each product is backed by Stander's Lifetime Satisfaction Guarantee. Visit www.stander.com.
---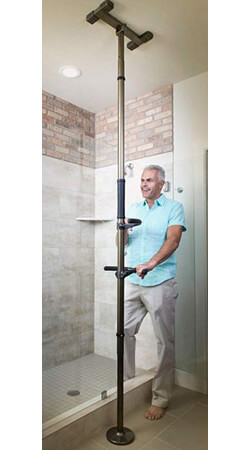 Stander
Signature Life Sure Stand Pole Display
The Signature Life Sure Stand Pole Display houses Stander's top-selling Sure Stand Pole, along with a host of accessories and attachments designed to prevent falls and maintain independence. Whether a trapeze or a bedside table is needed, the attractive and functional Sure Stand Pole offers fall protection and convenience. Visit www.stander.com.
---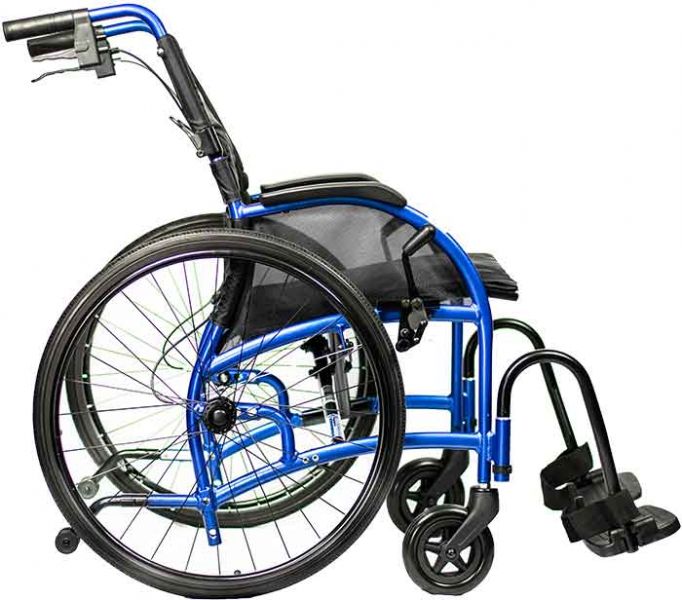 Strongback Mobility
Strongback 24
The new 20" seat STRONGBACK24 features more room in the seat but with the same award-winning ergonomic design. The Strongback is a lightweight, folding wheelchair designed for the user's spine. Its unique ergonomic shape promotes a healthy, upright posture and ensures the user feels comfortable. Strongback Mobility wheelchairs are ultra-lightweight, easy to use and feature curved lines. Visit www.strongbackmobility.com.
---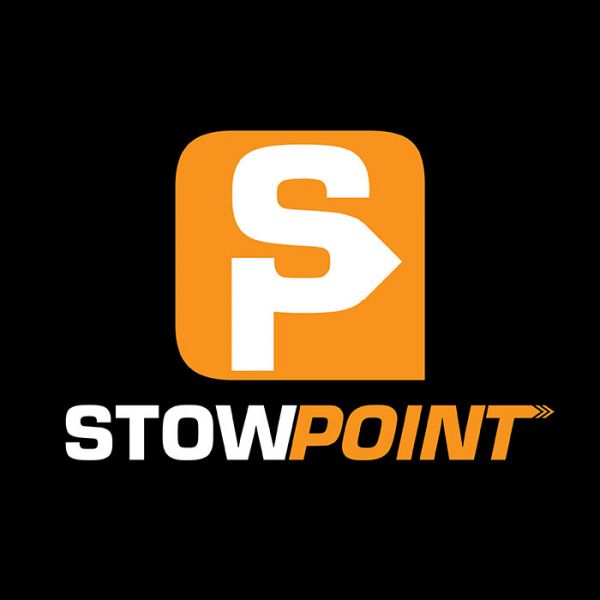 Universal Software Solutions
StowPoint
With Universal's new content management solution, StowPoint, workflows are streamlined by capturing any kind of vital account information, such as scanned documentation, recorded voice calls, videos and image files in one software. Need to access historical information for a patient? The product is designed to maximize compliance and privacy with the ability to highlight, note and redact information—making StowPoint the right solution for patient databases as well as internal business management. Visit www.universalss.com.
---

Virtuox
PūrSlēp
PūrSlēp is a whole-plant, full-spectrum phytocannabinoid hemp oil with a proprietary blend of holistic sleep supplements formulated specifically for VirtuOx by Veritas Farms. Visit www.purslep.com.
---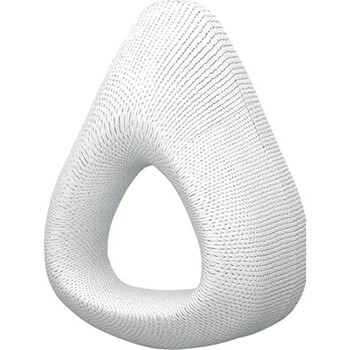 Wakewell
Snugz Mask Liners
Snugz is a one-size-fits-most liner for full-face CPAP masks. It is designed to help reduce noisy leaks, prevent redness and irritation. Visit www.sleepsnugz.com.
---

Western Medical
Expion360 Portable Battery Banks
Venture Pro battery banks are designed to run multiple devices, such as a PAP machine, oxygen concentrator, a charge for a cellphone, laptop, 12-volt appliances and other USB devices. The product features a lightweight, efficient lithium-ion polymer battery to provide reliable portable power, as well as white and amber flashlights. Both Venture Pro models have a high capacity and discharge rate for their class, 144-watt-hours for the Venture Pro and 266-watt-hours for the Venture Pro+ with a robust 15-amp discharge rate. Both can be recharged using the included AC or DC charge cords. Solar charge cord sold separately. Visit www.westernmedicalinc.com.