WASHINGTON, D.C. (September 16, 2021)—As the United States' House of Representatives moves forward to assemble the $3.5 trillion budget reconciliation package, a top aging services organization warned lawmakers not to cut back on the committees' funding commitments, because the lives and health of millions of older Americans and people with disabilities are at stake.
ALEXANDRIA, Va. (September 14, 2021)—The National Home Infusion Association (NHIA) announced that in 2022 it will launch a new peer reviewed publication, Infusion Journal. This new scholarly journal will feature independent research and studies related to infused therapies, patient outcomes, medication safety, economic analyses and case studies.
IRVINE, Calif. (September 14, 2021)—American Advisors Group (AAG), a provider of home equity solutions, announced its partnership with VGM Live At Home, a nationwide, collaborative membership community with services and solutions for independently owned and operated, certified accessible home modification providers and contractors.
SAN JOSE, Calif. (September 14, 2021)—Bay Alarm Medical, a medical alert system, and Kami Vision, the provider of an edge-based vision artificial intelligence (AI) platform, announced an agreement to integrate Bay Alarm Medical's safety offering with Kami Vision's artificial intelligence (AI) platform.
WASHINGTON, D.C. (September 14, 2021)—The Biden-Harris Administration announced that the U.S. Department of Health and Human Services (HHS), through the Health Resources and Services Administration (HRSA), is making $25.5 billion in new funding available for health care providers affected by the COVID-19 pandemic.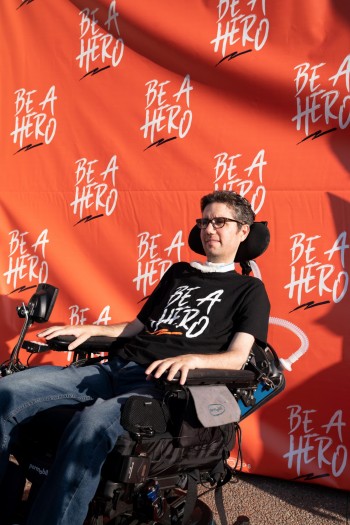 A tracheostomy takes away most people's voice. But not Ady Barkan's.
Barkan, the co-founder of the Be A Hero political action committee, has dedicated his life to advocating for progressive health care measures and for all Americans to receive the care they need at home.
WASHINGTON, D.C. (September 10, 2021)—The Government Accounting Office (GAO) is urging the Centers for Medicare & Medicaid Services (CMS) to better track the effects of pandemic-related changes on programs for home- and community-based services (HCBS). The changes include allowing evaluations by telehealth, allowing other settings for care and relaxing provider qualifications.
Updated Sept. 10 at 8:22 a.m. Central, to reflect further industry reactions.
MINNEAPOLIS (September 9, 2021)—GrandPad, creator of the purpose-built tablet for seniors, announced that it has partnered with Growing Bolder to enhance and expand the library of engaging content for seniors that is included in the GrandPad tablet. Growing Bolder is an award-winning multimedia company that is on a mission to redefine aging by delivering content that engages and inspires people over 50 to live exceptional lives.
OVERLAND PARK, Kan. (September 9, 2021)—WellSky, a health and community care technology company, announced that Andy Eilert has joined the company as president, emerging markets, effective immediately. In this role, Eilert will focus on enhancing WellSky's provider software and analytics capabilities to optimize care and scale provider performance through new ventures and strategic opportunities in emerging health care markets.
LAFAYETTE, La. (September 9, 2021)—LHC Group, Inc. announced significant expansions of its nationwide footprint, resources and service capabilities. The company has entered into an agreement to purchase Brookdale Health Care Services agencies from the recently formed home health, hospice and outpatient therapy venture between HCA Healthcare and Brookdale Senior Living Inc.
Updated to include quote from BAYADA.
MOORESTOWN, N.J. (September 9, 2021)—BAYADA, BAYADA Home Health Care Inc., BAYADA Health LLC and BAYADA Home Care (collectively, the BAYADA Companies), headquartered in Moorestown, New Jersey, have agreed to pay $17 million to resolve allegations that they violated the False Claims Act's Anti-Kickback Statute by paying a kickback to a retirement home operator by purchasing two of its home health agencies (HHAs) located in Arizona.
WASHINGTON, D.C. (September 8, 2021)—Leaders of the durable medical equipment (DME) industry announced the formation of DMEscripts LLC, an independent e-prescribe company dedicated to improving the patient, prescriber and provider experience by eliminating inefficiencies and reducing paperwork.
Washington, D.C. (September 7, 2021)—It is with regret that the National Association for Home Care & Hospice (NAHC) must announce the cancellation of the 2021 Home Care and Hospice Conference and Expo, originally scheduled for Oct. 3-5, 2021, in New Orleans.
This decision was not made lightly, and we are enormously grateful for the support so many people showed for the homecare and hospice community by registering to join their fellow industry leaders at the conference.
WASHINGTON, D.C. (September 7, 2021)—The Centers for Medicare & Medicaid Services (CMS) indicated in an August 2021 MLNConnects newsletter that the agency will resume the targeted probe and educate (TPE) program that was suspended in March 2020 (as were most medical reviews) due to the COVID-19 public health emergency (PHE).
Some medical reviews resumed in August 2020, despite the PHE, but the TPE program remained on pause.
LAFAYETTE, La. (September 7, 2021)—LHC Group, Inc. announced it has finalized its previously announced agreement to purchase Heart of Hospice from EPI Group, LLC—a deal that expands the company's hospice footprint in five states. The agreement was first announced on June 2, 2021.
BIRMINGHAM, Ala. (September 7, 2021)—Encompass Health Corporation announced the appointment of Christopher R. Reidy to the Encompass Health board of directors, effective Oct. 1, 2021. This appointment will expand the Encompass Health board to 15 director seats as part of its ongoing succession planning.
TYLER, Texas (September 7, 2021)—Trive Capital, a Dallas-based private equity firm, is excited to announce its partnership with Choice Health at Home. Headquartered in Tyler, Texas the company is a geriatric post-acute home health business that has historically served patients throughout Texas.
ATLANTA (September 7, 2021)—In mid-August, the United States' Department of Justice (DOJ) reported that Kevin Rumph, Jr., 41, of Fairburn, Georgia, pleaded guilty to a charge of theft of medical products. Rumph used his U.S. Department of Veteran Affairs (VA) issued credit card to buy over $1.9 million worth of continuous positive airway pressure (CPAP) equipment, which he stole and then sold.