Thursday, January 27, 2022
WASHINGTON, D.C. (January 27, 2022)—The Centers for Medicare & Medicaid Services (CMS) has published the 2021 Medicare Fee-For-Service Supplemental Improper Payment Data report. This is an annual report published by CMS's Comprehensive Error Rate Testing (CERT) program that is intended to measure the improper payments made in the Medicare fee-for-service (FFS) program. The CERT improper payment rate is highly referenced when developing policies and is one of the main indicators for audit projects.
 
The 2021 report reviewed claims from July 2019-June 2020. The CERT reports the durable medical equipment, prosthetics, orthotics and supplies (DMEPOS) improper payment is 28.6% which is a 3.2% drop from 31.8% error rate that was reported for the previous year.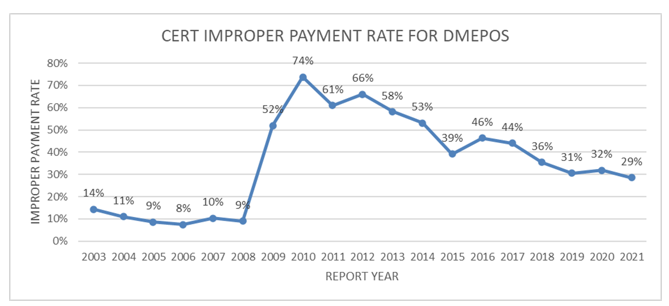 The improper payment rate varies depending on product category, below are some examples: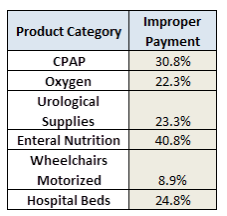 The CERT report continues to show that insufficient documentation is the main driver of the DMEPOS error rate. Insufficient documentation error accounted for 76.9% of the DMEPOS error rate.
Find full 2021 CERT Improper Payment Report here.