Tuesday, January 12, 2021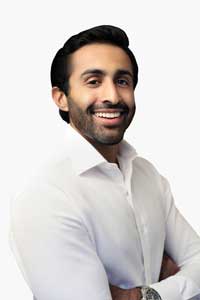 Technology is changing the way home-based care providers operate. The right platform can streamline everything from order management to paperwork. That was the vision CEO Vijay Kedar had for the technology-driven home health platform, Tomorrow Health. The platform matches patients with high-quality DME suppliers that can service their needs, helping suppliers to grow their businesses while reducing administrative overhead and supporting patients in their journey for better home-based care. HomeCare recently sat down with Kedar to discuss the company and his thoughts on the industry.
HC: What was the inspiration for Tomorrow Health?
KEDAR: The vision for Tomorrow Health came from my own experience managing my mother's care after her transition from the hospital to our home. After being diagnosed with a life-threatening lung condition, she spent four months in the ICU until thankfully, her lungs recovered and she was discharged from the hospital to return home.
While relieved to have my mother back home, we were unprepared for the challenges involved in the transition to home-based care. She required a range of medical equipment, supplies and services to complete her recovery—liters of portable oxygen, mobility support, ostomy and wound care supplies, and physical and respiratory therapy. We soon realized that coordinating and delivering her care would be a heavy lift.
After my mother's recovery, I returned to work leading care innovation at Oscar Health, a technology-forward insurer, where I saw the same uphill battles managing home-based care. I saw durable medical equipment (DME) suppliers who were deeply committed to patient care but burdened by operational challenges, bandwidth constraints and margin pressure. It became clear that there was significant opportunity for tech-driven innovation in the DMEspace to support suppliers and patients. 
In building Tomorrow Health, we leveraged technology to streamline the ordering process, reducing paperwork and back-and-forth between suppliers, payers, providers and their patients. We also offer robust support to patients during what is typically a very vulnerable time.
HC: How does Tomorrow Health help DME providers streamline operations?
KEDAR: The Tomorrow Health platform enables DME suppliers to receive new orders from a range of referral sources in a streamlined and efficient manner, expanding their businesses while reducing operating costs and administrative burden. We coordinate prescription and insurance documentation between stakeholders, opening up space on all ends to center focus and care on what matters most—patients. 
HC: How do you see this platform helping home health agencies provide better care?
KEDAR: For home health agencies, we provide a single platform to ensure that their patients receive their orders in a timely and reliable way. We mirror their existing workflows to enable seamless ordering and connect their patients to a range of high-quality partnering DME suppliers, coordinating the process at each stage. Beyond streamlining the ordering process, I believe that our most valuable service is our Care Advocate team. Our Care Advocates provide end-to-end guidance and support for home health caregivers and their patients—ranging from product selection to care instructions after a delivery is received. They support and advocate for Tomorrow Health customers as we would for our own family members. It is the trusted resource I wish we had for my mother's care. 
HC: Do you believe in-home care is at a crossroads? If yes, where do you see the industry going in the next year? 5 years?
KEDAR: Even prior to the COVID-19 pandemic, home-based care was at an inflection point. In 2019, 90% of seniors elected to age in place rather than in a nursing home. At a time when health care bills are the leading cause of personal bankruptcy, the home is the lowest cost and highest value setting of care. COVID-19 has not only accelerated these trends, but has also laid bare the challenges with serving patients at home. These include the difficulties in coordinating amongst home-based care providers, maintaining clinical visibility into evolving patient conditions from afar and the critical importance of providing appropriate guidance and education for elderly patients in a time of acute need.
Against these challenges, we believe that personalized service and technology-driven operations can enable home-based care providers to improve the efficiency of their care, translating to better quality for patients. By supporting providers as they navigate through issues like insurance reimbursement and coordinating patient care, we are streamlining some of the complexity inherent in operating in this space. These efficiencies can enable providers to adapt to the increasing demands of this new and growing home-based care environment. 
HC: How has COVID-19 changed the way you do business? 
KEDAR: The COVID-19 pandemic has changed operations for all of us in the home-based care industry. Over just a few weeks, millions of Americans, including seniors and at-risk individuals, suddenly became homebound; in need of care but unable to leave their homes and fearful to visit a hospital or nursing home in light of the pandemic. Many Americans deferred treatment to avoid hospitalization, while many of the most acute COVID-19 patients were being discharged early to free up beds, left to complete their recovery at home. 
It has forced all of us to adapt. At Tomorrow Health, the pandemic has engendered us to expand the ways in which we engage patients and support home-based care providers. We've grown our operations to enable local medical equipment suppliers to increase the provision of respiratory equipment to patient's homes and to navigate the changing regulatory requirements of this period. We've coordinated with discharge planners to streamline COVID-19 patients' transition home and worked to provide guidance and support to patients managing their recovery where they feel most comfortable. The pandemic has challenged and tested us all, but has also fostered collaboration and innovation on an unprecedented level. We at Tomorrow Health believe this industry is resilient and will emerge stronger to meet the growing needs of patients for home-based care in the years ahead.