Main Image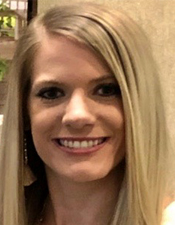 HomeCare Magazine asked Chesney about ATPs ahead of her Medtrade course
Wednesday, March 15, 2023
With the continuing education needed for assistive technology professionals (ATPs), Quantum Rehab Clinical Sales Manager Alex Chesney is preparing to teach a multi-part mobility-related course at this year's Medtrade in Dallas. 
Chesney, who believes the greatest form of education comes from learning through lived experiences, will host classes on seating and mobility foundations, balancing function and independence and maximizing function and independence through programming options. To learn more about continuing education and the course, read below for her Q&A and visit the course description here. 
HOMECARE: Why is education important for ATPs? 
CHESNEY: Education is essential for ATPs and clinicians as our primary role is to educate our clients. When we work with a client, it is our job to listen to their unique daily routine and what is meaningful to them, then match them to the technology that will maximize their independence. We live in an era of information overload where our clients can learn about anything (diagnoses, CRT technology, etc) through an internet search. As part of obtaining and maintaining our ATP certification, we continue to receive education and learn about different products/features within the CRT space in order to educate and guide our clients on their options and to collaboratively decide on what may work best for their individual needs. As ATPs, we must always be open to and seek out education opportunities. We can always learn more or learn a new perspective, from each other and from our experiences, along with updates in education from evidence-based practice.
HOMECARE: How often should ATPs look at attending some kind of continuing education session—I guess what we're really asking is how often things change, and why should ATPs be updating frequently? 
CHESNEY: To maintain an active ATP certification with RESNA, the ATP must renew their certification every 2 years and part of that renewal process is obtaining 20 hours of continuing education. When you commit to serving those with complex seating and mobility/technology needs, there is an expectation that one remains up to date with information. There are constant updates within this space and one of the best ways to stay informed is to follow the communication efforts provided through assistive technology journals, publications, and organizations that often offer free access to updated information and changes within the field. On a monthly basis, when I receive and read various publications, I learn a new trend, practice, or perspective that helps me to grow my knowledge. Anything that has the word technology in it, like ATP, can expect to have constant changes that we must continue to try to learn more about.
HOMECARE: The big talk these days is on getting reimbursement for elevated seating-the deadline for public comment is March 17. How is that push going? And what kind of change could that offer for wheelchair users if it happens? 
CHESNEY: This is a huge effort and one that we are truly passionate about with our team members who participated in 292 meetings across 43 states in the CRT congressional fly-in that happened in September of last year. There was huge support and turnout with public comments then and, so far with this comment period, we know CMS has received over 1,600 comments. All of our comments count, the efforts to reimburse power seat elevation are making an impact, and we hope for the CMS process to be completed sometime this summer. This change impacts wheelchair users tremendously by allowing the opportunity for coverage of an essential power seat function. The power seat elevation feature has numerous benefits including access to a vertical environment for functional reach, transfer assistance, and improved socialization to name a few. It should be considered a standard feature and not viewed as a luxury item. The impacts of this are beyond measurable to wheelchair users, and there is also extensive data and clinical justification on how this feature can maximize independence and function.
HOMECARE: One of your sessions will look at power seating and power positioning. Is there anything new, either in terms of products or approaches, that DME providers should be aware of? 
CHESNEY: In relation to our specific product line, we do have a new seating system available with updates to power positioning options. With our Tru-Balance 4 seating system, there are three main changes including the capability of power anterior tilt up to 30 degrees, a dual actuator articulating foot platform allowing the feature of power articulation to the ground and the capability of memory seating. Memory seating is a feature that allows all the power actuators to move at the same time to a destination or one actuator to move at a time for the purpose of a functional weight shift posteriorly. This feature allows wheelchair users to give one command through their joystick or switches to get to a uniquely customized destination. With the memory seating feature, we have the capability in our system to have 4 memory seating profiles with customized positions for each forward and reverse command in those profiles, which results in a total of 8 custom positions. This allows wheelchair users to efficiently get into commonly used positions for things like pressure reliefs, reaching into cabinets, getting into an accessible vehicle, transfer position, and many more. We will have this available to see and will be reviewing the functional and clinical benefits of the memory seating feature. Regarding the approach to power seating, there are some trends in funding that we will be emphasizing and reviewing the research on, which will include medical and functional benefits of all power seating functions.
HOMECARE: How is technology affecting seating and mobility professionals? Does it require you to expand your knowledge base beyond the chairs themselves? 
CHESNEY: Technology is constantly impacting seating and mobility professionals. There are so many new products and/or ideas and everyone wants to be able to offer solutions to our clients. The goal is always finding what's best for the client and I greatly appreciate the effort made by Quantum on getting feedback and input from those utilizing power wheelchairs. This is where our backup camera technology came from. I can't tell you the number of times as a clinician my client would ask "why don't these have a camera like my car does, I can't see anything behind me now." Our team worked hard to create a backup camera option that could be added to our power wheelchairs to provide that relief of knowing what is behind you for safety and accessibility. We've seen this technology utilized for those with visual neglect - by placing the camera in an area someone can see to provide visual feedback on the areas they cannot. When you look at technology, there is always a lot to continue to stay up to date with and educate yourself on. The world of home accessibility is becoming more and more universally designed. We must keep up with how our technology integrates with that so we can continue to educate clients on their options to increased independence from their wheelchair, with their wheelchair's technology, and with external technologies.