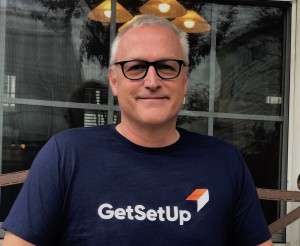 When Lawrence Kosick's friend pitched an idea for re-skilling retired educators to teach older adults software and apps, he reflected on his 90-year-old father's request for a smartwatch. At 53, Kosick himself struggled with his smartwatch's features and did not want to play tech support for his father.
"In the end, I thought why shouldn't he get the [the watch]? Millions of other people have it. And to be honest, it bothered me that his request bothered me," he said.
Kosick and Neil Dsouza—the previously mentioned friend—founded GetSetUp in 2019 as an online platform where older adults could teach other older adults "skills to empower them to lead more productive, happier and healthier lives."
The company currently has more than 500 online small group classes and events across five subject areas, including the digital divide, physical health, mental health, social health and vocational health. All classes are live, and all the instructors are over 50 years old and are retired specialists in their field. Partnerships include care providers, health plan providers, health systems, governments, nonprofits and community organizations.
Kosick spoke with HomeCare about the importance of lifelong learning and empowering older adults with new skills.
HOMECARE: Why is it important that older adults pursue learning opportunities? On the other side, how does teaching a class help an older adult stay engaged?
KOSICK: Older adults are the largest rising population and one that has notoriously been overlooked by technology and learning opportunities. However, lifelong learning is essential to health and well-being. Not only is technology changing at a rapid pace—and those who choose not to learn are being left behind—but technology is becoming an essential part of our daily lives from how we check out at the grocery store, order food at a restaurant or even sign up for medical appointments. 
●    Learning and cognitive training helps to create new neuron connections that impact brain health
●    Learning tech skills help to keep older adults independent and empowered to age in place 
●    Learning job skills, especially the latest work tools, means that older adults can compete for economic opportunities
●    Learning technology means that older adults can stay connected across generations, with loved ones, stay engaged in the community, and fight social isolation and loneliness
Considering that learning helps keep one's brain healthy, creates social connection and teaches a new tool for one's toolbelt, everyone should be doing it all throughout their lives.
Teaching a class on our platform helps to empower our guides and volunteer hosts. They are creating positive learning opportunities for others, sharing their knowledge and connecting with others. Our guides and hosts enjoy learning as well in their classes from fellow peers as the class is full of diverse people with unique insights. Leading classes provides learners with purpose and a community of peers who are interested in similar topics. Furthermore, our creators who are leading classes or teaching them are constantly researching and learning the latest about their topic. This means that they continue to strengthen their brain health and enhance their own personal learning and growth. 
It's been hard for older adults to find safe, online, live community-based learning opportunities. Now GetSetUp offers a safe space for mature adults to learn, create and share their wisdom, allowing them to feel empowered, fight social isolation and stay healthier and happier. 
HOMECARE: How can older adults who experience cognitive difficulties benefit from online learning?
KOSICK: Virtual learning for older adults allows those with cognitive difficulties to access learning in a format that better meets their needs. Whether it's offering classes around the clock, shorter classes, enhanced audio and subtitles or specialized technology like remote mouses calibrated for a tremor, online learning can be adapted to meet specialized needs.  
GetSetUp classes are simple and bite-size. They are an hour long to keep learners engaged. Learners receive notes after classes and can request a video recording to re-watch parts they may have missed or need further training on. They are encouraged to return to class as many times as they need to ask questions at their own pace. Many learners come into the same class and learn one or two pieces at a time and return until they understand the entire concept and can apply it. 
HOMECARE: What makes a good virtual class for older adults? Who makes a good teacher?
KOSICK: Great virtual classes are live, interactive and have engaging topics that interest the participants. Without these key aspects of engagement and interaction, virtual classes aren't much different than watching TV, and this "sit and get" type model we know is ineffective.
We call our teachers' guides because they are not the only source of learning in the class. Our guides steer the direction of the class, provide a format, bring in expertise, but they also encourage the class to share their own insights and knowledge. In this way, they ensure everyone is participating in the learning and teaching. 
Our guides—who are all over 50—are all peers with their learners and we have found that makes a huge difference. Our guides are better able to relate to and engage with their class, and our learners like to learn from peers. They feel inspired to know someone their age can learn and teach a specific skill. Many learners say they gain the confidence to overcome hurdles they may face when someone who has been there and knows how to help them overcome these issues with relevant examples and language choices. 
HOMECARE: What are the benefits of virtual learning over in-person for seniors (outside of pandemic-related lockdowns)?
KOSICK: There are many benefits to virtual learning for older adults. For those with mobility issues, or those in rural areas without access to diverse services, or just those who are alone and hesitant to venture out on their own, social isolation is a real issue, and one of the leading causes of death among older adults. Virtual learning becomes a one-click solution to finding enriching content and people to connect with. We find even urban learners enjoy saving time by not having to drive somewhere and look for parking and cutting out the commute altogether.
Virtual learning can also connect older adults to a community that they would otherwise have difficulty finding. They can easily connect with people of the same age who share the same interests and hobbies. We have a learner who enjoys House music who shared that while she didn't have friends in her area with that interest, she could find people who did through the GetSetUp learning community.
And, for many learners, virtual learning offers more options than can be offered in-person—more classes at more times and even in different languages or from different countries. It gives older adults a convenient way to find exactly the classes that appeal to them. GetSetUp now offers classes in English, Spanish, Mandarin, and Hindi, and learners can take classes from other parts of the world, giving them a new cultural experience without leaving home.
HOMECARE: What do you see as the future of learning for seniors?
KOSICK: We need to aspire to live longer, healthier and more active lives. As we change careers, our passions, and our focus throughout different decades of our lives, learning for seniors will only increase. Many people are living until their 90s; they aren't planning to stop learning in their 60s. They still have a third of their life to learn lots more great things! 
Learning still provides the easiest and simplest way to meet people with shared interests and become motivated to try new things. Our community is not just about learning but also about connecting with peers in similar situations. It's much easier to learn with peer learners who have "been there and get that." Plus seeing others accomplish something we fear, gives us that extra bit of courage to take the next step ourselves, no matter our age. I believe seniors will only continue to learn together and empower each other to continue doing amazing things.