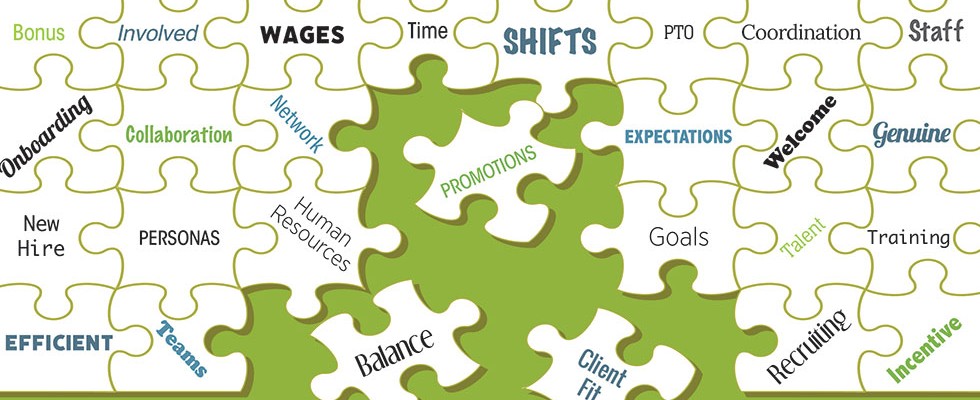 Putting together the hiring puzzle
Eight million.
That's how many new jobs—8.2 million, to be more precise—the caregiving workforce needs to increase by before 2028 in order to fill the expected needs for senior and other in-home care.
It's a daunting number, especially given many homecare providers are struggling to keep their current staff at capacity. Turnover rates in homecare hover around 64%, according to a report from HHAeXhange. And inflation is only adding to wage pressures.
"The reality is, with an aging population and an increased desire to stay away from institutional care, the demand on services in the home has grown and it exceeds the supply of what can be given," Bill Dombi, president of the National Association for Homecare and Hospice (NAHC), said during an online panel event hosted recently by HomeCare. "The consequences of that are obvious—access to care is diminished. The so-called conversion rate of referrals to care and the acceptance into care is at an all-time low."
What if there were new and innovative ways to help solve the caregiving crisis? As they say, the definition of insanity is doing the same thing repeatedly and expecting different results. Today's homecare organizations are attempting a broad range of tactics to recruit and retain workers, including increasing compensation, focusing on worker safety in the field and supporting work-life balance for shift workers and others. There is also a growing effort to articulate the meaningfulness of caregiving work, and to find more workers—including in unusual places or demographics—that pitch might appeal to.
HomeCare held a panel discussion to dive into some of these options, featuring three experts: Dombi; Brandi Kurtyka, CEO at MissionCare Collective, which includes myCNAjobs, CoachUp Care and MissionCare and is focused on changing the care hiring culture; and Jeff Salter, founder and CEO of Caring Senior Service, a nonmedical homecare provider with about 50 locations.
Targeting New Demos
The HomeCare RoundTable, called "Connecting With Caregivers: Understanding direct care workers and their needs," included data from the State of the Direct Care Workforce report, co-authored by Dombi and Kurtyka. The project surveyed more than 67,000 certified nursing assistants and home health aides to find out as much as possible about them, from their marital status and health issues to their hobbies and favorite music.
It groups caregivers and potential caregivers into seven personas, ranging from career caregivers to retirees and includes some surprising options to tap for caregiving roles, such as:
Young adults aged 18-24, whom the report says are "looking for jobs that don't get in the way of life"
Young women with multiple children who put family life first
Single moms who move a lot and value flexibility and the opportunity to bond with clients
Empty nesters seeking community connections and spending money
Female retirees who make great caregivers because they sync well with clients
"We see agencies focusing on recruiting one and only one type of caregiver, and this study unpacked and found essentially seven different personas or faces of who's working in caregiving," Kurtyka said. "And that's where I think there's a sea of opportunity because if you look at the recruitment ads and how people are recruiting, they're focused on one segment and not paying as much attention to these other six segments. And that was a big "ah-hah!" for me in the research."
Salter agreed, saying using the information effectively will require agencies and human resources (HR) departments to make a "fundamental shift in their hiring practices."
"We've got to retrain our frontline employees that are doing the hiring because they would look right past (a retiree, for example)," Salter said. "And it's not because of age discrimination, it's because they're looking for someone that wants to do this as
a career."
Dombi said that agencies should pay more attention to applicants who are 65 and older because they're already the largest sector of the U.S. population. They may not be looking at want ads, he said, but they might respond if someone reached out to senior centers or other locations seeking active elders with a desire to fill their time with meaningful work.
"I think the study's just really a wake-up call to our industry and it dovetails into kind of natural societal movement of the way that we treat and pay attention to workers," Dombi said. "The workforce of yesterday is completely different than today. We saw that transition happen into the baby boomer generation and now we're seeing it again."
Hiring, Conversion & Retention Problems
Salter said it's easier than ever to recruit caregivers today. In fact, in some ways, it's too easy, and homecare organizations are suffering from what he dubbed the "Indeed Effect." That is, he explained, because it only takes a click to apply for a job, the number of applicants for each position has skyrocketed—but many aren't qualified or aren't otherwise a good fit.
"When you have a caregiver that's able to apply for 20 jobs with the click of a button, you end up creating a workload on 20 companies because 20 companies have to do something with that applicant," Salter said. "Some are really good at the follow-up and they follow through. Some might not be, but in the end it creates a large workload and a burden to those 20 companies."
Often, Kurtyka said, there's also a gap between what business owners understand about hiring—say, that nontraditional demographics could be valuable, or that applicants need a response within 24 hours—and the way their staffs are actually operating on a day-to-day basis.
"There can be a very large disconnect between those two populations," she said.
"I hear, 'We reach out to applicants right away,'" she explained. "No, you don't! We can see the data. Applicants sit there three days, four days, seven days. … A lot of times it boils down to training for the office staff. It's not that they don't care, but a lot of times they're just not trained in it."
Salter said training programs for caregiving hires are also an area of concern for the industry. Training has always been a priority, of course, but transitioning service workers or others who don't have direct care experience into productive health care careers will require a mental shift for
hiring officers.
"It's going to be a lot of change for our industry and a lot of change for the individual companies to really grapple with that new kind of paradigm," he said.
And once they're trained, it's critical to keep employees engaged and feeling connected. It's estimated it costs about $2,000 to recruit and train a caregiver—money that employers can't afford to waste with high turnover.
"It would seem that the lowest hanging fruit relates to retention rather than recruitment," Dombi said. "You know, you've got somebody on board and if the job fits for them and you treat them right, they'll stay on. Even if they're somebody who's going to be a short-termer rather than a career caregiver, getting a year out of somebody who might otherwise be there six months still brings a tremendous amount of value."
Kurtyka said that turnover continues to be a major issue across the industry and has widespread repercussions, as organizations who work with MissionCare have seen in their hiring data.
"We were helping millions of people connect to jobs each year," she said. "And a lot of those people were going out the back door faster than they were coming through the front door. And at the end of the day, it's not good for the worker, it's not good for the provider, it's terrible for patient care."
A Call for Awareness & Pay
While there's no silver bullet for keeping people on staff, Kurtyka said, showing appreciation is important. For some types of workers, things like praise and gift cards can help. But ultimately, pay is probably the best answer.
"At the end of the day, homecare's a really isolating role. It's a hard job," she said. "The reality is 53% of our direct care workforce is on some form of public assistance. Money goes a long way. And the reality is, it's not hard for these individuals to find a job that's earning more money. We 100% need to engage folks, but we also really need to give them a reason to stay."
Dombi said there are ongoing efforts in Washington and at the state level to help increase reimbursement rates and offer some businesses more margin for caregiver salaries, but private pay wages also should be considered. Initiatives include the Better Care Better Jobs Act introduced earlier this year and a Credit for Caring Act that may be reintroduced this session.
"(We) have to look at both of those in order to improve the workforce," he said. "And compensation is one of the areas that can be addressed through policy or through regulatory action, but particularly legislatively, both on the state and on the federal level."
Beyond policy, he said, the public needs to better understand that homecare is a meaningful job and that it brings respect. Salter and Kurtyka agreed, saying homecare has a great story to tell.
"Nobody can do this alone. We have to work together," Dombi said. "We have to collaborate; we have to recognize it's multi-dimensional—but I think the passion we all have for caring for people in their own homes will drive us to success."