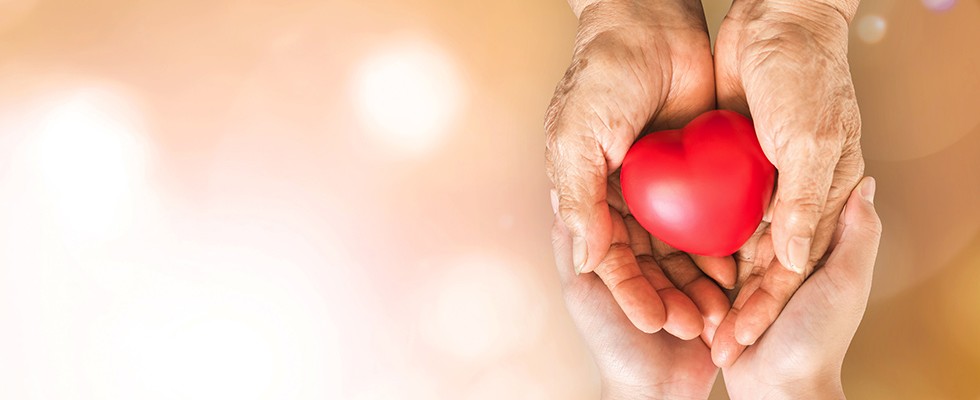 NAHC President talks quantifying the value of hospice
A new report released in April by the National Association for Home Care & Hospice (NAHC) and the National Hospice and Palliative Care Organization (NHPCO) found that Medicare spending for patients who received hospice care was some $3.5 billion less than it would have been if they had not gotten that care.
The study is one of the most comprehensive analyses of enrollment and administrative claims data for Medicare patients covered by both Medicare Advantage and traditional Medicare. Some of the key findings were:
In the last year of life, the total costs of care to Medicare for beneficiaries who used hospice was 3.1% lower than those who did not.
Hospice is associated with lower Medicare end-of-life expenditures when hospice lengths of stay are 11 days or longer. In other words, earlier enrollment in hospice reduces Medicare spending further.
Hospice stays of six months or more result in savings for Medicare. For those who spent at least six months in hospice in the last year of their lives, spending was on average 11% lower than the adjusted spending of beneficiaries who did not use hospice.
At any length of stay, hospice care benefits patients, family members, and caregivers—including increased satisfaction and quality of life, improved pain control, reduced physical and emotional distress and reduced prolonged grief and other emotional distress.
HomeCare talked with NAHC President Bill Dombi about the report and why getting Americans on board with hospice is so important.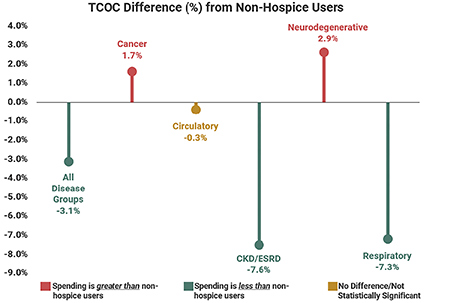 Comparison of total costs of care (TCOC) by disease group in the 12-month period before death. Source for charts: "Value of Hospice in Medicare," research by NORC at the University of Chicago.   
HomeCare: What stands out to you from the study?
Dombi: What stands out is the overall value, monetarily, of hospice services, even for extended stays. You know, an individual over the 261-day mark is still bringing savings to the Medicare program because that's been one of the areas of criticism—that long lengths of stays have something seriously wrong with them. We've always felt that when Congress enacted the hospice benefit into law in the early 1990s, they knew that life expectancy was not going be an easy-to-predict outcome, and they intentionally ended up allowing the benefit to be more than six months. There are some people—and maybe even MedPAC among them—who just don't seem to recognize that the benefit never was a six-months-or-less benefit in the first place.
A second thing that stands out is the fact that when looking at it from a pure savings perspective, the patients who come on service for less than 15 days—less than 10 days in particular—actually are costly to the Medicare program. What that really means is the dialogue should be focused on how do we get people to elect hospice earlier in their terminal illness. And there's definitely reason to do that besides the monetary value.

HomeCare: That requires a bit of a mental shift for patients. Is it a shift for the providers as well?
Dombi: It may be for some providers. I recently did an interview with National Public Radio and one of the individuals who was part of the program was the spouse of a cancer victim who ultimately elected hospice but was only on for a few days. And you know, what she said? She said, "Hospice was never in any discussions the oncologist had with us." I know the oncologists want to save everybody, but we would hope that they would offer to the patient a bit more information about their options.
HomeCare: Tell me a little bit about how the study was conducted.
Dombi: The core focus was around what happens in the last 12 months of an individual's life, somebody who's on Medicare. It compared a population of people who received hospice at some point in that 12 months to a population of Medicare beneficiaries who received no hospice care in that 12 months but presented the clinical elements similar to the hospice patient population.
HomeCare: So, what comes next? How do you work to get this message out there?
Dombi: Well, we're certainly going to be educating Congress about it in detail. There are a series of events that are in planning, briefings of members of Congress or committees. And from there, we're already looking at what a phase two study involves, because there were many things that were suggested from this that could require a little more in-depth understanding—everything from a little more fine understanding based on primary diagnoses to even looking at a different period of time than the 12 months.
The main thing is that we've got a benefit that really is a great value to the Medicare program. We call it a dynamic value in terms of it saving money from spending that otherwise would be there, a benefit that has demonstrated not only monetary value, but great patient satisfaction—just great quality of care. And we need to have a focus in Washington, be it Congress or at the Centers for Medicare and Medicaid Services, on how do we get patients to understand what they could get out of hospice if they were to choose it earlier.
HomeCare: Speaking of hospice, there's been a lot in the media lately about President Jimmy Carter's announcement that he's on hospice. Is that kind of bringing some attention and awareness?
Dombi: It has brought a tremendous amount of positive attention and awareness, from trade media to mass media editorials and the like. President Carter has demonstrated that you can sure deliver a lot of special things to people well after leaving the White House. One of them was to reveal that he selected hospice. That had to be done in a very intentional and forthright way to communicate, not just that he was dying, but that he saw real value in using hospice as his last health care.