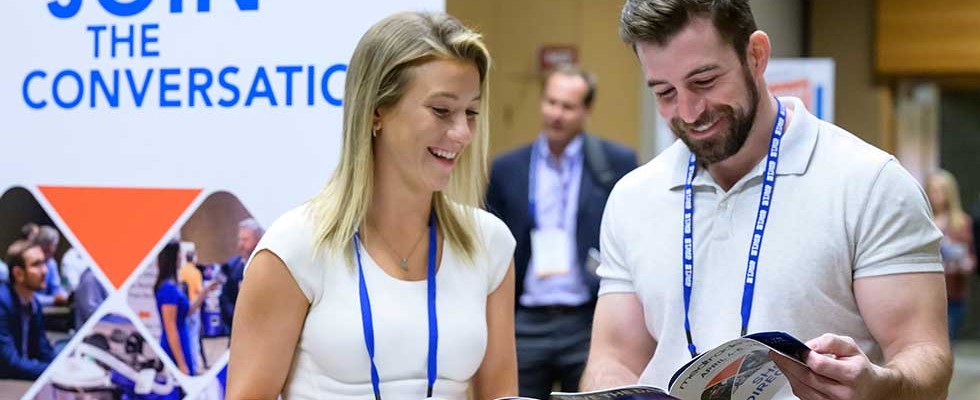 Medtrade announces single show going forward
"Where do you think we'll be?"
That was the No. 1 question at Medtrade West in Phoenix last month after the show's organizers announced that in 2023, Medtrade would consolidate to a single show at a still-to-be-determined location and time. The new show, they said, would be easy to get to for everyone and not in the long-time home base of Atlanta, where Medtrade East will occur for the last time this October.
The same question might have also applied to the home medical equipment industry as a whole, however. Participants, exhibitors and show presenters present in Phoenix, Arizona, from April 4-6 all worked to read the tea leaves to make their own predictions about what 2023 will look like in terms of the competitive bidding program, COVID-19 relief, materials shortages, rising prices, election results and more.
Public Health Emergency Continues
The Department of Health and Human Services (HHS) officially expanded the public health emergency (PHE) on April 12, stretching the expiration of several health-related waivers into July. While that could be the last round, Washington watchers predict that there may two, and possibly three, more extensions of the PHE.
That's because if it does renew in July—and HHS Secretary Xavier Becerra has promised to give providers and states a 60-day warning before it ends—it would then expire in October. And the Biden-Harris administration is less likely to want to finally end it shortly before mid-term elections happen in November.
"It's likely the PHE will go beyond the mid-term election," VGM Vice President for Government Affairs John Gallagher said. "So it would go to January—and then we're looking at the end of the CARES Act."
Competitive Bidding
Experts are also trying to read the tea leaves on plans by the Centers for Medicare & Medicaid Services (CMS) to launch a new round of Durable Medical Equipment, Prosthetics, Orthotics and Supplies (DMEPOS) competitive bidding program
for contracts in 2024.
"CMS will not tell you anything officially," said Cara Bachenheimer, head of the government affairs practice at the law firm Brown & Fortunato. "Unofficially, several months ago they indicated they'd be changing the program."
But what that change means—and when it might happen—is unclear. Bachenheimer said that in the past, CMS has usually made an initial announcement about the program in the first week of March, which came and went. And if there's not a proposed rule issued by July or August, it's unlikely there will be one.
"I know it's not a lot of crystal clarity but that's sort of the way with a lot of these policy issues in D.C.," she said.
Price Increases & Supply Chain Pain
Efforts in Washington right now are focused on gaining support for HR 6641, the DMEPOS Relief Act. It would set a 90-10 blended reimbursement rate—that is, about 90% on bid pricing and 10% on the 2015 fee schedule—for the 13 categories dropped from the competitive bidding program, which Tom Ryan, president and CEO of the American Association for Homecare, and others said is imperative given stagnant reimbursement levels and increasing costs and surcharges.
"Capitalism is such that the demand is greater than supply, you can do one thing, you can raise the prices—clearly we can't do that," Ryan said at the organization's update session at the show. He said that shipping prices are up as much as 2,000%; polycarbonate materials used in HME are up 60%; and some providers have paid $1,000 per month just to buy personal protective equipment for employees entering
patients' homes.
"We need help, and we've got to go to the Hill to get that," he said.
Other priorities include:
Extending relief for HME in sequestration;
Allowing complex rehab technology (CRT) wheelchair users to upgrade to
lighter materials, such as titanium and carbon fiber; and
The Better Wound Care Bill, which looks at negative pressure therapy.
---
New Products Catch Eyes
One of the highlights of each Medtrade session is the New Product Pavillion Providers' Choice Awards, which are sponsored by HomeCare and selected according to votes from attendees made on the show floor.
GOLD: Sometimes, simple is best. My Crutches is simply ordinary crutches brightened by fun patterns—and yet, it attracted interest at the show and took the top award.
Owner Howard Greenspan came up with the crutches after his teenaged daughter broke her leg and was disappointed she would be photographed at her eighth grade graduation in boring silver crutches. She decorated her crutches, inspiring her dad to develop a way to print colorful designs directly on standard crutches.
In 2021, Greenspan's company debuted four patterns of what it calls "the first fashion crutches," which retail for $39.99.
"Technology spurs change in the medical industry, leaving a gap in consumer driven innovation," Howard Greenspan said in a news release. "I believe that we're poised to revolutionize the medical equipment sector with personality-driven crutches. It's the perfect upsell and added-value service that brings smiles, clout, and at a bare minimum, a conversation piece during the healing process. Who says our industry has to be boring? Let's add some fun!"
The My Crutches line expects to add six new designs—including teal leopard, tie dye and doodle icons—this summer, as well as to expand sizing options. Visit mycrutches.com.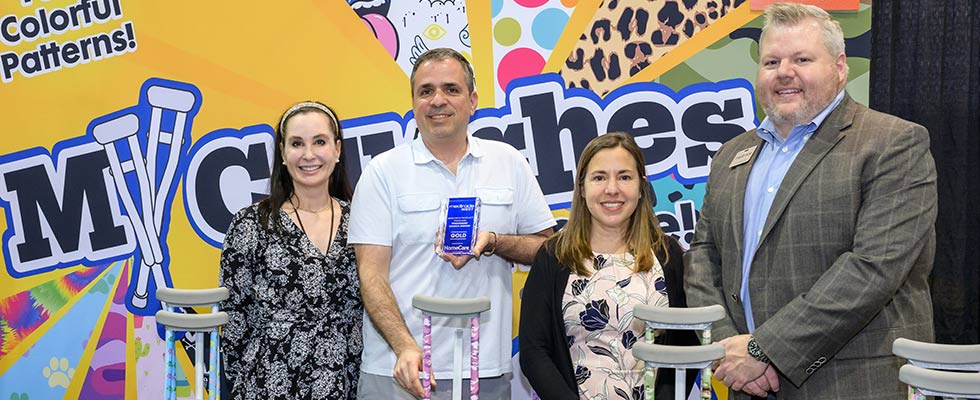 My Crutches creator Howard Greenspan with the gold award, with HomeCare Editor Hannah Wolfson (r) and Medtrade Show Director York Schwab (far r)
SILVER: Dignity Lifts burst onto the scene with a bang when it won Silver at Medtrade East in 2022 for its DL1 Deluxe Toilet Lift. This time, the company landed Silver again for its WL1 Bidet Toilet Lift. Dignity Lifts President Tom Nardone said the product was created in response to potential buyers looking for a lift who didn't want to give up bidet functionality they've become attached to—and which was blocked by a traditional toilet lift. The new lift with bidet includes a heated seat and a blow dryer for full comfort. Visit dignitylifts.com.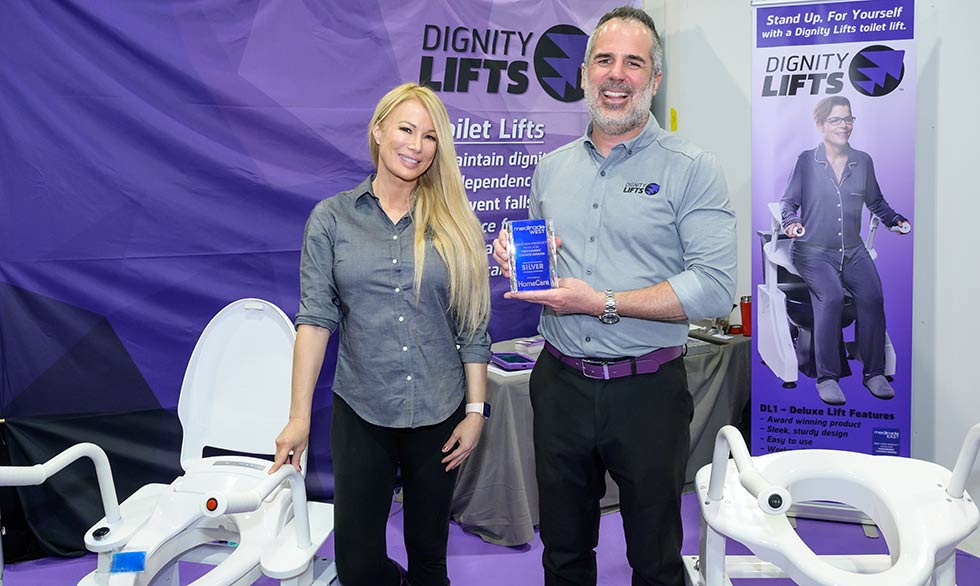 Dignity Lifts President Tom Nardone with the silver award
BRONZE: NelDerm, a company that makes medical devices in Cleveland, Ohio, took the final award for its Heel P.O.D., a memory foam offloading device designed to prevent the progression of or occurence of pressure injuries. The multi-layered foam "U" is is designed for extended wear and allows caregivers and patients to see that it is working. Owner Kevin Nelson said the goal was to come up with something simple and intuitive to serve the wound care market. Visit nelderm.com.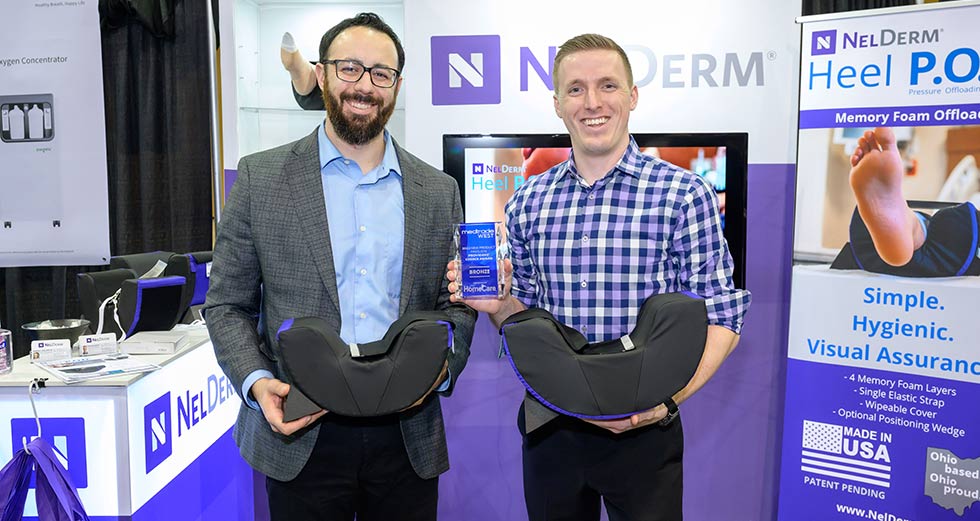 NelDerm owner and co-inventor Kevin Nelson, right, with the Heel P.O.D.