Answers from industry experts
CORE PRODUCTS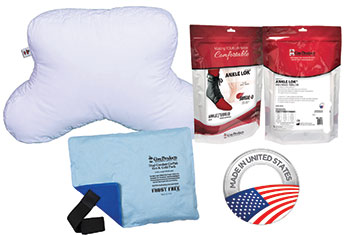 Core Therapeutic Products
Rob Cooper
Director of Sales and Marketing
coreproducts.com
What is your company's specialty?
COOPER: Core Products has been manufacturing orthopedic softgoods (supports, braces, hot-cold packs, pillows) in the United States since 1988. In addition to our flagship Core Products brands, we have acquired other companies, and our brands and products include Swede-O braces and supports, Therapeutica Pillows and the Jeanie Rub Massager.
What market segment is best served by your product?
COOPER: Our products have long-served the rehab and therapy, HME/DME, independent pharmacy and chiropractic market segments.
What strategic shifts in thinking and business management have occurred to help grow the business?
COOPER: We adjust our thinking to include consideration of the popular and ever-growing preference of consumers to shop online. Every new product launch and marketing program needs to consider how all members along our supply chain will be affected by the large percentage of consumers who want to purchase our products online. This consideration influences pricing, packaging, promotional guidelines for our distributors and retailers, and also how we as the manufacturer will create demand for products.
How has the market for pain management products changed?
COOPER: The most significant change in the market has been the pressure on margins for manufacturers, distributors and retailers, due to the fact that consumers have instant access to a wide variety of products and prices through their smartphones. Price-comparison shopping on the internet, even as consumers are standing within a retail store, is a reality we all have to live with. We maintain the MAP (minimum advertised pricing) of our products along all online marketplaces.
What tools do you provide to help educate dealers and potential product users?
COOPER: We are big on instructional and educational videos, as well as digital and print assets that can be customized to help our customers market our products. We also believe that our own aggressive marketing to health care professionals and consumers helps pull sales through all our channels.
COMPASS HEALTH BRANDS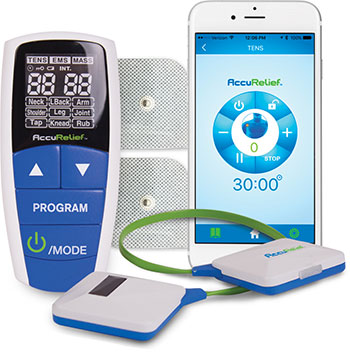 AccuRelief 3-in-1 Wireless Pain Relief Device with Bluetooth-Connected Mobile App
Ryan Moore
Senior Vice President, Therapy Division
compasshealthbrands.com
What is your specialty?
MOORE: Compass Health's therapy division specializes pain management devices for consumers, medical institutions and professionals alike. Among our portfolio of products are modalities such as electrotherapy, combination, laser, diathermy, ultrasound, hot/cold and their corresponding consumables. Our marque brands include Richmar, InTENSity, AccuRelief, StrengthTape and TheraMed.
What market segment is best served by your products?
MOORE: HME providers, long-term care facilities, hospitals, clinics, athletic trainers, physical therapists, chiropractors and orthopedists.
How has the market for these products changed?
MOORE: Reimbursement changes by Medicare (specifically coverage criteria for TENS) and FDA approval for the sale of TENS devices over-the-counter have contributed to a dramatic shift in the cash sale segment of the business. In addition, awareness of the opioid crisis and consumer education have provided significant lift to the market.
How do you differentiate your products from others in the category?
MOORE: By offering products that are easy-to-use, with innovative design and technologies that are cost-effective across diverse needs. For example, our AccuRelief 3-in-1 Wireless Pain Relief Device with Bluetooth-Connected Mobile App combines three therapies in one device—TENS (transcutaneous electrical nerve stimulation), EMS (electrical muscle stimulation), and massage—providing a comprehensive and versatile pain solution for chronic pain, injuries, soreness, relaxation or stress relief. It is small enough to fit in a pocket.
How are you responding to the demand for value-based medical products/devices?
MOORE: With our continuing education courses—by focusing on educating clinicians and new graduates on the latest modalities for pain management and the options available to them for better care and improved long-term patient outcomes. Many of our innovations have been a result of our patient advisory group, people who are coping with chronic pain daily. Our advisory group is key to patient compliance, positive outcomes and overall satisfaction.
How can HME providers realize profitability with this category?
MOORE: HME providers can realize profitability by first educating themselves on the latest technologies and then by offering a spectrum of pain management options that can range from preventive solutions to post-op pain management for chronic disease management.
What trends and innovations have you identified for pain management products?
MOORE: We continue to see patients choosing alternative medicine (acupuncture, chiropractic treatments and massage therapy) and homeopathic treatments over traditional medicine and prescription pills. Consumers want products to be multifunctional, and pain relievers are no different.
What tools do you provide for dealers and product users?
MOORE: For dealers and clinicians, we have continuing education courses that are offered throughout the year at various locations throughout the country. We offer webinars and onsite training. For consumers, we have online education and videos.
PAIN MANAGEMENT TECHNOLOGIES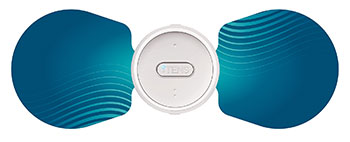 iTENS Gen2
Joshua A. Lefkovitz
President
paintechnology.com
What is your specialty?
LEFKOVITZ: Our products serve external nerve pain conditions, post-surgical pain, rehab and other condition specific pain conditions.
Why should pain management products be attractive to HME providers?
LEFKOVITZ: Pain is an unavoidable ailment as we all age. Lock-step with this fact, our country has gotten into a predicament with prescription pain medications being the go-to treatment method. Everyone is aware of why and how we need to reevaluate our go-to treatment methods and introduce alternative modalities. HME providers need to be prepared to carry forward these alternatives.
How can HME providers realize profitability with this category?
LEFKOVITZ: We believe it is all about diversification and customer retention. If you can be a company that services the patient's needs all under one roof, with a long-term focus, then it helps prevent customers from seeking other providers and cherry picking their needs across the marketplace.
Tell us about a recent discovery in your area of expertise.
LEFKOVITZ: I personally think electrotherapy has a lot of untapped potential. If the FDA would broaden their acceptance of new indications for use, then you would see expanded innovation in this area.
What are the key considerations patients/caregivers should know about pain management products?
LEFKOVITZ: Pain management is always an aggregate of treatments or therapies that all help to reduce the pain scale in unison. Pain can't be quelled with one silver bullet.
How are your products key to combating addiction?
LEFKOVITZ: All of our products are non-narcotic and non-invasive, and serve as a perfect alternative to reducing or eliminating the need for pain medications.