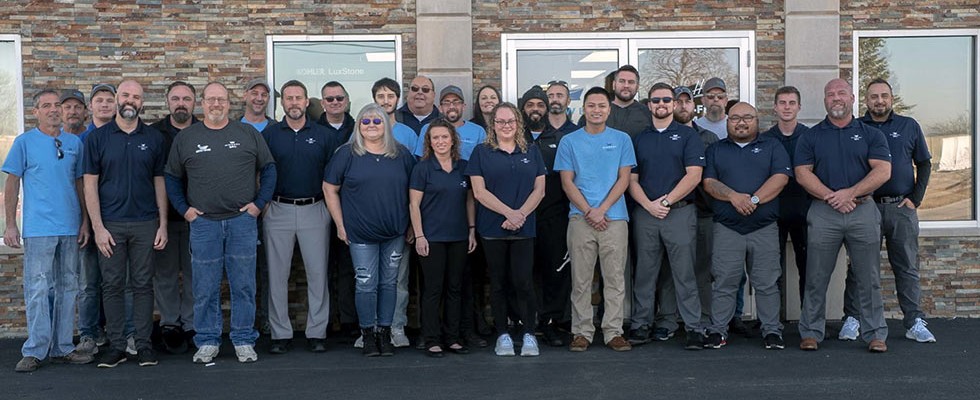 The business aims to target younger clientele who can age gracefully into their homes
What do you get when a former Best Buy and Home Depot executive decides to turn his entrepreneurial attentions to home modification? SageHome, an Atlanta-based remodeler with an ambitious goal of creating a full-service, national aging-in-place solution.
The trick, says CEO Brian Hutto, is not to call it aging in place—especially when there's a huge market in aging boomers who just want a new bathroom that looks great now and will be ready for them in a decade.
"Falls are a serious problem for someone who is 62 years old and can run 60 miles. They'll come in and they'll say, 'I just don't want to step over my tub.' We see people in their aging progression, and they just want a shower that's easier to get in and out of," Hutto said.
"We think it insults them to say 'aging in place,'" he added.
A Pandemic Project
Hutto conceived SageHome in 2020, in the midst of the pandemic, when he had left his role at the technology deployment company StayMobile and was looking for an entrepreneurial next step.
"I just started studying the marketplace to see what's interesting, what's compelling, and I started seeing that the baby boomers have a profound impact on the economy wherever they go," Hutto said.
Then he did the math: Predictions say there will be 116 million Americans older than 60 by 2030, but only about 1 million spots in assisted living facilities exist today, according to the American Health Care Association. And he realized that something needed to change.
"People are going to have to age in place, and aging in place is highly fragmented and underserved,"
Hutto said.
So he found seed investors and launched SageHome in Atlanta in 2021. Then, in May 2022, SageHome partnered with a strategic investment and advisory committee Cairngorm Capital Partners LLP and set out to grow through acquisitions. First up was New Bath Today Inc., a bathroom renovation company headquartered in Indianapolis. With 90 employees and a team of subcontractors, New Bath Today served six states across the Midwest at the time of its purchase.
In September 2022, SageHome launched the Smart Bath brand in the Atlanta suburb of Marietta, Georgia. In November, it bought Midwest Bath Company, LLC, a Moline, Illinois-headquartered remodeler specializing in one-day installs of walk-in tubs and low-threshold showers in Illinois and Iowa.
In January 2023, SageHome announced it had acquired another brand: CareFree Home Pros LLC, an Avon, Connecticut-based bathroom remodeler that specializes in renovations for seniors and others with accessibility needs; it was founded in 1991 and in its second generation as a family business. That acquisition gives Sage a platform for expansion and growth across New England and the Northeast, Hutto said.
With those purchases, Sage Home has expanded from operations in six states to 15 and increased its year-over-year revenues by 70%. And that's just the beginning, according to the company, which says in its press materials that 2023 should be a "transformational year" with "aggressive growth."
Bathrooms in the Spotlight
Even as the company began to grow, Hutto said, its leadership came to a realization. Most of their potential clients were most concerned about slipping and falling in the bathroom.
"We started noticing this trend in bathrooms," Hutto said. "What do most customers want? They want to be safe in the bathroom." After all, some studies estimate that 80% of the falls seniors experience happen in the bathroom.
So SageHome decided to focus primarily on bathroom renovations—specifically on showers and tubs, also known as the "wet area." The average bathroom remodel costs more than $20,000, Hutto said, and 70% of the spend in any bathroom model is replacing the wet area, mostly due to plumbing, subflooring, fixture and waterproofing costs.
Their strategy includes making the bathroom modifications look high-end; that prioritizes the work SageHome does as a renovation as opposed to the safety aspect
"The practical thing for a 55-year-old who wants a nicer bathroom is to put a low-entry shower in because why would they want to have to redo it again when they hit 65, right?" Hutto asks.
Staffing & Showrooms
SageHome follows a strategy that aligns a bit more closely with home renovation and design companies than with the typcal home medical equipment provider. The company has partnerships with bathroom fixture companies Kohler and Jacuzzi and with Swanstone, a solid-surface material maker. Clients meet with a designer—but can also consult with an occupational therapist who then advises the customers and designers on the products and solutions that best fit their needs.
And while there are showrooms attached to the industrial warehouses SageHome has in each state where it operates, Hutto said most customers don't come in but prefer to get 3D computer renderings instead.
Hutto says the company's partners do a lot of marketing for them by providing referrals, as do some local clinics and medical offices. They also advertise on television and in newspapers—including digital advertising—as well as on social media and through flyers and mailers.
Marketing, however, isn't what keeps Hutto up at night. He says the company's main hurdle isn't finding customers, it's finding installers, especially with the burst in remodeling demand that has occurred since 2020.
SageHome has an entire recruiting department—they've added about 40 installation crews since April, Hutto estimates—and it's critical for the construction staff coming into people's homes to be thoroughly vetted and trained.
"It's an extensive onboarding process they go through before we let them go and do these jobs by themselves, because if you're putting a grab bar in a shower or a fold-down shower seat, you can't mess that up; it's got to be done right," he said. "We could service even more people if we could scale the labor faster, but we're investing a lot in that because we have to do it the right way."
It's something he brings from his experience as vice president of the services group at Best Buy—which includes the Geek Squad business—and vice president of services assurance and strategy: a focus on the "last mile" of the business. That means that the moment someone steps into the home, they need to be providing an excellent experience, following all the right processes and leaving things cleaner than they found them, he said.
"I got this picture yesterday of one of our installers putting socks on a customer because she just, couldn't get to them," Hutto said. "We celebrate stuff like that, because that's the kind of brand we want to be."
A Win-Win
While bathroom modifications are likely to remain the core of SageHome's business into the foreseeable future, Hutto says he's willing to expand in some ways if they can fill a need, such as providing stair lifts and ramps if clients need them.
He also says that there is plenty more room for development in the aging-in-place sector.
"The truth of the matter is that this industry is bigger than we think of it as being," he said.
One advantage, he says, is the good feelings those in the business get from the work they do.
"When I talk to our salespeople and our installers, they really do have a sense of altruism—they truly are helping people," Hutto said. "And it's nice when you can do that and still create jobs for people; make money and create value and help people all the same time—that's what I consider a win-win."