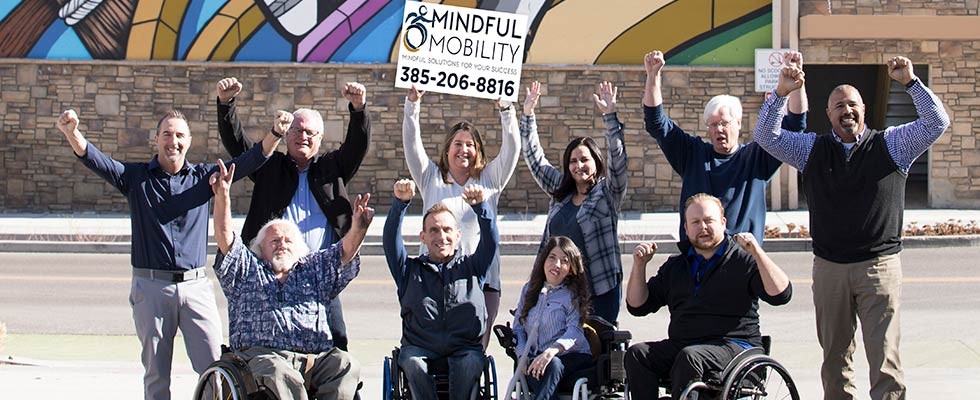 "We're not selling pet rocks."
Leaving a cushy government job with guaranteed retirement and stellar benefits to enter the tumultuous world of home medical equipment (HME) may seem crazy to some. But for Nick Hess, founder and CEO of Ogden, Utah-based Mindful Mobility, the decision to leave his position at the Internal Revenue Service was a no-brainer.   
At the age of four, Hess was struck by a car and became a T-6 paraplegic. His experience with adaptive sports and the mobility industry in the late 1980s and early 1990s led to his move into HME, where he's been serving customers for the past 25 years.
"I've always had a passion to help people with disabilities," Hess said. "I just think that when it comes to the disability community, a lot of things are overlooked," such as the ability to take part in the workforce or go out with friends. Providing a wheelchair is only the first step, he said.
Getting Started
Part of Hess's journey was an encounter with David Killen, who at the time was working for Invacare (he recently retired).
"When fitting me for a chair, rather than telling me what options I had, he actually asked me what I wanted out of a chair, how it could best fit my personal and mobility needs," Hess said. "Rather than rushing through the template of an evaluation for a generic chair, he was able to help me design a chair that was truly customized for me."
Killen became a friend and mentor to Hess, encouraging him to get into the industry. But after 23 years working for others in HME, Hess knew it was time for something different.
"I didn't like trying to fit into the corporate mindset," said Hess. "I hated having to sacrifice the needs of the patient in order to meet the demands of the company. My wife, Kelie, and I decided it was time for a change. Being wheelchair users ourselves, we wanted to build a business that prioritized the consumer and not the bottom dollar."
They founded Mindful Mobility in 2020—just as the world shut down.
"I'm sure people thought I was nuts because it is a marketing game," said Hess. "It is getting your name out there. If you can't get into facilities, you really can't introduce your company."
Hess took on the challenge because he felt confident in the depth of experience on his 10-person team. For example, Assistive Technology Professional Gerald Canova has been working in the industry for more than 30 years.
And in fact, the pandemic had its upsides, Hess said. Because so many suppliers and physicians were struggling and in-person audits were on hold, Medicare shortened the certification process for a new company to get up and running.
"We still had to be compliant," said Hess. "But we saved a year in the process of being able to bill Medicare." The company also benefitted from pandemic-related telehealth measures that allowed virtual consultations with complex rehab clients.
The company currently serves clients in the state of Utah, and around 80% of its customer base is Medicare clients.
"It's difficult to get on private insurance lists and preferred provider organization plans," said Hess. "We anticipate that it will be an ongoing effort to expand our insurance provider list. But we will continue the effort. We believe that every consumer, no matter their insurance plan, should have the option to pick the provider they feel will supply them with the equipment that will best meet their needs."
The company is also hoping to expand into the pediatric complex rehab market in the near future.
A Mindful Approach to Mobility
In his years as a mobility user, there were providers that left a sour taste in Hess's mouth. Early in his life, getting properly fitted for a chair was a near-constant source of frustration. Hess wanted to ensure others didn't struggle the way he did.
But one doesn't have to be in the disability community to understand how to serve the mobility market, Hess said. It just requires putting the customer first.
"It's intentional in every step of the process, from the initial assessment to delivery to follow-up. It's remembering the impact the equipment will have on the life of the consumer and knowing that's why every detail matters," he said.
The company provides information on a wide range of disability-related topics, and salespeople are encouraged to ask about other aspects of life the user wants to participate in. The right piece of equipment can make all the difference, Hess said.
"It's important that team members understand and value that the equipment we provide to consumers makes a significant impact on their independence and quality of life. We are not selling pet rocks," Hess said.
The Workforce
Hess is among providers and advocates making a push for more people with disabilities to work in the industry; four of his 10 team members have a mobility-related disability.
"People with disabilities, particularly mobility-related disabilities, have firsthand knowledge; we can share tricks of the trade based on our own experience," said Hess. "The real-life perspective we bring is invaluable to this work. We can relate and identify with the needs of the consumer."
Adding that knowledge to your team starts advertising specifically for people with disabilities to apply. Don't worry so much about someone's résumé or if they have industry experience, Hess said. But do make sure they are a culture fit with an interview.
Hess recommends having another employee with a disability (if one is on staff) conduct or sit in on the interview to help get a feel for where the person is in their journey.
"You don't want someone who's bitter," he added. Bad attitudes can be an issue with hiring an abled-bodied employee, as well.
Therapists love to see a person with a disability helping a new patient gain their wheels, Hess said.
"They're reassured that they know what they're talking about because they're living it. You can't replace that."
But for Hess, it ultimately all comes down to compliance.
"That's the hardest part to train," he said.
People with disabilities are going to know about different kinds of wheelchairs and mobility equipment, he said. But for anyone  entering the industry, learning how to do paperwork and interface with physicians will be a challenge.
"There are a lot of layers, people get impatient with the time it takes to complete appropriate paperwork, and some choose to cut corners and then find themselves in a bad situation with compliance," Hess said.
As part of the end-to-end mindfulness process, the company also provides information to clinicians so they understand what is required for a Medicare-covered mobility device.
The company also uses Medicare's "Dear Physician" letter template to help with required face-to-face encounters. This can help prevent breakdowns between the client, their health care provider and the store—and speeds up processing times.
One reason compliance is so important to Hess is that when more bad claims go through Medicare, the Centers for Medicare & Medicaid Services places more regulations on the industry to combat the fraud. Those regulations can delay someone getting their needed equipment.
"I don't want to scare my employees," Hess said. "But I kind of do. I don't want them messing up. It falls back on them, and it falls back on the company."
Grand Plans
While Hess doesn't try to predict the future of the HME industry, he does have big ideas for his company's growth.
The 53-year-old has set his sights on growth and expanding Mindful Mobility. He would love to open a branch in Nevada and Arizona in the next year and add Texas and Idaho within five years.
"If we get in as many states as possible by the time I die, and change people's lives, I've succeeded in giving back to the disabled community," he said.