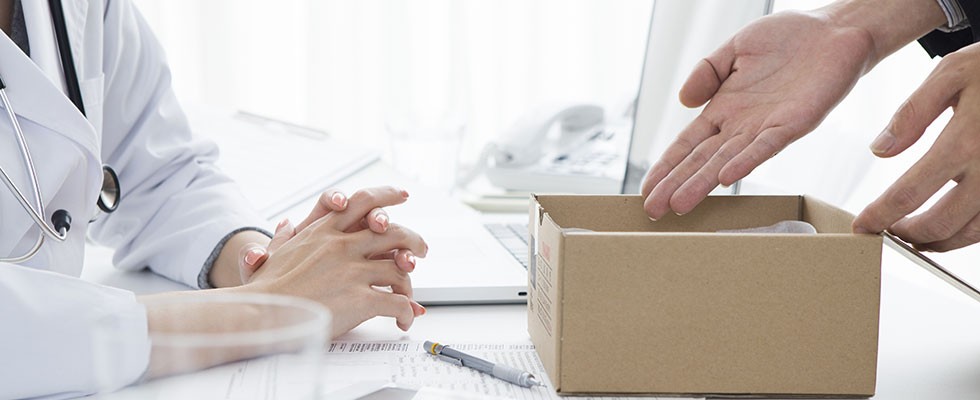 Improve your physician engagement
A leader in the homecare industry recently shared that physician engagement is a persistent struggle for providers. I've worked with physicians for more than 35 years, originally in direct patient care as a physical therapist and then in various administrative roles. For the past 10 years, I've co-led a leadership academy for physicians, and in that setting I've gained insights that are helpful for improving engagement. In addition, I've worked closely with physician and administrative leaders in clinical service lines as they partner to implement evidence-based care and improve the patient experience.
It's through those lenses that I share the following tips for improving your physician engagement.
1. Demonstrate homecare's value.
Many physicians have a 10-minute window to greet a patient, establish rapport, examine them, assess them, diagnose them, educate them and determine a treatment plan. Every 10 minutes, that cycle repeats. When a complex patient walks in the door, that 10 minutes doesn't allow a physician to get too far in the cycle without falling behind. This time limitation represents an opportunity for home medical equipment and home health providers.
What patient-related problems does your service take off the physician's list? Do physicians see you as someone who can lighten their load? Are you presenting yourself as what physicians need as they care for complex patients? Focus on helping the physician—and that opens the door to helping the patient.
Consider how you might do this proactively. Can you provide a screening tool that helps physicians, advanced practice providers and nurses know which patients are the best candidates for homecare services? As the homecare expert, you know which combinations of clinical and functional challenges qualify a patient to receive home health or certain kinds of home medical equipment. The physician may be focused only on the primary medical diagnosis and not considering comorbidities that will impact the patient's ability to successfully transition back to or stay independent in their home. Rather than wait for a referral, consider what tools you can create to wave the homecare flag in front of the physician.
When in conversation with the physician, be specific about what homecare services can address and how that benefits the patient and the physician. Keeping the patient at home while under the care of a nurse or an aide allows them to be monitored and for early action to be taken if needed. Unnecessary calls to the clinic may be avoided, saving the physician and their staff time. This proactive approach to care may prevent a return trip to the clinic, emergency department or hospital. Avoiding any of these setbacks benefits both the patient and the physician.
Discussing whether home is still a safe option is a difficult conversation for physicians to have with their patient or the patient's family. By providing physicians with objective updates, you equip them with the information needed to determine placement status. Don't undervalue the importance of what you bring to the table and do find ways to connect the dots of how clinical updates from your team can inform care decisions.
2. Design an easy button.
You've most likely worked to streamline processes and systems for your staff, but I encourage you to step back and determine what makes it easy for physicians to work with your business. Whether it's keystrokes in an electronic health record or phone calls between your office and the doctor's office, minimize the steps! If you want physicians to be responsive, design a process that allows them to engage easily with your team. Is your current process designed for physicians or is it designed for your organization? When is the last time you asked physicians what would make it easier for them to engage with and respond to you?
Physicians, just like the rest of us, tend to trust people they know, so it's important to work on building rapport. When you demonstrate that you want to make life easier for them, they realize you appreciate the demands they face. In addition, they begin to see you as a valuable member of the clinical team invested in caring for the patient. Be sure to share success stories of patients you care for; however, keep the stories brief and in a language that speaks to physicians. Place a greater emphasis on addressing medical concerns using data to support your observations versus the psychosocial feel-good changes you may be observing in the patient.
3. They can't know everything.
Never assume that physicians understand patient billing, reimbursement or prior authorization documentation. This is not a disrespectful commentary on physicians. Staying current with advances in clinical care, which is their main priority, is time-consuming; physicians can't be expected to know all aspects of the business side of health care. I've heard so many physicians say they wished they understood what patients pay for the drugs they prescribe, what is billed for home health services or what a CPAP costs.
Getting frustrated that physicians don't understand your required documentation or know which boxes to check on a particular form doesn't advance your cause. Instead, ask yourself how you can more effectively (and efficiently) educate physicians and their staff on what you need.
Will you need to re-educate two months from now? Yes, you may. All the more reason to go back to the previous advice about designing your processes through the physician's lens.
You may even want to empathize with them about the never-ending changes in regulations. Keep your explanations brief and focus on what impacts their work. If a regulation change adds five more steps to the process but only one step requires physician input—that's likely the only part of the process they need to be updated on.
4. Identify a champion.
Who in the clinic have you had previous success with; who recognizes the benefits of what you do for their patients? Why were you successful with that particular physician? How can you get them to help promote your work to others in the practice? Professionals trust their colleagues, so you want to encourage conversations in which physicians tell your story to other physicians. Providing snippets to a physician champion about the patients that your agency has been successful with is one way to help physicians pass those stories along to their colleagues.
Conclusion
In summary, helping the physician helps the patient. So simplify the process for physicians, don't assume they understand your world and identify who will spread the good news of your work. All of this leads to more engaged physicians, improved patient care and business for your organization. That's a win-win-win!