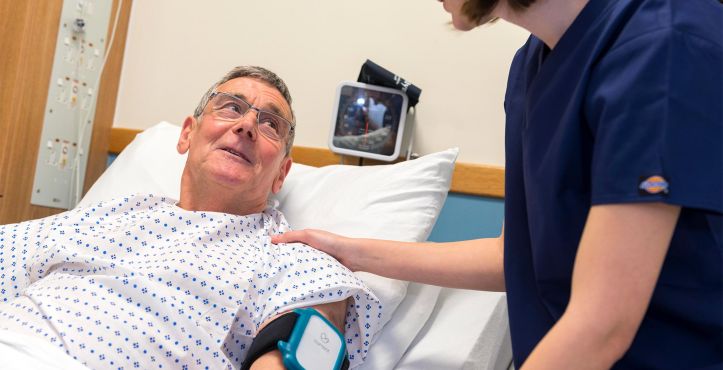 What policy shifts mean for the homecare industry
Thursday, January 3, 2019
As the FDA triggers a potential generational shift in how new medical devices are approved for clinical use, home health care providers are prepared to seize new clinical opportunities that may stem from this planned regulatory overhaul.
While the real-world impacts of FDA Commissioner Scott Gottlieb's new policy—officially unveiled on Nov. 26, 2018—would take time to materialize, the early consensus is that the changes will encourage more innovative and secure medical devices that can ultimately strengthen patient care, health care experts say.
"We appreciate…the policy changes set forth by Dr. Gottlieb," said Bud Langham, PT, MBA, the chief clinical officer for Encompass Health's home health and hospice business segment. "We hope that these changes will facilitate a rapid and safe deployment of devices that will enable our patients to age in place, safely within their home."
And as Gottlieb's new approach spreads through all corners of medicine, home health care providers have already positioned their clinical teams to take advantage of new product rollouts—an endeavor they support through staff education and device training programs when appropriate.
"We leverage our internal resources and learning management tools to educate on new or updated devices that impact our patients," added Langham, who also stressed his team's commitment to conducting its own thorough and detailed reviews of FDA-approved devices before introducing them to patients.
At Brookdale Healthcare Services, the FDA development can provide opportunities to utilize training functions that educate clinical staff on how best to use new medical technology, according to Amy Daniel, division VP of clinical operations for Brookdale Healthcare, via email. And "In addition to providing internal training and competency, we work closely with device manufacturers on recommendations for calibration, training procedures and quality control checks."
What the FDA Is Doing to Improve Innovation and Safety in the Medical Device Market
Without question, Gottlieb's plans to overhaul device approval process is re-invigorating how the provider community is looking at new medical technology. Under Gottlieb's plan, the FDA, or Food and Drug Administration, would move away from device approval procedures that are based on prior product reviews of older, related devices. In its place, the federal agency would create a more "modernized pathway for high-tech medical innovations," noted by FierceHealthcare.
In seeking the changes, the FDA is upending an approval process known in industry circles as the 510(k) pathway, which is more than 40 years old, and thus hails from a period of primitive medical technology when compared to today's standards. With Gottlieb's new plan, the FDA will review new device applications under a more innovative framework that emphasizes "advances in medical technology."
In announcing the changes, Gottlieb said the overhaul is long overdue.
"We believe firmly in the merits of the 510(k) process. But we also believe that framework needs to be…[updated] to reflect advances in technology, safety and the capabilities of a new generation of medical devices," Gottlieb said in a statement with Jeff Shuren, MD, the FDA's director of the Center for Devices and Radiological Health.
Indeed, under the existing approval model, applications may do better if the devices conform to product criteria standards that are 10-plus years old, the regulators say.
"In short, we believe that it's time to fundamentally modernize an approach first adopted in 1976, when Congress considered the vast diversity of devices that would become subject to the FDA's regulatory oversight and established many of the predicate devices that served as the basis for 510(k) clearances during the last 40 years," the regulators said in their statement.
According to the FDA, a device recently cleared under 510(k) is usually used as a predicate device. However, any legally U.S. marketed device may be used as a predicate. This includes: a device that has been cleared through the 510(k) process; a device that was legally marketed prior to May 28, 1976 (preamendments device); a device that was originally on the U.S. market as a Class III device (Premarket Approval) and later downclassified to Class II or I; or a 510(k) exempt device. The legally marketed device(s) to which equivalence is drawn (the device does not have to be identical) is known as the predicate device(s).
The FDA is expected to release a formalized proposal for the rule process anytime.
The agency's announcement to overhaul the 510(k) process came a day after an investigative report by the International Consortium of Investigative Journalists that examined how medical devices have allegedly inflicted serious patient harm. The investigative report scrutinized apparent weaknesses in how the FDA and other regulators globally vet these medical products; and it claimed safety gaps have an outsized impact on female patients, among other findings.
Home Health Care Providers Adapt to Change
For homecare providers, the FDA's policy proposal requires close monitoring due to the potential of using new devices to address myriad care priorities, clinicians say. Further, the regulatory shift could have the benefit of sparking increased competition among manufacturers, a trend that could result in more effective devices in the long run, added Brookdale's Daniel.
"We look forward to progressions in devices for infusions, wound care, cardiac care, remote patient monitoring and diabetes management," Daniel said. "Advanced technology in these areas will allow patients to recuperate at home with a higher level of care and improved outcomes."
For Langham at Encompass Health, a key benefit of device innovation can be helping keep patients in their homes as they work toward achieving desirable health outcomes. "We would be more likely to consider innovative devices that promote better patient engagement, safety and outcome achievement," Langham said. "Specifically, the outcome we are very focused on is lowering the risk of ER and hospital encounters."
To be sure, much care must be given toward educating clinicians on how best to use the latest effective medical devices. For starters, at Encompass Health, the leadership team needs to make sure they are targeting the right staff for education, as notifying the wrong staff members would waste valuable resources and time. And when they do find the appropriate clinicians, management must effectively communicate to them on achieving the best outcomes, Langham said.
But when training and innovation combine to generate more effective medical tools in the field, the end result can be higher levels of patient satisfaction and an uptick in desired outcomes. And as patients grow more assertive in asking for new treatments, a provider's knowledge of the most effective new devices can further set organizations apart from their peers in a competitive marketplace.
"The home health patient population is more informed and empowered than ever before," Daniel added.  "Our team respects patient choice and upholds their wishes to the upmost of our ability."
---
Did You Know... 
The medical device business is big—and growing fast. Annual industry sales more than doubled from about $118 billion in 2000 to about $400 billion in 2018. The biggest market for devices—people 65 and older—will grow by more than 60 percent to nearly 1 billion people by 2030, a UBS investment analyst noted for the International Consortium of Investigative Journalists' report.
In October 2018, in coordination with the MITRE Corporation, the FDA announced the launch of a cybersecurity "playbook" for health care delivery organizations that is focused on promoting cybersecurity readiness with regard to medical devices.
At the end of 2018, the FDA had hoped to get funding for its Center of Excellence for Digital Health, and advancing its precertification model for digital health and overseeing software-based devices, among other goals. So far, federal funding is still on hold.