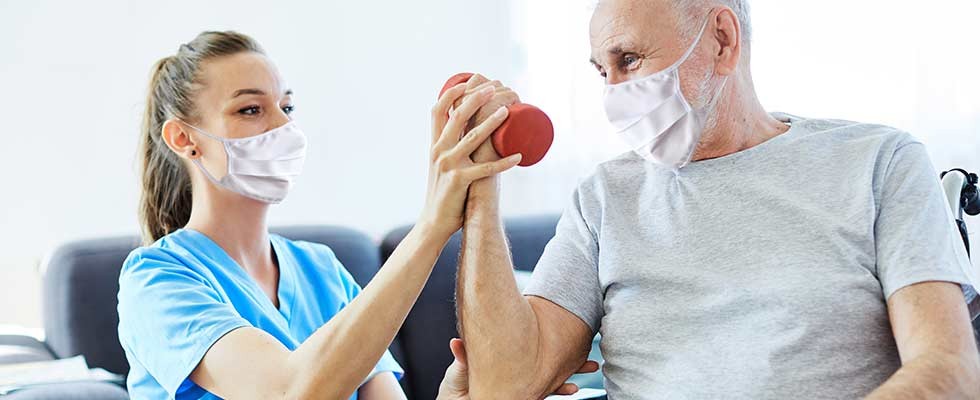 Making therapy more accessible
When I was a practicing physical therapist, my patients' rehab needs varied: While some were recovering from major surgery, others were using physical therapy as their primary treatment method. Despite their differences, there was one constant theme I heard from all sorts of patients—that while they understood the benefits of physical therapy, the act of coming into the clinic was a huge inconvenience.   
Physical therapy is a tremendous commitment; unlike other types of care in which patients may need in-person appointments every few months at most, physical therapy often requires in-person appointments multiple times per week. In the traditional outpatient model, that means patients must make child care arrangements, juggle their work schedules, take time out of their busy lives to travel to a clinic and deal with any number of other disruptions from daily life.
Over the past year, the health care system at large has adopted telehealth and other virtual care solutions so that patients could communicate with their primary care providers or control their chronic conditions from the safety and convenience of their homes. This care delivery model might not be the right approach for every health care sector or specialty, however. For physical therapy, telehealth doesn't do the job. But there is still a preferable alternative to the traditional in-clinic physical therapy model: at-home rehabilitation.
Improved Quality
Unlike some areas of care that can be provided remotely and then escalated to an in-person visit if necessary, physical therapy requires in-person care. Therapists need to be with the patient to pinpoint their issue, deliver services and assist them throughout their recovery.
Providing in-person rehab is associated not only with higher quality care and better outcomes, but also with increased adherence. Patients are more likely to stay engaged throughout their care regimen when receiving in-person care, preventing the high dropout rates that often plague physical therapy. The benefits of in-person care compared to virtual therapy are supported by data from the American Physical Therapy Association, which found that the majority of therapists who conducted both telehealth and in-person visits reported lower patient satisfaction and poorer results from the telehealth visits. Patients simply don't feel as supported or productive without a therapist physically in their corner.
Patient Convenience
Anyone who has ever been prescribed an extended regimen of physical therapy in a clinic has experienced the inconveniences and barriers to care. Compare that to receiving therapy in the home and the differences are stark.
There are no waiting rooms, no time wasted on travel and no need to arrange child care. Patients get all the benefits of an in-person visit without the hassle of going to a clinic.
A huge factor in the success of physical therapy is patient adherence, as care won't be effective if patients don't receive it in the first place. To make high engagement as likely as possible, providers need to remove as many barriers as they can and meet patients where they are. In the case of at-home care, we can do that literally, and the results speak for themselves. In fact, under one at-home physical therapy program, patients were found to be 50% more adherent to the treatment plan compared to a facility-based alternative.
Access to Technology
Even though therapists may be conducting visits at a person's home, they still need to be able to access the technology infrastructure available in a clinical setting. Fortunately, this technology already exists and has been adapted to suit the needs of therapists providing care at home.
With these technologies, therapists providing care at home can access tailored rehabilitation instructions so they can provide high-quality standardized care and avoid the fragmentation that might occur in a decentralized setting. They're also able to access information from the patient's surgeon in the case of post-operative therapy, including precautions and escalation indicators, and have the capacity to log findings and raise any problems to the surgery team.
These sorts of innovations have been critical for making at-home physical therapy successful and preventing therapists from operating in silos. Innovative digital health companies have provided the tools necessary to ensure that at-home therapy isn't just a convenient alternative for the patient, but also that therapists have the support they need to ensure successful outcomes in the long term.
Therapist Benefits
Moving care to the home requires buy-in not only from patients, but also from therapists. While decentralizing care settings may seem like a burden for therapists, who must travel to each appointment, there are models that have shown it works—provided incentives are aligned correctly.
For instance, one company that provides at-home physical therapy allows therapists to sign up for appointments whenever they'd like, meaning they're able to pick up extra appointments in addition to a full-time clinical job. They're able to earn extra income on their own schedules and are able to set geographic restrictions so they never have to travel too far out of their way.
For therapists looking to pay off debt from their studies, which averages more than $150,000 upon graduation, bringing care to people's homes becomes a tremendous asset rather than a burden.
Benefits for the Health Care System
Beyond all the benefits for patients and therapists, at-home physical therapy also benefits the health care system more broadly. Improving engagement and quality for patients can lead to better outcomes, which in turn increases the value of care and reduces waste.
Health systems also reap rewards. By providing at-home physical therapy services, they're able to expand their geographic footprint without building new clinics. That also means they're able to devote resources to other services, like preventive care, that create long-term value.
The transition to care at home is already underway for so much of the health care system, and physical therapy is no different. That's great news considering the benefits for patients, therapists, and the health care system at large. As we emerge from the pandemic and people feel more comfortable returning to traditional methods of receiving care, we should make sure they're able to choose to continue receiving rehab at home. My bet is that many will.