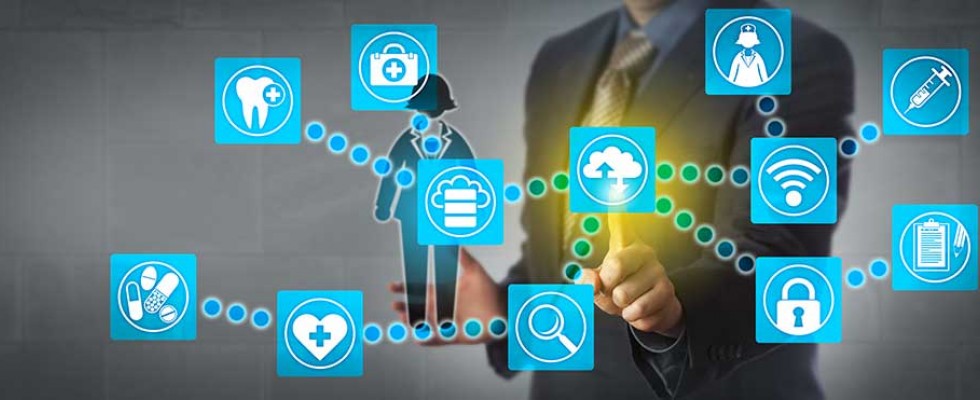 Is it time to have a funeral for the fax machine?
Just how dead is the fax machine, really?
It's not quite gone yet—but it may be on life support, at least when it comes to communicating with referral sources in post-acute care, according to a 700-person survey on the state of interoperability in post-acute care conducted by MatrixCare and Porter Research. Following up on a similar 2019 interoperability survey, the study polled health systems, physician groups and home-based care organizations.
HomeCare talked with Nick Knowlton, vice president at ResMed, MatrixCare's parent company, and a champion of interoperability—he's chairman of the board of the Commonwell Health Care Alliance, a not-for-profit trade association focused on sharable health IT data—about the study results and what it could mean for home medical equipment (HME) providers and others in post-acute care.
HOMECARE: The report started in 2019 and this was the first follow-up. What did you find changed from year to year?
NICK KNOWLTON: One of the surprising data points—at least it was interesting to see it move forward, was this: the first survey  identified that 60% of referring physicians were apt to change post-acute care partners to those who could more effectively interoperate with them. And in 2020, that actually grew to 74%. In the 2019 survey, I'd say the 60% was eye opening. It was already higher than I would've guessed going into the survey, but seeing it move up to 74% is a really powerful data point for us as an industry to look at.
HOMECARE: Does that mean that if homecare providers think they can continue to do things the old way, good luck?
NICK KNOWLTON: That's right. And they appear to be waking up to that fact, too. Probably the biggest change from the 2019 to the 2020 survey was that in 2019, 34% of post-acute care providers understood the importance of interoperability for their referral source. And now, for the survey conducted in 2020, 95% of those post-acute care providers report that they believe interoperability is important to their referral sources. So that's a big shift in one year, in terms of the knowledge within our industry about how important interoperability with referral sources is.
HOMECARE: Do you think there's a chance people are more aware of it because you—even in doing this survey—have pointed it out to them?
NICK KNOWLTON: If the first survey got very wide readership, I guess we might be able to claim a little bit of credit for that, but I think it is more testament to how important interoperability is becoming, not just in post-acute care, but across the rest of the care continuum—that it has to be in place and that it can work. And now that it is in place and working in many other care segments, a lot of the trends in shifting care to home naturally have referral sources asking for the same level of interoperability with post-acute care that they have seen in other care settings. As soon as we can prove to some of those referral sources that this actually exists and works, they start asking all of their post-acute care provider relationships about the capabilities for interoperability. So I think a lot of it has to do with some of the the bigger trends out there in terms of care shifting to home, and also a knowledge amongst both referral forces and post-acute care providers of what is possible.
---
The report found:
74% of health systems and physician groups would refer to post-acute care providers with more electronic data capabilities, up from 60% in the 2019 study.
15% or fewer acute care providers were satisfied with their referral partners' ability to receive electronic data.
Nearly 100% of acute and ambulatory providers do their business electronically and expect homecare and other post-acute care providers to do the same.
95% of home-based care respondents said that interoperability mattered for referals, up from 34%.
85% of homecare providers said they can accept admission, discharge and transfer feeds digitally; 72% reported they can accept clinical information. Last year, just 34% said they were able to receive these types of data.
---
HOMECARE: So we're looking at a cycle where the more post-acute care providers have interoperability, the easier it is for the referral sources to say, "No, I've got lots of options who can do what I need them to do."
NICK KNOWLTON: Yes, that's exactly right. As soon as they see that it's possible, they begin to expect it because it solves all the pain points that we see in post-acute care. Our providers do not like having to make 500 phone calls when they know that information can be accessed electronically, and referring providers don't like that either. They reported  lot of the same pain points: too much practice time, too much paperwork, too many phone calls to chase down what was going on with patients. So now that they know that those problems can be solved, they increasingly look for that with their post-acute care partners.
HOMECARE: We've been talking about the shift to care in the home and the professionalization of the industry that is coming with it—how important is interoperability to that?
NICK KNOWLTON: I think interoperability is of paramount importance to the shift to care in the home. There are a lot of workarounds that can be put in place when care is occurring in a facility or in physician practice settings. But when you start decoupling the care location from where some of the care providers are, interoperability becomes even more important for those care providers. And that has everything to do with not just traditional modalities of interoperability, but with the ability to bring in data from remote patient monitoring and telehealth encounters—which, as I'm sure you know, were up over tenfold, at least according to Optum, since the pre-pandemic days. I think that the trend of care shifting to home is going to stay and increase. And I do think that that is going to drive further calls for interoperability.
HOMECARE: What impact has the past 12 months had on interoperability?
NICK KNOWLTON: We definitely see that the pandemic only accelerated the drive for interoperability. That, combined with the federal rules, are both going to be very significant tailwinds for more interoperability reaching all care settings, including post-acute care ... We certainly saw an uptick in not just demand, but also the level of value that providers across the care ecosystem place on interoperability. And that's not being reversed. We may see, for example, where some visits that were handled by telehealth naturally could—and maybe should—go back to face-to-face encounters with a care provider. But the interoperability genie's not going back in the bottle at all.
HOMECARE: What are you seeing on the home medical equipment (HME) side of things?
NICK KNOWLTON: We're seeing very similar trends in the HME space, certainly a large uptick in the use of interoperability tools such as e-prescribe. We see that not just in terms of conversations with HME providers, but also in the data—in what we bring into our system—we can see a large uptake in the number of orders that are flowing through e-prescribe mechanisms versus fax and other paper-based ordering workflows.
HOMECARE: We've been talking for years about how it's time to ditch the fax machine. Do you feel like it has now reached kind of a critical mass?
NICK KNOWLTON: In certain areas? Yes. I still feel that we as an industry have a little bit more work to do both in terms of understanding of the benefits as well as some still-emerging technical trends for solving additional complex workflows. But we certainly see this in terms of some of the large customers who are very readily moving forward and adopting the prescribed workflows ... Specifically on the home health and  hospice side, we saw that more than half of post-acute care providers believe that their electronic health record (EHR) management system has made interoperability progress. Still, almost 80% were not satisfied with what their EHR was doing to enable them to connect. It was a little bit surprising to still see that as a source of pain for care providers.
HOMECARE: Is there one thing that providers should look at doing in the next year?
NICK KNOWLTON: I think that they should be having very open conversations with their referral sources about expectations, and I think they should be doing the exact same thing with their technology vendors. It is clear that referral sources feel the pain when interoperability is not in place. And the survey results bring some strong data to show that those referring providers will do something to solve those pain points. Provider organizations on the post-acute side, regardless of care setting, who move forward with interoperability have the opportunity to solidify or gain new referral source relationships and those who do not move forward and do not talk about interoperability with their referral sources—they will likely see the pain of diminishing referral patterns.