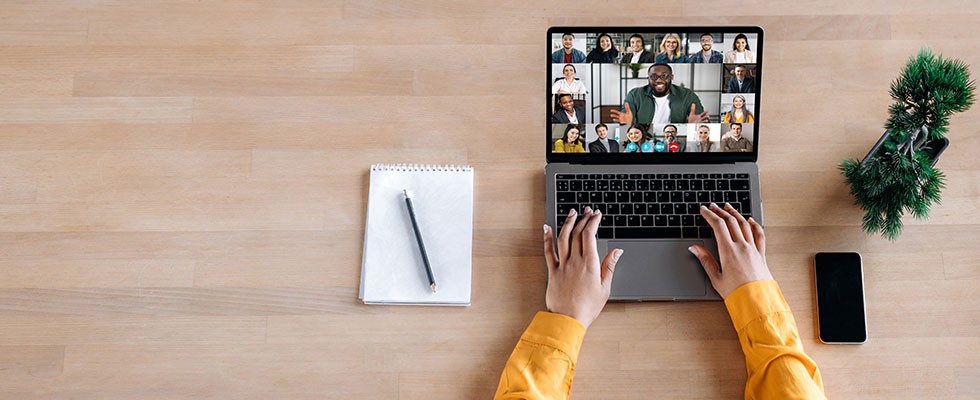 Why it's time to reimagine the way you train your team
The health care world has been flipped on its head. The pandemic has driven changes in the way our sales, operations and financial teams do their jobs. As a result, owners and managers are faced with re-inventing existing business models, adapting new technology and re-imagining every aspect of patient care and customer interactions.
This new world requires new skills and talents and the ability to train sales teams at a hyperfast pace to survive and thrive in the years ahead. You simply cannot operate your business or be successful at your job by doing things the way you did before COVID-19. Successful homecare providers, owners and employees are now required to transition to—and excel at—new work-from-home, hybrid and virtual work models.
Taking on New Skills
Whether you have been in the business for years or are just starting out, professional development and training in this virtual world can feel intimidating, but it's critical for your patient care, revenue cycle and sales teams. New skills must be mastered, or you will have to face the fact that your practices are antiquated, which may make you yet another casualty of one of the toughest business climates of our lifetime.
It is important to reimagine every job in your company and take a close look at the training programs that support the changing learning needs of a remote workforce, to address reskilling or upskilling needs, and to provide a digital transformation for your company. By being involved in strategic conversations up front, leaders can facilitate a well-planned, impactful learning strategy that enjoys increased stakeholder buy-in and results in a better experience for learners. When learning strategy is an afterthought, it is harder to make effective— jeopardizing the overall outcome and the sustainability of an offering.
Addressing Management Needs
While all teammates must adapt to being productive at home, managers will need to rethink the ways they work with their teams, measure performance and engage remote colleagues. Human resource and training professionals have an opportunity to provide training in alignment with their organization's shifts in strategic direction, as well as offering up policies to address any gaps they observed in 2020 and the first quarter of 2021.
Consider creating training on the following topics:
Creating outstanding customer virtual interactions
Measuring productivity when managers can't monitor employees in person
Resetting expectations in a remote team environment
Supporting colleagues and being flexible with them to enable success
Building predictable and repeatable outcomes in every aspect of the business
What I love about this new virtual world is that we can produce predictable, repeatable and scalable results that provide better patient experiences and care along with sales growth for your company. Since all virtual encounter platfroms can record every patient and customer interaction, you can now address customer service issues like never before.
The industry has an amazing opportunity to standardize all patient and customer interactions and follow-up procedures—just by recording interactions.
Modeling Business Excellence
Each owner or manager now has the ability and responsibility to use a modeling approach for business excellence. Modeling in a business context is the ability to regularly reproduce successful outcomes and excellence. During the last 14 months, I have been part of some high-performance modeling projects in sales, patient care and revenue cycle management that have seen tremendous impacts in all areas, including improving patient satisfaction scores, cash flow, sales and profitability and reducing readmissions.
The Irish playwright George Bernard Shaw said, "If you have an apple and I have an apple and we exchange these apples then you and I will still each have one apple. But if you have an idea and I have an idea and we exchange these ideas, then each of us will have two ideas." This is the essence and spirit of modeling.
Modeling is also the process of finding the very best way to do something—the activity, the methodology, the language patterns, the resources and the key performance metrics necessary to producing the best achievable outcome. Modeling is the process of taking a complex event such as a sales call or a patient setup and breaking it down into small chunks so that it can be systemized, documented and then taught to every member of the team in order to consistently produce the best outcomes.
Modeling is collaborative, generative and fun! Bring in your teams—let them be a part of this process and create the ultimate way of doing everything in every aspect of your business. Companies using the modeling approach to their business delivered the highest level of patient care while increasing shareholder value to record highs during the disruptions and turmoil of the pandemic. Companies that embrace this philosophy often experience the demise of the 80/20 rule, which posits that 80% of all success of the company is driven by 20% of the team.
Once the model is created, trained, tested, vigorously roleplayed, mastered, monitored and recorded—and the team is held accountable it—you will immediately see that:
All teammates perform each aspect of their job with a high degree of excellence and consistency.
Results in all areas become predictable because training and skills are consistent.
Each teammate handles problems and opportunities the same way, getting the best outcomes.
All customers are given the same excellent experience, no matter whom they interact with.
All teammates know what is considered acceptable performance and are held accountable for delivering that performance because they have the proper skills and training.
The bottom line is that training new skills for this new era of health care is a focus for everyone. Developing models and training programs for these new skills will enable you to train new and existing team members faster and better. This guarantees that your organization will build a new high-performance culture of excellence, accomplishment and accountability. Each team member will know exactly what to do and say in every situation to guarantee the highest probability of success, which creates confidence and low stress levels because everyone is getting excellent results.
This commitment will take your business to levels that will make you stand out from the competition, provide significant financial rewards and make you a leader in homecare going forward.