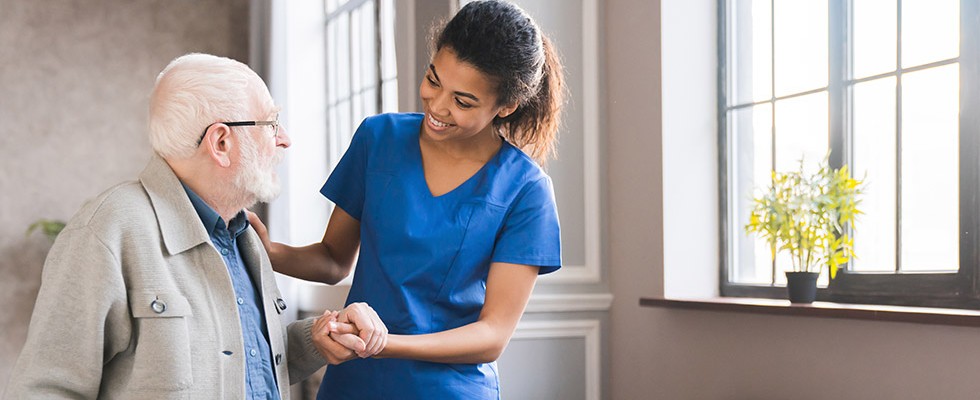 Tuesday, January 17, 2023
The homecare industry is on the precipice of a historic opportunity, with an estimated $12.7 billion infusion from the American Rescue Plan Act (ARPA). Long considered low-pay, non-skilled, demanding work with too few people to fill the needed jobs, homecare is now in the spotlight as more focus is being put on the importance it plays in helping people live healthier, happier lives.
The stimulus money provides vital funding to support the expansion and enhancement of home and community-based services (HCBS) for Medicaid patients. Initially, this funding was to be available for three years, until March 31, 2024. However, after delays in approving state plans, the pressure was placed on homecare organizations to quickly ramp up to benefit from the money being provided.
The Centers for Medicare & Medicaid Services (CMS) saw problems with the tight deadline and has extended the availability of the funding through March 31, 2025. This gives homecare organizations more time to better execute on their strategies—which include improving the pay and benefits of homecare workers, expanding hiring to serve more patients, and deploying technologies that improve efficiency and the ability to care for a growing number of individuals who wish to recover or age at home, and to adjust spending if they see changing needs in their communities.
A Rapidly Increasing Demand for Homecare
The United States is in a bit of a crisis when it comes to homecare. A significant aging population with an increasing need for at-home services combined with the COVID-19 pandemic have resulted in a booming demand for organizations and individuals who can provide homecare services—whether it's attending to medical needs so a patient can return home rather than to a skilled nursing facility, or simply helping individuals who require assistance with
daily tasks.
And this demand is expected to only increase. The U.S. Bureau of Labor Statistics shows that homecare is among the fastest growing jobs in the country, and the number of openings for home health and personal care aides will increase by 37% in the next six years. However, we're already facing a shortage in home health care workers—and that gap is expected to grow even more —with a shortage of more than 446,000 workers anticipated by 2025.
Faced with this ever-increasing demand for, and shortage of, homecare workers—a profession that was already in short supply and experiencing a decline due to employee burnout, long hours and low wages—the Biden administration made this issue a priority. Passage of ARPA, with funding allocated specifically for in-home care, initiated a framework for change in the homecare sector.
With this funding, states can take actions to address unique needs within their borders, including making changes aimed at improving the HCBS workforce and structural concerns.
The funding also helps states grow capacity for providing critical services,  meeting the needs of family caregivers and people on HCBS waitlists, and tailoring HCBS activities to address priorities in their communities.
CMS has already signed off on HCBS investment proposals in all 50 states, with each state planning to spend between $31.6 million and $4.63 billion in combined state and federal funds for homecare initiatives. Given the amount of money on the table, CMS is also taking steps to ensure the funds are used appropriately.
Under CMS safeguards, states will have to report their progress and their compliance through the March 2025 funding time frame. However, CMS recently updated its requirements to reduce states' reporting burdens while ensuring the agency has accurate, up-to-date details about state spending under the act.
Compensation, Training & Technology
So, how are states using this infusion of new funds? According to Medicaid.gov, states are thinking creatively about how to improve the lives of patients at home. New programs address providing more home-based services to prevent admission to nursing facilities after hospitalization, behavioral health crisis response for individuals with intellectual and developmental disabilities, and greater access to assistive technologies to promote independence. But the focus is on people and technology, first and foremost.
Almost every state has included workforce development in its spending plans, including using funds for pay increases, recruitment, retention bonuses and additional benefits like student loan forgiveness. Many states also are creating certification and training programs that support homecare workers and provide skills they need to be successful in their jobs in an effort to stem burnout and help individuals see the long-term career opportunities in homecare and health care.
Technology to support homecare is also in the mix. While states must ensure that their technology purchases meet ARPA guidelines, the spending criteria is broad, which ensures that state governments can use and deploy solutions that meet their unique needs for homecare services. Technology purchases that offer the most value include software or solutions that integrate with existing electronic health records (EHRs) or support quality and risk-management functions.
These types of tools are critical as the industry increases its focus on value-based care. The technology enables greater communication between a patient's health care providers and the homecare workers visiting patients on a daily basis. By fostering real-time information sharing from the front lines of homecare, providers will get better insights on patients' conditions, which allows them to address problems that may arise outside of a doctor's office or hospital. More attention to the day-to-day changes will enable quicker responses that improve patients' outcomes or minimize the need for emergency care or hospital readmissions.
Homecare workers play a vital role in the care that a growing number of Americans receive, whether they are patients returning home after a hospital stay or surgery, individuals seeking to age in place, or those who have disabilities and require daily assistance. While often underpaid and overworked, homecare workers are now being highlighted for their important contributions to value-based care and patient well-being.
With funding from ARPA available until March 2025 and forward-looking state spending plans, now is the time to elevate homecare workers with compensation, training, and technology that enable them to efficiently address the growing need for their services and support the increasing number of individuals who rely on them for care.