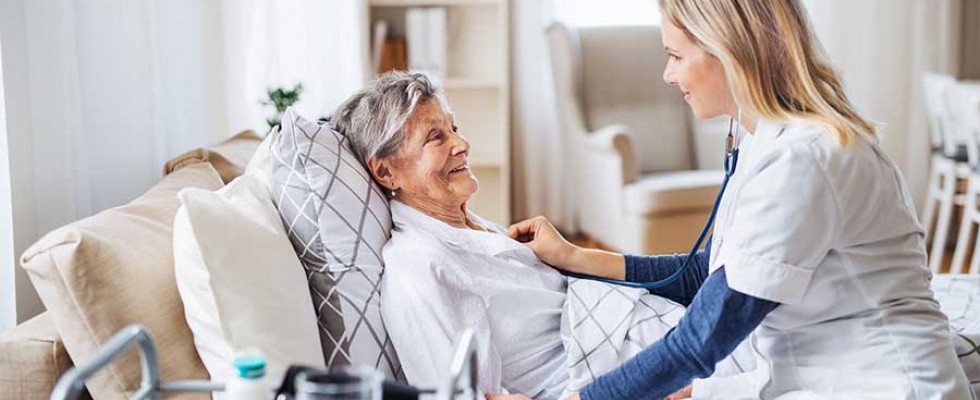 New model should address social determinants of health at home
In late 2021, the Centers for Medicare & Medicaid Services (CMS) announced that it would be expanding the Home Health Value-Based Purchasing Model (HHVBP) nationwide. The HHVBP is a five-year project from the Center for Medicare & Medicaid Innovation designed to improve the quality and cost effectiveness of home health.   
As the population ages, the demand for home health continues to grow. In addition, trends related to end-stage renal disease, the COVID-19 pandemic, innovative partnerships and health equity have emphasized the need, safety and cost savings associated with care in the home. Expanding the HHVBP will offer an important new level of sustainability for the Medicare program and for preserving health and function in seniors.
What Is the HHVBP Model?
CMS initiated the HHVBP model in January 2016. All Medicare-qualified home health agencies (HHAs) in Arizona, Florida, Iowa, Massachusetts, Maryland, Nebraska, North Carolina, Tennessee and Washington were required to participate. The goal was to incentivize quality and efficiency through performance-based payments, to assess new quality metrics and to increase the reporting of HHA quality.
Quality was measured using four HHVBP measures that made up the Total Performance Score and measured unplanned hospitalizations, emergency department use (without hospitalization), patient function and patient ability to stay at home. The fourth annual report produced in May 2021 showed that the model lowered Medicare spending by $604.8 million, secondary to reduced inpatient and skilled nursing facility admissions. Evaluators postulate that skilled nursing and therapy visits were increased after hospital discharge, leading to reduced admissions to higher acuity care settings. In addition, there were slight improvements in quality, and access remained stable. Of concern is that the model identified disparities in improvements in self-care and mobility amongst Medicaid patients compared to non-Medicaid patients.
Based on these findings, CMS decided to expand the HHVBP model and released a final rule on Nov. 2, 2021. All 50 states, the District of Columbia and territories will be required to participate and will receive a positive or negative payment adjustment based on performance relative to peers. The first performance year will be 2022, with the first payment adjustment in 2024.
Included in this proposal is expansion of health equity considerations in the new model, given persistent health disparities, especially those highlighted during the COVID-19 pandemic. Implementing this expansion may reduce costs and improve quality in homecare, which is important as the industry continues to experience a steady growth pattern.
Homecare Industry Growth & Spend
The home health industry continues to grow, with a 90% increase in spending since 2002 and steady job growth that's now twice the level it was in 2003, according to a 2020 study by Avalere Health. Of note, the number of individual HHAs has declined, which does not align with the job growth or spend. However, this was found particularly in Florida because of a CMS moratorium on new Medicare HHAs in the state.
The 2020 Alliance for Home Health Quality and Innovation report shows that, as in earlier years, home health recipients tend to be older, lower income and facing more chronic medical conditions than the average Medicare beneficiary; the majority are over age 85 and have five or more chronic conditions. The top three reasons for home health admission have been steady. Septicemia is now the top reason, followed by hip or knee replacement and heart failure. Interestingly, the number of recipients with serious mental illness has grown significantly as compared to the average Medicare recipient, reasons for which are unclear. These growth trends, particularly in spend, may have motivated CMS's development of the HHVBP pilot, and are now magnified given the pandemic and other health care developments.
Multiple Trends Have Converged
Several changes in health care and policy have come together to fuel continued growth of home health. The COVID-19 pandemic and the shift toward value and away from fee-for-service will continue to drive seniors and others towards home health. Chris Johnson, CEO of Landmark Health, noted that home health has traditionally been reserved for wound care, rehabilitation and insulin education for people with diabetes; however, as hospitals were overrun and primary care doctors moved to telehealth, a need arose for acute care at home. During COVID-19, CMS allowed for acute care in the home as part of the public health emergency, allowing conditions like mild exacerbations of chronic obstructive pulmonary disease (COPD) or congestive heart failure (CHF), dehydration and urinary tract infections to be managed at home rather than in the emergency room.
Additionally, in 2019, the Trump administration announced a program to transform chronic kidney disease care, shifting dialysis from centers to the home, which is historically believed to offer improved outcomes at lower cost, although this has been recently disputed in an article for ISPOR's Value in Health journal. Insurance providers are also looking to provide more care at home. UnitedHealthcare includes HouseCalls, a one-time home visit to assess social needs, preventative needs and general well-being. Aetna covers telehealth for all of its Medicare Advantage plans for primary, urgent, specialty and behavioral health care.
Advancing Racial Equity
Upon taking office, President Joe Biden signed an executive order to achieve health equity called "Advancing Racial Equity and Support for Underserved Communities Through the Federal Government." Home health is in the unique position to meet that order by addressing social determinants of health (SDOH). A 2021 PRECISIONvalue survey of health payers, systems and pharmacy benefit managers found that 90% of respondents thought addressing SDOH was moderately to very important for reducing admissions and readmissions, emergency department visits and 30-day mortality rates after hospitalization. Another 2021 PRECISIONvalue survey showed SDOH was the top challenge for care managers.
Home health nurses assess the home regularly for multiple disease modifying factors. For a patient with CHF, they may identify food insecurity (i.e., insufficient affordable and nutritious food), that leads to a predominance of high salt and processed foods, or, in the case of a patient with diabetes, a lack of fruits and vegetables. For the patient with COPD, home health nurses may identify environmental hazards such as secondhand smoke. They can also evaluate social support networks, home safety and medication utilization by noting other members of the household, shower chairs and stability bars, and the presence of pill bottles. All these factors aren't necessarily visible to the primary care doctor or the emergency room physician, yet they play a role in disease management and addressing them can prevent exacerbations. The home health nurse plays a vital role in addressing SDOH to manage chronic disease more effectively and cost efficiently.
Four Concerns About the HHVBP
CMS must address several challenges of the HHVBP model that prevent the neediest agencies from achieving goals and exacerbate financial disparities and health inequities for certain communities.
Data from the HHVBP model found disparities between Medicaid and non-Medicaid participants. Poor housing, social stressors, nutrition and health literacy may impair ability to improve in certain metrics, such as mobility and self-care.
Not all users of home health care improve, and this may be missed in current metrics. Some may only stabilize, which may still be a favorable outcome, since in certain disease states the patient is expected to steadily decline.
The Home Health Care Consumer Assessment of Healthcare Providers and Systems (HHCAHPS) survey questions and responses rely somewhat on a person's ability to receive and process information, caregiver support, and level of health literacy, and could adversely impact survey scores when proxy respondents are used. Therefore, some HHAs serving vulnerable populations may be at a disadvantage.
Agencies may consolidate because of the data reporting requirements, which may reduce competition and concentrate disparities.
Strategies to Improve Health Equity
Because the populations served by home health agencies tend to be older, lower income and vulnerable, the HHVBP model needs to be evaluated in terms of health equity. Here are some ways that HHAs and the HHVBP model can address these issues:
Publicize innovative models that include a screen for social determinants of health within the initial patient assessment
Partner with stakeholders like payers and pharmaceutical companies to create a tool kit that addresses gaps uncovered in the health screen.
Partner with agencies to survey homecare nurses about patient needs for housing and food security, home and neighborhood safety, and transportation in their community. Those needs may then be addressed by appropriate community resources
Conclusion
Multiple trends have driven the delivery of health care to the home, including cost, infectious disease, convenience and an aging population. The HHVBP model supports this trend by incentivizing quality and time at home. However, the pandemic has put a spotlight on the growing health inequities in our nation, and the HHVBP model has not been developed to address these issues.
To prevent even larger societal divisions, CMS needs to implement solutions to refine the HHVBP model to focus on inequities using the support of other health care stakeholders, including communities, payers and pharmaceutical entities. Focused screening on social determinants of health, tool kits to utilize the results of those screenings—including effective processes for identifying and connecting patients with relevant resources—will help prevent the exacerbation of current health inequities.