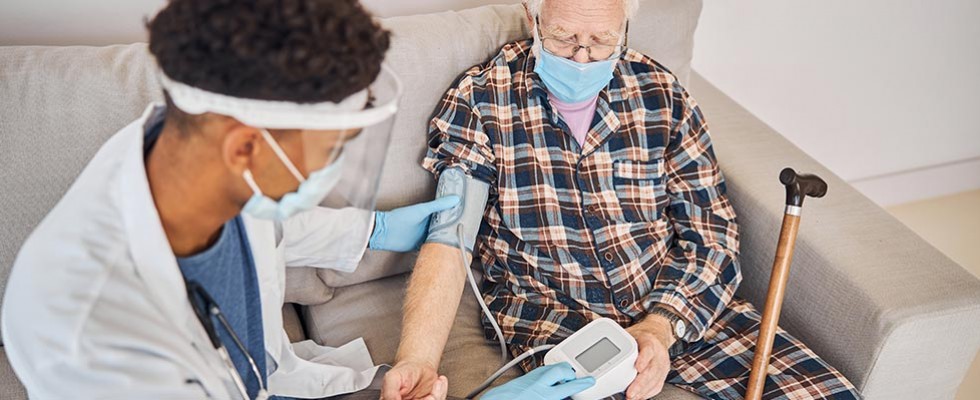 As growth continues, certification remains critical
Wednesday, January 19, 2022
Hospitals got much of the attention during the COVID-19 pandemic, but as inpatient beds became scarce and people sought other options for care, home health agencies rose to the challenge, underscoring the benefits in-home care brings and highlighting the important role this industry segment will play in the future.
Home health care typically falls into a rehabilitative or maintenance role in the continuum of care after a patient leaves the hospital or an inpatient rehab facility. However, it's now commonplace for nurses and caretakers to treat patients with higher acuity needs in the home with skilled treatments and services, such as home infusion therapy, physical therapy and hospital-at-home programs, allowing people to heal in the comfort of a familiar environment. The pandemic has been a catalyst for home health agencies to further adapt their service offerings with new technologies and enhanced infection prevention measures to keep patients safe at home.
Agency innovation also has enhanced the numerous benefits that home health care provides, including more personal and flexible care, treatment in the comfort and convenience of one's home, and the option to choose an accredited provider that offers quality services that meet or exceed federal standards for health care quality.
Growth in Homecare Services
The demand for quality homecare services is expected to grow substantially over the next decade. According to longtermcare.gov, almost 70% of Americans turning 65 are expected to need extended services and support at some point, and about 20%  will need care for more than five years. A report using data from 1995 to 2014 showed that nearly half of Americans turning 65 will require some form of paid long-term care to keep them in their homes and communities.
While home health primarily serves an elderly population through referrals from hospitals or physicians, there has been a recent and marked shift to a younger population of people in their 40s and 50s using these services. As more surgical procedures are performed in outpatient settings, home health provides the follow-up care that would previously have been part of a hospital stay. And again, the pandemic has played a role in creating a patient population that benefitted from in-home treatment for COVID-19 or post-COVID-19 symptoms.
A survey of Massachusetts home health and homecare agency managers conducted in June 2020 to assess the impact of COVID-19 on agencies, clients and aides showed that nearly 60% had provided services to clients with COVID-19—and that was early in the pandemic.
Knowing the Patient Best
Home health clinicians are positioned to know patients well—their connections with clients are deeper than an average provider-patient relationship. These direct care workers must earn trust and manage family dynamics by expertly combining clinical skills and flexibility with humility and critical thinking. As a result, they are armed with the latest and most important information about their patients and are typically the first to know of any changes in a person's condition.
Whether during recovery from a surgery, an injury or a long illness, home health aides, therapists and nurses become advocates for their patients by flagging concerns and observing for change at a time of health vulnerability.
Home health clinicians also are often relied on to make the transition to hospice, palliative programs or skilled nursing care an easier and more efficient process. Therefore, they are often considered the most important resource for physicians and other frontline professionals on a patient's health care team.
A Safer Place to Heal
In addition to providing skilled clinical services, home health agencies can provide support to handle a variety of tasks, including assisting with medications, meal preparation, cleaning and bathing, dressing, exercise and other daily activities—all of which play a crucial role for the long-term care and well-being of the patient.
In-home health services allow adults who need daily assistance to access it where they are most comfortable, allowing them to maintain an independent quality of life. They also remove people from the acute care setting, where they have a greater risk of infection from COVID-19 or other illnesses, or where capacity limits may exist. According to a 2020 Kaufman Hall survey, 54% of consumers cited fear of contracting COVID-19 as a primary reason to delay care, with 43% citing a fear of going to the hospital as the reason.
But it's not only patients who want to heal at home. A recent article in Forbes references a recent William Blair survey in which 81% of physicians responsible for discharge planning now prefer to refer their patients to a home health agency versus a skilled nursing or rehab facility, a statistic up dramatically from before the pandemic.
The home setting allows the family to be more proactively involved in the plan of care. It also offers patients more control and input into the care provided. Patients have the option of changing a nurse or aide—a choice not typically available in a facility setting.
Home health care agencies follow strict policies and guidelines for the services provided in the home setting. While some procedures were typically only conducted in a hospital or rehab center, nurses and caretakers are now trained to handle new and modern equipment that can be brought into the home.
Certified Care
All home health agencies must be certified through the Centers for Medicare & Medicaid Services (CMS) and their state. A survey for Medicare certification must come from a CMS-approved accreditation organization (AO) or the state agency. Most often, an AO is the timelier option and some states also accept an accreditation survey in lieu of a state licensure survey. In other cases, some home health agencies choose accreditation because they want to achieve higher standards of care and appreciate the independent third-party validation of their quality.
Agencies also can add certain distinctions for specialty services. For example, the industry has seen a dramatic increase in telehealth platform use in response to COVID-19. The Accreditation Commission for Health Care (ACHC) recognizes the value telehealth offers to improving patient care delivery and lowering costs and offers a Distinction in Telehealth designation for care providers who use connected health platforms for home health as well as ambulatory care, behavioral health, hospice, private duty nursing and renal dialysis.
Conclusion
The pandemic has served as an innovation catalyst for the burgeoning homecare industry and has spotlighted its importance in the health care continuum. Home health care will likely only continue to grow as millions of aging Americans require long-term care and as younger individuals realize the many benefits of healing at home.
Home health agencies are continuously developing new and creative ways to provide care at home that previously only took place in skilled nursing facilities or hospitals. Accreditation will assure those services provided meet important quality standards.