Highly customized products with mass-market appeal can help make HME providers a popular footwear resource for the modern, style-savvy consumer
Friday, February 6th, 2015
The quality, appearance and availability of specialty footwear has come a long way in recent years, as more and more patients concerned about long-term foot health are turning to HME providers to serve their needs. With the increase in diabetes and obesity-related foot conditions throughout the world, HME providers are now in a prime position to innovate even further.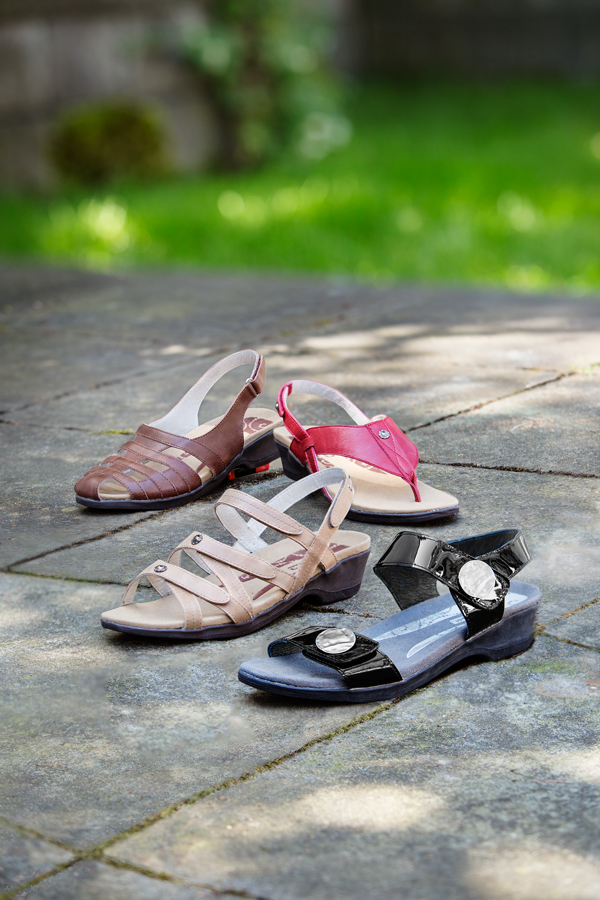 Propét USA Inc. footwear with Rejuve Motion Technology
Looking Beyond the Prescription Pad
For more than 10 years, Medicare Part B has provided partial reimbursement for extra-depth shoes and inserts for qualifying patients with diabetes. While medical experts generally agree that prescription diabetic footwear can help prevent more serious foot health complications that can arise as a result of diabetes and other health problems, fewer doctors are prescribing specialty footwear or specialty shoe inserts. As a result, though HME providers can still help customers navigate supplemental insurance and Medicare reimbursements for all or part of the cost of orthopedic shoes and prescription inserts, some have moved to a more convenient, and more profitable, consumer-direct business model. "We try to offer good information about Medicare reimbursements on our website, but our retail providers know the necessary processes in place to help customers process their Medicare claims," says Rob Heglin, product manager, Dr. Comfort. "Medicare reimbursements are still a large part of our sales." Dr. Comfort offers a range of footwear lines, including diabetic shoes, prescription and nonprescription inserts, diabetic socks, slippers, sandals and compression hosiery through direct online sales. "In terms of what's popular, we have performance athletic shoes, including a Refresh version for women. Our men's dress shoes are also popular—they look a lot like the typical dress shoes out there, and that's what we're going for," says Heglin. "We pride ourselves in having well-made, stylish shoes—and styles that last."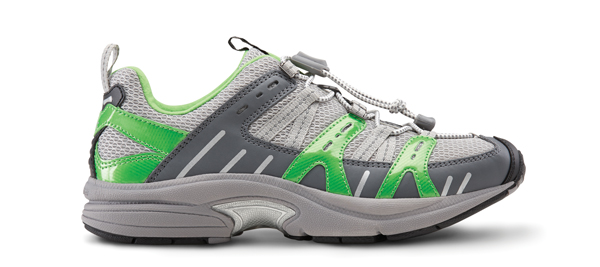 The Refresh line of sneakers from Dr. Comfort
The Gary, the company's most popular line of specialty men's shoes, was designed by rheumatology experts at Rush University Medical Center to reduce knee load; the unique design of the "Flex-OA" mobility shoe works to allow natural motion to occur. For women, Dr. Comfort's line of Refresh athletic shoes takes the top spot, with a colorful, ultra-lightweight style and a unique arch stabilizer, which provides feet with enhanced support and comfort. "HME providers should not limit themselves to only those styles covered by Medicare or private insurance reimbursement," advises Ceci Lauerman, marketing director at Propét USA Inc. "As more physicians and podiatrists stop prescribing and fitting therapeutic shoes, there will be an increasing need for other patient options to ensure their feet are properly cared for and protected. DME and HME providers—especially those with staff out in the field—can help to fill this need." Lauerman maintains that DME and HME providers can increase their success in the footwear market by looking to expand their cash sales of footwear products to both e-commerce websites and brick-and-mortar retail stores. "Offering a limited selection of styles that cater to the comfort and protection required by the aging population can be a huge opportunity," she says. "Some of the other industry players have great sites and are very e-commerce friendly. We are focused on helping customers get to our providers, though there are still people out there who want to buy directly from the manufacturer. Our biggest focus is getting them information—reviews, descriptions, etc.—but we try to get them to the provider as quickly as possible. We help them find the provider that fits their needs," says Heglin.
Customized Solutions with Mass-Market Reach
Despite increased availability, HME providers should still focus on giving their consumers a near-customized experience—particularly for those patients with uniquely challenging foot conditions. Since the introduction of their first walking shoe in 1985, Propét USA Inc. has offered quality footwear for hard-to-fit feet or feet in need of special care in a large selection of widths, sizes and styles specifically designed to address foot ailments. Already known for its TravelWalker collection, as well as its Propét Preferred line of therapeutic footcare products, Propét offers a complete line featuring Rejuve Motion Technology, which incorporates a deep U-shaped heel cup and independent side flanges that stabilize the foot and support the arch. Created in collaboration with a board of podiatric advisors, the Rejuve collection works to minimize pronation and associated symptoms. All Rejuve footwear is biomechanically engineered to cup the heel bone and maintain its alignment relative to the leg and ground. The technology places the heel in an inverted position at heel strike so the foot can be controlled while allowing normal motion to occur, significantly increasing the comfort and activity level of the wearer. Orthofeet, another well-established company in the specialty footwear industry, develops and manufactures a premium brand of specialty footwear that is biomechanically designed to provide consumers with mobility, comfort,and protection for an improved quality of life. Orthofeet shoes feature advanced orthotic support, proprietary ergonomic soles, patented closure systems and superior protective linings and designs. Orthofeet has also become a leading designer and manufacturer of footwear for adults with medical foot conditions or limited mobility, including adults with diabetes and arthritis. In addition to its e-commerce site that offers direct-to-consumer sales, the company partners with medical professionals and DME providers throughout the U.S. to provide patients with a wide selection of therapeutic shoes, insoles and socks.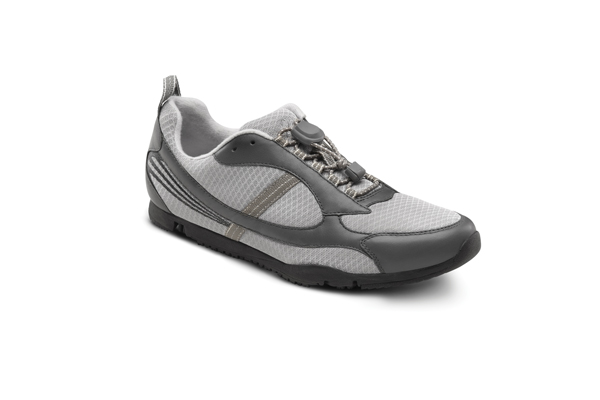 Dr. Comfort "Gary" sneaker
Style, Affordability and Comfort: Modern Must-Haves
"As the therapeutic footwear market progresses," says Ceci Lauerman, "innovations in materials and overall design will continue to evolve to accommodate not only comfort and protection of aging feet, but also catering to the 'style factor' that baby boomers demand." New-Jersey-based Aetrex Worldwide Inc. is finding success in the stylish-yet-specialized footwear market. The company offers the Essence Heeled Sandals and Pumps, Berries Footwear and Sandalistas Cork Comfort collections, all of which have recently been granted the American Podiatric Medical Association (APMA) Seal of Acceptance. The seal program, established to recognize products that contribute to better foot health, helps the public make the best possible decisions when purchasing specialty and orthopedic footwear. All three of Aetrex's seal-certified collections contain Lynco orthotic foot beds for support, balance and alignment; memory foam cushioning for customization and comfort; and Aegis antimicrobial technology to help protect against fungi, bacteria and odor. As a result of the APMA's Seal of Acceptance, Aetrex continues to create accessible options for people in need of healthy footwear without sacrificing fashion and style. HME providers who heed their customer's desires for more fashionable yet highly specialized footwear will be well positioned to increase profits among both new and returning patients. In addition, HME providers who move their businesses away from a reimbursement base and towards e-commerce sites, retail stores and overall cash sale models will be in a prime position to beat out competition, not just in 2015, but also for years to come.