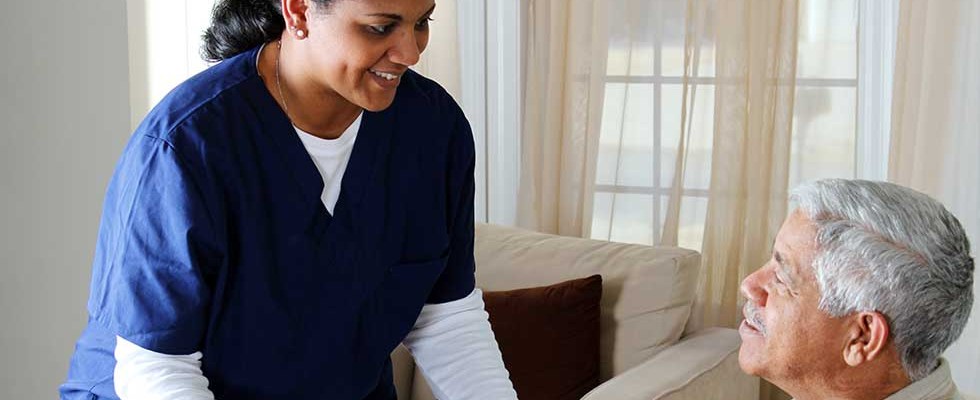 Patients can receive care where they are most comfortable
Wednesday, April 27, 2022
Two years ago, COVID-19 disrupted communities and health care systems. The constant fear of what could subject people, especially those who are older or more vulnerable, to this deadly virus resulted in many people turning to services that could be delivered in the safety of their homes. 
This was especially true for medical care, as 54% of consumers said the fear of contracting COVID-19 was a primary reason to delay care, and 43% cited a fear of going to the hospital as the reason, in a 2020 survey from KaufmanHall. Fortunately, quality care in the home was available to these patients and is now becoming part of the new normal that everyone is adapting to. In fact, another 2020 survey from William Blair shows that 81% of physicians responsible for discharge planning now prefer to refer their patients to a home health agency versus a skilled nursing facility, a figure that is up from 54% before the pandemic.
Individuals enrolled in a Medicare Advantage plan should know they have access to a range of options to receive in-home care, which may include primary care, urgent care and even mail-order pharmacy delivery. This approach provides the flexibility to receive medical attention in a way that works best for them and reduces the potential for a hospital stay.
Below are some of the in-home care options that Medicare Advantage beneficiaries may have available, depending on their plan: 
In-Home Urgent Care. It's possible to avoid a crowded emergency room in certain situations and, instead, receive in-home urgent care. In fact, many of the patients seen in the emergency department do not require the level and cost of care that the emergency room provides. As long as a client's injury is neither life- nor limb-threatening, they may be able to schedule an in-home visit from a medical team who can treat a range of issues, from cuts that need stitches to shingles and even food poisoning. Companies such as DispatchHealth can, depending on the geographic area and health plan, be at a client's home quickly. Treating patients at home may be beneficial to patients and hospitals alike: It allows hospitals to provide ICU-level care to those who need it most, while allowing patients with more mild illnesses to be treated in the comfort of their own homes at a much lower cost.
In-Home Primary Care. Telemedicine and even home visits by a physician may be options for Medicare Advantage members. From the treatment of diabetes and high blood pressure to physicals and vaccines, organizations such as Heal provide primary care from the comfort of the client's living room in many communities. For Medicare beneficiaries, some care providers may also offer medication review, fall-risk evaluation and home visits after a hospital stay. Many outside factors contribute to a patient's health that are hard to uncover in the hospital or doctor's office. By moving health services inside of the home, doctors can identify and help address challenges patients are facing in their day-to-day lives, including transportation limitations, food and financial insecurities, unsanitary living conditions and inadequate housing. This arrangement may allow the provider to clarify health goals and expectations together with the patient, family and caregiver—something that is very difficult to do in an acute hospital setting.
Prescription Drug Home Delivery. Delivery of prescription medications via mail to the doorstep of Medicare Advantage members combines the best of both worlds: more convenience and potentially lower costs. Many medications will allow for a 90-day supply, resulting in fewer refills and more cost savings for you, and auto refills help ensure you never run out of your medications. Most Medicare Advantage plans, including Humana, offer mail-order delivery pharmacies for qualifying prescriptions so there's no waiting in line at the pharmacy or running out in bad weather to fill eligible prescriptions.
An important advantage of treating patients in their own environment is that it provides a window into their daily lives and the factors impacting their health. Care delivery in the home provides direct visibility into the patient having enough healthy food in the fridge, whether the temperature of their home poses a danger, furniture and rugs that could pose a safety risk, and a better assessment of a patient's mental health. This is especially important for those who live alone and may not be able to care for themselves properly. Addressing these health-related social needs may be as important, if not more important, than medical treatments and has been a recent shift in thinking that is essential to preventive care. 
In-home care has a bright future because of the many factors in its favor: services often delivered more safely and affordably; a fuller view of the patient's health from being treated where they live; advancements in tools and technology that allow for an increasingly wide spectrum of care in the home; and the decreased rate of exposure to COVID-19. With the variety of services available, we hope that individuals take advantage of the in-home resources offered by their Medicare Advantage plans. They frequently provide improved patient experiences and meet patients where they want to be: at home. 
Disclaimers
Other pharmacies are available in the Humana network. Providers may also contract with other plan sponsors.  
Humana is a Medicare Advantage HMO, HMO SNP, PPO, PPO SNP and PFFS organization with a Medicare contract. Enrollment in any Humana plan depends on contract renewal.Limitations on telehealth services, also referred to as virtual visits or telemedicine, vary by state. These services are not a substitute for emergency care and are not intended to replace your primary care provider or other providers in your network. Any descriptions of when to use telehealth services are for informational purposes only and should not be construed as medical advice. Please refer to your evidence of coverage for additional details on what your plan may cover or other rules that may apply.