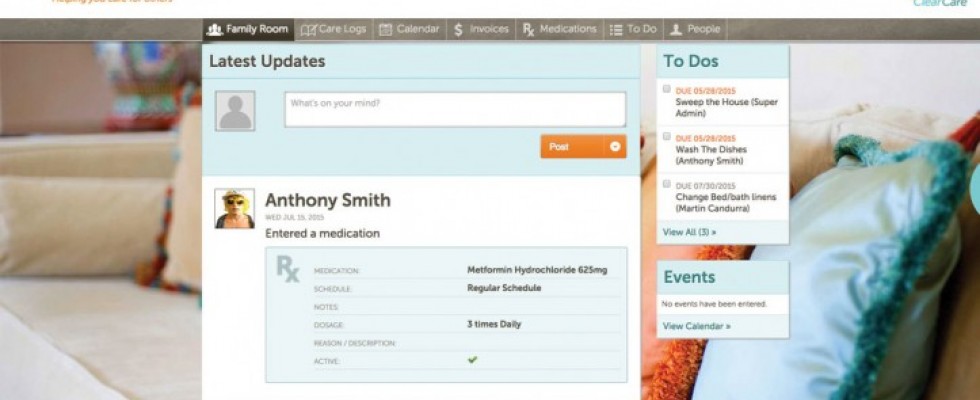 Wednesday, October 26th, 2016
In 2006, ClearCare founder Geoff Nudd's father was living in Austin, Texas, trying to coordinate care for his mother (Geoff's grandmother), who was residing in Illinois. The caregivers at the organization kept records on paper in a little book, and the process of transferring the records via fax and phone to the elder Nudd was tedious—and often the full record did not even reach him. Realizing things could be easier for both his father and the agency, Nudd moved to create the Family Room app. ClearCare grew rapidly from the application's success.
"Family members are more spread out across the country and world than ever," says ClearCare VP of marketing Derek Jones. "The Family Room bridges the gap between professional caregivers and the family caregiver."
Through the Family Room portal, family members living across the country can access their loved one's care log to view who the day's caregiver is, ensure that tasks have been completed and leave notes for the upcoming week, such as plans to visit or an errand that needs to be run. Caregivers are able to leave short notes about each task—especially if not completed—letting family members know how the day went. There is also the option to leave a voice message if the caregiver needs to elaborate further. The communication tool, says Jones, "keeps long-distance family members connected and actively participating in the care of their loved one while still having the ability to contact the agency for any needs."
Another key feature of the portal for family members is the ability to pay invoices online, and even split the bill between multiple family members if needed. "Siblings often struggle with who will step up and coordinate care—and paying the bill is ultra sensitive. This feature empowers family members to work together and take the edge off the sensitivity of what sibling should take the lead," says Jones.
The platform meets HIPPA regulations, but each agency must ensure they meet individual standards within their business. The agency retains the right to issue or revoke licenses for family members on behalf of the family, benefitting those families in difficult or strained relationships so no one family member can take another member out of the care loop.
The Family Room application is available for any agency using ClearCare software to manage their business; there are no additional fees for agencies adopting Family Room for their clients.
Jones says, "There is a lot of competition out there. The Family Room gives an agency a high-touch, high-tech way to differentiate and add value for a family in need."