HomeCare sponsors New Product Showcase and Innovative Retail Awards at Medtrade 2014
Friday, November 21st, 2014
A panel of judges named the winners of the Innovative HME Retail Product Awards at Medtrade 2014 in Atlanta last month, which—in addition to the New Product Showcase—were again sponsored by HomeCare. These awards honor HME products that are particularly suited for retail sale. During Medtrade, Jim Greatorex, president of Black Bear Medical and a member of the HomeCare Editorial Advisory Board, hosted an educationalsession titled "The Best New HME Retail/Cash Opportunities," allowing winning exhibitors a few minutes to discuss their products. "Medtrade is the absolute best place to find solutions in this tough new HME world," says Greatorex. "Where else can you find new and alternative product offerings to offset lost revenue, plus get the opportunity to see and hear from great speakers? We all need solutions right now." The competition recognizes products that contribute to providers' bottom lines through cash sales. Medtrade attendees were able to view these products at the New Product Showcase, sponsored by HomeCare, on the expo floor. Entries were judged on their contribution to quality-of-life enhancement for users and on how well they would work in a retail environment. Products were also judged on: marketing support provided to suppliers; innovation; functionality; quality/durability; aesthetics/style; environmental sustainability; ease of retail setup and pricing. In addition, attendees were able to vote for three nonretail products to win Providers' Choice Awards in Gold, Silver and Bronze.
This year's winners:
The WiTouch Wireless TENS Unit by Core Products International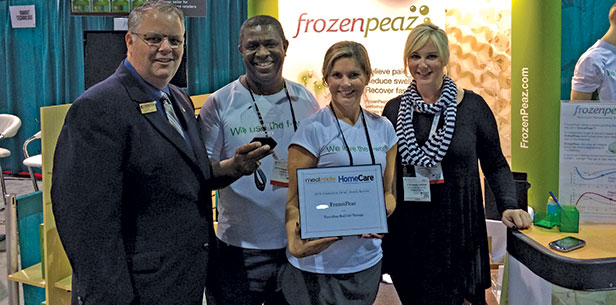 MaryCarol Dolivier, co-founder and president of FrozenPeaz, believes Medtrade is the perfect place to launch a pain management retail product. "Before experiencing our FrozenPeaz, some people assume we are just another gel pack," says Dolivier. "That could not be further from the truth. VirtualPeaz are made of a proprietary glass-like material. Unlike gel beads, VirtualPeaz won't disintegrate with repeated use or microwaving. That means a longer lasting, high-performance product, which requires less replacement—making FrozenPeaz a better overall value to the consumer and the environment." While HME retailers are embracing consumer-friendly cash/retail products, says Dolivier, many manufacturers of these products lack shelf-ready packaging. "We believe our packaging is some of the best available for retail sales," she says. For more information, visit frozenpeaz.com.
The Shiatsu Lift Chair by Golden Technologies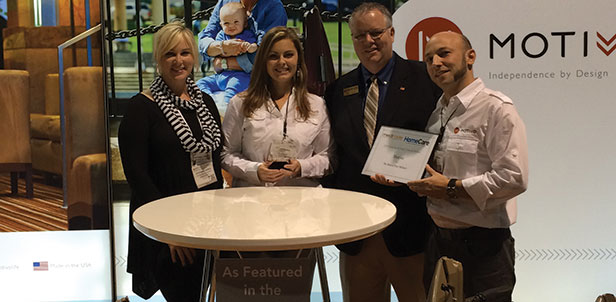 "With the industry looking for new and innovative retail products, Medtrade gives us a great opportunity to launch our Motivo Tour walker by connecting directly with the dealers and allowing them to touch and feel the innovation in person," says Jeremy Knopow, co-founder of Motivo. It was the company's first time to exhibit at the trade show. Knopow and his business partner founded the company when their own parents needed walking aids, but everything on the market appeared rudimentary and medical-looking. "We thought our parents deserved better," says Knopow. "Looking at the ever-growing population needing these kinds of products, it seemed that we couldn't be the only ones who thought this way. So we decided to put our collective 40 years of product design experience together to see if we could come up with something better—independence-enabling products designed for people, not patients." For more information, visit motivolife.com.
TENA Skincare System by SCA Personal Care
<div body-img-c-full"="">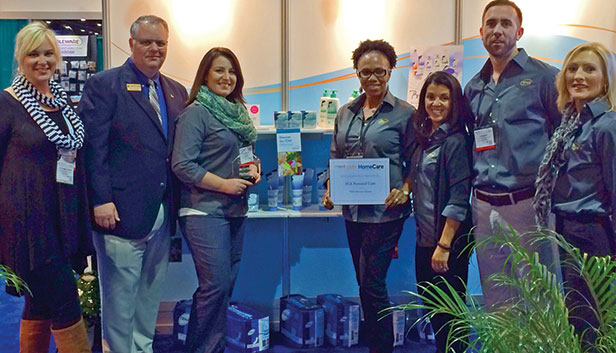 Jessica Lan, senior product manager, SCA Personal Care, says TENA Skincare products were specifically developed to be easy to use and understand for individuals and caregivers. "The new color-coded graphics, clear and functional labeling and modern packaging are designed to be consumer-friendly, while still carrying the legacy of TENA's expertise in incontinence," she says. "We believe that this blend of consumer appeal and clinical background makes TENA Skincare an attractive proposition. We hope to tell Medtrade attendees about the TENA Difference, and how SCA Personal Care products can create value for them by growing their incontinence sales," adds Lan. "We can help providers' customers by providing them with the right individualized products and solutions…We have been extremely happy exhibiting at Medtrade year after year. No other home health care show allows us to connect with so many prospects." For more information, visit sca.com. In addition to the retail awards, three Providers' Choice Award winners were determined from votes by show attendees. The winners included the Pocket Air Portable Nebulizer (Mesh Type) from MicroBase Technology Corp. (Providers Choice Gold); Pap Travel Briefcase from Philips Respironics Inc. (Providers Choice Silver); and the Shiatsu Lift Chair by Golden Technologies (Providers Choice Bronze).