Answers from industry experts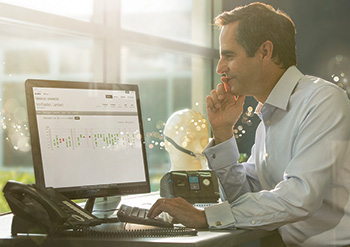 A physician using AirView in the office
ResMed
Liesl Cooper
Vice President of Market Access
www.resmed.com
Why should medical monitoring matter to home health providers?
COOPER: Connected medical devices don't just track patient usage and monitor device performance. They also transmit that information back to the homecare provider and deliver actionable insights that can help them more efficiently run their business. Homecare providers can use this objective, accurate data to prove their patients are compliant or adherent with their therapy—evidence that is required to receive reimbursement for the equipment provided. It also helps create more streamlined processes because providers receive patient information one hour after the device was last used and are able to do more coaching with patients and even troubleshoot devices remotely. In fact, providers taking advantage of telemonitoring solutions have been shown to reduce time associated with coaching patients by 59 percent.
What products does your company provide in the medical monitoring space?
COOPER: ResMed products remotely monitor more than 2 million patients every night. The company offers numerous products in the medical monitoring space, with a focus on respiratory and sleep disorders. This includes its latest line of Air10 PAP devices for sleep apnea treatment, which have built-in communications that help connect them to our cloud-based AirView and U-Sleep patient management platforms, as well as the myAir patient engagement platform. ResMed also has the world's first cellular, cloud-connected in-home life support ventilators, the Astral 100 and Astral 150, also connected to AirView.
What are some good terms to know in medical monitoring?
COOPER: When thinking about medical monitoring, it is important to think about telemonitoring or remote patient monitoring (RPM). RPM uses digital technologies to collect medical and other forms of health data from individuals in one location and electronically transmit that information securely to health care providers in a different location for assessment and recommendations.
How has home medical monitoring evolved?
COOPER: Providers used to rely on actual SD card downloads during in-person visits to monitor treatment progress and compliance, as well as subjective patient accounts via written surveys or postcards. SD cards improved reliability and accuracy, but the process was still labor-intensive, frustrating and inefficient for both patient and provider. Telemonitoring has eliminated these frustrations by creating a seamless process built on a precise science, ultimately delivering targeted care for patients and better business efficiencies for providers.
Nonin Medical's Model 7500 Tabletop Pulse Oximeter
Nonin Medical
Bill Wood
Distributor and Key Accounts Manager
U.S. Homecare and Sleep
www.nonin.com/homecare
Why should medical monitoring matter to home health agencies or home health providers?
WOOD: Medical monitoring of vital signs is an integral part of homecare management. Using medical monitoring in a homecare setting can help prevent costly readmissions and unnecessary hospital emergency department visits by monitoring the patient's vital signs, and at times, communicating that information to the medical care team when they are not present in the home.
What products does your company provide in the medical monitoring space?
WOOD: Nonin Medical is the inventor of the fingertip pulse oximeter and a manufacturer of noninvasive medical monitoring equipment. Our homecare devices include the Model 7500 Tabletop Pulse Oximeter for continuous monitoring; the PalmSAT 2500 Series Handheld Pulse Oximeter for continuous monitoring, spot checks and overnight studies; WristOx2 3150 Wireless Pulse Oximeter for six-minute walk tests or overnight studies such as nocturnal oxygen qualification; Personal Finger Pulse Oximeters for oxygen saturation and pulse rate spot checks or patient spot-checking of oxygen saturation; and LifeSense II Capnograph and Pulse Oximeter for SpO2 and EtCO2 monitoring.
How can advancements in medical monitoring help people in underserved areas?
WOOD: Whether a patient is connecting to a telehealth hub with a product like the Onyx wireless fingertip oximeter, or using web-enabled platforms to connect to a call center with a product such as the WristOx2 3150 wireless pulse oximeter, these advancements in medical technology allow clinicians to stay connected to their patients around the clock.
How do developments in Washington affect the medical monitoring industry?
WOOD: Government-mandated cuts to home medical equipment have impacted rural areas across the United States since they went into effect in January 2016. As a result, HME companies have seen payments on widely used products decrease, forcing them to reduce product offerings to patients in rural areas. These changes provide the opportunity to serve these patients through the expanded use of remote monitoring in the future.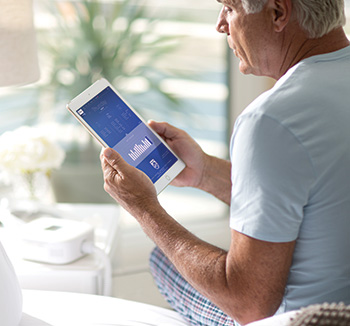 Philips DreamMapper
Philips
Tim Murphy, Business Leader
New Business Solutions
www.respironics.com
Why should medical monitoring matter to home health agencies or home health providers?
MURPHY: It is critical to arm providers with the latest technology and innovations that include individual engagement. Sleep and respiratory diseases affect more than 1 billion people worldwide, and health care costs related to these disease states are expected to rise substantially, even as reimbursement rates continue fall. Hospitals are faced with the concern of readmission penalties that make the transition from hospital to home and potential for remote patient care all the more prevalent.
What products does your company provide in the medical monitoring space?
MURPHY: We developed Care Orchestrator, a connected care management application powered by the Philips HealthSuite, which enables and hosts a series of interoperable health tech software applications that collect key data and information elements through telemetric-capable products and devices. Care Orchestrator works with multiple Philips Sleep and Respiratory products. Another Philips Sleep and Respiratory solution that tracks sleep is Philips DreamMapper. Sleep apnea patients need consistent therapy. Those who track their progress with DreamMapper use their therapy an average of 29 percent more nights than those who don't. About 58 percent more people used therapy every night when they used DreamMapper, and DreamMapper has a 283 percent higher success rate for users struggling with adherence to sleep therapy.
What are the challenges and how are you addressing them?
MURPHY: A challenge in today's market is reimbursement levels that are no longer covering therapeutic ineffectiveness or inefficiency. Another challenge is the government-mandated competitive bidding in the U.S. and compliance-driven payer policies that are adding more strain and putting pressure on HME providers. In addition, many care models are high touch and complicated by disparate data sources, labor intensive set-up, extensive documentation and audit controls, causing more work for clinicians who are already strapped for time.
What trends are you seeing in the adoption of medical monitoring programs?
MURPHY: As the health care industry transitions to a value-based care model, we are seeing health care providers becoming equipped with the technology and tools they need to drive efficient, effective, scalable and personalized clinical outcomes. One trend we see expanding in the future is telehealth monitoring. We have the ability to monitor and tailor each patient's treatments based on timely data and informatics.