Answers from industry experts
Tuesday, February 7, 2017

Computers Unlimited
David Schaer, President
www.cu.net
Please briefly describe your company's product line related to the billing and software services industry. What makes your products stand out in the industry?
SCHAER: Recently, CU has made extensive investments in the TIMS HME product based upon end user feedback and broader market requirements. A partial list of improvements includes a powerful Patient Intake system that validates patient information, a new Billing Rules and Fee system to streamline and simplify complex billing rules management, a Workflow engine to assign and monitor business processes and monitor employee productivity, a new dynamic A/R Worklist application to efficiently work A/R and denials, a new smartphone Mobile Delivery app for point of delivery operations, CPAP monitoring compliance integration with leading CPAP providers, and last, a new Documentation and Authorization platform.
What trends or changes do you see on the horizon in the billing and software services industry in 2017? How do you plan to adjust for these changes?
SCHAER: The industry will continue to hear about interoperability. Simply stated, interoperability is the capacity for various platforms to electronically connect and synchronize patient information between software systems. Interoperability isn't a new experience. CU has used the HL7 healthcare standard to make this happen with various customers; however, we believe an even greater need lies with helping providers capture and share patient compliance related data with their referral sources to illustrate cost savings achieved through their own operational efforts which helps reduce the overall post-acute patient costs.
What is one way your company plans to stay competitive and successful in the billing and software services market in the coming year?
SCHAER: Providers are always looking to find ways to reduce operating costs and gain efficiencies. We announced a new billing service partnership with Prometheus Group at this year's annual Users Group Conference (our 30th offering). This new partnership is a great service for those customers short on billing resources and knowledge.
What challenges are impacting HME and other health care providers in the health care industry overall, and how are your billing and software services products helping them meet those challenges?
SCHAER: A huge need we continue to see across the entire industry is better tools and technologies to manage the complex requirements of payer documentation and authorization requirements, which vary from payer to payer and provider product mix. As a response to this need, we developed a powerful and compressive Document Management and Authorization module that integrates with our Patient Intake and Billing Rules platforms. The new solution tells the CSRs what documents and authorizations are required based upon patient equipment needs and payer mix and includes tools to create, manage and store all patient related documents in the TIMS system.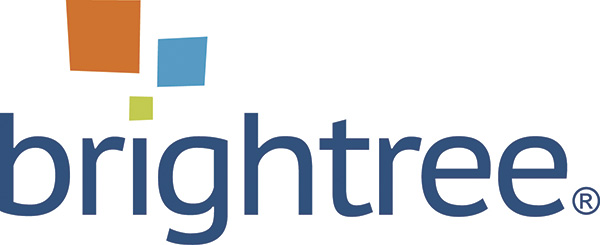 Brightree
Rob Boeye, Executive Vice President Home Medical Equipment
www.brightree.com
What does your company offer the HME industry?
BOEYE: Brightree offers cloud-based software to improve clinical and business performance in the post-acute care industry. Our software
and services manage intake, operational, clinical, inventory and revenue cycle processes to facilitate better patient care.
How do your products help HME and other health care providers?
BOEYE: Brightree's innovative technology enables providers to manage all aspects of their business from a single platform. Beyond billing, providers can store documents, file claims, review business analytics and utilize new revenue generation tools such as patient resupply.
What is one way you plan to stay competitive in the next year?
BOEYE: In 2016, Brightree introduced Revenue Cycle Workflow (RCW), a robust feature-set inside our core solution that enables HME providers to leverage a real-time set of integrated tools to stay on top of denials, claims and reimbursements/collections.
Universal Software Solutions
Chris Dobiesz, President
www.universalss.com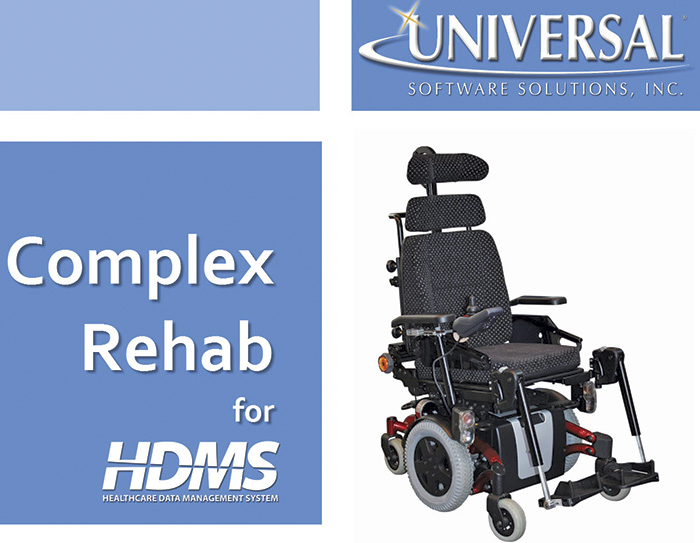 Complex Rehab Module
Tell us about your company's software products.
DOBIESZ: Universal Software Solutions provides a fully integrated practice management solution known as Healthcare Data Management System (HDMS). The product's sophisticated claims management tools and its focus on automation is specifically geared toward providers seeking a cost effective solution that maximizes efficiency and effectiveness while eliminating wasteful processes.
What upcoming trends do you expect in the billing and software services industry?
DOBIESZ: We anticipate a further consolidation of providers. Larger economies of scale are needed to survive in the HME industry. To help providers stay competitive, HDMS allows for touch claims so that once a fully qualified order has been completed, it can be submitted and paid with no additional interventions.
Tell us about an innovation you're bringing to the industry.
DOBIESZ: One way we have helped this industry to stay competitive is though the launch of our Complex Rehab Module in the summer of 2016. Our new Complex Rehab Module is designed to automatically create the required prior authorizations, CMN's, estimate of cost, purchase order and work order. The Complex Rehab Module manages each build as it moves through document prep, assembly and completion.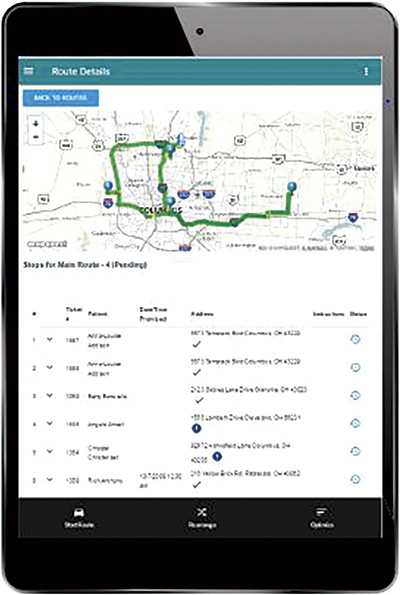 CareTend
Mediware Information Systems
Kimberly Commito, Director of Product Management
www.mediware.com
What software products does your company offer?
COMMITO: The CareTend application, which is a next generation software solution for the homecare industry, offers a complete package of functionality to support all areas of a homecare operation. From collection of patient clinical data and demographics to financial information supporting appropriate reimbursement, to inventory management, the system intends to be the integral tool to supporting and expanding a homecare provider's business.
Do you expect to see any trends in the HME industry in 2017?
COMMITO: HME providers must become more automated. Our software solution is built on a platform to support integration with third parties, device manufacturers and other health professionals, such that the collection of this information across the care continuum is more automated and timely.
What moves are you making to stay competitive?
COMMITO: The introduction of CareTend Anywhere will take the application into the hands of home health care professionals, allowing them to complete tasks and manage their jobs more effectively while not in the office. This new product allows secure access to all the appropriate features and functions, by role, that a home health care professional would need, giving them 24/7 access to the tools needed to care for their patients.
What challenges are HME and other health care providers facing, and how do you help them meet those challenges?
COMMITO: The need to share information securely and effectively is becoming imperative. Billing and software solutions, such as CareTend, must be focused on offering safe, secure and effective solutions in the area of integration and mobile technology to support the need to manage costs more effectively and get the most efficiencies out of staff.

QS/1
Justin Buckland, Market Analyst
www.qs1.com
What do your products offer to HME and other health care providers?
BUCKLAND: QS/1's SystemOne HME management solution efficiently handles everything from order entry and transaction processing to compliance calls and resupply reminders. It tracks and updates inventory for both sales and rentals while also handing delivery and billing.
What new options does software offer your customers?
BUCKLAND: The ability to obtain electronic signatures for documentation and delivery services is a game changer. This enables delivery personnel to collect the patient's signature acknowledging receipt of the product and safety information digitally for better documentation while simultaneously decreasing the time between delivery and billing.
How do your products help HME and other health care providers overcome common challenges?
BUCKLAND: Using tools such as report generators, electronic documentation storage and accounts receivable posting can provide more detailed data analysis. Often under-utilized, a report generator can be a great benefit for your business and can help you spot trends based on patients, items or accounts-receivable postings. Utilizing a robust HME management system can help improve compliance, manage costs and increase revenue.

bflow Solutions
Pamela Haglund, Senior Manager Operations and Analytics
www.bflowsolutions.com
What role does your software play in the HME market?
HAGLUND: Bflow Solutions Inc. is a health care technology company and the developer of bflow (Business Flow) business management software for HME companies. Our goal is to bring best practices utilized by the largest hospital networks to manage billing and A/R into a fully automated and easy-to-learn software package.
How do you help HME and other health care providers meet industry-wide challenges?
HAGLUND: Health care providers are also challenged with keeping up with the changes to the rules, updated policies and industry changes. Bflow strives not only to provide tools to accommodate these needs but to also be a resource and educational tool ensuring that our customers are always in the loop and are not caught off guard. Whether through providing informative material or educating providers on how to effectively and correctly bill for services and items given to the customer, bflow strives to be the number one resource for all aspects of our customers' needs.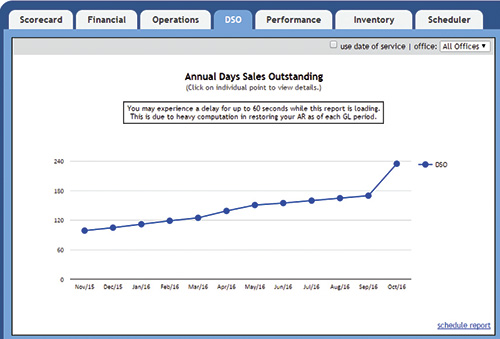 Bonafide
Bonafide Management Systems
Wayne Bailey, Director of Client Services
www.bonafide.com
Tell us about your company's role in the healthcare industry.
BAILEY: We're a 35 year-old company, and we manage inventory from the time it's purchased from the vendor. Bonafide is the only one that truly manages data that is validated for P&L. Most other software guesses at it.
What trends do you expect to see in the next year?
BAILEY: Consolidating into bigger dealers. People can be wonderful managers of a business at 40 or 50 or 60 points, but when those margins fall below 20 percent, then 15 percent, then 12 percent, you can't stay in business. People didn't want to collect form the patient before, but now they can't stay in business without it.
What is one way you plan to stay competitive?
BAILEY: For us, everything has to be provided in one software package and be seamlessly integrated. If patients can log in and see their own account that is HIPAA compliant and pay up front, that should be integrated and transparent for both the provider and the patient. The software has to present a model that the patient can take care of his or her own stuff.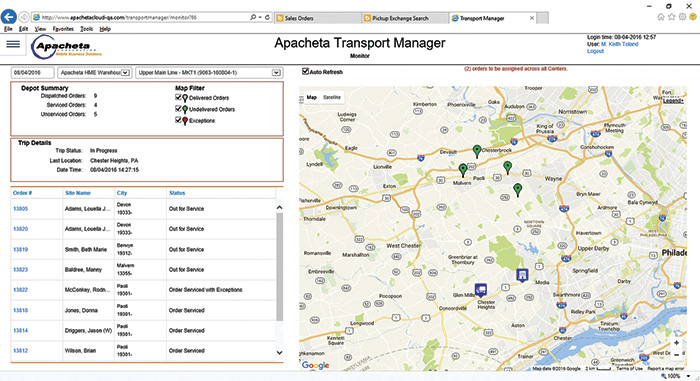 Transport Manager route planner page
Apacheta
Greg Timmons, CEO
www.apacheta.com
Tell us about your software products.
TIMMONS: Our software is a one-stop-shop for everything concerning delivery logistics, including the billing process. Field technicians have the ability to deliver and install equipment, as well as collect all necessary patient signatures and electronically submit the finalized documents to the billing department at the completion of each stop.
What changes do you expect to see in 2017?
TIMMONS: Delivery will go mobile. Paper-based processes are manual, expensive, slow and provide limited to no visibility to delivery agents in the field. Customer case studies have shown providers can save as much as $1,000 per driver per month, reducing inventory write-offs costing thousands of dollars per month, and in some cases reducing DSO by more than 20 days.
What challenges do you see HME providers facing, and how can they deal with those challenges?
TIMMONS: After speaking with hundreds of HME business owners and operators, the most significant challenge we see facing HME providers is how to stay competitive and viable as reimbursement rates continue to be slashed and compliance audits are on the upswing. In order to stay ahead, HME providers must automate as many processes in their business as possible. Fortunately, mobile logistics solutions are now affordable for every size of HME provider.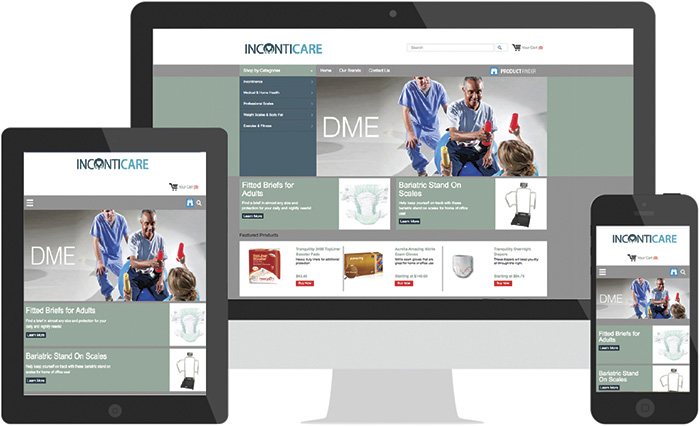 Health Mobius software
Health Mobius
Kamal J. Haddad, CEO
www.healthmobius.com
What does your company do in the health care industry?
HADDAD: eRetail by Health Mobius is a simple solution to a complex problem. Health Mobius will set-up and manage the entire e-commerce platform, handle the online product catalog and payment to vendors, payment processing, shipping, customer service and sales tax processing for all online transactions on the eRetail platform.
What changes do you expect in the next year?
HADDAD: In 2017, we will see more emphasis on training employees to identify new retail or cash-sales opportunities to offset the drastic changes in this industry and improve revenue. Armed with our eRetail sales apps, we think we can make it easier, more productive and more efficient to capture a sale at the point of contact with the customer—either in the store or in the patient's home.