CPAP and sleep market looking to the broader implications of health-care changes
Wednesday, January 16th, 2013
More than ever before, the CPAP market is connected and interrelated. Connectivity now provides greater accessibility to compliance data, which is driving more teamwork and cooperation among health-care providers and even payers. Data can also empower the patient, as can greater awareness about obstructive sleep apnea (OSA) and effective treatments.
The market is starting to look beyond a narrow obsession with lower rates from competitive bidding to consider treatment of OSA in a broader context of the larger health-care market. Everything in the new environment is interrelated, including the changing role of the HME provider.
An industry focus on competitive bidding may overlook larger forces at work that are changing the marketplace according to Maura Toole, director of sleep marketing at Philips Respironics. She lists health-care reform, Accountable Care Organizations (ACOs) and readmission penalties as forces to watch. "Home care is where everyone wants patients to be efficiently managed," she says. "Reimbursement cuts are not going away, so we should change the conversation to a broader outlook on the health-care industry. If you get rid of the fear you can embrace the energy and confidence that change can be for the better." Philips has kicked off the "Allies in Better Sleep and Breathing" focus to emphasize the need for industry stakeholders to work together.
Greater efficiency, lower cost and scalability are all important strategies to deal with competitive bidding's downward pressure on costs in the CPAP market says Mick Farrell, president of ResMed Americas. Better patient outcomes—in effect, more return on investment—are key. "As there is downward pressure on unit rates, we have to get even better at delivering the result," he says. "I think we must understand it's all about outcomes and helping HMEs get access to data they can share with payers and patients."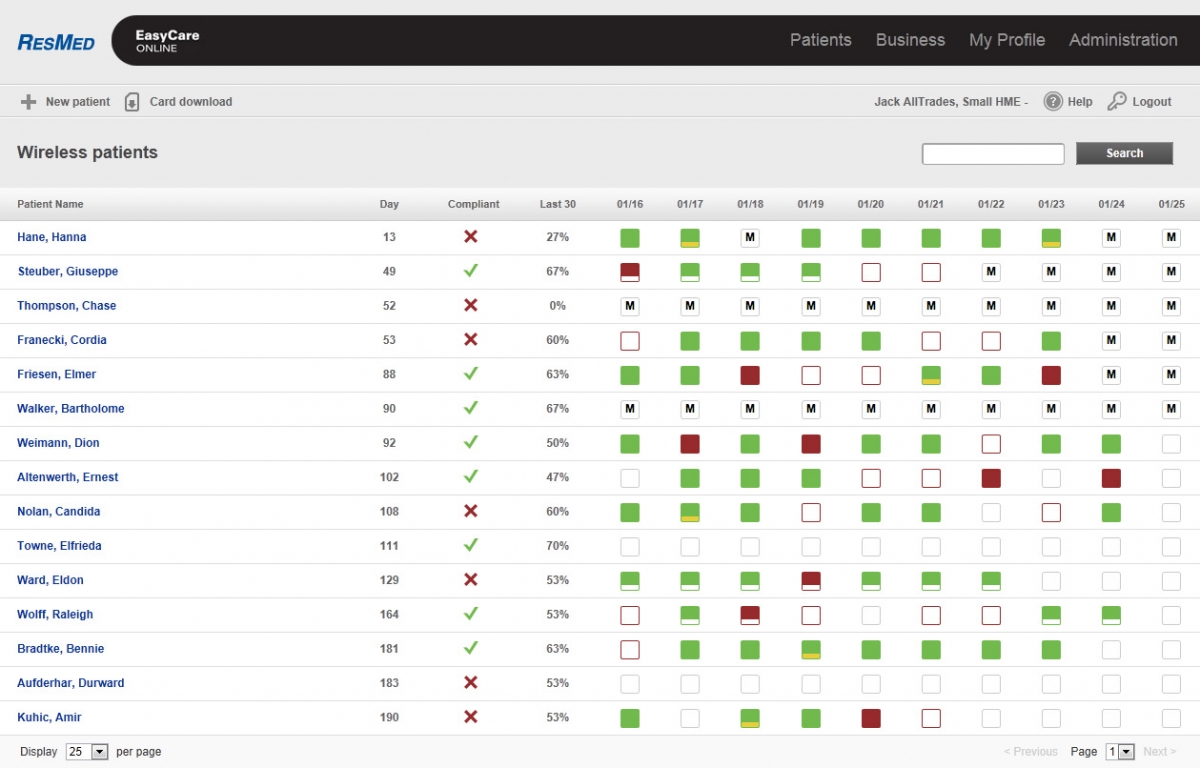 Empowering the OSA Patient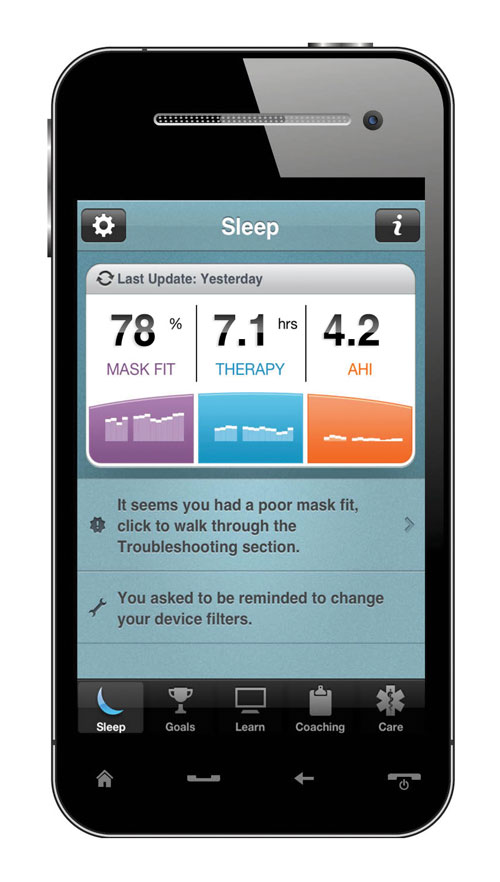 At Medtrade last fall Philips previewed SleepMapper, a self-management mobile app for OSA patients that provides feedback, motivation and troubleshooting tools. It can allow patients to take a more active role in managing and personalizing their therapy, similar to other health management consumer tools such as those for weight management or smoking cessation. SleepMapper accesses compliance data from the Internet cloud and presents it in a context that's meaningful to the patient, leveraging the science of how to engage with human behavior. The tool responds to patients in a way they understand and uses interactive questions to personalize the interface. SleepMapper can augment what HME providers do without adding cost. The app works with Android or iPhone devices and also on a computer or tablet. Data to drive the app can be uploaded using Philips' modem service, an SD chip or a Bluetooth modem that works with the patient's home Internet service. The device is currently being tested by about 500 patients and full introduction is expected in mid-January.
Philips also offers full CPAP systems, providing ease of use, quality, reliability and support to enable ongoing long-term management of OSA including care team collaboration involving the doctor, patient and other medical providers. In addition to the device and mask, Philips offers a software platform to allow patient monitoring.
One core Philips product, the REMStar Pro with AutoCheck, has been enhanced with new capabilities that position it for the changing marketplace. REMStar Pro monitors patients for the first 30 days in the Auto-Trial mode, learning the patient's breathing patterns and treatment needs during a trial phase. The approach provides additional confidence that the patient acclimates to the therapy and is like a titration performed in the home. The device can follow patients and adjust therapy slightly over time to match the therapeutic requirements, providing an economical alternative to a full-blown auto device. The last six months, with an acceleration of home sleep testing, have positioned the REMStar as a key component of an overall system to diagnose and manage sleep apnea patients. Combined with ongoing monitoring and advanced event detection, the system will flag a patient who needs additional attention.
Focusing on the short-term—the volume of setups—rather than the long-term aspects of CPAP treatment is a missed opportunity for HME providers, Toole says. "It's not just about the cheapest box with a mask associated with it. I think providers are getting that and understanding they can maximize their business opportunities by managing patients effectively over the long term."
Conversations & Compliance
ResMed also offers a "system solution" to the CPAP market, including the S9 AutoSet device with a Quattro FX mask and the S9 wireless device providing connectivity to the EasyCare online compliance data management system. The combination offers an HME provider the best in class mask and compliance, and the S9 APAP device reflects the shift to more home sleep testing.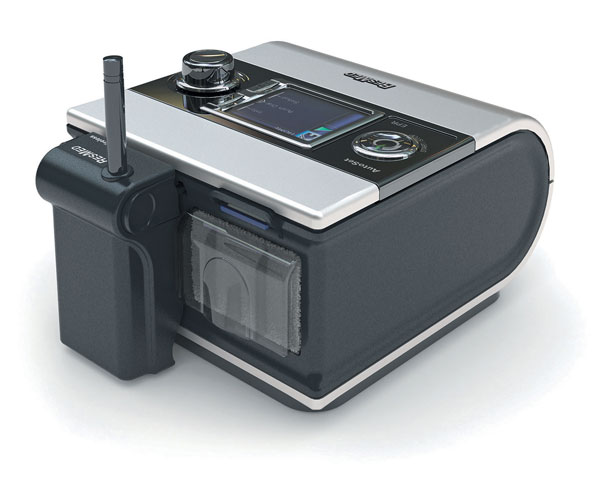 ResMed founder, chairman and CEO Peter Farrell says the company seeks a two-way partnership with HMEs and encourages conversations between providers and the ResMed teams to positively influence long-term compliance and positive outcomes. The company's significant investment in research and development supports ResMed's world-leading technologies.
ResMed's EasyCare online system provides data that enables HME providers to coach and encourage patient compliance, and provide evidence of outcomes to payers. In addition to empowering patients, more data enables HMEs to have a broader strategic conversation with a payer about increasing compliance. "I think all of us subscribe to the mantra of continuous improvement," he says. "A large regional HME may have good patient compliance data, but we can always do better. The more we measure something, the more we can improve it." Online data tools also increase efficiency by allowing management by exception and scalability to serve more patients, Farrell explains.
Longer-Term Monitoring
Compliance monitoring is having a greater impact on the market than ever before, according to Robin Randolph, marketing manager North America, Fisher & Paykel Healthcare (F&P), which offers a range of integrated humidified CPAP products that integrate with the company's data compliance solutions to simplify and streamline business processes.
A growing trend is for payers to align themselves with Utilization Benefit Management (UM) companies to help manage the OSA patient, Randolph says. Policies triage the kind of sleep study the patient will receive—home study or lab study—based on the therapy component. Based on claims data, UMs determine the long-term CPAP compliance rates by payer. Because compliance has a fall-off rate, more payers are moving from purchasing CPAPs to a 10-month rental with compliance data being reported along the way. The UM has also realized that resupply is a factor of CPAP usage, so they seek to track compliance longer term than the CMS rule of greater than four hours per night adherence on 70 percent of nights.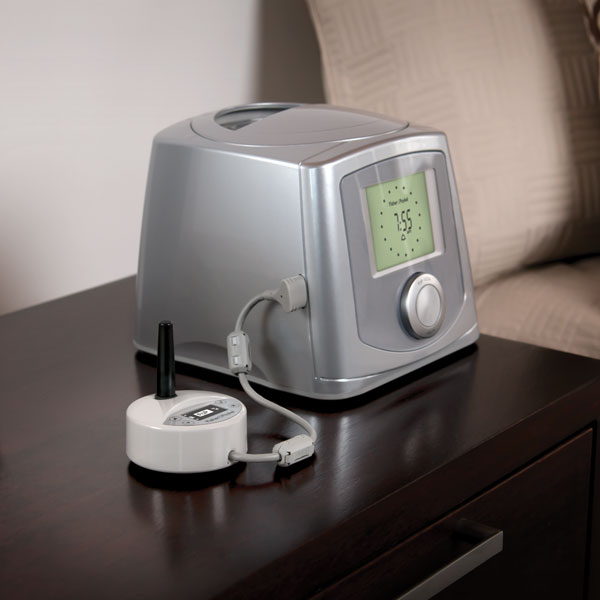 F&P's InfoGSM is a small, lightweight modem that attaches to the F&P ICON via the USB port. An internal battery enables it to store up to three months of CPAP data and upload data at a predetermined time each morning, regardless of the CPAP's power status. In areas of weak mobile coverage, the modem can be unplugged and taken to an area with better coverage to manually prompt an upload. The InfoGSM complements P&K's free data retrieval facility, InfoUSB, which allows patients to transfer their CPAP data over the Internet from their home computer. The variety of data retrieval methods allows HME dealers to specify the most cost-effective method for each patient's circumstances.
Because of longer-term compliance monitoring, HME providers must understand their actual expense of compliance monitoring methods, Randolph says. While wireless has been touted as a possible savings on nonreimbursable time, the reality is that there is a work effort shift in managing the modems, the monthly data charges, the retrieval costs, cleaning and recycling. In the recent past manufacturers would often bundle modems and/or monthly service charges with CPAP/masks with long-term purchasing commitments. However, this model is not sustainable in a market where reimbursement declines have driven the profit out of the devices. Given the demand for compliance monitoring associated with both Medicare and commercial payers, it now makes sense to evaluate whether all patients need to be monitored in the same way. Randolph of F&P says sending data to the Web via InfoUSB is an attractive alternative, including automatic reminders to patients to insert their USB in their computer to send compliance data. The patient can also choose the form of communication—text, phone or e-mail—at no cost to the HME.
"If you don't already have a robust compliance program in place, now is the time to develop it, and payers are requiring it," Randolph says. "Your compliance program should include ongoing monitoring intervals, intervention pathways and a way to collect and push data regardless of the method of data capture. Remember that the prevalence of OSA is not found only in the Medicare patient but is also associated with the 35-60 age bracket and younger, and many are still undiagnosed."
"Having the patient involved in the care is a good thing," Randolph continues. "By being involved they accept a certain responsibility for their health care, which has been shown to increase acceptance and, more importantly, adherence. The earlier you get your patients involved in their treatment, the better." More patient "touch points"—whether visits, live or automated phone calls, e-mails, texts or mail—make all the difference. "The literature is clear that the more we reach out to the patient, the better the results."
Smaller, Quieter, Better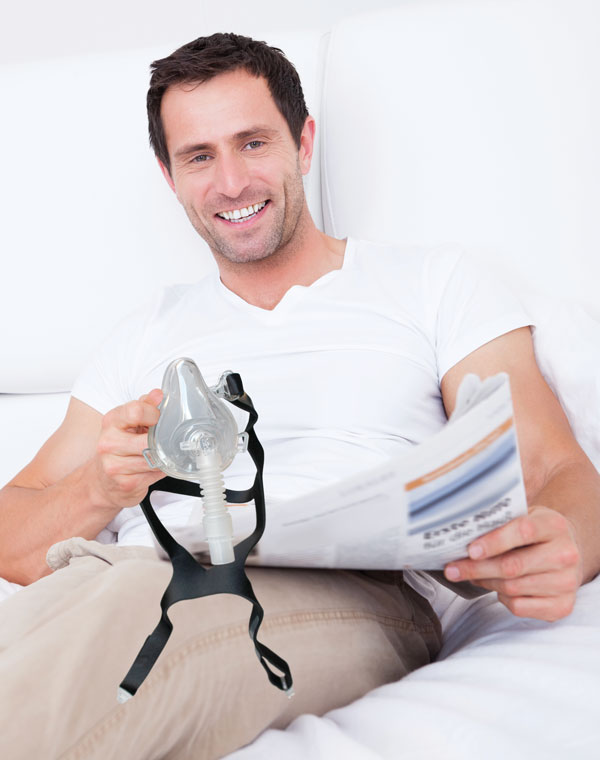 Sunset Heathcare Solutions supplies respiratory supplies with a focus on disposable goods in the CPAP market, including filters, tubing and accessories at lower cost than buying directly from OEMs. Sunset also distributes CPAP masks, machines and accessories on behalf of manufacturers such as DeVilbiss, Circadiance, InnoMed, RespCare and SleepNet.
At Medtrade last fall, Sunset came out with the Deluxe Full Face Mask, a new low-cost alternative CPAP mask that could help HMEs increase profitability while still providing comfort, replaceable cushions, a lightweight frame and an easy to clean design. "Manufacturers are constantly finding ways to make products smaller, quieter and just plain better, and I don't see this technological progression slowing down anytime soon," says R.J. Ruflin, director of national accounts at Sunset Healthcare Solutions.
Ruflin urges HMEs to get the most out of patients by actively following up to see if they need supplies. HMEs that don't are missing out on a regular monthly stream of revenue. Ruflin also suggests offering more cash sale items for additional revenue not dependent on insurance. "Competitive bidding is changing the marketplace. We need to look at it realistically and not overpromise what we can provide." Competitive bidding requires lower pricing from suppliers and for everyone to work together to weather the storm, and the constant through it all needs to be a continuing high level of patient care.
Mask comfort is critical to compliance, and Circadiance provides soft-cloth CPAP masks to prevent moisture buildup and provide a conforming seal and lighter weight for greater comfort and compliance. The company offers the SleepWeaver Elan, with an open-face headgear design and a 90-degree swivel connector that allows the hose to be routed in any direction, which enables users to sleep on their side. The Elan comes in three sizes and has bottom exhalation ports, so a replaceable cushion is the only part that touches the user's face. The SleepWeaver Advance is another mask with fewer features that is one-size-fits-most. Circadiance also provides featherweight tubing.
"If you solve the comfort issue, the whole industry will be better off," says R. Scott LaNeve, vice president of sales and marketing at Circadiance. He says the industry should open up, be more experimental and try something other than a standard hard-plastic mask. "It seems like we are suffering through the same problem over and over again."
"There's a ton of research about the importance of CPAP related to co-morbidities," he says. "Sleep medicine is just now coming into its own, and it's a great field to be in. If you get people to sleep better, all kinds of good things can happen."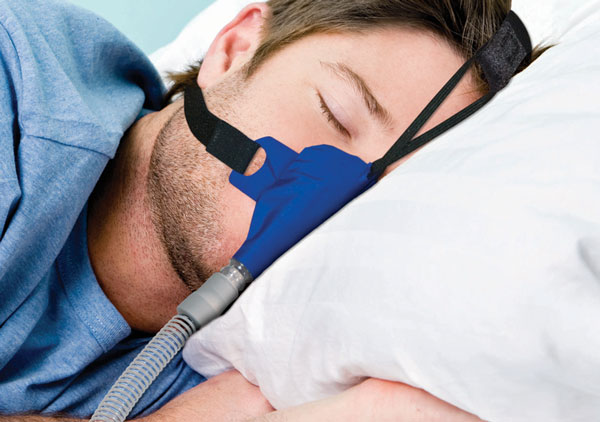 Driving Awareness
There is hope on the CPAP awareness front, says Robert Rutan, CEO of Naturs Design and developer of RemZzzs CPAP Mask Liners. "Someone said to me, 'this is really starting to be talked about.'" Rutan and his wife Debbie are doing their part to increase CPAP awareness with the "Dreams With Hope Sleep Awareness Tour." The couple is living in a motor home, traveling around the country, arranging appearances and teaming with HME/DME providers, sleep labs, doctors and hospitals throughout the U.S. to offer information on sleep disorders, provide screening questionnaires and distribute samples of RemZzzs mask liners. Rutan developed the RemZzzs CPAP Mask Liner, an absorbent cotton barrier that fits between the patient's face and the CPAP mask that is available in two full face and two nasal lines in small, medium and large sizes.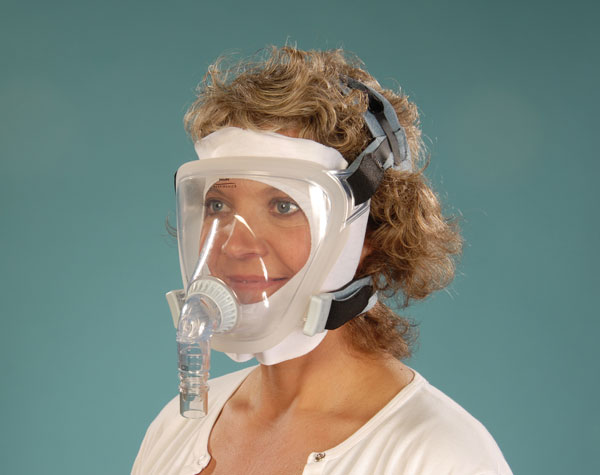 "It's sad to me to hear how many people have quit using their CPAP because they couldn't wear the mask," says Rutan. "It's also hard for people who really need to get tested and don't know how to do it or where to go." Any HME provider wishing to set up a clinic should visit the website www.dreamswithhope.com.
In 2012, the Dreams With Hope tour offered around 35 clinics in all. Many HME providers probably saw the Dreams With Hope motor home parked in front of the Georgia World Congress Center at Medtrade. "It's been a great trip so far. I'm excited about the response," Rutan says. There are respiratory therapists on hand at the clinics as well free copies of an American Sleep Apnea Association (ASAA) video.
Positive Outlook
At the end of the day, outlook can make a lot of difference. "We need to stay positive and realize we are in a great market," Sunset's Ruflin says. Toole of Philips agrees: "Good sleep is fundamental. Patients who are suffering should have access to good care and building awareness should never wane."